As an Amazon Associate I earn from qualifying purchases.
UPDATE OCTOBER, 2022: Since this post was originally published, the Harvest Right Freeze Dryer listing on Amazon has changed. Details are missing so you can't tell what size you're buying. It is even described as a "food dehydrator", which it is not. You can use any of the links below to see if this product is in stock at Amazon. However, from the beginning I always found a lower price on the manufacturer's website.

For the lowest price I've found please see this freeze dryer at Harvest Right. There you will find that it is always in stock in all sizes and a selection of colors.
Following is the original post with updated links:
You can now buy the Harvest Right home freeze dryer on Amazon, but some of your choices will be limited. Here's what you need to know to find the right product for you at the best price.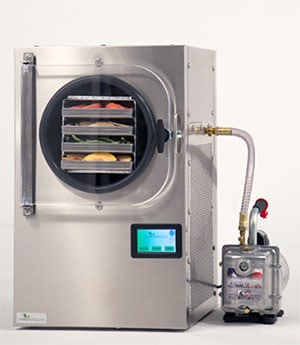 See Harvest Right Freeze Dryer on Amazon
For an in depth review that covers complete details, please read our Harvest Right Home Freeze Dryer Review.
The purpose of this article is to provide an overview, starting with a quick look at basic differences between the three sizes of this freeze dryer. Be aware that the manufacturer offers options and sale prices that you won't find on Amazon.
Harvest Right Home Freeze Dryer – Three Sizes
The Harvest Right Freeze Dryer is available from the manufacturer in small, medium, and large size models. Originally, Amazon sold only the small and medium models. As of 2022, details on the Amazon product page are unclear about which model you are actually buying.
The manufacturer's list price on these units starts at about $2,400 and can run as high as $3,600. There is more information about cost below.
Besides price, the main differences between these three models is in the exterior dimensions and the interior food processing capacity. Here's a brief list of some of the specifications on these 3 models:
Small Harvest Right Freeze Dryer

25″H x 16.5″W x 18.5″L, 61 pounds, pump 35 pounds
3 Trays, 7.75″W x 14″L x 0.75″H each
Processes 4 to 7 pounds food per batch
Dedicated 20 amp circuit recommended

Medium Harvest Right Freeze Dryer

28.5″H x 18″W x 21.25″L, 112 pounds, pump 35 pounds
4 Trays, 7.5″W x 18″L x 0.75″H each
Processes 7 to 10 pounds food per batch
Dedicated 20 amp circuit recommended

Large Harvest Right Freeze Dryer

30.75″H x 20.25″W x 23.75″L, 138 pounds, pump 35 pounds
5 Trays, 9″W x 20.5″L x 0.75″H each
Processes 12 to 16 pounds food per batch
Dedicated 20 amp circuit required
Obviously, if you want the largest size available, you can't shop at Amazon. Beyond that, there are some other reasons you may want or need to buy directly from this manufacturer.
Option to Buy With Oil-Free Pump
Each of the three models comes standard with an oil pump. Many people prefer that as oil pumps can tend to hold up better for heavy use over the long term. The disadvantage is that they require regular maintenance.
You need to plan on filtering the oil each time you run a cycle. It can be part of your regular cleanup routine, and it won't take long, but it absolutely must be done.
If that sounds like too much trouble, a home freeze dryer probably isn't for you. However, the company does offer an option.
Harvest Right sells an oil-free pump for it's freeze dryers. If you order direct from the manufacturer, you can pay an additional $1,500 and get a new freeze dryer with the oil-free pump.
Either way, only you can decide whether it's worth that price to avoid maintenance time.
How to Find the Best Price
Doesn't everyone love a bargain? I sure do, and that's another reason you should always check with the manufacturer before you buy.
Harvest Right offers sale prices on these models fairly often. The savings are significant, and you'll only find these lower prices on the Harvest Right website. The company is also known for running an occasional contest, so you might even save by getting lucky.
Finally, you may be interested to know that Harvest Right offers a layaway plan. It doesn't save you money but does give you a way to pay over time.
See Harvest Right Freezer Dryer at Amazon
See Freeze Dryers at Harvest Right
(All models are on this page – click button to choose size.)
This article is provided as a quick reference only. For LOTS more information please see: