As an Amazon Associate I earn from qualifying purchases.
It's the most important meal of the day but often the most neglected. Solve that dilemma with this weekday breakfast that's super fast to prepare and reasonably healthy too.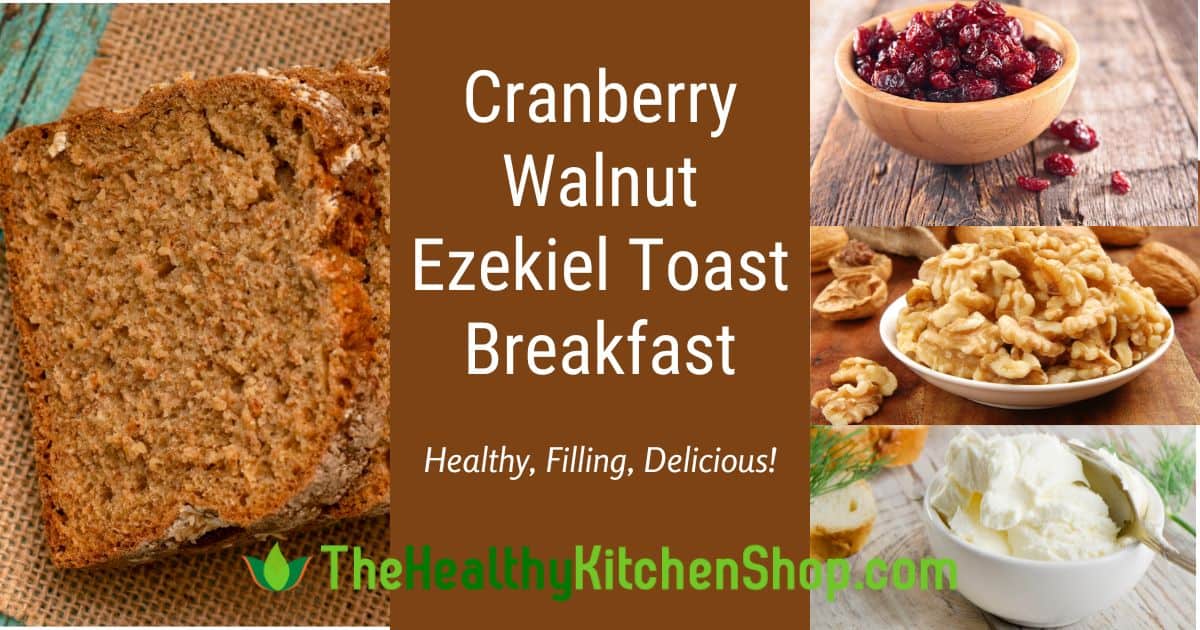 For the most part breakfast is not my favorite meal. An exception would be the rare Saturday morning when I meet friends at a local restaurant to over-indulge in their fabulous breakfast buffet. They offer plenty of healthy dishes and a huge variety of beautifully displayed fresh fruits, but then there are also all the sinfully delicious southern favorites. When faced with such temptation, making healthy choices is not my strongpoint!
That's okay because it only happens once in a great while, and my goal for eating habits is realistic – strive for improvement, not perfection.
On weekdays breakfast can be more of a chore than a pleasure. Skipping meals is never a good idea, but mornings are too rushed to spend lots of time in the kitchen. For me the ideal breakfast food is anything that's fast, tasty, and reasonably healthy. Smoothies are one great option – but not 365 days a year.
That's why the initial craze over Ezekiel toast recipes immediately caught my eye. It's been around for a good while now, and surely you've seen tons of ideas online, especially on Pinterest. The majority of them are fast and healthy, so then it's just a matter of finding the tastes you like.
One of the most popular toppings is peanut butter. It's a good choice because it's high in protein, but for me it fails the taste test. That's right, I'm the only person on the planet who doesn't like peanut butter – or any kind of nut butter, for that matter. Another common topping is sliced or mashed avocado, which I do love, just not for breakfast.
My personal favorite is a toasted slice of Ezekiel bread topped with non-fat cream cheese, dried cranberries, and chopped walnuts. It's delicious (in my opinion!) and makes for a nice morning meal that is not too heavy but satisfying enough to stay with you.
This simple toast gives you a decent amount of protein without going overboard on calories, fat, carbs, or sodium. Here are the basic numbers, but be sure to read my notes below the table:
Cranberry Walnut Ezekiel Toast Nutrition Numbers


Ingredient
Ezekiel Bread

1 Slice
Non-Fat Cream Cheese

1 ounce
Dried Cranberries

1 Tbsp.
Walnuts

1 Tbsp.


Totals
Calories
80
30
30
55
195 Calories
Total Fat
0.5g
0g
0g
5g
5.5g Fat
Total Carbohydrate
15g
2g
8.25g
1g
26.25g Carbohydrates
Total Protein
4g
4g
0g
1g
9g Protein
Note that the nutrition numbers on cream cheese may vary depending on what brand you buy, so you'll need to read the label for exact amounts. Also, my counts are for dried cranberries that have been sweetened. Certain organic brands or homemade dried cranberries may have fewer calories and carbs because they do not have added sugars.
You might also check out other dried fruits, but keep in mind that the key there is portion size. All fruits contain natural sugars, and dried fruits are concentrated so it's easy to gobble down lots of calories very quickly. In small amounts though, dried fruits also provide you with a concentrated source of healthy vitamins and minerals.
What is your favorite fast, tasty, and healthy breakfast food? Please share it with us in the comment section below!
---
Editor's Note: If you're a regular visitor to our site you know that it is not a great source of recipes, and it is not intended to be. Our main focus has always been (and still is) quality product reviews. However, every now and then a recipe idea comes up that we feel is worth sharing, and we hope you enjoy it!
Please share on Pinterest and Facebook!