As an Amazon Associate I earn from qualifying purchases.
Just a short time ago, a freeze dryer for home use was unheard of. The only equipment available was designed for industrial settings, and prices started at around $30,000. Thankfully, that has changed.
The Harvest Right Freeze Dryer was created specifically for home users. It offers you food preservation at its best, not only for extreme shelf life but for high nutritional value and taste as well. This machine is relatively easy to operate and to maintain, it produces quality results, and it is reasonably affordable.
Is an in home freeze dryer a smart investment for you? How big is it, what will it do, and how much does it cost? Below you'll find those answers and more, including both benefits and drawbacks to consider before you buy.
You may also want to read our Harvest Right Home Freeze Dryer Review where we go into much more detail about this model.
What Kind of Foods Can Be Freeze Dried?
The answer is, just about everything. The quickest way to explain is with this short 90 second video:
Notice that above I said "just about" everything. What does not work well are high fat or heavily oil based foods such as bacon, butter, and nut butters.
Also be aware that you can not make beef jerky or fruit leathers in a freeze dryer because for those purposes freeze drying removes too much moisture. For the taste and texture you want in meat or fruit jerky you need a food dehydrator.
One other exception that comes to mind is sour cream. When you freeze dry and then reconstitute it, the taste will be fine but some of its stiff consistency will be lost. That makes it work perfectly well as a cooking ingredient, but maybe not so great for topping a baked potato.
(Back to Top)
Who Is An In Home Freeze Dryer For?
At first this freeze dryer was most popular with those who invest tremendous amounts of time, effort and money into emergency food supplies for the long term. Mainly that included people preparing to live off the grid for extended time periods, either in anticipation of some major catastrophe or simply to become completely self-reliant.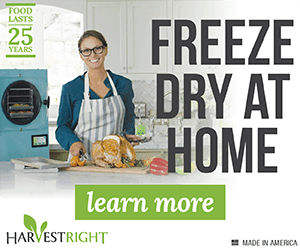 That, too, is changing. DIY freeze drying is now growing in popularity with people from all walks of life and for a wide variety of reasons and uses. To name just a few:
Homesteaders, Gardeners, & Co-ops

Even if you don't grown your own produce or raise poultry and livestock, you may have opportunities to buy in bulk for savings, or to buy local for organic and highest quality foods.

Backpackers, Campers, & Off-the-Grid Vacationers

Freeze dried foods are ideal because they are very light and easy to carry. They're also a great option for family traveling because you can skip the fast food joints and enjoy home cooked meals instead.

Advocates of Self-Reliance

There is no such thing as "job security" any more, and any of us can be affected by an economic downturn. While government programs may offer a safety net, plenty of us would rather have the security of knowing we can take care of ourselves during tough times. This is even a spiritual principle for some, including the Church of Jesus Christ of Latter-Day Saints that promotes self-reliance as a way of life.

Individuals With Health Issues or Dietary Restrictions

Do-it-yourself freeze drying enables you to package your own ready to eat foods that meet your specific dietary needs. You can go gluten free, dairy free, salt free, sugar free, or make certain your stored food is safe for those with peanut or other allergies. You may also prefer to avoid certain ingredients found in some commercial freeze dried foods, such as soy protein or chemical additives (sulfites, carrageenan, maltodextrin, modified corn starch, etc.).

For Basic Emergency Preparedness

If you think this is just for "doomsday preppers", think again. Natural disasters happen all the time, all over the country. In my family alone we've experienced extended power outages from winter ice storms, hurricanes, and floods. Then of course there was Katrina, followed immediately by Rita, after which grocery store shelves were empty as far as 300 miles from New Orleans.

In the aftermath of a major event, it is difficult if not impossible to get your hands on dry ice, generators, or the fuel to run a generator. So much for all that food stored in your freezer!

For emergencies, a better alternative to frozen items is canned food. That is fine as long as you watch the dates and constantly rotate your supply to avoid spoilage. The advantage with freeze drying is the extremely long shelf life. Since it can last up to 25 years or more, constant rotation isn't necessary.

Just Because

Not everyone needs a specific reason, nor does everyone feel a need to somehow "justify" the price. You may simply enjoy the luxury of creating your own freeze dried food, any way you want, any time you like. Make huge batches of lasagna or beef stew or your own gourmet casseroles, then freeze dry them for busy nights when you want a delicious dinner that's ready in a snap. Freeze dry berries for delicious and genuinely natural flavoring for your shakes and smoothies. Be the coolest mom on the block when you make astronaut ice cream for your kids and their friends.

In other words, an in home freeze dryer might be for you just because you said so.
This tops the list for most unusual use of a home freeze dryer…
One man asked his beloved, aging grandmother to cook family favorites for freeze drying. She gladly did so, knowing that long after she was gone they could sit down to Grandma's Sunday dinner, almost as if she was still with them.
(Back to Top)
Who This Appliance Is Not For
Why are you looking into freeze drying food? Are you only interested in having enough food on hand to get you through a brief emergency? If so then it probably doesn't make sense to spend the money or sacrifice kitchen space for a freeze dryer.
A better option for you may be commercial freeze dried food. One of the best and most popular brands is Mountain House. They offer a full range of products, and you may only need something like this Essential Bucket with 22 servings.
It isn't cheap, but neither is the cost excessive when you're paying for peace of mind. Besides, this isn't something you'll need to keep purchasing on a regular basis. The Mountain House food pouches have a "30+ Year Taste Guarantee".
You can also buy Mountain House food in cans. For an example see the Mountain House Chili Mac with Beef #10 Can on Amazon.
How Much Does a Freeze Dryer Cost?
This is a high end "appliance" that some consider to be a dream come true. For others, it's simply out of the question due to its price tag. Fact is, it's the only realistic option for the general public. Even the largest Harvest Right sells for around a tenth the cost of commercial models.
Harvest Right Freeze Dryers come in 3 sizes – small, medium, and large. The manufacturer's list price of these models ranges from approximately $2,400 to $3,600. However, be sure to check the manufacturer's website to see today's current price because prices can change, and Harvest Right often runs sales.
Click here to go to Harvest Right and see today's price. (link opens in new window)
This company also runs contests on occasion, and that could save you a bundle if you're lucky enough to win. (See the site for any current contest dates, official rules and details.)
The small and medium size models were also available on Amazon for a while, but now they always seem to be "out of stock". Further, details are missing on the Amazon product page, selection is very limited, and prices are much higher than what you'll find at Harvest Right. If you want to check Amazon, here's the link:
Click here to check Amazon price on Harvest Right Freeze Dryers. (link opens in new window)
(Back to Top)
Is This a Small Freeze Dryer?
One of the most common questions about home freeze dryers concerns size. Do you have the space to accommodate it?
Compared to its commercial counterparts, the Harvest Right is definitely considered a small freeze dryer. Though it was designed for in home use, don't count on tucking it away in a kitchen cabinet for storage.
Specifications of the medium size Harvest Right machine are:
Height: 28.5 inches
Width: 18 inches
Depth: 21.25 inches
Weight: 128 pounds, plus pump weight of 35 pounds
See the Harvest Right Freeze Dryer comparison chart for size and other specifications of all three models.
The photo below shows how the vacuum pump sits to one side of the main unit. Make sure you have space for both. (All 3 models use the same pump, and it weighs 35 pounds.)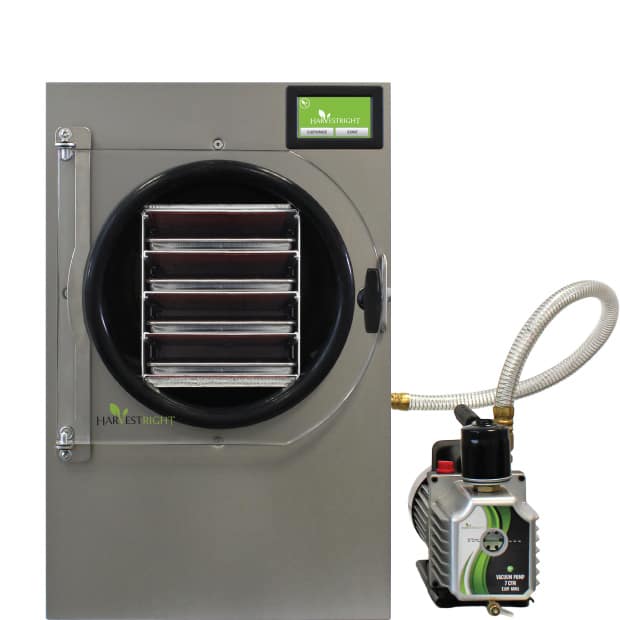 For most people this unit is too heavy to easily move. If it's too large to be a permanent fixture in your kitchen, you may want to consider a rolling utility cart. Read more about location considerations in our Harvest Right Review.
Pros & Cons of a Freeze Dryer for Home Use
Pros
Preserve virtually all types of foods (with very few exceptions).
Retain very high nutritional quality and excellent taste.
Customize stored food to meet individual dietary & health requirements.
Do it yourself without GMOs, pesticides, food additives & other garbage.
Achieve maximum shelf life (up to 25 years) and be prepared for emergencies.
This Harvest Right model is not difficult to set up and is very easy to operate, and it can meet the needs of a wide range of uses and lifestyles.
Cons
Price – may be cost prohibitive for some
Size – too heavy to move easily and may be too large for some kitchens
Summary
For many people the Harvest Right Freeze Dryer is a revolutionary addition to the kitchen. What was once only available to industry professionals can now be done by anyone. This appliance enables the average home user to preserve foods that retain their high nutritional quality and have the longest shelf life possible. By doing it yourself, you can make the healthiest choices about what does, and doesn't, go into the foods you eat.
Interested in getting your own freeze dryer for home use?
If you're still undecided I strongly encourage you to visit the Harvest Right website. You'll find answers to any question you might have, more details about the equipment and the process, and a wealth of information on freeze dried foods and related topics.
If you're ready to buy and want the best price, be sure to check both the manufacturer site and Amazon:
(Back to Top)