As an Amazon Associate I earn from qualifying purchases.
If you love your air fryer now, wait till you get your hands on a set of universal air fryer accessories! Use this guide to find the best value and the correct size for your particular model.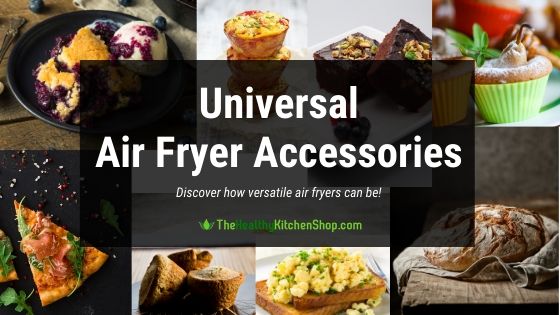 How to Choose the Correct Size Accessories for Your Air Fryer
Ideally, you want to find the best fit for your particular brand and model air fryer. A pan that's too big is useless. One that's too small will work, but it won't let you enjoy the full benefit of owning a large capacity model.
Most manufacturers make your shopping job more difficult because they don't provide exact dimensions of the accessories. Instead they make random claims that an accessory kit will fit "all sizes" or "all 3Qt, 5Qt, 6Qt" and up. Fact is, you don't want a 6-inch diameter pan for an air fryer that can accommodate 8 inches.
Before you start shopping, determine what will fit in your machine. If your air fryer basket is round, measure its diameter. If your air fryer basket is square or rectangular, measure its length and width.
Where to Buy Air Fryer Accessories
Below are the best selections available at the time of this writing. You'll find dozens more choices on Amazon, but they were eliminated for a variety of reasons. That includes, in no particular order:
skewer racks that are useless because skewers are too short
pinch mitts that melted on first use
no exact measurements provided for cake barrel or other racks or pans
price exceeds value
Keep in mind that the number of items in an accessory kit does not necessarily make it more or less valuable. For example, pinch mitts aren't really all that useful for an air fryer, but you might enjoy having them for other kitchen tasks. They're a great help with an Instant Pot.
Also, some people may love the idea of a muffin pan, but my personal preference is individual silicone cups. If the accessory kit you like does not include either, you can order an inexpensive set of round silicon baking cups on Amazon. Or go for something fun and colorul like these:
The round ones were used for two muffin recipes on this site, the Air Fryer Blueberry Muffins and Air Fryer Muffins For One. You'll notice them in my well-intended but less-than-professional photos!
Universal Air Fryer Accessories for Standard Capacity Models
Air Fryers with Round Baskets
GoWISE USA GWA0007 Standard 6-Piece Air Fryer Accessory Kit – Made by GoWISE, this universal set is compatible with other brands that have a round basket, but be sure to choose the correct size.
This set is available in two sizes, Small and XL. The Small baking pan measures 7 inches in diameter, as do the other pans and round racks. No details are provided for the toast rack. The XL baking pan measures 8 inches in diameter. When you get to the Amazon page you can select the size you want.
This set includes:
baking pan
pie/pizza pan
insert rack
skewer rack
toast rack
silicone mat
See the GoWISE Accessory Set on Amazon
---
Air Fryers with Square Baskets
Square Air Fryer Accessories 11 pcs with Recipe Cookbook – Demedo makes this set and states that it is compatible with Philips, Cosori, and other square air fryers. This may be true, but be sure to measure your air fryer basket before ordering.
The 12 piece set includes:
baking pan
pizza pan
metal rack
skewer rack
toast rack
egg bite molds (muffin cups)
pinch mitts
silicone oil brush
silicone mat
food tongs
air fryer liners
recipe cookbook
As you can see, the baking pan is square with rounded corners. This set comes in two sizes listed as "7-inch" or "8-inch". Click the size you want on the Amazon page, and then you can see exact dimensions.
See Square Air Fryer Accessories set on Amazon
---
Universal Air Fryer Accessories for Large & XL Capacity Models
Larger Air Fryers with Round Baskets
Deep Fryers Universal Air Fryer Accessories – Yes, the name is confusing, but in fact this set has nothing to do with deep fry appliances. Rather, these accessories are made for air fryers, and the set includes:
round cake barrel
shallow baking dish
grill rack
skewer rack
silicone mat
silicone oil brush
silicone spatula
dish plate clip
This set also comes in two sizes, one for large and the other for extra large capacity air fryers. The smaller is a 7-inch set, and the larger an 8-inch set. You can choose your preferred size on the Amazon page.
See the Deep Fryers Universal Air Fryer Accessories on Amazon
---
Larger Air Fryers with Square Baskets
Square Air Fryer Accessories by Demedo – (Same as set shown above but in a larger size.) The manufacturer states that this set is compatible with Ninja, GoWISE, Philips, Cozyna, and Cosori XL, but even if you own one of those brands you should measure before ordering to be sure.
The cake pan in this set measures 8″ square. If your model can accommodate that size pan, the other items in this set should also fit.
Accessories included are:
8″ square cake pan
pizza pan
metal rack
skewer rack
toast rack
6 silicone muffin cups
silicone mat
2 oven pinch mitts
silicone spatula
silicone oil brush
kitfhen plate gripper
100 piece air fryer liners
recipe book
See the Demedo Accessory Set on Amazon
---
NOTE: My favorite brand is actually Hiware, but it is hard to find (usually out of stock at Amazon). I own both Philips and Hiware pans, and the Hiware are excellent quality at a very reasonable price. Side by side, they are identical in every way – design, finish, weight, looks. If you are feeling lucky, click here to check availability at Amazon: Hiware Air Fryer Accessories XL
---
Brand Name Air Fryer Accessories
Cosori
Cosori Air Fryer Accessories XL – These accessories were designed to fit the 5.3Qt, 5.8Qt, and 6Qt Cosori air fryers. That means the pans should be a snug fit for the 5.3Qt, but they will not fill up the larger models. You can certainly use them in a larger model, but you won't be able to take full advantage of the XL capacity of your air fryer.
It is impossible to determine whether these accessories will work with other air fryer brands because no dimensions are provided for any pieces in the set.
Note that this set is available in varying sizes on Amazon, so be sure to select the size you want before adding to your cart.
See the Cosori Accessory Set on Amazon
---
NuWave
NuWave 6 Quart Brio Air Fryer Gourmet Accessory Kit
You'll pay the same for this set as for others that include many more accessories. However, you'll know exactly what you're getting because the manufacture provides precise measurements of each piece.
Baking Pan: 8″ x 7-1/2″ x 3-1/4″ deep
Stainless Steel Cooking Rack: 7-1/2″ x 7″ x 3-1/2″ high
There is also a "breakfast kit" set on the same page, which is sold separately. To my mind it is also rather pricey.
See the NuWave Air Fryer Accessories on Amazon
---
After you get your accessories, be sure to try this delicious recipe:

Brownies After Dark, a sample recipe from The Air Fryer Bible

You can make these ultra dark chocolate brownies for a quick snack or use them as the base for a decadent dessert!
If you found this info helpful please share on Pinterest and help spread the word!