As an Amazon Associate I earn from qualifying purchases.
This Presto Pressure Cooker used to be a bargain, but the price has gone up. Before you buy, read my review to compare it to the leading brand.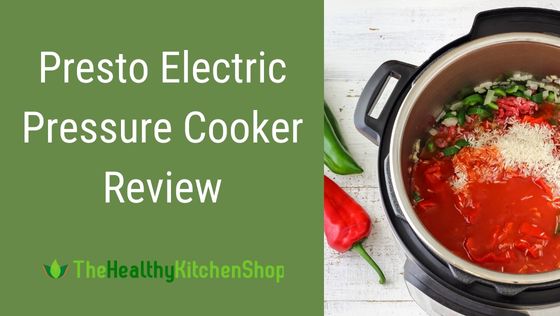 Rating:
4.6
Reviewed by
Susan LaBorde
This model of the Presto Electric Pressure Cooker offers lots of features and could well be everything you want. No, it can't make yogurt, and it has fewer bells and whistles than the leading brand, but plenty of owners say it meets their needs and are quite happy with it.
The Presto Electric Pressure Cooker model 2141 has a 6 quart cooking capacity, is fully programmable (manually), and includes 19 pre-sets for cooking a wide range of foods. Functions include cooking with high or low pressure, slow cooking, browning, and sautéing. When a cooking cycle is complete the Presto will automatically switch to its Keep Warm mode. Lots of owners feel that this is a good model at a reasonable price, but is it the right choice for you? Read on to find out!
Features
6 Qt. Capacity
Removable Cooking Pot with Nonstick Surface, Dishwasher Safe
Fully Programmable and Includes 19 Programmed Pre-Sets
Keep-Warm Mode
Also Works as a Slow Cooker
Digital Controls & LED Display
8 Built-in Safety Features
1 Year Limited Warranty
It's no secret that the number one best selling electric pressure cooker is the Instant Pot. Since everyone is so familiar with that, let's start with how this model differs from the Instant Pot.
The Presto 2141 does not have a delay timer, but you may not miss that. After all, how often would you load up your pressure cooker in the morning and set it to come on right before you get home from work? That wouldn't be safe for any kind of raw meat and lots of other foods.
The manufacturer does not make a stainless steel cooking pot for the Presto, so it's not an option even if you were willing to pay extra. What you get instead is a metal pan with a nonstick coating. It's easy to clean and can go in the dishwasher, and some people enjoy the lighter weight as it's easier to handle. However, if you have concerns about nonstick coatings, this pressure cooker is not a good choice for you.
Otherwise, average users find that the Presto Electric Pressure Cooker does a nice job on all the standard tasks. The 12 most often used pre-sets are:
Rice
Multigrain
Meat – Chop/Rib
Meat – Roast
Poultry
Fish
Soup
Stew
Vegetables – High
Vegetables – Low
Desserts
Beans
Note that the Presto can be set to cook vegetables for 0 minutes. This means that as soon as pressure is reached, the unit will stop heating so that your veggies don't end up too soft or completely overcooked.
One of the eight built-in safety features of this model is its cover locking system. It is designed to allow pressure to build inside the cooker only when the cover is closed securely. The system also prevents the cover from being opened until after pressure has been reduced to a safe level.
Of course, safety is also up to the user. No matter which pressure cooker you buy, be sure to read and follow all of the manufacturer's instructions and recommendations.
(Back to Top)
Size and Capacity
Exterior Dimensions: 13″W x 11.93″D x 12.5″H
Weight: 10.73 pounds
Interior Capacity: 6 Quarts
What's Included
Pressure Cooker with Easy-open Cover
Dishwasher-safe, Nonstick Cooking Pot
Cooking Rack
Instructions
To see the instruction booklet online, go to the Presto Instruction Manual Lookup page, and you can search by appliance category and/or model number.
The instructions should be useful even if this isn't your first pressure cooker. The maximum pressure can vary among different brands and models, and that can affect your total cooking time. The best way to adapt recipes for your Presto is to use the information in the instructions as a guide.
(Back to Top)
Optional Accessories
There are no accessories designed specifically for the Presto 2141 model.
Though not really an "accessory", there is one thing you might consider. Removing a hot cooking pot from any pressure cooker can be a challenge. A great way to avoid burning your fingers is to use pinch-mitts. They're made of silicone, work great, and are inexpensive. Click the image below to see them on Amazon.
(Back to Top)
Customer Reviews
With such high consumer ratings, it's hard to find complaints that are worth mentioning. (Some people will give a 1 star rating because a product didn't ship as fast as expected. Clearly, such comments have nothing to do with product quality or performance.)
Out of almost 2,000 online reviews there were a few reports of units that malfunctioned within the first few months of ownership. Presto offers a 1 year warranty and apparently honors it. You'll find plenty of evidence that the company is monitoring online reviews and responding where needed or helpful.
A few customers feel that the quality is not quite up to that of the Instant Pot, and currently the price for both is about the same.. Be aware that the inner cooking pot is not stainless steel. It is nonstick metal. Some people actually prefer that because it's more lightweight, but of course that's just a personal preference.
One person felt that the searing function does not heat to a high enough temperature. At the same time, a few others praised this feature, which makes you wonder if the other person just had a bad unit.
Overall, most comments are extremely positive. The Presto is user friendly so there isn't a big learning curve involved. It's very versatile, allows you to cook with high or low pressure, offers a multitude of pre-sets, and will even double as a slow cooker. A huge majority of owners love the results they get, and they most appreciate the ability to go from frozen food to ready-to-serve so quickly.
(Back to Top)
Pros
Very versatile with great results on all types of foods
Nonstick cooking pot is lightweight and easy to clean
Includes 19 pre-sets and can also be programmed manually
Designed with Lid lock system and 7 other built-in safety features
Costs less than leading brands
1 year limited warranty
Cons
Cooking pot is not stainless steel
Construction quality may be slightly lower than leading brand
Does not include a delay timer
Presto Electric Pressure Cooker Review: Summary
Compared to the leading brand, downsides of the Presto Electric Pressure Cooker are that quality of the Presto may be slightly lower, and you can't get a stainless steel cooking pot. You do get a 6 quart cooking capacity and all of the most important features used by the average cook. It can be programmed manually and also includes a variety of pre-sets, plus it has an automatic Keep Warm mode. Plenty of people are perfectly happy with the Presto, but before you buy you may also want to check out the insanely popular Instant Pot (see links below).
(Back to Top)
Compare Before You Buy

Read our in depth Instant Pot Review

See the Instant Pot on Amazon