As an Amazon Associate I earn from qualifying purchases.
Cuisinart is an extremely well-known brand, but does it make a good pressure cooker? Here are all the details to help you decide if this model is for you.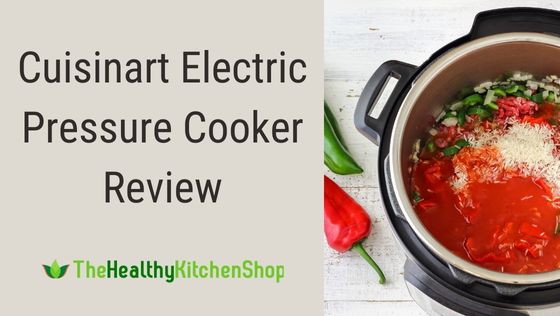 NOTE: The manufacturer's website now shows this model as discontinued. However, it continues to be readily available on Amazon.
Rating: 4.6 Reviewed by Susan
The Cuisinart Electric Pressure Cooker is a top selling model for those who do not want a unit with a stainless steel inner cooking pot. It lacks some features of fancier models, but that also makes it easier to learn how to operate it, especially for anyone new to pressure cooking.
This model is a 1000 Watt, 6 Quart capacity electric pressure cooker with a brushed stainless exterior and a non-stick coated interior cooking pot. It has a simple, push-button control panel with a digital display and seven built-in safety features. While the majority of feedback is positive, there are also some complaints you should know about before you buy.
Features
6 Qt. Capacity
Brushed Stainless Exterior Housing
Non-stick Inner Cooking Pot, Dishwasher Safe and BPA Free
Includes Trivet (also dishwasher safe)
4 Settings Plus Keep-Warm Mode
99 Minute Countdown Timer
7 Built-in Safety Features
3 Year Limited Warranty
One of the first things to consider about this model is whether you'll be happy with the inner pot. Many people shy away from non-stick coatings due to food safety concerns, and also the dangers posed to pet birds by non-stick coatings at high temperatures. However, if you're one of the many others who prefer the extra easy cleanup of non-stick surfaces, then this is the model for you.
The inner pot is safe for cleaning in the dishwasher, and the manufacturer states that all materials that come in contact with food are BPA free.
Controls
If you've read our Instant Pot review you'll see that the Cuisinart Pressure Cooker doesn't have all those fancy extras. That isn't necessarily a drawback because it makes the control panel of the Cuisinart Pressure Cooker easier to understand and learn. It includes modes for:
Browning – No extra pans to wash because you can brown meats right in the pressure cooker.
Sauté – Quick cook veggies and other ingredients to soften them without browning.
Simmer – Use for sauces, to thicken gravies, or when you need to reduce liquids in cooked foods.
Keep Warm – Unit automatically switches to keep-warm mode when pressure cooking cycle completes.
You'll find some complaints about the owner's manual being inadequate, but operation isn't terribly complicated. To see for yourself you can view the owner manual here.
This model does not have a delay cooking feature. Its timer is for countdown timing only, and it can be set for up to 99 minutes. When you program the time, it increases by 1 minute increments up to 40 minutes, and then from 40 to 99 minutes it increases by 5 minute increments.
Cleaning
Cleanup is fairly easy as the brushed stainless isn't bad about showing fingerprints and just needs to be wiped clean. The only parts you must wash by hand are the lid, sealing ring assembly and condensation collector.
Other Features
Some other nice design features include push-button controls, an easy to read digital display, and cool touch side handles.
A trivet is included, which can be used for desserts such as steamed fruits, or for corned beef and a variety of other recipes. Another use for the trivet is to prevent foods from scorching on the bottom. In fact, if that happens it can trigger a safety feature that can automatically shut off the unit before the end of the cooking cycle. See more about this below under Customer Reviews.
What are the safety mechanisms in the Cuisinart Electric Pressure Cooker?
While this model is not UL certified, it does have seven built-in safety devices:
Open/Close Lid Safety Device – Unit will not begin pressurizing until lid is properly closed and locked.
Pressure Control Device – Automatically maintains correct pressure during cooking cycle.
Pressure Limit Valve – Releases air automatically if pressure inside exceeds the preset temperature.
Anti-Block Cover – Protects pressure limit valve from being blocked by food particles.
Pressure Relief Device – When maximum allowable pressure is reached, cooking pot moves down until lid separates from sealing ring to release air.
Thermostat – Automatically shuts off power when cooking pot reaches pre-set temperature or if cooking pot is empty.
Thermal Fuse – When cooker gets to maximum temperature, the circuit will open.
(Back to Top)
Size and Capacity
Exterior Dimensions: 12.2″ x 12.2″ x 13.19″
Weight: 12.57 pounds
Interior Capacity: 6 Quarts
What's Included
Trivet (dishwasher safe)
Instruction Booklet
The instruction booklet for this model can be viewed online here: https://www.cuisinart.com/globalassets/catalog/appliances/pressure-cookers/cuisinart-6-quart-pressure-cooker-/cpc-600n1.pdf
(Back to Top)
Optional Accessories
There are no accessories designed specifically for this Cuisinart model, but you do need to use utensils that won't damage the non-stick coating on the inner pot. The set pictured below is just one example (click image to see it on Amazon).
Amazon has a great selection of silicone or silicone-tipped utensils in sets or as individual pieces.
Also, if you don't own a pair of pinch-mitts check them out. They're small but SO useful in the kitchen, and they work especially well for removing the inner pot from a pressure cooker when it's still hot.
(Back to Top)
Customer Reviews
This model has earned hundreds of five star ratings from very satisfied owners. The most often mentioned favorite features include that it's not difficult to learn to use, it's very easy to clean, and a real time-saver that performs very well as a pressure cooker and produces excellent results. Based on feedback from well over 1,900 online reviewers, 80% of them absolutely love it.
At the same time, a small percentage of that group are so dissatisfied they would give it a negative star rating if that were possible. A huge majority of those complaints are that the unit simply stopped working after a few months or even after only a few uses.
To make matters worse, reports about dealing with customer service are overwhelmingly negative. The unit does have a 3 year warranty, but you'll have to ship the cooker back to Cuisinart at your own expense, and quite a few owners claim they had trouble even getting the company to honor the warranty. It's also worth noting that the manufacturer does not even allow customer reviews on its own product website. I also haven't found any responses from the company to complaints on other sites; but then, Cuisinart makes so many different appliances and models these days that it would take a tremendous staff to monitor every product.
One problem occasionally mentioned is that the unit will shut itself off prematurely. This can happen when you have too little liquid in the cooking pot, and it's caused by one of the safety features. The same is true of any electric pressure cooker, but the Cuisinart seems to make this "error" more often than other brands, as if one of its safety sensors might be a little too sensitive.
A similar issue can occur if the Cuisinart detects that the unit is overheating. This can occur when food such as a roast sits directly on the bottom of the pot and begins to overcook or burn. Assuming that your unit is not defective, one solution to this is to always use the trivet to keep a little space between the floor of the pot and something like a heavy cut of meat.
(Back to Top)
Pros
Reasonably simple to learn to use
Gets high ratings for performance as a pressure cooker
Non-stick pot easy to clean
Trivet is included
Cons
Certain safety features can occasionally shut off unit before end of cooking cycle
No stainless steel cooking pot available for this model
Lacks slow-cooking mode and some other features of comparable units
No delay timer
Numerous reports of unsatisfactory experiences with customer service
Cuisinart Electric Pressure Cooker Review: Summary
The details above give you all the possible drawbacks of the Cuisinart Electric Pressure Cooker, including the number of complaints about malfunctioning units and poor customer service. Yet a huge majority of consumer ratings are very positive. Owners love it because it offers good basic functions and does well on the jobs it's designed to do, and they actually prefer the non-stick pot for easier cleaning. You won't get all the features of a fancier multi-cooker, but you might be very happy to live without those extras in exchange for a simple and easy to understand control panel. This model is a good choice for those who are mainly looking for a more basic electric basic pressure cooker that can cook delicious foods without being overly complicated to operate.
(Back to Top)
May we suggest…

Before you buy, you may want to read about the Instant Pot. It costs about the same, and tens of thousands of owners agree that it's well worth the price.

Read the Instant Pot Electric Pressure Cooker Review