As an Amazon Associate I earn from qualifying purchases.
(Editor's note: If you were looking for the Butterball Oil Less Turkey Fryer, it is no longer available, and that review has been removed from this site. Please read the Char Broil Oil Less Turkey Fryer Review below.)
If you love your air fryer, then wait till you try the Char Broil Oil Less Turkey Fryer! It cooks a lot more than just turkey, all without oil for meals that are healthy and delicious too.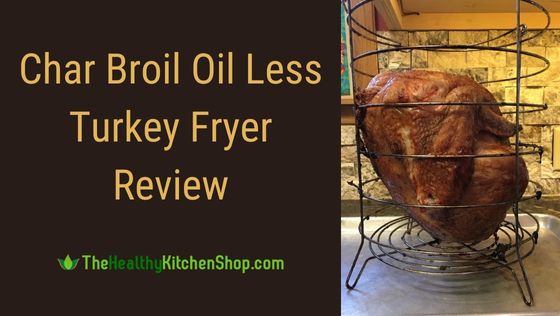 Rating: 4.7 Reviewed by Susan
The Char Broil Oil Less Turkey Fryer comes highly recommended – to date 85% of customers have given it a 5 star rating! It's so popular with consumers that some years the manufacturer could not keep up with demand (and that was before the current supply chain issues).
One reason is that it's a quality cooker that produces excellent results. Another reason is that it's a whole lot more versatile than you might think. If you only ever eat turkey on Thanksgiving Day, a greaseless turkey fryer might seem like a luxury. Read on to find out why that isn't the case. Like so many other happy owners, you may be surprised at how often you use your fryer and all the delicious foods you can cook.
This model is a large capacity, greaseless turkey fryer designed with patented infrared cooking technology. It is for outdoor use only, and a propane tank is required but not included..
Char-Broil The Big Easy® TRU-Infrared Oil-Less Turkey Fryer
Model #14101480 (Propane)
Features
Maximum Capacity: 16 lb Turkey
Patented Infrared Cooking Technology
Rotary Ignition
16,000 BTU Burner
Cool Touch Handles
Stainless Steel Interior
Removable Grease Tray
Includes Basket, Thermometer & Quick Start Guide
1 Year Limited Warranty
NOTES:
Requires propane tank, not included.
For outdoor use only.
The Big Easy isn't just for your Thanksgiving bird. In addition to healthy and delicious air fried turkey, use it year-round for all sorts of large and bulky cuts of meat. The optional accessories (sold separately) are not expensive and make it even more versatile for cooking a couple of large items at once or multiple smaller foods. The variety is almost endless, including:
whole chickens, chicken legs, chicken wings, chicken thighs
whole turkey, turkey breasts, turkey legs
beef roasts or pork loins
pork loins, or chops
slabs of beef or pork ribs
leg of lamb
bone-in hams (cured or uncured)
ducks and other waterfowl and game meat
kabobs, sausages, potatoes, corn, etc.!
One adventurous home chef even claimed great results cooking a pot roast, though I can't quite get my head around that one. Obviously that might depend on your definition of what kind of dish a good pot roast should be.
This air fryer has a built-in grease tray to catch drippings, and it's removable for easy emptying and cleaning. If you want to make gravy, you need to use the included foil tray liner to catch the drippings. Since those drippings may sit in the tray for one or more hours while the meat is cooking, you also need to reheat the drippings to a temperature high enough to kill any bacteria. If you're squeamish about such things, don't plan on making gravy – it isn't good for you anyway, which sort of defeats the purpose of frying oil free!
(Back to Top)
How It Works
TRU®–Infrared™ is a registered trademark because it's a Char-Broil cooking system that uses radiant heat. It's designed to eliminate hot spots for more even cooking, and to lock in natural juices to keep foods moist.
Don't expect the same speed you'd get from deep fat frying. Air fryers are slower. Doneness should always be judged by a meat thermometer, but on average you can figure about 10 minutes per pound. A 16 pound turkey cooked in The Big Easy would take somewhere around 2 1/2 hours. What does save you time is that no pre-heating is required, and cleanup is immensely faster and easier than dealing with gallons of oil and the mess it creates.
Cooking without all that oil can be a definite plus when you have kids or grandkids around … or for grown-up crowds enjoying adult beverages. Of course you've still got fire and heat so it certainly isn't risk free, but at least you know that if the whole thing gets knocked over you won't have gallons of scalding oil running all over your deck.
When you're finished cooking, this propane turkey fryer will also cool off much faster than a deep fat fryer. The downside of that is that while you're cooking, The Big Easy can cool off faster when the air temperature is extremely cold or you have a lot of wind. On windy days or in extreme climates you may have better results if you can place your air fryer in a location that offers a little shelter from the elements.
(Back to Top)
Size & Capacity
Exterior Dimensions: The assembled cooker weighs 35 pounds and measures 21.1″ wide by 20.7″ deep by 24.5″ high.
Interior Capacity: Maximum capacity for this unit is a 16 pound turkey, and it can handle other very large cuts of meat such as leg of lamb. Also see Optional Accessories below. These extras are not expensive and will give you more capacity for cooking multiple smaller food items.
What's Included with Char Broil The Big Easy?
Cooking Basket with Lifter
Meat Thermometer
Quick Start Cooking Guide
You can view the owners manual online at: Char-Broil TRU Infrared Product Guide.
(Back to Top)
Optional Accessories
All of these accessories are inexpensive, some as low as $10 or $12. To check current prices click any of the images below.
Leg Rack: Lets you "thread" chicken legs or wings for best cooking results. Instead of being stacked, they hang from the rack for better crisping on the outside.
Rib Hooks: Hang up to 4 slabs of ribs for cooking, each slab up to 11 inches long.
Bunk Bed Basket: Designed for cooking two whole chickens at one time. It makes your cooker much more versatile as you can cook several foods at once without stacking. Use this additional rack to add extra meat, fish, or poultry pieces, or corn and potatoes or other vegetables.
Cover: Protects cooker from weather and is vented to prevent condensation from collecting on the inside.
Where to Buy: If you only want one of these accessories, each one may be priced a couple of dollars lower on the manufacturer's site, but beware of additional shipping costs.
For the best price, order The Big Easy turkey fryer and the accessories you want at the same time so you can get free shipping on all of it.
(Back to Top)
Customer Reviews
A few of the lowest ratings were given because cooking a turkey takes longer than when you fry it in oil. They didn't realize air frying is a slower process, but of course the trade off is a healthier meal without the messy cleanup or safety issues you have with a deep fat fryer.
Others complain that since Char-Broil has now come out with a hinged basket, it ought to be included with your purchase. They do seem to have a point here. Fact is, though, if you want the hinged basket then count on spending extra for it (about $20 plus shipping).
Taste is a completely individual matter. You should not expect foods cooked in an infrared turkey fryer to taste absolutely exactly like those deep fried in fat. What you can expect is a crispy outside and very juicy inside. While a few folks expressed some disappointment, the overwhelming majority are completely satisfied with their air fried turkeys as well as the many other foods cooked in the Big Easy turkey fryer. As mentioned in our indoor air fryer reviews, part of it can depend on your attitude and how much you appreciate all the trade-offs, including a healthier meal and a shorter cleanup time.
Other reasons consumers enjoy this cooker include:
frees up oven for other dishes when cooking for crowds
simple to operate and doesn't require a lot of babysitting
sturdy, large capacity, easy to assemble, and easy to clean up
no more fooling with gallons of oil or the risk of oil fires
pays for itself quickly since you aren't buying oil
very impressed with juiciness of cooked turkeys and other meats
very pleased with the wide variety of uses for this cooker and the excellent results
While you've got a few naysayers claiming you won't get a "real" deep fat fried taste, the overwhelming majority are delilghted. When it comes to cooking moist and tender The Big Easy really shines, and that goes for turkeys as well as chickens, pork loins, beef roasts and other cuts of meat. Even first-time users report excellent results without a huge learning curve.
About the only warning you'll find concerns the use of sugar in your rub or marinade. Char-Broil doesn't recommend it because any kind of sugar tends to blacken or burn. One suggestion is that if you do use a coating with high sugar content, be sure you don't start cooking before your meat is completely thawed.
(Back to Top)
Pros
Oil free cooking – healthier and less expensive
Cooks turkey and a huge variety of other foods
Excellent results for very moist and tender foods
Bestseller that has stood the test of time and still earns rave reviews
Cons
Requires propane tank you must purchase separately if you don't own one
Fried turkey taste may not be perfectly identical to deep-fat fried
In extreme climates cooker may not maintain heat as well as oil fryers
Char Broil Oil Less Turkey Fryer Review: Summary
The Char Broil Oil Less Turkey Fryer has a 1 year warranty, and it's been on the market long enough to have earned hundreds of customer reviews from numerous sources. Complaints are relatively few, and praise is abundant. The price is very reasonable, and it gets top rankings for quality construction, excellent cooking results, and versatility, as well as ease of assembly, use, and cleanup.
For anyone interested in cooking turkeys and many other foods that are not only healthier but delicious too, this model is a great choice.
(Back to Top)
If you found this info helpful please share on Pinterest and help spread the word!