As an Amazon Associate I earn from qualifying purchases.
At last, finding great gifts for healthy eaters doesn't mean avoiding anything that looks delicious and exciting!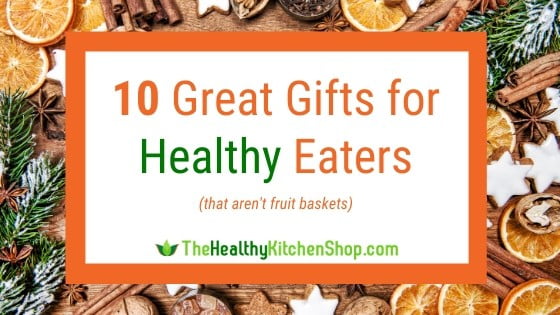 It also doesn't mean you have to give them yet another fruit basket (not that we have anything against fruit, mind you).
Quite to the contrary, this handpicked list of gift ideas offers both the utilitarian as well as the downright fun. Many of them would be perfect choices for anyone on your gift list.
That's right, even if they aren't already health conscious, you might find a way to encourage a healthier lifestyle without the risk of offending them (as you might if you buy them a workout DVD).
After all, who wouldn't love number 1, or number 3, or … well, keep reading and see for yourself!
Gift Ideas for the Healthy Eater
More Gift Ideas for Cooks & Kitchens