As an Amazon Associate I earn from qualifying purchases.
UPDATE OCTOBER, 2022: The VacMaster Pro350 and VacMaster Pro380 models have both been discontinued by the manufacturer. To the best of my knowledge these models are no longer available for purchase.

Despite that I am leaving the review below intact because it contains valuable details about the Weston Pro 2300 that may help you in your decision making. Even the comparison chart could be useful to make you aware of various feature options.

I do hope this information aids you in your search for the best vacuum sealer for you.
The comparison chart below was created in response to a comment on our review of the Weston Pro 2300. If you're considering one of these models, the following information should provide the answers you need.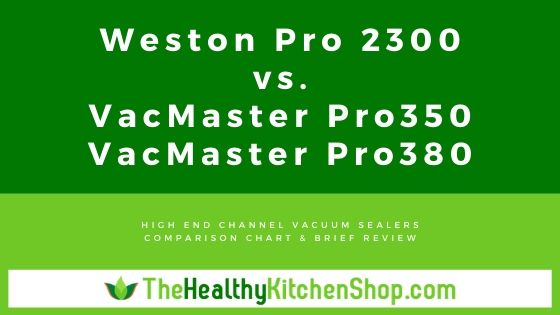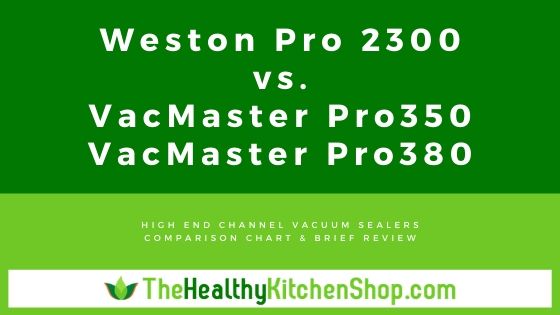 At a glance you can see that these three machines seem almost identical. There are only a few differences, but these are key to determining which model best suits your purposes. Here's a side-by-side look at the specifications and features:
Channel Vacuum Sealer Comparison Chart: Weston vs. VacMaster

(click to view on Amazon)


(click to view on Amazon)


"Currently Unavailable"


(click to view on Amazon)


"Currently Unavailable"

Model
Weston Pro-2300 Vacuum Sealer #65-0201
VacMaster Pro350 Professional Vacuum Sealer - 12" Seal Bar
VacMaster Pro380 Vacuum Sealer with 16" Seal Bar
Read Review
Operation
Manual or Auto
Manual or Auto
Manual or Auto
Exterior Dimensions
15.3" x 23" x 9"
15" x 14" x 6.5"
19" x 14" x 6.5"
Weight
22 lbs.
17.5 lbs.
20 lbs.
Exterior Material
Stainless Steel
Stainless Steel
Stainless Steel
Wattage
935 Watts
8 Amps, 120 Volts
720 Watts
6 Amps, 110 Volts
720 Watts
5.3 Amps, 110 Volts
Maximum Bag Width
15"
12"
16"
Moist/Dry Food Settings
No
No
No
Roll Storage
No
Yes
Yes


Bag Cutter
No
Yes
Yes
Accessory Port
No
Yes
Yes
Vacuum Hose
None
Included
Included
Setting for Delicate foods
Yes (manual)
Yes (Pulse Button)
Yes (Pulse Button)
Other Features
Double Piston Pump, Fan Cooled Motor, Transparent Lid
Dual Piston Pump, Built-in Cooling Fan, Marinating function, Pre-set vacuum settings, Transparent Lid
Dual Piston Pump, Built-in Cooling Fan, Pre-set vacuum settings, Marinating function, Transparent Lid
What's Included
User Guide
Vacuum Hose, 6 Quart Size Bags, One 11" x 50' Bag Roll, User Guide
Vacuum Hose, 6 Quart Size Bags, One 11" x 50' Bag Roll, User Guide
Warranty
2 Year Ltd.
1 Year Ltd.
1 Year Ltd.
Average Customer Rating
4.3
4.2
3.9
Price Range
Under $450
Under $400
Under $400
See Today's Price on Amazon
Amazon
Price
Check Amazon
Availability
Check Amazon
Availability
Which Model Should You Choose?
All three of these channel vacuum sealers fall into the "high end" category. They are constructed of quality materials, and they are very similar in their controls and power. There is also very little difference in price. That can vary over time, but at last check there was not enough cost difference between these models to make the price a deciding factor.
The two most important differences are:
Accessory Port – The Weston Pro 2300 does not include an accessory port. Both VacMaster models do.
Seal Bar Width – The VacMaster Pro350 seal bar is 12″ wide. Next is the Weston Pro 2300 at 15″. The widest is the VacMaster Pro 380, which has a 16″ seal bar and can actually seal two bags at once.
That makes the choice fairly simple.
The average customer rating of the Weston Pro 2300 is slightly higher than either of the VacMaster models. The difference is not huge, but what may be significant to note is the number of online reviews.
Research turned up almost 5 times as many verified consumer reviews on the Weston than on either of the VacMaster machines. That means that the higher average rating of the Weston is based on a good bit more feedback.
The drawback of the Weston is that it does not have an accessory port. You may have come across reports from people who claim they have found a way to use a hose with this machine for external sealing, but it's a bad idea. The manufacturer advises that such use can overload the pump and ruin the unit.
Click the image below to see the Weston Pro 2300 on Amazon.
If you want to be able to do external vacuum sealing using canisters or other containers, you will definitely want to go with one of the VacMaster models. The Pro350 and Pro380 are virtually the same except for seal bar width and exterior dimensions. If counter space is an issue you might want to go with the Pro350. Otherwise, the VacMaster Pro380 gives you all the same features plus an extra wide seal bar.
At latest check, Amazon lists both the VacMaster Pro350 and Pro380 as "Currently Unavailable". If you want to double check, click the images below to see today's status and price on two models on Amazon.
VacMaster Pro350
VacMaster Pro380