As an Amazon Associate I earn from qualifying purchases.
How can you cook healthier without spending hours in the kitchen? Check out this list of the 5 best cookbooks for healthy eating in a hurry!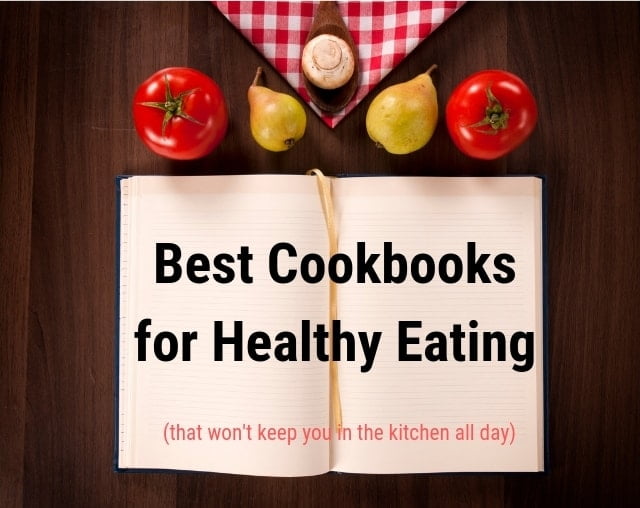 No time to cook? We hear you, and the cookbooks below were selected especially for busy people. They're all about making it good but keeping it simple, with a focus on using fresh, natural ingredients that aren't difficult to find.
You don't have to let your health fall victim to your hectic schedule. In these cookbooks you'll discover recipes, meal plans, and tips that will help you put healthier food on the table even when you're short on time.
Busy Person's Guide to the Best Cookbooks for Healthy Eating
The Fresh and Healthy Instant Pot Cookbook:
75 Easy Recipes for Light Meals to Make in Your Electric Pressure Cooker
Author: Megan Gilmore
Publisher: Ten Speed Press

208 pages, 75 recipes, full color photos
One of the best time savers on the market is the electric pressure cooker, and Megan Gilmore's Instant Pot cookbook combines fast with healthy. Her recipes focus on getting the best nutrition and flavor using real food ingredients that are readily available. As a bonus, she is mindful of calories too.
Ms. Gilmore avoids the use of refined sugar and many of the more common food allergens. Her recipes also include gluten-free options.
What do owners say? Reviews on Amazon are overwhelmingly positive, and over 90% of those reviews are from verified purchasers, so the praise is genuine. Several even commented that they own other Instant Pot cookbooks yet didn't get much use from their appliance until they bought Megan Gilmore's cookbook.
About the Author: Megan Gilmore is a certified nutritionist consultant and health coach, and her other cookbooks include Everyday Detox and No Excuses Detox. She also created the website Detoxinista.com with the goal of helping people discover ways to make healthy living easier.
See it on Amazon: The Fresh and Healthy Instant Pot Cookbook
Michael Symon's 5 in 5:
5 Fresh Ingredients + 5 Minutes = 120 Fantastic Dinners
Author: Michael Symon and Douglas Trattner
Publisher: Clarkson Potter
224 pages, 120 recipes, 75 full color photos
It doesn't get simpler or faster than this! These recipes have been called "ridiculously easy", and what's even better is that they're also delicious and healthy and super quick to make.
You might wonder if it's just a cookbook full of salads, but it's quite the contrary. Meals include dishes that feature eggs and pasta, kebabs and other grilled mains, skillet dinners, sandwiches, and more.
The key is in having a pantry that is well stocked with the right foods. The author explains exactly how to do that, which then enables you to pull together a fast meal from just 5 fresh ingredients plus some staples that you have on hand.
A good portion of this cookbook is viewable via the "look inside" feature on Amazon. Take a minute to browse through it before you buy, and you'll have an excellent idea of what you're getting. It even includes the entire index.
What do owners say? Most of them absolutely love it. They praise it for having recipes that are as easy as claimed, so much so that it is recommended for beginner cooks. Many of those who've bought it also appreciate the fact that most of the dishes are very affordable.
Note that a few people complained about recipes actually requiring more than 5 ingredients, so let me clarify that again. You use 5 fresh ingredients PLUS a few other items that you pull from your stocked pantry. Stocking up is easy too because he gives you his system for what you need and how to get organized.
About the Author: Michael Symon is an award winning chef and restaurateur, and a very well-known TV personality. You've probably seen him on the Food Network, the Cooking Channel, or as a former co-host of The Chew on ABC. He has authored numerous cookbooks, including his new "5 in 5 for Every Season: 165 Quick Dinners, Sides, Holiday Dishes, and More". Co-author Douglas Trattner is an internationally published freelance writer, editor and author.
See it on Amazon: Michael Symon's 5 in 5: 5 Fresh Ingredients + 5 Minutes = 120 Fantastic Dinners
Skinnytaste Fast and Slow:
Knockout Quick-Fix and Slow Cooker Recipes
Author: Gina Homolka and Heather K. Jones
Publisher: Clarkson Potter
304 pages, 140 recipes, 120 full color photos
This selection is a good choice for anyone serious about watching weight and calories. There are 60 slow cooker recipes and more than 80 dishes you can cook in 30 minutes. Nutrition information is included, and lots of dishes are vegetarian and/or gluten-free.
Anyone familiar with this popular cook knows that she doesn't like skimping on flavor. She's even got your sweet tooth covered with an entire chapter of dessert recipes that won't pack on the pounds.
What do owners say? Some feel that this author's first cookbook was better, but remember that this one places emphasis on saving time. (If you want recipes that are more adventurous but take longer, check out The Skinnytaste Cookbook: Light on Calaries, Big on Flavor.) Some also complain that many of the slow cooker recipes require extra prep time.
Otherwise, owners are very pleased with this cookbook. They praise recipes for having excellent taste and being family friendly, and many say they have successfully lost weight using Skinnytaste recipes.
About the Author: Gina Homolka makes a living helping people eat healthier. She created the Skinnytaste.com blog, which focuses on low-calorie recipes made from natural ingredients that are readily available. Heather K. Jones is a registered dietician who founded the site HeatherKJones.com, where her mission is to promote healing and hope, instead of diets and deprivation.
See it on Amazon: Skinnytaste Fast and Slow: Knockout Quick-Fix and Slow Cooker Recipes
American Heart Association Healthy Slow Cooker Cookbook,
Second Edition
Author: American Heart Association
Publisher: Harmony
320 pages, 230 recipes, full color photos
You should know up front that some of the dishes in this book may require more prep time than you'd expect, but the majority of owners think the results are worth it. There is a focus on using herbs and spices for maximum flavor without all the salt. That also provides for great taste that doesn't depend on exotic, hard-to-find ingredients.
This 2018 edition has been updated to meet current AHA guidelines, and recipes include detailed nutritional information. As times change so do our appetites, and updates also include the addition of new recipes to satisfy our modern tastebuds.
What do owners say? You'll find a few complaints about recipes that either involve too much prep time, or that require attention during the cooking cycle. However, others point out that a good many recipes are "dump and go", and these set-it-and-forget-it dishes are marked as such.
Otherwise this cookbook gets great marks for being well organized and including everyday favorites as well as interesting new dishes to try. Instructions are easy to follow, making this a suitable choice for novice cooks.
About the Author: Here in the United States, the American Heart Association is considered the number one national authority on heart health.
See it on Amazon: American Heart Association Healthy Slow Cooker Cookbook, Second Edition
The Wellness Mama Cookbook:
200 Easy-to-Prepare Recipes and Time-Saving Advice for the Busy Cook
Author: Katie Wells
Publisher: Harmony
336 pages, 200 recipes, full color photos
A lot of people will dismiss this without a glance because it is all grain-free (Paleo), but wait! It's well worth a closer look. Even grain eaters will find lots of very appealing dishes like Mississippi Pot Roast, Sriracha Shrimp Lettuce Wraps, and Chipotle Chicken Fingers With Honey Mustard. There are also cookies and other desserts made with almond flour, which is great for anyone trying to eat fewer carbs.
These recipes use only all-natural ingredients, and most are fairly simple. This book also includes meal plans and time-saving tips – and with 6 kids of her own, this mama certainly knows about being a busy cook!
With the main focus on health, she even includes recipes for extras such as condiments and dressings. Some may find that too time-consuming, but we all know that homemade is healthier, so even the busiest people might use those recipes on occasion.
What do owners say? The few bad reviews of this cookbook are based on personal taste preferences and disagreements on what is/isn't healthy. Note that Ms. Wells does not claim to be a nutritionist, nor does she claim to have all the answers to dietary issues. She simply shares what has proven to work for her and her family, which she has learned over the years from trial and error experience.
The vast majority of those who have purchased this cookbook give it a 4 or 5 star rating. They love it for the variety of dishes, the excellent flavors, and the fact that she uses real food ingredients that are common and easy to find. Chances are that if you like the blog, you'll like the cookbook.
About the Author: Known as "The Wellness Mama", Katie Wells has one of the most popular food blogs on the web. She has a passion for achieving better health through a better diet, and her mission is to help people find practical ways to cook healthier. She is self-taught but highly respected as a real food crusader, and she has been named by Greatist as one of the 100 most influential people in health and wellness.
See it on Amazon: The Wellness Mama Cookbook: 200 Easy-to-Prepare Recipes and Time-Saving Advice for the Busy Cook
Why This List is the Best List of the Best Cookbooks for Healthy Eating
Have you ever been burned buying cookbooks online? If so you're not alone, and the reason is what you might call cookbook fraud.
Unfortunately, lots of the cookbooks for sale online are pure garbage. For example, you'll find a recipe in an air fryer cookbook that calls for placing all ingredients in a 6 quart stock pot, which is impossible in an air fryer. Or you'll find a slow cooker cookbook full of recipes that will only work in a pressure cooker.
Even worse is that some of these garbage cookbooks have shown up on "best" lists by some reputable websites. Obviously, those sites threw together a quick article without doing their homework.
The list above is not that. It was carefully researched, and that's why it is so short. It includes only cookbooks written by people who actually have credentials – they are chefs, nutritionists, or well-known food bloggers who have an established reputation for quality work.
There is no guarantee that you will love everyone of the cookbooks in the above list. That may depend in individual tastes, cooking styles and other personal preferences. However, you can at least be assured that these books are not junk. They contain quality recipes developed and tested by real cooks.
The hardcover or paperback versions of the above books may cost a little more than the junk that's on the market, but then, you get what you pay for. If you want to save money, check out the Kindle versions. You don't have to own a Kindle to read them, so they're a good economical option for everyone!
You may also like: