As an Amazon Associate I earn from qualifying purchases.
These days it's getting harder and harder to find inexpensive gifts that you aren't embarrassed to give, but here's help! Check out these ideas for pleasing your recipient without breaking your budget.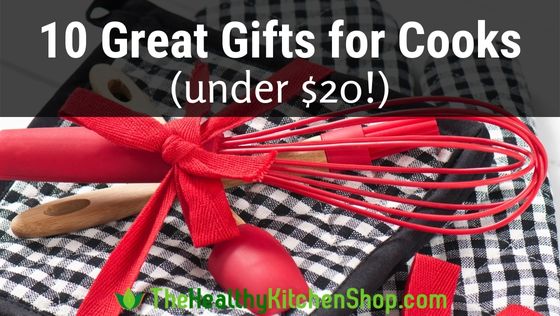 While it's the thought that counts most, it's extra special when you find something you know your friend or loved will will enjoy having. That can become a real challenge when you have a long list to buy for and not a lot to spend.
Hopefully this list of great gifts for cooks under $20 will trigger some ideas … or even better, maybe you'll find just what you're looking for!
Over-the-Sink Collapsible Colander

Showvigor Olive Oil Sprayer

5 Pcs Mini Measuring Spoons Set

Stainless Steel Grill Clips – Set of 4

Spill Stopper Pot/Pan Lid

Stainless Steel Cookie Sheet Pan

Microplane Grater/Zester

Silicone Utensil Set

Amco Rub Away Bar

3 Tier Oven Rack
More Gift Ideas for Cooks & Kitchens