As an Amazon Associate I earn from qualifying purchases.
I'm talking dollars, not pennies! Here's how to save money on meat & poultry without clipping coupons or burning up gas racing from store to store for sales.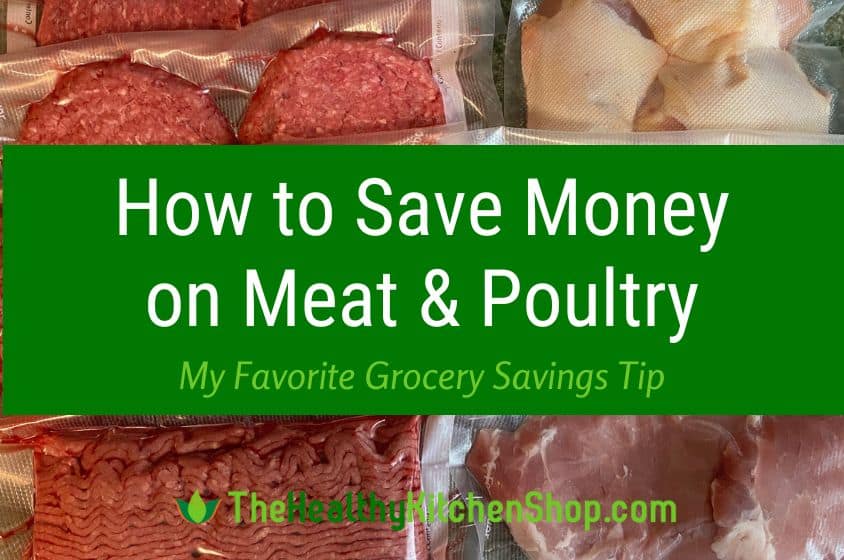 In this economy, who isn't trying to save money every way possible? Hopefully it won't last forever, but even in good times I'm always happy to find a good bargain. Every dollar saved is available to either meet my own family's needs or help others.
At the same time, I don't want to have to give up all the foods I enjoy. As a Louisiana native I do love Red Beans & Rice, but I don't want to have to live on beans and rice just to stay within my grocery budget. Anyway, you can't even make good Red Beans & Rice without some sausage and a ham hock.
The way I save money on meat and poultry isn't a huge secret. Many of you are probably familiar with this method of bargain shopping, but I've added a little twist to it.
And yes, there's a catch to my little twist. It does require an investment up front – but wait till I show you how quickly that will pay for itself! It's well worth it because the savings are so huge in the long run, especially if you're feeding a large family.
"Reduced for Quick Sale" – A Bargain With a Problem
You may have noticed items in your local supermarket that have been marked down to a very low price so that hopefully they will sell quickly. This is very common in the bakery department where freshness is so important.
The same applies to dairy, and you'll see such bargains in other areas of the store. Most often these are foods that are nearing the expiration date, but sometimes it's items that just aren't selling well for one reason or another.
These are called "manager markdowns", "manager's specials", or "markdown sales". As long as you're shopping at a reputable store you need not worry that the food is bad. The store is simply trying to cut its losses by selling the grocery items before they reach the cutoff or "sell by" date. In the meat department you can often find tremendous savings.
The above photo gives you an idea of the kind of savings you can find on beef, pork, and chicken. Below I'll get more specific about this so you can see the astounding savings on even a small number of items.
The problem with this is that you must consume these foods immediately while they are still fresh and safe to eat. That is especially true with meat and poultry, and any other food that could be dangerous if not eaten before its expiration date.
Freezing is One Solution But…
Yes, meat and poultry can be frozen to keep longer. You can buy manager's markdowns and freeze the same day to keep them safe until you're ready to cook them.
Freezing works well for smaller quantities, but you can't stock up too much. There is a limit to how long foods will remain safe to eat even in the freezer. You also run the risk of freezer burn that may not affect safety but will definitely harm taste and tenderness and the natural moisture of food. Dry, tough steak is not a bargain in my book.
No matter how much room you have in your freezer, you'll be limited on how much you can stock up. Suppose your family's favorite meat is pork chops, and you find dozens of packages among the manager's specials. You can only buy as much as you'll eat before it ruins in the freezer.
So, What's Better Than Freezing?
Now, finally, here's the catch. The very best way to preserve your bargain buys is to vacuum seal it first, and then freeze it. Vacuum sealing extends the freezer life for up to 5 times that of ordinary freezing. That gives you a tremendous amount of leeway in taking advantage of bargains.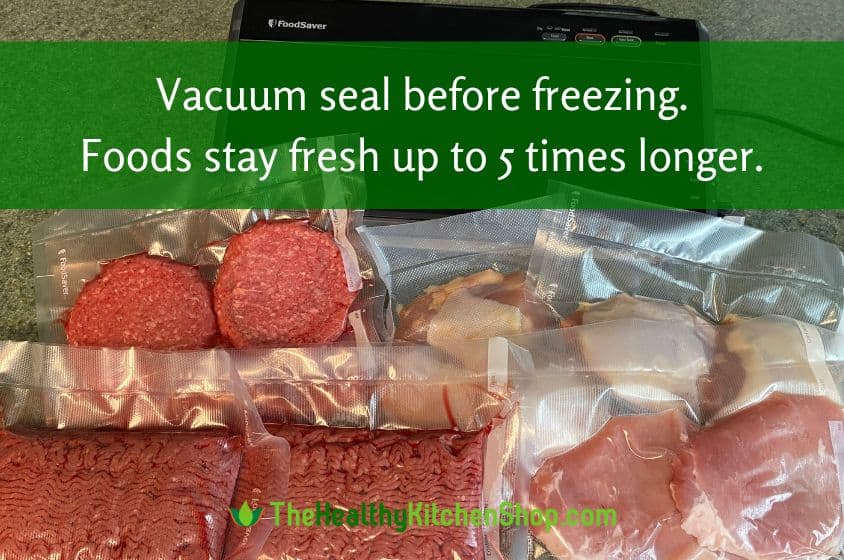 Here are a few examples on food storage from the FoodSaver website:
| FOOD | ORDINARY FREEZER STORAGE | VACUUM SEALED FREEZER STORAGE |
| --- | --- | --- |
| Beef | 6 months | 2 - 3 years |
| Poultry | 6 months | 2 - 3 years |
| Fish | 6 months | 2 years |
| Vegetables | 8 months | 2 - 3 years |
| Soup | 3 - 6 months | 1 - 2 years |
That's a huge difference. But then, what if you don't own a vacuum sealer? Yes, you'll have to buy one, but read on to see how fast your vacuum sealer can pay for itself.
Are Vacuum Sealers Worth It? Look At These Savings!
In my opinion the answer is, absolutely! Let me give an example to explain why.
My favorite vacuum sealer brand is FoodSaver, and they offer a variety of models. I chose the FoodSaver FM2100 because it sells for a moderate price and meets all my needs. You can read my complete review of the FM2100 here.
That model normally sells for just under $150, but it goes on sale fairly often. I got lucky and bought mine for $99. That's about the lowest I've seen it go.
Now let's look at the bargains I found on my latest trip to the supermarket. Note that I am no longer cooking for a large family, so this is a fairly small example of "stocking up".
Item
Weight/Amount
Original Price
Sale Price
Savings
90% Lean Ground Beef
1.25 lbs.
$ 9.98
$ 3.99
$ 5.99
90% Lean Ground Beef
1.26 lbs.
$ 10.05
$ 4.02
$ 6.03
90% Lean Ground Beef
1.26 lbs.
$ 10.05
$ 4.02
$ 6.03
Ribeye Burger Patties
4 Patties
$ 10.98
$ 4.39
$ 6.59
Boneless Pork Chops
1.21 lbs.
$ 6.87
$ 2.75
$ 4.12
Chicken Thighs
2.33 lbs.
$ 4.61
$ 1.84
$ 2.77
TOTALS
Original Price
$ 52.54
Sale Price
$ 21.01
Savings
$ 31.53
How's that for significant savings! I paid only $21.01 for meat and poultry originally priced at $52.54, a whopping savings of $31.53.
As you can see, it would take only 3 or 4 trips to the store at most, and at that point I have saved as much as my vacuum sealer cost me.
Keep in mind:
The more you spend on a vacuum sealer, the longer it may take to pay for itself.
If you're feeding a big family and buy a lot of food, your savings will add up faster than mine.
How to Find Manager Markdowns in Your Local Store
For most all my grocery shopping I happen to prefer Super 1 Foods, a regional chain that is based out of Texas. With the exception of certain holidays, they are open 7 days a week from 7:00 am to 10:00 pm. There is a designated refrigerator bin in the meat market for manager markdown items. Those items are placed in that bin either after the store closes each night, or before it opens every morning.
This is a very common practice and certainly no secret, so plenty of people are aware of it. That means you have to be willing to shop early. For the best deals I arrive at Super 1 just before 7:00 am, and when it opens I head straight for that bin in the meat market.
Usually there are 2 or 3 other bargain shoppers, and we all dig through to see what goodies are available that day. It's actually kind of fun, and in talking to strangers I've learned how to cook a few meat cuts that I had never tried before.
Most major supermarkets in all parts of the county have manager markdowns or specials. Some put out products daily, others only on certain days. To find out, talk to your local store manager or to one of the butchers in the meat market. Ask them where the bargain bin is and what time of day it is stocked.
You also need to note your store's opening and closing hours. Timing is important because the daily stock sells out very quickly. In fact, you may have never noticed your "reduced for quick sale" bin because the majority of the day it is empty. As the cliché says, the early bird gets the worm – or in this case the beef, pork & chicken.
What Meats Can You Find on Manager Markdown?
There is no way to predict, and quite often you will be pleasantly surprised. It's possible to find virtually anything sold in the meat market, including beef, pork, poultry, sausage, bacon, deli meats, hotdogs, variety and specialty meats.
I have bought a little of everything. One day I found packages of deli roast beef that had been so expensive I never would have tried it. It froze quite well and was delicious. The bargain bin is also where I first bought chuck eye steaks. I'm a huge fan of ribeyes, so I was delighted to discover these "poor man's ribeyes". They're as tasty and tender as a ribeye at a fraction of the price, especially in the markdown bin.
One nice thing about shopping so early is that the stores aren't very busy. If you find a cut of meat that is unfamiliar to you, chances are you can find a butcher who won't mind answering your questions. I've learned a lot and gotten great advice that way. After all, they're the meat experts.
Other Ways a Vacuum Sealer Saves You Money
Once you own a vacuum sealer, chances are you'll use it for more than just meats and poultry. It's great for keeping vegetables fresh and frost free in the freezer much longer than ordinary freezer bags or containers. My personal favorite use for this is bulk buying from local farmers in summer. Vacuum sealing does an excellent job of preserving the taste and quality of blanched vegetables, and you never get that "freezer taste".
Other foods you can vacuum seal for the freezer include fish, fruits, leftovers, and even bread. In the refrigerator, vacuum sealing can extend the life of cheese and deli meats. Vacuum sealing can also be useful for pantry items such as flour, rice, and other staples. This is especially appealing to preppers, but these days lots of folks who have the storage space and the money like to stay prepared for extended emergencies.
For everyday use, a vacuum sealer enables you to take advantage of weekly specials at the grocery store, seasonal prices on produce, local farmers markets, and harvest from your home garden. Savings will vary from one individual to another, but over time you will definitely find opportunities to eat better for less.
Owning a vacuum sealer can be a tremendous help to your food budget in numerous ways, and I hope you find this information helpful. For me, nothing beats my manager markdown savings in the meat department!
If you don't already own a vacuum sealer you may also want to see:

For more general information on vacuum sealing please see:
Please share on Pinterest!