As an Amazon Associate I earn from qualifying purchases.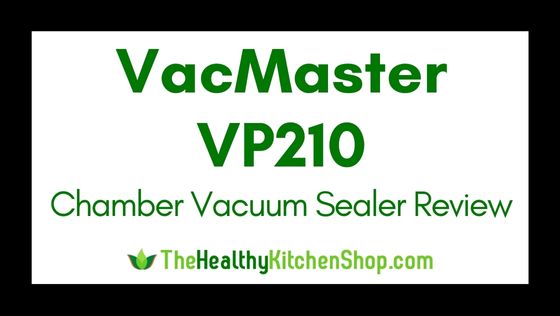 Rating:
4.7
Reviewed by
Susan
A sturdy machine built for frequent use, the VacMaster VP210 Chamber Vacuum Sealer is a bestseller that has earned rave reviews from consumers. Owners give it high praise for performance, efficiency, and ease of operation.
This model is a chamber vacuum sealer that has a 10 inch seal bar and can accommodate food pouches up to 10 x 13 inches. It does a good job on standard vacuum packaging as well as marinating, and it consistently produces tight seals. It also works very well with liquids and high moisture foods, which makes it a favorite among sous vide cooks. Though considered to be for home use, it can also be a good choice for light commercial users.
No single model is perfect for everyone, but following are all the details about the VP210 to help you determine whether this is the best choice for you.
Read our complete VacMaster VP210 Chamber Vacuum Sealer Review below.
Features
Stainless steel construction
Dry rocker piston pump (2 cylinder, maintenance-free)
Patented, retractable 10″ seal bar
Double seal wire in seal bar
Digital control panel with pressure indicator
Domed, "smoky" transparent, heavy duty lid
Includes assorted chamber pouches, filler plates, user's guide
Works with chamber pouches and storage canisters
1 Year Limited Warranty
The VP210 can be considered a scaled down commercial vacuum sealer in that gives home users many advantages of industrial style machines at a much lower cost. For anyone accustomed to using a suction type sealer, this model is a big step up in efficiency and performance.
This unit consistently produces complete, tight seals so you don't waste bags, or waste time re-processing a bag that didn't get a good seal the first time.
Settings on this unit allow you to adjust vacuum time, sealing time, and cooling time. Brand new users may have to experiment a little to determine the best settings for various types of foods, but the manual provides recommended settings. If you do experience a small learning curve, it's worth it in the long run because having complete control allows you to get the best possible results.
An added feature worth noting here is that this machine "remembers" the last settings you programmed into it. That's a huge help when you need to process large batches because everything in your garden ripened at once. After you've sealed your first bag, just place the next bag inside and close the lid. It automatically starts processing while you prepare the next bag.
As you probably know, it's oxygen that makes foods deteriorate. Therefore, the more air that is removed from the bag, the longer its shelf life will be. The VP210 is capable of a 27″hg to 29″hg level of vacuum, much higher than the typical suction type machine.
Which pump is best? — The VP210 has a dry piston rocker pump. Other models such as the VacMaster VP215 have a rotary oil pump. Here's the difference:

Chamber vacuum sealers with a dry pump will run a bit slower, but they cost less and the pump is maintenance free.
Chamber models with an oil pump cost more and require pump maintenance, but they run faster and can be operated for long periods without overheating. Some also claim that vacuum sealers with an oil pump will hold up better for heavy duty use over the long term.
Sous vide cooks and anyone who processes a lot of high moisture foods will definitely appreciate this model's ability to handle liquids. One help is that the vacuum chamber is slightly sloped. During processing, air is evacuated from the entire chamber, keeping pressure equal both inside and outside the bag. That prevents the bag from collapsing and liquids from spilling out the top.
Like other chamber models, the VP210 does not work with bag rolls or the textured bags used by suction type sealers. You can only use commercial flat bags that are sold in various sizes, but that isn't bad news because these chamber pouches actually cost a lot less. It depends on where you shop, but if you buy in bulk you can pay less than a nickel a pouch. Over time that could save you quite a bundle if you do a lot of packaging. (See below for more information about bags.)
A note about heavy duty use: If you plan to process for prolonged periods of time, be aware that you may have to stop periodically to allow the unit to cool down. If you think your main use will be large batch processing, you may want to consider spending a little more for a unit with a rotary oil pump. For more information click here to read our review of the VacMaster VP215 Chamber Vacuum Sealer.
(Back to Top)
Size and Capacity
Exterior dimensions of this model are 20 inches wide x 14 inches deep x 15 inches high*. Clearly, it makes a rather large footprint, and at 72 pounds it isn't easily moved for most people.
One ingenious consumer described how he installed a retractable lifting shelf inside a cabinet to store it. When in use, his machine is raised to counter level within reach of an electrical outlet. If you're handy at such things and also happen to have a cabinet of the right width located next to an electrical outlet, there ya go! Otherwise, consider the counter space required for these large chamber sealers, and whether you are willing or able to move it to storage if need be. Also remember you'll need enough cabinet clearance to open the lid. One solution is to get a rolling cart (click to check them out on Amazon).
The interior capacity of the chamber measures 11.25 x 15.25 x 5 inches, and the maximum size pouch you can use is 10 x 13 inches. For more details see Bags & Optional Accessories below.
*Note that you can't always count on the dimensions shown on the Amazon website as they sometimes give measurements of the boxed product. The dimensions in this review are those listed by the manufacturer.
(Back to Top)
What's Included with the VacMasater VP210 Vacuum Sealer?
The VacMaster VP210 comes with the following:
Assorted Chamber Pouches (75 total, according to manufacturer's site)
2 Filler Plates
User's Guide
The filler plates are for use when processing smaller amounts of food. During processing, the unit must evacuate air from the entire chamber. If your food pouch is small, using the filler plates takes up some of the excess space, reducing the amount of air that must be removed and thereby speeding up the processing time.
The User's Guide is available online and provides closeup photos and detailed explanations about features, operations, and maintenance. You can view it here: VacMaster User's Guide VP210.
(Back to Top)
Bags, Containers & Optional Accessories
Bags
The bags that are made and recommended by the manufacturer are:
I'm the first to admit that I love a bargain, but if you go price shopping for vacuum sealer bags or pouches, be sure you know what you're getting. The bags that I've linked to above are sold by Amazon but made by the manufacturer, and they are:
heavy duty Nylon/Poly material that is 3 mil thick
BPA free and FDA approved
compatible with chamber vacuum sealers
resistant to puncture and abrasion
made to be frozen, refrigerated, microwaved, or boiled
You can also save by buying in larger quantities. These pouches are available directly from the manufacturer, and you can click here to view the selection of VacMaster Chamber Vacuum Packaging Pouches.
NOTE: When you purchase from the manufacturer, shipping is NOT free.
To see how much you can save, check the price of the 1,000 quantity package from Amazon.
Other Food Containers
Don't miss the update below.
The VP210 is capable of sealing canisters, but know before you buy that this may not be any big "plus". A good many consumers report that the canisters do not hold up well, that they develop cracks in a very short time and then will no longer hold a vacuum. Here's what the manufacturer's site says in the FAQs section for this product:
"Please note that frequent use of the canisters inside the vacuum chamber will significantly shorten their life span because if the strength of the chamber vacuum." (See more at: https://myvacmaster.com/cgi/ary.wsc/product.htm?p-item-num=VP210C#tabtop.)
UPDATE: Since this review was first written, the manufacturer has created an entirely new website, and the above information is no longer on their site. In fact, they have deleted the entire "FAQ" page. The fact that all this information has been deleted could "imply" that the manufacturer no longer recommends use of canisters with the VP210.
That said, keep in mind that when you just want to use the VP210 for marinating, your container does not need to have a lid. For that purpose, an open bowl works perfectly fine.
Optional Accessories
Bone Guard Sheets – 4.5 x 5 inch sheets that are 6 mil thick and clear. They can be used with all suction and chamber bags and help prevent sharp bones from puncturing your food pouch. Like the manufacturer's chamber pouches, these bone guards can be frozen, refrigerated, microwaved, boiled, or cooked sous vide. See them on Amazon: VacMaster Vacuum Packaging Bone Guard Sheets
Prep Plate – Designed to help you keep your fingers off the food and keep the sealing area of the pouch clean (important for getting a good seal). See it on Amazon: VacMaster Prep Plate
Multi-Ring Bag Stand – Holds bags and pouches for easier food preparation (rather like having an extra hand, or two!). This ring stand can also help you keep the sealing area clean and dry while you're filling pouches. See it on Amazon: VacMaster Multi-Ring Bag Stand
(Back to Top)
Customer Reviews
While you won't find a large number of user reviews on the web, those that exist are all excellent. Out of just over 70 reviews, only 3 people rated this model lower than 4 stars.
Of those who didn't give it a perfect score, a couple said it has a small learning curve, one didn't like the fact that the "on/off" switch isn't clearly labeled, and another returned it because they deemed it too heavy to lift and too large to leave out on the counter.
If you really dig around you'll also find some forum discussions among owners of this VacMaster model, and there again you read only high praise from very satisfied customers. I found one person who received a defective unit, but they were still very pleased because it was promptly replaced by the company.
A few others contacted the company simply because they had questions, and every one of them reported that customer service responded very quickly and was extremely helpful. They got fast answers to questions and learned exactly what they needed to know.
Note: Reports on customer service differ for other models. A few owners of the VP215 say their experiences with contacting customer service were not good.
(Back to Top)
Pros
Sturdy and well built machine
Consistently produces tight seals
Works very well on liquids
Dry pump is maintenance free
Good customer service
Cons
May be too large for very small kitchens
Heavy, not easily moved
Dry pump may make machine run a little slower
VacMaster VP210 Chamber Vacuum Sealer Review: Summary
The VacMaster VP210 Chamber Vacuum Sealer is an excellent choice for home users. It's easy to operate, virtually maintenance free, and has a reputation for giving you good, tight seals. The fact that it processes liquids so well makes it a favorite with sous vide cooks, and it's also great for all the usual food packaging tasks, crafts projects, and lots of other storage solutions for household items and outdoor living. It may even be suitable for light commercial applications, keeping in mind that processing over prolonged periods may require brief stops for cool down time.
---
Looking for a cart?
Chamber vacuum sealers are large and heavy. Do you have limited kitchen space? Would you like to store your vacuum sealer elsewhere when not in use? If so, one good solution is a utility cart.
For everything from plain & functional to more decorative styles, check out the variety of rolling carts available on Amazon.



Not sure whether the VP210 is best for you? You can compare all brands and models side by side in our Vacuum Sealer Comparison Charts
You may also be interested in…
Water Bath Ovens from SousVide® – Read the Reviews: