As an Amazon Associate I earn from qualifying purchases.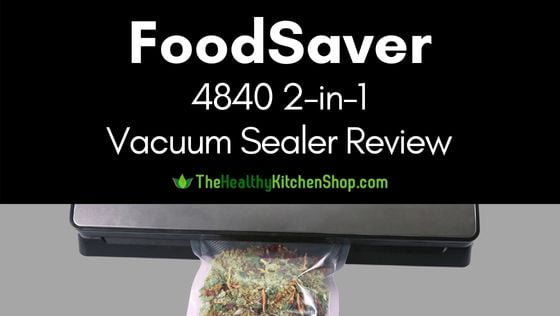 See the lowest price listing I've found on Amazon:
Rating:
4.5
Reviewed by
Susan
If you're looking for a model that offers lots of packaging options, the FoodSaver 2-in-1 Vacuum Sealer is definitely worth considering. This model is a channel (or suction) type vacuum sealer that is fully automatic and includes an accessory port with a built-in handheld sealer. It's price is comparable to competing models in this class, with the exception of the much more expensive Weston Pro-2300.
For versatility it can't be beat. It can handle pre-cut bags and bag rolls, as well as zipper bags used for refrigerated foods that you want to seal and reseal often. For external sealing it works on jars and storage containers (sold separately), and you can even use it to marinate foods in minutes instead of hours.
The majority of consumers love this model and give it high praise, but there may be one drawback. This review covers all the pros and cons, including details about the auto-detect feature that can be frustrating to some and a huge plus to others.
Read our complete FoodSaver 4840 2-in-1 Vacuum Sealer Review below.
Features
Fully Automatic Operation
Works with rolls, bags, and zipper bags
Built-in Retractable Handheld Sealer
Moist/Dry Settings
Removable Drip Tray, dishwasher safe
Roll Storage and Bag Cutter
Includes bag roll, assorted heat-seal and zipper bags
5 Year Limited Warranty
One of the biggest advantages of the FoodSaver 2-in-1 system is its versatility. For longer term storage you can vacuum package foods using either bags or rolls and a regular heat seal. For foods you want to keep fresh but open every day or so, you can use the retractable handheld sealer for vacuum zipper bags. There is also a jar sealer and a special container for quick marinating (see Optional Accessories below).
Operation is fully automatic and very straightforward. This model includes an automatic bag detection feature that allows you to keep your hands on the bag instead of fooling with controls. After you fill your bag, as you slowly insert its open end into the machine it will automatically begin the vacuum sealing process. (Much more about this below: Problems With Automatic Bag Detection)
Using the handheld sealer is quite simple. Once you have the nozzle in place, press the "Accessory" button and the vacuum process will stop automatically after all the air has been removed from your container. If for some reason you want to stop processing early, you have the option to do that manually by just pressing the Accessory button again.
This unit also has a feature that automatically detects whether the food you're processing is dry or moist and adjusts to the proper seal level.
The FoodSaver 4840 is not designed for the kind of prolonged, heavy-duty use you can expect from a chamber vacuum sealer, but it does fairly well when used as intended. The manufacturer recommends waiting about 20 seconds between sealings, which isn't excessive since it may take you almost that long to get your next bag filled and ready to seal. Some users report having to stop after about 10 bags for a short cool-down period, but others have processed 20 or more bags without any overheating issues.
Cleanup is minimal and only involves removing the drip tray for a quick wash, or you can just toss it in the dishwasher.
The internal roll storage will save you a little space, and the built-in bag cutter is a great asset to have on one of these machines. It makes it much easier for you to cut a good straight edge, which is one key to getting the auto-detect feature to work smoothly.
Problems With Automatic Bag Detection
The purpose of this feature is to allow you to have both your hands free to keep the bag straight and flat to get a good seal. That sounds ideal, and it is for many, but a significant number of owners complain that the auto-bag detect feature only works sporadically or that it can be finicky.
The problem is with inserting the bag edge just right so that it will trigger the detector that automatically starts the sealing process. Frustration comes in when you move the bag around trying to get the sensor to detect it, and you end up getting a crooked or wrinkled seal – that, or the machine simply fails to detect the bag and doesn't do anything.
To make this work you need to line up the bag and slowly feed it into the slot, pulling it taut so the bag is flattened. One thing some people don't realize at first is that you have to slide it pretty far into the machine. In fact, one criticism of this model is that it requires a good deal of "lip" which wastes a lot of bag material.
Those who dislike this feature and find it frustrating tend to be owners of earlier FoodSaver models. A lot of them think this automation was a bad idea and would prefer to go back to manual operation.
On the other hand, plenty of owners are quite happy with this unit, especially those who've never owned a FoodSaver before (or in some cases any other brand). There are enough reports about this issue to make it a concern, but at the same time this model offers a lot of great features and advantages that make it very appealing.
It's also worth noting that the manufacturer is known to respond to many of the questions and reviews on its website. This at least indicates that they're paying attention, so if you do have problems you should give customer service a call and ask for help. In one case I found, the company technician explained how to make a simple adjustment to the two little flaps (the sensors), and it completely solved the customer's problem with the automatic bag detection feature.
(Back to Top)
Size and Capacity
Exterior Dimensions: 16 inches long x 7.875 inches tall x 6.75 inches deep
Weight: 10 pounds
Maximum Bag Size: You can seal bags that are up to 11″ wide, which includes the gallon size bags made by FoodSaver. The same width limit applies when you're using bag rolls, but in that case you can choose the length needed to accommodate your food. The option to use rolls can be very helpful if you butcher your own game or want to vacuum seal other bulky or odd shaped items.
What's Included
The following FoodSaver brand bags and rolls are included:
1 bag roll, 11 inches by 10 feet
3 quart size bags
2 gallon size bags
3 quart size vacuum zipper bags
2 gallon size vacuum zipper bags
This model also comes with a user manual and recipe book. To my knowledge the user manual is not available online.
(Back to Top)
Bags, Rolls & Containers
Bags, Bag Rolls, and Vacuum Zipper Bags
If you're new to vacuum sealing, be aware that just any old bag won't do. Because this is a suction type sealer, it requires bag material with a special texture (channels) that allows air to be sucked from the bag.
For best results you want to use quality bags or rolls, and this manufacturer offers you lots of options. FoodSaver brand bags and rolls are BPA free and safe for microwaving and simmering. The material is multi-ply to prevent freezer burn, and it's designed with channels that allow for maximum air removal.
In addition to the regular heat-seal bags, you can also buy vacuum zipper bags. These are sealed using the retractable handheld sealer, and their main use is for foods such as deli meats or leftovers that you want to access more than once, or even daily.
Amazon sells the entire line, and you can go here to see the variety of FoodSaver Bags and Rolls available. (For vacuum zipper bags see this page.)



To clarify one commonly asked question: No, you cannot use ordinary zipper top bags. There is no way to evacuate air from them, and they aren't thick enough for your purposes.
Optional FoodSaver Vacuum Sealer Accessories
FoodSaver Jar Sealer
This handy little accessory is inexpensive and wildly popular. The FoodSaver jar sealer can be used with liquid or dry foods and delicate items. Note that it is not a substitute for canning. It's designed to vacuum seal jars and is great for airtight storage of dry or dehydrated foods.
Included are both the wide-mouth jar sealer and the regular sealer, plus an accessory hose. With the FoodSaver 4840 model you don't need the hose (it's built in), but this is the only option. To the best of my knowledge FoodSaver no longer sells the regular and wide-mouth sizes separately. You have to buy this combo.
FoodSaver Marinators/Storage Containers
These containers may be used either for vacuum food storage or for marinating. Use your accessory hose to create an air tight seal, and store these containers in your pantry, refrigerator, or freezer. Or, save time in the kitchen by using marinate mode on your vacuum sealer to marinate foods in minutes rather than hours. Choose from a single 10-cup container or a set of two, a 10-cup and a 3-cup container.
FoodSaver 2129973 Preserve & Marinate 10 Cup Vacuum Seal Container
FoodSaver 2116382 Preserve & Marinate Vacuum Containers, 3-cup and 10-cup (Count-2)
On Amazon you will also find the FoodSaver Vacuum Seal Quick Marinator. It looks different but is the same size as the 10-quart container shown above, and it costs a good deal more.
(Back to Top)
Customer Reviews
As mentioned above, the auto-bag detection feature can be problematic. Some frustrated owners claim they waste a lot of bags and bag roll lengths when the seal fails and they have to trim and start over. They actually think the older, manual-seal models were easier to operate and get a good seal the first time.
Yet on balance, hundreds of other happy owners deem this model a huge improvement (75% rate it 5 stars). While they agree that operation can be a little tricky, once you get past the learning curve the FoodSaver 4840 seems to work much better for producing a tighter seal that doesn't develop leaks over time.
Other advantages owners enjoy with this channel vacuum sealer include:
The option to manually shut of the vacuum process lets you get much better results on soft foods. You can vacuum seal your fresh baked banana bread without compressing it into a hard brick.
The retractable handsealer is very convenient and a real money saver. You can buy larger quantities cheaper and avoid waste by giving a longer shelf life to salads, deli meats & cheese, leftovers, and tons of other everyday foods.
It's great for singles and couples because you can finally take advantage of sales, seasonal prices, and all the good deals on items packaged in bulk for large families. No more passing up great buys at Costco or Sam's Club because you can divide up those large quantities and vacuum seal to prevent spoilage.
Marinate feature is great for busy cooks. If you forget to plan ahead you can still cook that flank steak that you'd normally leave marinating for hours.
(Back to Top)
Pros
One of the most versatile channel vacuum sealers on the market
Built-in bag cutter helps you get a clean cut and straight edge
Tight seals hold up well during storage
Retractable handheld sealer convenient for keeping everyday foods fresh longer
Removable drip tray makes it easy to clean
Cons
Automatic bag detection feature can be tricky to use
FoodSaver brand bags/rolls are high quality but expensive
May require frequent cool down periods during prolonged batch processing
FoodSaver 4840 2-in-1 Vacuum Sealer Review: Summary
Compared to other channel vacuum sealers in this price range, the only possible drawback to the FoodSaver 2-in-1 System is the finicky automatic bag detection feature. If you get past the learning curve on that, you'll be delighted with the wide range of uses for this versatile machine. The option to use bags, rolls, jars, and other externally sealed containers lets you vacuum package everything from common foods to oddly shaped items. You'll also waste a lot less food (and money!) by using zipper bags to keep everyday foods fresh longer. The FoodSaver 4840 model is light enough to store away when you like, but it's so convenient for so many different purposes that you may end up using it every day.
(Back to Top)



Not sure whether this model is best for you? See our Vacuum Sealer Comparison Charts to compare features of all models and check out the reviews.