As an Amazon Associate I earn from qualifying purchases.
America Strong! You can help by shopping for products that are made in the U.S.A. In this case you can't go wrong because you're investing in the highest quality stainless steel cookware made. It will last you a lifetime and serve generations to come.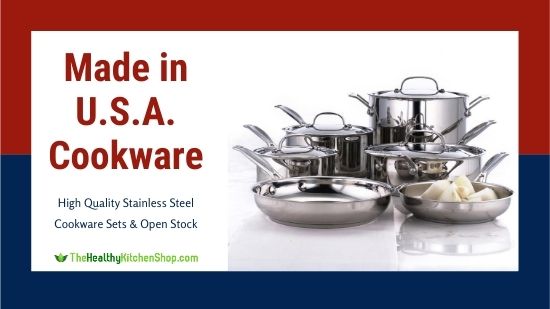 Below is a wide range of cookware from Heritage, All-Clad, and Viking. You're sure to find the perfect addition to your kitchen, whether it's a single special piece or an entire set.
You'll love your new cookware, and when you buy American you're supporting local businesses and the hard working folks who depend on those companies to support their families. We're neighbors helping neighbors, right?!
Stainless Steel Cookware Sets and Open Stock Pieces Made in America
Titanium Strengthened 316Ti Stainless Steel
7-Ply Construction
Induction-Ready
Dishwasher-Safe
Lifetime Warranty
Made in USA – Family-owned factory in Clarksville, Tennessee

Click image to see it on Amazon.
MORE OPTIONS
Heritage offers this same cookware in two more sizes:

Open stock pieces from Heritage include:
Durable Construction – 3 bonded layers of stainless steel and aluminum
Riveted stainless steel handles
Starburst finish for superior stick resistance
Compatible with induction and all cooktop types
Dishwasher safe
Made in USA – Handcrafted in Canonsburg, Pennsylvania, with American-made steel

Click image to see it on Amazon.
MORE OPTIONS
You may also be interested in these sets from Viking:

All Clad sells open stock pieces as well, including:
Signature Viking stay-cool handles
18/10 stainless steel interior
For use on all cooktops, including induction
Dishwasher-Safe
Manufacturer Limited Lifetime Warranty
Made in USA – Certain products only*
* Note that not all Viking cookware is made in the U.S.A. Some products such as the Contemporary line may be designed in America but manufactured in Belgium, China, or elsewhere.
At the time of this writing the Viking Professional products shown below are, to the best of our knowledge, made in America.

Click image to see it on Amazon.
MORE OPTIONS
Viking offers this 5-ply cookware in two other sets:

If you aren't ready to invest in a set, some of the open stock pieces from Viking include:
You may also be interested in…