As an Amazon Associate I earn from qualifying purchases.
Choosing an electric pressure cooker is easy because there is simply no question about which one is the best. Read all the details here, and I think you'll agree!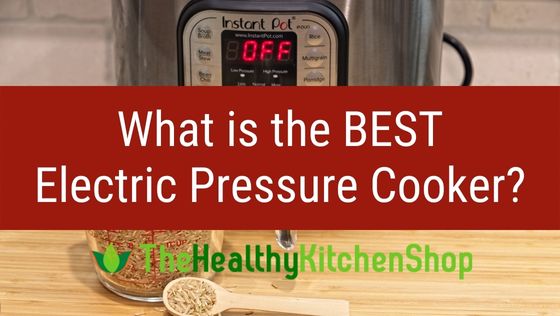 Rating: 4.7 Reviewed by Susan
Hands down, the best electric pressure cooker on the market today is the Instant Pot IP-DUO60. It out sells every one of its competitors, has an extremely high average rating from tens of thousands of owners, and has an online community of enthusiastic users who can help you with most any question (not to mention recipe ideas!).
This is 6 quart model with a stainless steel cooking pot, 14 built-in "smart" programs, and 10 separate mechanisms designed to ensure safe operation. For all the details you can click here to read my comprehensive Instant Pot Review, but in this article we'll take a look at how it stacks up to its competitors.
Let's begin with a quick rundown on models by other manufacturers.
Power Pressure Cooker XL
The Power Pressure Cooker XL has been discontinued and is no longer available. It was very well known because it was so highly publicized on TV. However, there were lots of complaints about the product, its warranty, and customer service, which is probably why it didn't make it.
Elite Platinum Pressure Cooker
This model also bit the dust. Major complaints were about lack of durability and very poor customer service.
Secura and Fagor
Both of these brands have also been discontinued. I believe they were decent products, but they just couldn't compete with the tremendously popular Instant Pot.
Cuisinart Electric Pressure Cooker
Cuisinart makes some awesome kitchen appliances, but this may not be one of them. It does have its good points – controls are simple and easy to learn, and it produces good results as a pressure cooker.
The reason it is easier to operate is that it doesn't have lots of options. For one, it has no slow-cooking mode.
If you prefer a stainless steel cooking pot do not buy this model. It comes with a non-stick cooking pot, and there is no stainless steel model made to fit it.
A common complaint is that the unit abruptly shuts itself off before cooking finishes. This can happen with any pressure cooker because they have so many built in safety features. However, the sensors in the Cuisinart seem to be hypersensitive, and these unwanted shutdowns happen far more often than with other brands.
The other bad news is that the vast majority of those who've dealt with customer service have had a very bad experience. You do get a 3 year warranty, but you'll have to pay for shipping your broken unit back to Cuisinart. Also, some owners even claimed that they had a hard time convincing the company to honor their warranty.
As for cost, you will pay more for a 6-quart Cuisinart model than for the same size Instant Pot or Presto.
Read my complete review of the Cuisinart Electric Pressure Cooker here.
Click here to see the Cuisinart Electric Pressure Cooker on Amazon.
Presto Electric Pressure Cooker
Presto used to be the bargain brand, but the price has increased so much that it now sells for about the same as the Instant Pot.
It does not have a delay timer, but it does offer plenty of other good features, including 19 pre-sets and a Keep Warm mode. It will cook with low or high pressure and has functions for slow cooking, browning, and sautéing.
Like the Cuisinart, this model comes with a non-stick cooking pot only. Whether that is a plus or a minus is a matter of personal preference.
There are not a lot of complaints about the Presto. In fact, the majority of really bad reviews are about products that arrived damaged. Otherwise, you'll find a number of general comments from people who say that the overall quality of the Presto isn't quite as good as that of the Instant Pot.
Still, plenty more owners say they don't have any use for a delay timer, and they are extremely happy with their Presto. Over 90% of customers rate it with 4 or 5 stars.
Read my complete review of the Presto Electric Pressure Cooker here.
Click here to see the Presto Electric Pressure Cooker on Amazon.
Instant Pot IP-DU060
It's easy to sum up the worst things you can say about the Instant Pot:
You may experience a small learning curve. It's not that the controls are difficult to operate but that the Instant Pot offers so many choices in what you can do. You'll have to read the instructions, and you might even have to consult the Facebook community to get an answer, but it's a small price to pay for all the versatility you get.
The instruction manual needs work. A lot of people consider the instruction manual to be quite lacking, especially for such an exceptional appliance. Despite that, I've yet to find a single person who regretted their purchase simply because they didn't like the owner's manual.
The sealing ring may absorb strong cooking odors. This never affects the taste of your food, only the aroma you smell during cooking. Apparently this is not an issue for the majority of people. If you're in the other camp, there's a real easy solution. Just spend another 10 bucks or so for an extra sealing ring. Switching rings is fast and dead simple. That way you don't have to smell last night's crawfish gumbo while drinking coffee and cooking your morning oatmeal. (Here's a complete explanation on this issue plus a couple of different solutions.)
Otherwise it's all good. So far there is no indication of a high fail-rate on these units, but when there is a problem this company appears to be very diligent. They used to actively monitor reviews on sites like Amazon to find complaints and respond. I don't see that any more, probably because they can't keep up anymore (there are now over 150,000 reviews on Amazon alone). Of the people who have had reason to contact customer service, the vast majority have only good things to say.
The Instant Pot gives you:
Large size 6 quart cooking capacity
Stainless steel inner cooking pot (no worries about chemicals in non-stick coatings)
An array of fully programmable features, including numerous pre-sets
24 Hour Delay Timer with option for automatically switching to Keep-Warm mode
Multiple built-in safety features (it is the only Ul and ULC Certified model)
An online community with thousands of active members
1 year limited warranty
Summary: What is the Best Electric Pressure Cooker?
On balance, there simply is not another brand that offers all the advantages of the Instant Pot. None of the other brands cost less, and the Cuisinart will cost you more. You can also put considerable stock in that 4.7 star rating because it's an average from over 150,000 people – if the unit had serious flaws, they surely would have come to light by now. Before you buy you really should read our complete review on the Instant Pot, and maybe check out all our other reviews as well. It's rare that I claim any specific model as number one for every single person, but in this case it's hard to find any reason why the Instant Pot shouldn't be deemed the best electric pressure cooker around. Personally, I own an Instant Pot and am extremely satisfied with it.
I Want More Detail → Take Me To The Full Review
My Mind Is Made Up → Take Me To Amazon
Other Instant Pot Models

The number one bestseller referred to above:
Instant Pot IP-DUO60 7-in-1 Multi-Functional Pressure Cooker, 6Qt/1000W

The Instant Pot in an 8 Quart size:
Instant Pot IP-DUO80 7-in-1 Programmable Pressure Cooker, 8Qt/1200W

To compare models side by side see:
Electric Pressure Cooker Comparison Chart