As an Amazon Associate I earn from qualifying purchases.
This Air Fryer "Grilled" Chicken recipe gives you moist, tender chicken strips that are delicious and versatile – serve as is for an entreé or add to salads, sandwiches, quesadillas, you name it!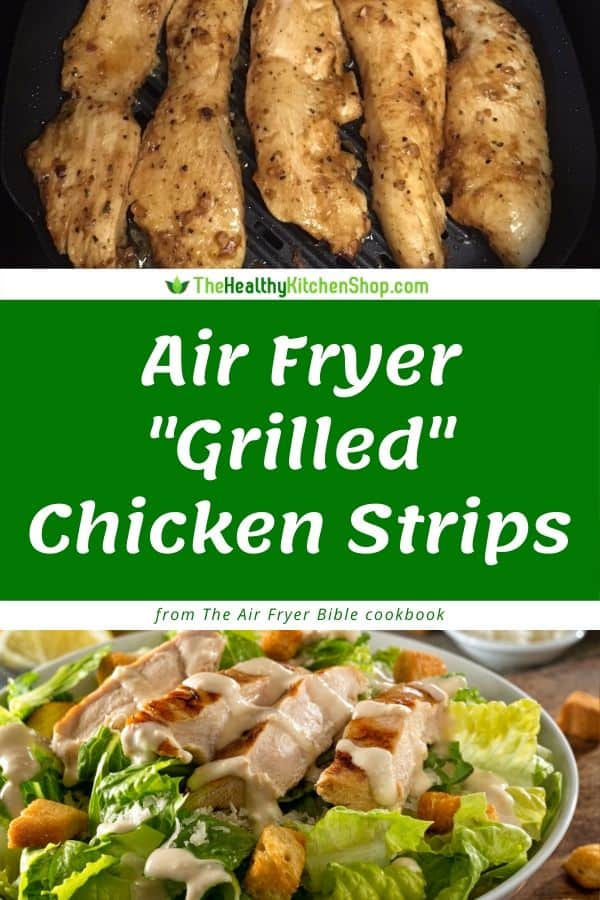 Use these chicken strips whole or cut them into pieces, and the possibilities are almost endless. They taste great served alone as a main dish, or add them to salads, sandwiches, tacos, fajitas, quesadillas, pasta, or mixed veggie stir fries.
Cooked chicken strips also freeze well, so you can make them ahead of time on weekends and have plenty on hand to thaw for a quick dinner on a busy night.
Our basic marinade below is mildly flavored, so the cooked chicken will work for a variety of uses. Experiment with marinade ingredients to suite your tastes. For example:
Omit the honey to remove any hint of sweetness.
Add chile powder and cayenne pepper for some spicy heat.
Add some liquid smoke to give it a bit of an outdoor grilled flavor.
Keep in mind that various air fryer models cook differently, so your total cooking time may vary. A meat thermometer comes in handy when checking for doneness, especially for new cooks.
Avoid overcooking and you'll be delighted at how tender and juicy these chicken strips turn out. In fact, this could easily become one of those go-to recipes you use every week.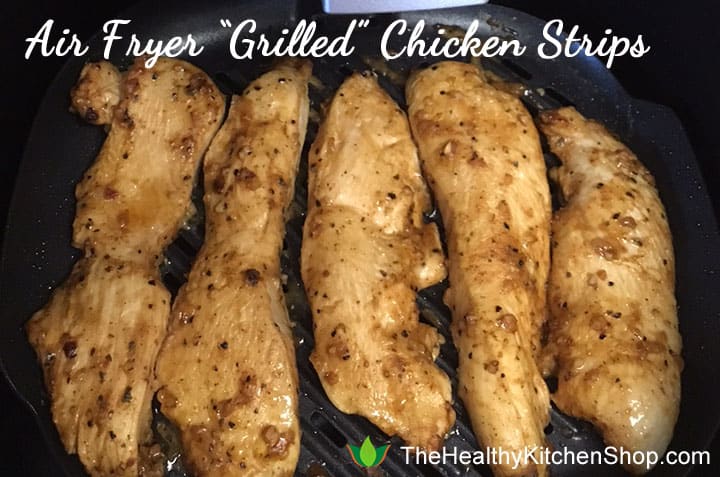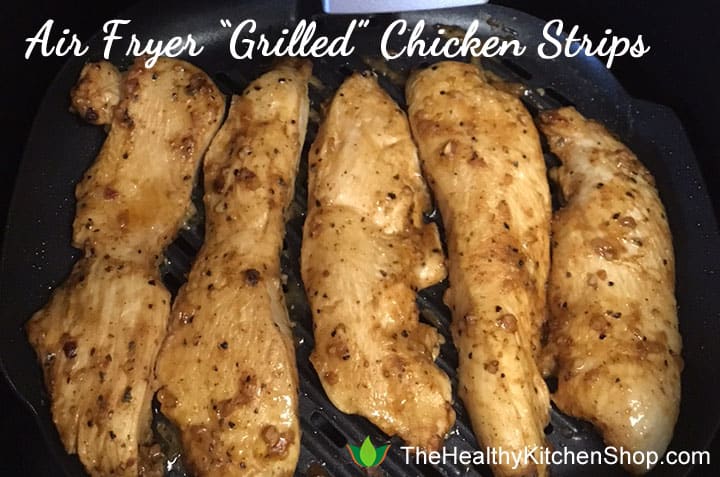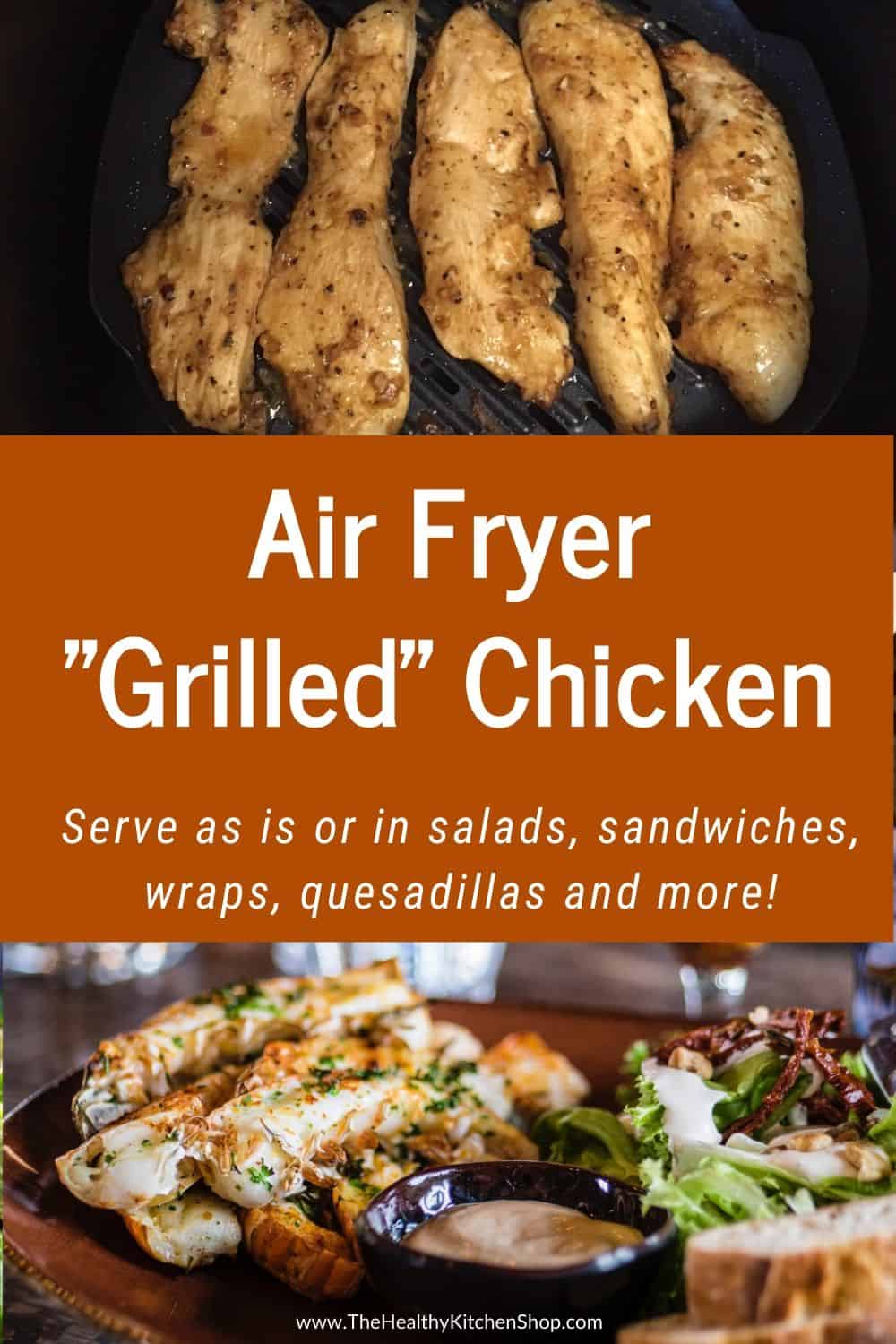 Air Fryer Grilled Chicken Tenders
Serve these air fryer grilled chicken tenders as a main dish or use them in salads, sandwiches, wraps, pasta, tacos, quesadillas, and more. Give most any dish a great tasting protein boost.
Ingredients
Marinade:
1/4

cup

olive oil

2

tbsp

water

2

tbsp

honey

2

tbsp

white vinegar

1/2

tsp

salt

1/2

tsp

crushed red pepper

1

tsp

garlic powder

1

tsp

onion powder

1/2

tsp

paprika
Instructions
In large bowl or container with lid, combine all marinade ingredients and mix well.

Add chicken and stir to coat. Cover tightly with lid or plastic wrap, and let marinate in refrigerator for 30 minutes.

Place half of chicken tenders in air fryer basket in single layer. (Large air fryers may hold more than half of chicken. Just be sure to leave space between tenders for air flow, and do not stack.)

Cook at 390℉ for 3 minutes. Turn tenders over and cook for 3 to 5 minutes longer or until chicken is done and juices run clear.

Repeat previous step to cook remaining tenders.
Notes
Some air fryers have an optional grill plate. If you have one, be sure to use it for this recipe, and your tenders will turn out even better!
© 2017 Susan LaBorde and Elizabeth Hickman. All rights reserved. No part of this recipe may be reproduced or transmitted in any form or by any means without prior written permission.
Want more? This recipe is from The Air Fryer Bible Cookbook by Susan LaBorde and Elizabeth Hickman. Click here to see The Air Fryer Bible on Amazon.



You may also like:
If you enjoyed this recipe please share on Pinterest and help us spread the word!