As an Amazon Associate I earn from qualifying purchases.
Brownies After Dark is a great air fryer recipe for beginners, as well as for anyone who hasn't yet discovered that air fryers aren't just for frying – they do an excellent job of baking too!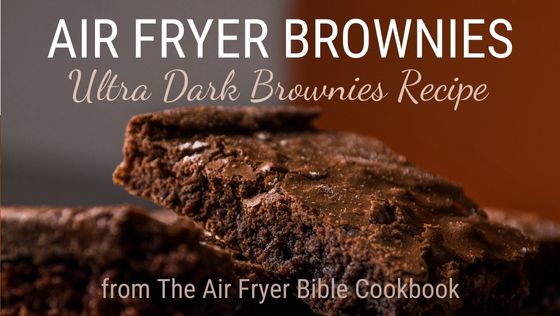 Brownies are a family favorite, and this air fryer recipe lets you bake up a batch in no time using ingredients you most likely have on hand.
If you're trying to eat healthier, let's not kid ourselves. Dark chocolate does provide some health benefits, but these brownies are loaded with sugar too. They should be enjoyed as a treat and not a habit.
One bit of good news is that standard size air fryers aren't large enough to handle a big 9″ x 13″ pan of brownies or any other huge dessert. Eaten plain, this small batch will let you indulge your sweet tooth without going on a binge – there is no big pan of leftovers to keep nibbling on every time you pass by.
Here's a shot of the 6″ x 6″ pan of brownies baked in my Philips Airfryer.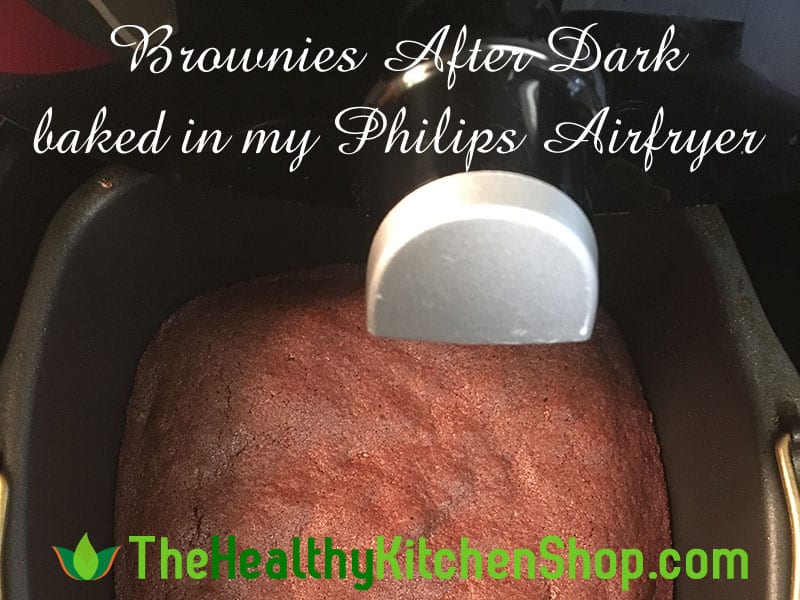 Don't have an air fryer yet? Click here to read our Philips Airfryer Review, or go here to see the latest Philips model on Amazon.
That doesn't mean you can't make a decadent dessert if you like. As a southerner with a serious sweet tooth, my ideas for such dishes are almost endless (unfortunately for me!).
In the recipe below we've listed ice cream, caramel sauce, and whipped cream as optional toppings. In fact, the only limits are your imagination and the personal preference of your taste buds.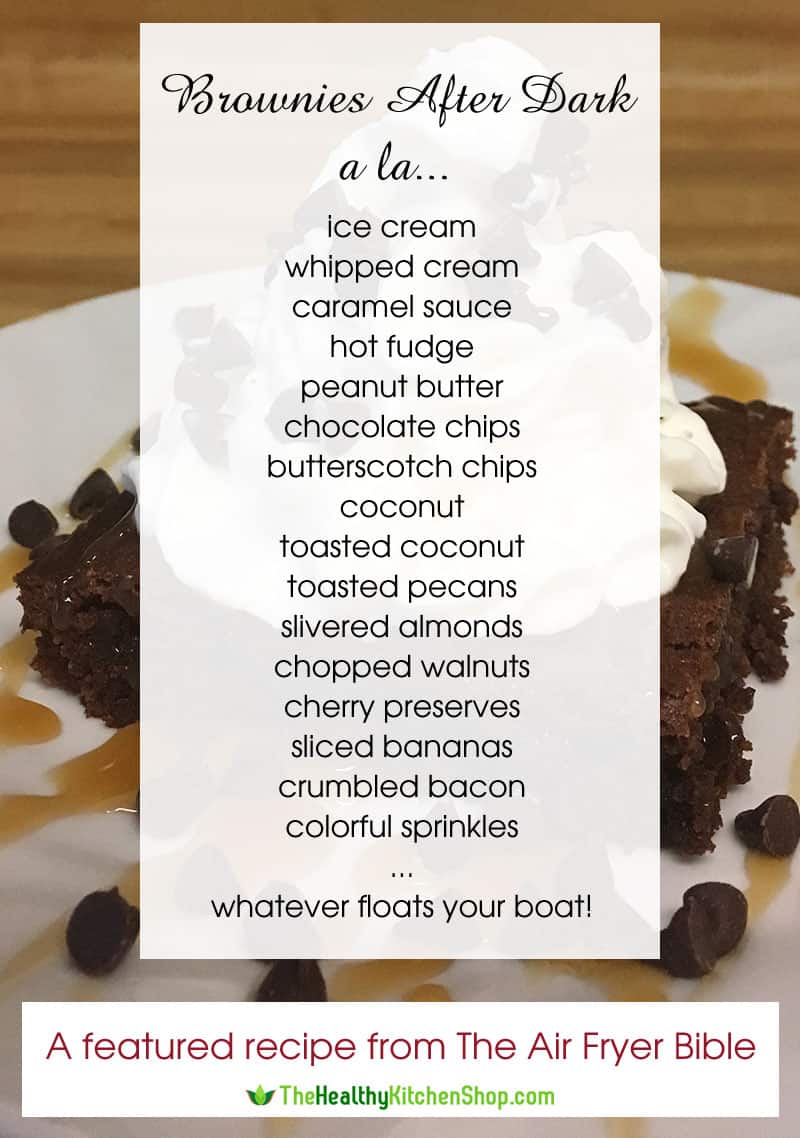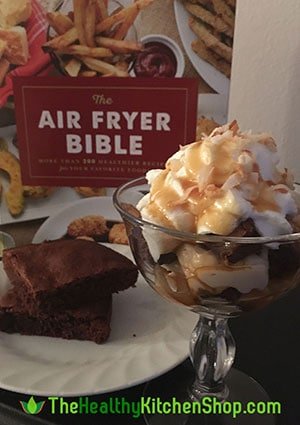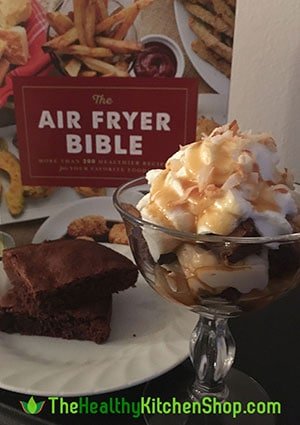 For those occasions when you want an extra special dessert, try making individual parfaits. They look impressive, but they're very simple to put together. Here's how:
Bake a batch of Brownies After Dark, allow to cool, and cut into small cubes.
Layer brownie cubes in parfait glasses with your choice of fillings or toppings. Some of our favorites include:
vanilla pudding
whipped cream
caramel ice cream topping
toasted coconut
Enjoy!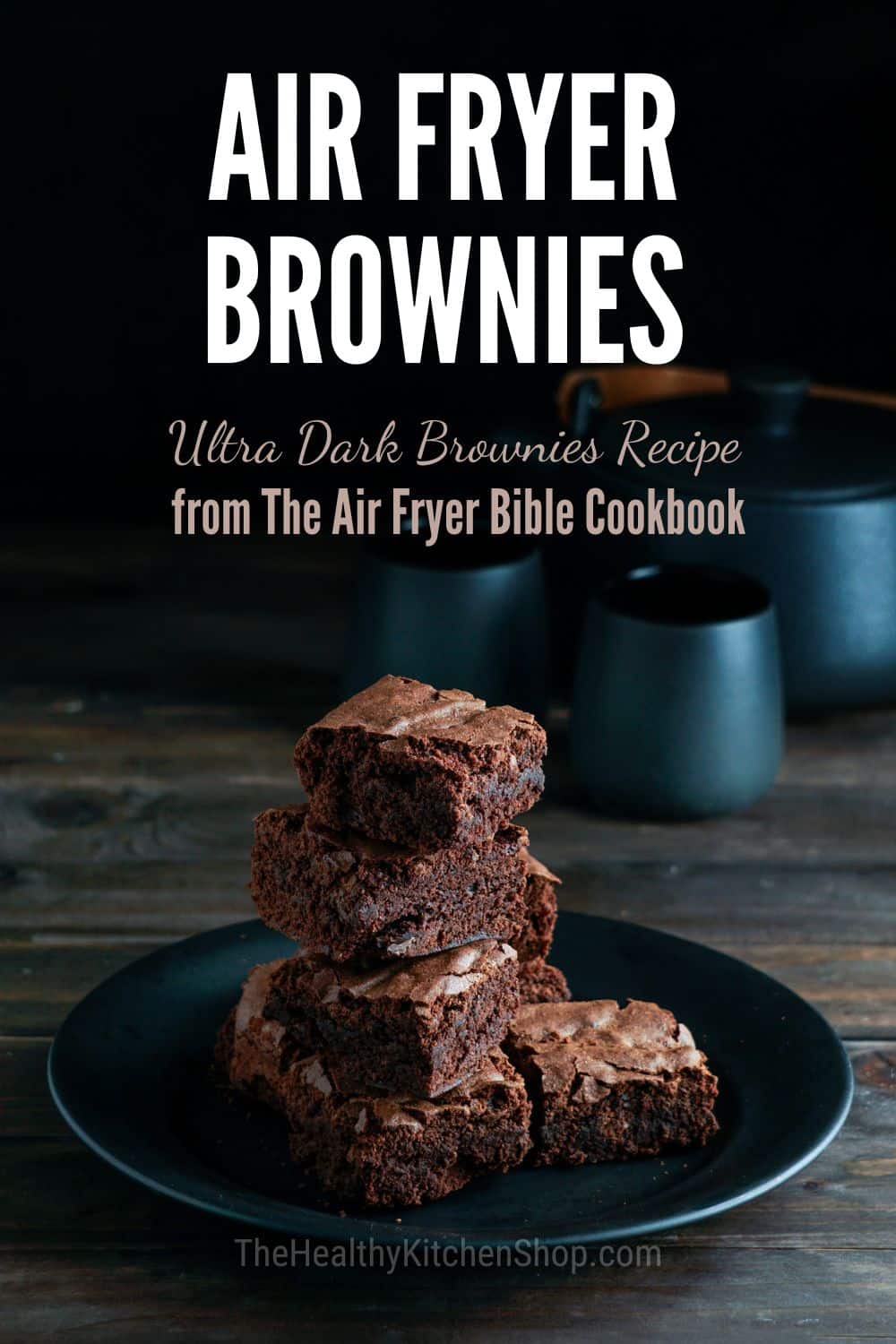 Brownies After Dark
If you don't love dark chocolate - and we mean really love it - this is definitely not the treat for you. For the rest of us, every bit of these brownies tastes like a chunk of heaven.
Equipment
Air Fryer

6" x 6" baking pan
Ingredients
1

egg

1/2

cup

granulated sugar

1/4

tsp

salt

1/2

tsp

vanilla

1/4

cup

butter, melted

1/4

cup

plus 2 tbsp flour

1/4

cup

cocoa

cooking spray
Optional:
vanilla ice cream

caramel sauce

whipped cream
Instructions
In medium bowl beat together egg, sugar, salt, and vanilla until light.

Add melted butter and mix well.

Spray 6" x 6" baking pan lightly with cooking spray.

Spread batter in pan and cook at 330℉ for 11 to 13 minutes. Cool and cut into 4 large squares or 16 small brownie bites.
Notes
Tip: For a truly indulgent dessert, cut the cooked brownie into 4 large squares and top each with 1 scoop vanilla ice cream, caramel sauce, and whipped cream. You can even top that with chopped nuts, toasted coconut, sprinkles, whatever you like. 
© 2017 Susan LaBorde and Elizabeth Hickman. All rights reserved. No part of this recipe may be reproduced or transmitted in any form or by any means without prior written permission.
Want more? This recipe is from The Air Fryer Bible Cookbook by Susan LaBorde and Elizabeth Hickman. Click here to see The Air Fryer Bible on Amazon.
You may also like:
Please share on Pinterest!