As an Amazon Associate I earn from qualifying purchases.
At under $50, the Bella Air Fryer could be a great choice for anyone who isn't sure about air frying and wants to give it a try. My review provides all the details to help you decide.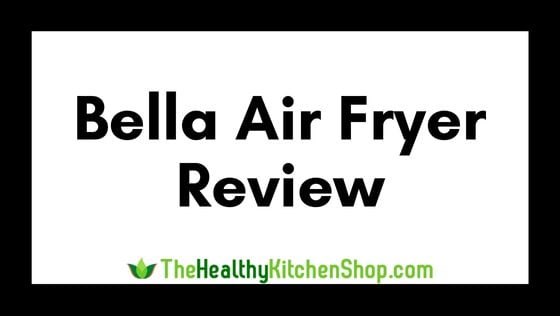 Rating: 4.6 Reviewed by Susan
The Bella Air Fryer is not a top seller, but after about 4 years on the market it has earned good ratings from almost 90% of owners. This brief review covers the basics and is offered in response to questions received from our website visitors.
This is a 1,500 Watt electric air fryer with a 2.5 liter cooking capacity. It has manual controls, a temperature range of 175° to 400° F, and a dishwasher safe cooking basket. This model is not from a well-known manufacturer*, but it sells for under $80 and has a good warranty** on the unit.
* Bella is a registered trademark of Sensio Inc., located in Montréal, Canada. Other Sensio brands include Crux and Brim.
* Warranty – 2 years limited warranty on unit, 90 days limited warranty on non-mechanical parts. For complete details click here to go to product page on Amazon, scroll down to Product Information, and click the link under Warranty & Support.
Features
2.5 liter capacity
1,500 Watts
Manual Controls
Adjustable thermostat up to 400°
60 minute timer with automatic shut off
2 Year Limited Warranty (90 day warranty on non-mechanical parts)
Watch this short video (about a minute) for a brief explanation of how the Bella Air Fryer works, and you can also get a good look at the appliance interior and cooking basket.
Air fryers are not complicated machines. This Bella has manual controls, but otherwise it includes all the standard features of the basic models in the same price range.
(Back to Top)
Size and Capacity
Exterior Dimensions: 11.42″ x 14.17″ x 18.19″
Weight: 10.2 pounds
Interior Capacity: 2.5 Liters
Like all air fryers, the Bella occupies a fairly large chunk of space on your counter top. This one isn't terribly heavy, but still, size and shape make it a bit awkward to move in and out of cabinets.
Optional Air Fryer Accessories
There are no accessories made specifically for the Bella brand, but you may have other options. For more information on this see Universal Air Fryer Accessories.
The instruction manual for the Bella Air Fryer includes only standard operating & care information and a very limited number of recipes.
(Back to Top)
Customer Reviews
There are a few reports of these air fryers being dead on arrival, but not enough to be cause for concern. Unfortunately that can happen even with the best and most expensive brands.
I also found mention of the basket coming loose from its handle, but again there was not a lot of these complaints.
A number of people reported an odor that does not go away after use of the appliance. One owner suggested that a thorough washing before use, as instructed in the owner's manual, will solve this problem. If not then this should certainly be just cause for returning the unit.
Otherwise the only complaints to date about this unit are from people who are unhappy with the taste of the food. There is no guarantee you will love air fried food, but there's a very good chance that your first dishes won't turn out all that great. If you really want an air fryer, then spend a few more bucks and get a good air fryer cookbook. It will make all the difference! In addition to recipes you'll learn tips and tricks that help you get the most from your air fryer. To find a resource see our Air Fryer Cookbook Guide.
(Back to Top)
Pros
very low priced
timer with auto shut off
dishwasher safe fry basket
Cons
a few reports of dead units and loose basket handles
some complaints of lingering odor
manual controls (if you care)
Bella Air Fryer Review: Summary
The Bella Air Fryer is about the lowest priced air fryer you'll find, and it has standard features designed to suit the needs of most average users. In four years it has earned good ratings and lots of praise from satisfied customers. This could be a very good choice for those who are curious about air frying but aren't interested in investing a lot of money just yet.
If you own a Bella Air Fryer we'd love to hear from you. Please leave a comment below to share your experience with this model – good or bad!
(Back to Top)
You may also want to consider…

GoWISE USA 3.7-Quart Programmable Air Fryer with 8 Cook Presets – Similar model except with digital controls and priced only a little higher than the Bella

See our Air Fryer Comparison Chart to view details of all models side-by-side.