As an Amazon Associate I earn from qualifying purchases.
The VacMaster VP215 is a quality machine that has been around for quite a long time. According to the manufacturer this model is one of its best sellers.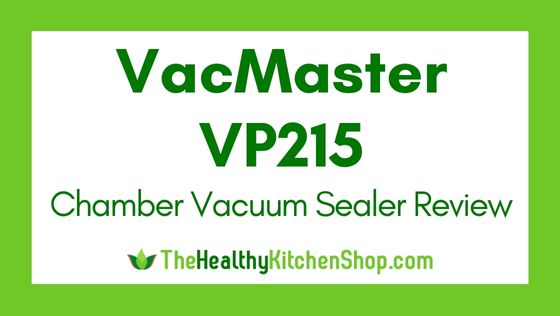 Rating:
4.7
Reviewed by
Susan
The VacMaster VP215 Chamber Vacuum Sealer is noted for being a fast, quiet machine that delivers superior performance. It's very popular with home users but powerful and sturdy enough for small restaurants and other light commercial settings.
This chamber vacuum sealer has a rotary oil pump and is designed with a 10-inch seal bar and a chamber that can handle food pouch sizes up to 10 x 13 inches. It produces consistently reliable seals, works well with solids or liquids, and can run continuously without needing cool down time between bags.
The oil pump does require periodic maintenance, but it's not difficult. Otherwise this model is almost identical to the VacMaster VP210, so check out all the details below to find out which machine will serve your needs best.
Read our complete VacMaster VP215 Chamber Vacuum Sealer Review below.
(Click here to read our review of the VacMaster VP210.
To compare models and find more vacuum sealer reviews see this Comparison Chart.)
Features
Stainless steel, heavy duty construction
1/4 HP rotary oil pump
Patented, retractable 10″ seal bar
Double seal wire in seal bar
Digital control panel, including pressure indicator
See-through domed lid ("smoky" transparent and heavy duty)
Includes assorted chamber pouches, filler plates, maintenance kit, user's guide
Works with chamber pouches and VacMaster storage canisters
1 Year Limited Warranty
The VP210 and VP215 are almost identical. Some of the similarities are:
same exterior dimensions
same interior (inner chamber) dimensions
same 10″ retractable double seal bar
same digital control panel
same sturdy, stainless steel construction
both work with chamber pouches (not bag rolls)
both handle standard packaging, hard & soft foods, and liquids
The biggest difference is that the VP215 has a rotary oil pump.
The downside of having an oil pump is that it does require maintenance. The manufacturer recommends changing the oil approximately twice a year, but of course that depends on your level of use.
Before using your sealer for the first time you'll need to add oil, but the process is not complicated. If you want to see the explanation before you buy, see page 6 of the owner's manual. (Click here to download the VP215 User Manual.) The maintenance kit that comes with the unit includes 1/2 quart of oil and an empty oil bottle with a spout. It should also come with a Phillips head screwdriver, but in addition to that you'll need an adjustable wrench or something similar.
For a new machine, you'll need to change the oil after the first 25 hours of use. After that, it is recommended to replace the oil after every 60 hours of use, or any time that the oil begins to appear either milky white or dark brown.
If the maintenance aspect doesn't scare you off, some advantages of having an oil pump in this vacuum sealer include:
Speed: faster than dry pump units
Noise level: quieter than dry pump units
Large batch processing: can run continuously without overheating
This particular model includes settings for adjusting the vacuum, sealing, and cooling times. Being in complete control enables you to get the best results possible. Beginners might find this somewhat confusing at first, but you can start by using the settings recommended by the manufacturer.
If you plan to process in volume, you'll be glad to know that there is a built-in "memory" feature that will keep track of the last programmed settings. That way you don't have to stop and reprogram each time. Just add your next bag, shut the lid, and the sealer will automatically start processing using those previously programmed settings.
The VP215 is capable of a 29.7″hg level of compression, which is far higher than suction type vacuum sealers. This is also higher than the VP210 model that is rated at 27 to 29hg. It's the rotary oil pump that enables the VP215 to pull a higher compression level, which gives it another slight edge over the VP210.
Which pump should you choose? — The VacMaster VP215 has a rotary oil pump. Other chamber vacuum sealers have a dry piston rocker pump. Each has its advantages and disadvantages:

Dry pump units run somewhat slower, and they may require cool down periods when processing continuously in very large batches. However, they are also less expensive, and the pump does not require routine maintenance.
Oil pump units are more costly, and the pump does require some maintenance. However, they run faster and quieter and will not overheat during long periods of continuous processing. For long term, heavy duty use, in some cases oil pumps may have more longevity.
The VP215 is a good choice for sous vide cooks because of its ability to handle high moisture foods. Food packets from chamber vacuum sealers also hold up well when lengthy cooking periods are required.
While the initial cost of a chamber unit is higher, you'll save over the long term because of lower bag costs. The VP215 uses only the flat, commercial pouches (not bag rolls or the kind of textured bags used with suction sealers). You can pay as little as 5 cents apiece if you buy in bulk. (See more about bags below.)
The VP215 model is especially suited to processing lots of food pouches at a time. First, the processing time itself is a little faster. Second, its ability to run continuously without overheating means you don't have to keep stopping to let it cool off. That makes this unit a good choice for:
hunters & fishermen
gardeners
anyone who likes to shop sales and buy in bulk
Because the VacMaster VP215 can stand up to prolonged use, the manufacturer even suggests that it is suitable for small restaurants and other light commercial use.
Finally, one other plus of chamber vacuum sealers that's worth noting is odor elimination. Personally, I don't like the taste of venison or any other wild meat that has a "gamey" taste. Yet even when wild game is processed correctly, the raw meat still has a bit of a gamey smell. However, when you use a chamber vacuum sealer, you can store all sorts of game and fish "scent free". It won't stink up your freezer, and your kids won't be asking why the ice cream tastes a little funky.
(Back to Top)
Size and Capacity
Exterior dimensions: 20″ wide x 14″ deep x 15″ high
Interior dimensions: 11.25 x 15.25 x 5 inches
The interior capacity is large enough to process pouch sizes up to 10 x 13 inches.
Weight: 84 pounds
This is obviously quite a large appliance. When considering where you plan to use it, don't forget about overhanging cabinets. The height measurement given above is for the closed unit, and you'll need enough clearance to open the lid.
It's also very heavy, so for most people it isn't easy to move. If you have plenty of counter space you'll probably want to decide where it can have its permanent home. Another solution is to place it on a rolling cart, which is ideal if you have some spare floor space in your kitchen or a nearby pantry or storage room.
(Back to Top)
What's Included with the VacMaster VP215 Vacuum Sealer?
The VacMaster VP215 includes the following:
75 Chamber Pouches in assorted sizes
2 Filler Plates
User's Guide
Maintenance Kit (for oil pump)
Filler plates are used when you want to process smaller amounts of food. Their purpose is to take up the extra space inside the chamber, leaving less air that has to be evacuated. This helps speed up the processing time.
If you'd like to look over the owner's manual before you buy, you can download the user's guide here.
The Maintenance Kit consists of an empty oil bottle with a spout, and 1/2 quart of VacMaster machine oil. It should also come with a Phillips head screwdriver, but in addition to that you'll need an adjustable wrench.
Important: Prior to your first use, you must add oil to the machine. You'll find instructions for this in the user's manual.
(Back to Top)
Bags, Containers & Optional Accessories
Bags
There is so little price difference in bags that it just doesn't make sense to try to cheap it. The manufacturer recommends its own VacMaster brand pouches, which are:
heavy duty Nylon/Poly material
minimum thickness of 3 Mil
BPA free
FDA approved
compatible with chamber vacuum sealers
puncture & abrasion resistant
designed for freezing, refrigerating, microwaving, or boiling
If you order directly from the manufacturer, shipping is NOT free. However, this brand is also available on Amazon, and your total cost will be lower because Amazon does ship them free. To give you an idea on prices, here are links to some commonly used sizes:
At this writing (August 2018) that "Best Price" mentioned above comes to about 4.6 cents per pouch (1,000 VacMaster brand 8 x 10 inch bags from Amazon). If you want to compare prices, you can click here to see the entire selection of pouches for sale on the manufacturer's site.
Other Food Containers
At one time, the manufacturer sold canisters as being compatible with the VP215, but there was a warning that using canisters inside the vacuum chamber would shorten their life span significantly. Apparently the warning was valid because back then you could also find lots of customer complaints about the canisters quickly developing cracks that rendered them useless – bad news considering that those cannisters are not cheap.
The manufacturer has now removed that information from their site. The canisters are still available, but they are listed only as being compatible with vacuum sealers that support an accessory hose. The VP215 does not support an accessory hose.
Optional Accessories
There are no accessories specifically for the unit itself, as none are needed. What you will find are a couple of handy tools (sold separately): One is the VacMaster Prep Plate, which lets you fill pouches without touching the food and also helps keep the pouch dry for a good seal. The other is the VacMaster Multi-Ring Bag Stand that holds pouches upright and open for easier filling and keeping the bag sealing area dry.
You may also want to check out the VacMaster Vacuum Packaging Bone Guard Sheets. These are 6 mil thick, 4.5 x 5 inch sheets that help protect food pouches from punctures. These can be especially helpful if you process a lot of fish or any other foods with sharp bones.
(Back to Top)
Customer Reviews
My research turned up only a few bad reports on this model, and some of those involved units that were damaged in shipping. The others reported units that failed within the first year, and at least two of those owners claimed that customer support was slow and difficult to deal with.
Overall this is an extremely low percentage of problem units. Even so, it's a reminder that any time you're investing in an expensive appliance, it might be worth spending a few extra dollars for additional warranty protection.
Otherwise you'll find only glowing reports about the VP215, and that's from over 90% of owners who wrote reviews. The consensus among all the satisfied customers is that it's powerful, quiet, reliable, built to last, and "worth the money". It handles all types of food well and consistently produces tight seals that won't fail over time.
Quite a number of these folks had previously owned non-chamber units that cost a lot less but didn't hold up well. After investing in the VP215 they are thrilled and wish they'd done so sooner instead of going through so many of the cheaper units. Adding oil is easy, and maintenance is not a big deal if you follow instructions.
Note that some of these happy owners do advise that you must read and follow all instructions and maintenance procedures.
If you plan to process in any significant quantity, this model is definitely worth considering. Examples of use include one owner who processed 500 pounds of game meat in one year, and another who packaged approximately 6,000 bags in three years.
There also seems to be no limit to the variety of stuff you can vacuum seal, including steaks, roasts, cranberries, vegetables, grains, soups, sauces, stews, game, sea cucumbers, salmon, halibut, sous vide, compressed watermelon, vacuum infusions, make-ahead meals, leftovers, clothing, money, and tools (they vacuum sealed seldom used tools to keep them from rusting). Another terrific use is for portion control, a great way to avoid the temptation of second helpings!
The VP215 is big and heavy (see specs above), but as long as you understand what you're buying, the vast majority of consumers agree that you won't be disappointed.
(Back to Top)
Pros
Sturdy unit, quality construction
Consistently produces tight seals
Works very well on liquids
Runs faster and quieter than dry pump models
Oil pump may offer more longevity for long term, heavy use
Capable of prolonged processing without need for cool-down periods
Good customer service
Cons
Large footprint, requires ample counter space
Very heavy, difficult to move
Oil pump requires maintenance (maintenance frequency depends on level of use)
Somewhat more costly than dry pump units
VacMaster VP215 Chamber Vacuum Sealer Review: Summary
The VacMaster VP215 Chamber Vacuum Sealer is an excellent choice for both home processing and light commercial applications. It's user friendly and easy to operate, and it's sturdy enough to handle batch processing without overheating. It works very well for solids, liquids, sous vide packaging, and a wide variety of other home projects and storage solutions. The rotary oil pump does require occasional maintenance, but it allows you to operate the machine for prolonged periods without stopping, and it may also increase the longevity of the unit.



Not sure if this model is your first choice? See our Vacuum Sealer Comparison Charts for a side-by-side comparison of top selling models.
You may also want to consider…
Chamber vacuum sealers are large and heavy. Do you have limited kitchen space? Would you like to store your vacuum sealer elsewhere when not in use? If so, one good solution is a utility cart.
For everything from plain & functional to more decorative styles, check out the variety of rolling carts available on Amazon.