As an Amazon Associate I earn from qualifying purchases.
Yes indeed, size DOES matter, and you can use these 5 portion control tips to help you eat healthier and stay slimmer!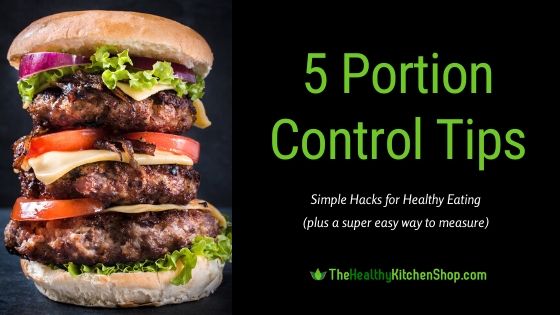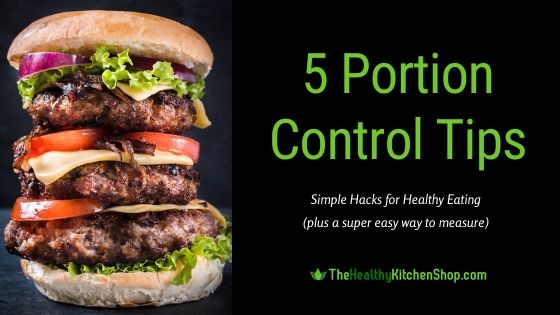 Portion Sizes: How Much Is Enough? Too Much?
Portion control is one of the simplest ways you can eat healthier, and it's one you can start doing right this minute without any special foods or cooking equipment. Hopefully these tips and ideas will help get you started.
First, you need to know what you're aiming for, so let's take a closer look at portions. Here are a few examples of a healthy sized serving of common foods:
3 ounces of cooked meat, fish, or poultry
1 cup of raw, leafy vegetables
1/2 cup of cut-up raw or cooked vegetables
1 medium fruit, about the size of a baseball
1/4 cup of dried fruit
1/2 cup of frozen fruit, canned fruit, or fruit juice
1/2 cup of cooked pasta, rice, or cereal
(If you really don't mind measuring, you can find a lot more details about suggested serving sizes for healthy eating at www.Heart.org.)
Now before you roll your eyes and dismiss this as way too difficult, realize that there are lots of ways to make measuring portions very easy. One great example is this hand chart:
The key is learning to know at a glance so that you can easily judge how much to put on your plate. When you're eating out you'll know when the serving sizes are over-large, and though it will take a lot more restraint, at least you'll know how much to consume and how much to take home in a doggie bag.
Where To Learn More About Portion Control
There are some wonderful resources on the web to help you with virtually every aspect of diet and healthy eating. For specific information about portion control, check out the following:
5 Portion Control Tips – Easy Ways To Eat Healthier
Dishes: Size Matters!
An average dinner plate is 8 to 10 inches in diameter. Anything larger than that will make an average serving look meager. On a big 12 to 14 inch plate you'll be tempted to load up with more food, and feel cheated if you don't. You don't necessarily have to invest in new, smaller dishes. If the pieces in your every day set are extra large, try using the salad plates instead.

Read Those Labels Carefully
On "individually" packaged snacks, it's real easy to glance at the calorie count on the label, but look again. That number is calories per serving, and no matter how small that bag of chips, it may contain more than one serving. Eating the entire bag could add up to a lot more calories than you first thought.

Also remember that the size of the serving listed on any label has nothing to do with a healthy portion. The manufacturer chooses serving sizes as a way to easily provide you with nutrition information. In fact, a healthy sized portion of nuts could be much less than what some label lists as a single serving.

Eating Out? Avoid the Temptation to Eat It All
My fellow Americans, this is especially important for us because we're probably the worst in the world when it comes to restaurant sized portions. If your favorite places for dining out serve enormous portions, one solution is to split a meal with a friend. Another is to simply get the rest of it to go, but the key is to do it before you start eating. Just ask for a take-out box along with your meal. Then when dinner arrives, before you begin eating, put half of that scrumptious dinner in the take-out container so you won't risk over-stuffing yourself.

Plan Ahead, Package Wisely
Whether you're cooking in bulk for your own ready-to-eat meals or storing leftovers, forget using gallon size freezer bags and other huge containers. Instead divide the food into single serving portions, and later you can pull out only as many servings as you'll need. You'll have plenty of food in a healthy sized portion for each person, and you won't be tempted to go back for seconds. To make this quick and easy you might even consider getting a vacuum sealer. The mid-range channel type models work great for a lot of people, but if you're doing this often and cooking for a large family, you might even consider investing in a higher end chamber vacuum sealer.

Never Eat Out Of the Bag. Ever.
Okay, you have to satisfy your sweet tooth somehow, and aren't you proud of the healthier choice you made when you bought those certified organic, non-gmo, gluten-free, low fat, low carb, low cal cookies that actually taste great? Good for you. You'll be feeding your craving and still eating healthy (mostly). Just don't sit down in front of the TV with the whole bag. You'll end up zoning out and gobbling down way more than you intended. Unless your idea of a great snack is celery sticks, you still need to exercise portion control. Take out only a single serving, put it in a small bowl, and put the rest back in the cabinet out of site and, hopefully, out of temptation range.

Summing It Up

Finally, instead of looking at portion control as something you're doing to yourself, realize that it's something you're doing for yourself. Eating healthy is a choice, and it's your choice. You're doing it because you'll feel better and be sick less often and live longer – and anyway, when it comes to your body and what you put in it, who is in control?!

You may also be interested in…

If you found this article helpful please share on Pinterest and help us spread the word!