As an Amazon Associate I earn from qualifying purchases.
BIG ANNOUNCEMENT: Elizabeth Hickman, co-author of The Air Fryer Bible, will be at the Market on Seventh Street on July 2 & 3, 2021!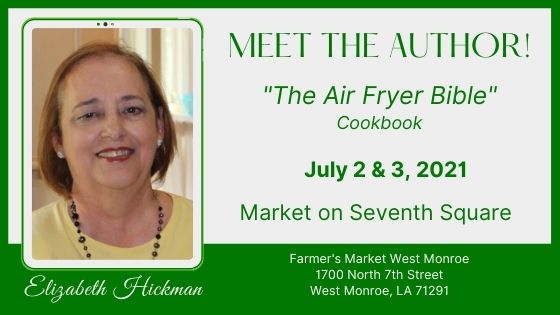 If you live anywhere near north Louisiana don't miss this opportunity to meet Elizabeth Hickman! On July 2nd and 3rd, 2021, Elizabeth will be at the Market on Seventh Street in West Monroe, Louisiana. She would love to visit with you, and she'll have some delicious air fried foods for you to sample.
If you don't yet own an air fryer, Elizabeth can answer all your questions. She speaks from extensive experience as the co-author of two air fryer cookbooks:
The Air Fryer Bible: More Than 200 Healthier Recipes for Your Favorite Foods (see it on Amazon)
The Complete Vegan Air Fryer Cookbook: 150 Plant-Based Recipes for Your Favorite Foods (see it on Amazon)
Developing recipes for those two cookbooks required hundreds of hours of cooking in air fryers. Between that and cooking for her family and friends, Elizabeth has experience in air frying all kinds of foods, from appetizers to desserts.
Long before air fryers came along, Elizabeth was an excellent cook. By the time she was able to reach the kitchen counter she was helping prepare family meals. Her love for cooking led to a life-long passion. Her culinary experience ranges from a home-based catering business to an established restaurant.
Among family and friends she may be most renowned for her annual holiday candy – peanut butter balls, turtles, toffee, and a variety of other delectable treats. She considers herself an amateur chocolatier. Her friends and family will tell you that's an understatement – her homemade, hand-dipped chocolates are to die for!
Another of Elizabeth's specialties is planning and organizing holiday and other special events. She especially enjoys entertaining small gatherings in her home. Whether formal or informal, you can bet the food is always fabulous!
Elizabeth's gift for creating delicious foods is evident in both air fryer cookbooks. Most everyone raised in the south loves fried foods, and she helps us enjoy all our favorites without all the unhealthy grease.
Also note that the second cookbook is not for vegans only – the recipes are great for anyone who wants or needs a dairy-free or egg-free diet.
Elizabeth is very outgoing and enjoys meeting people. If you're in the area on July 2nd or 3rd, be sure to stop by. She would love to visit with you!
Note: A limited number of cookbooks will be for sale at the Farmer's Market. If you already own a copy, be sure to bring it with you and Elizabeth will be glad to sign it for you.
---
Want To Know More?
Read all about The Air Fryer Bible here: Best Air Fryer Cookbook
For sample recipes from these two cookbooks see:
Please share this on Pinterest and help us spread the word!