As an Amazon Associate I earn from qualifying purchases.
The good news is that you can learn how to clean your Philips Airfryer in a snap. (In case you're wondering, there isn't any bad news.)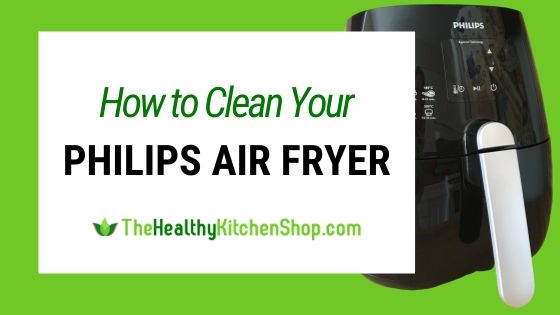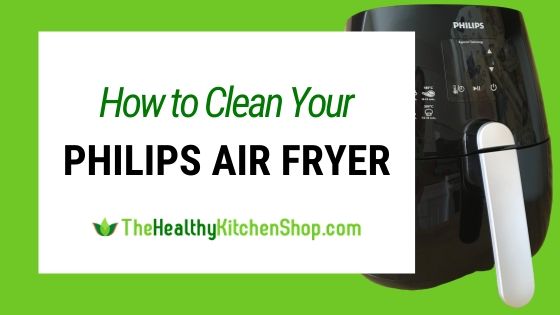 One of the many great benefits of air fryers is all the time you save on cleanup. You no longer have to deal with messy grease spatter all over your range and burners, counter tops, vent hood, and anything else located near a deep fat fry pot. That alone is almost enough to make most people eager to give up grease for air frying!
Of course, the air fryer itself does get dirty, and Philips Airfyer cleaning is a little different due to the shape of the drawer bottom. Hopefully the cleaning tips below will help you.
---
---
What About the Dishwasher?
You'll have to decide this for yourself. The basket and drawer are supposed to be dishwasher safe, but I never put them in the dishwasher for several reasons. One is that despite what manufacturers may say, most things are going to last longer if you avoid using the dishwasher. Also, the basket and drawer are so large they take up way too much space on the top rack.
Finally, hand washing is quick an easy. If I owned a cheap air fryer it would be different. However, after spending the money to buy a top-of-the-line air fryer, I don't mind the few minutes it takes to baby it a little.
Cleaning the Philips Airfryer Basket
When I don't need to run a sink full of dishwater, I just fill the drawer with hot water and if need be let the basket soak a few minutes while I'm cleaning up the rest of the kitchen. For this use I enjoy the soap-dispensing dish brush because it's so handy. That is, it saves me from grabbing the bottle of dish washing liquid from the cabinet beneath the sink – wow, talk about lazy!
In particular, I like the OXO Good Grips Soap Dispensing Dish Brush shown at right because the bristles are long and somewhat soft. With a wire mesh basket like that of the Philips, a brush with short, stiff bristles tends to "hang" in the mesh and accomplish nothing. These softer bristled brushes allow you to make quick work of cleaning in and around the wire mesh.
Most supermarkets sell these brushes, but to make it easy you can also just click the image at right and order from Amazon.
Cleaning the Philips Airfryer Drawer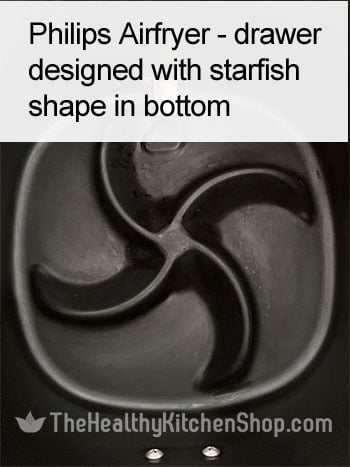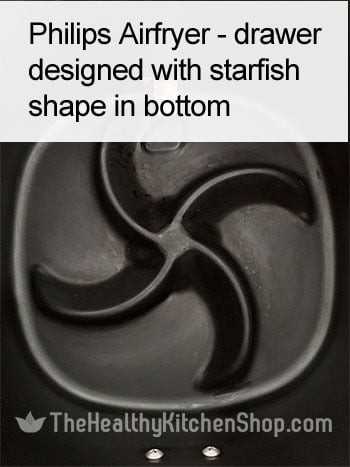 No matter which Philips model you own, the drawer is designed with the trademark "starfish" shape.
At left is the interior of one of my Philips airfryers, model 9230. As you can see in the photo, there is a raised star molded into the bottom of the drawer. The purpose of that is to provide for more even cooking by forcing better air circulation.
Cleaning is not at all difficult, but you do not want to use anything too abrasive lest you damage the interior finish. My best advice is to clean the drawer often, preferably every time you use it. In my experience, nothing is difficult to remove unless you allow it to get burned onto the drawer bottom.
When necessary you can fill the drawer with hot soapy water and allow it to soak for a short time. This can be helpful when the drawer contains meat drippings or anything sticky, or when you've used a lot of oil for misting or cooking spray.
My favorite cleaning tool is a super cheap but very handy "sponge on a stick", like those pictured at right.
Granted, this brush doesn't look very impressive, but it works great! The sponge strips are soft enough to be easy on the finish and long enough to quickly clean around the star with little effort on your part.
Again, you can likely find this type of sponge brush at your local grocery or dollar store. If not, you can order from Amazon. They come in a package of two and are extremely inexpensive: Dish Cleaning Sponges
How to Clean Your Philips Airfryer Coil
The heating element in a Philips Airfryer is a coil located inside the unit at the top, just above the top of your basket. It is rare that you will ever need to clean this coil. This should only become necessary after a long while or an extensive amount of cooking.
If you do have need to clean the coil, see the manufacturer's instructions here: Philips Airfryer Tips and Tricks. You'll find information for doing a basic quick cleaning, as well as a detailed procedure to clean the dirty area around the heater.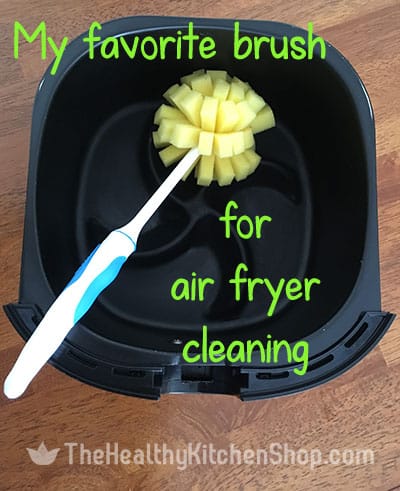 ATTENTION AIR FRYER OWNERS — WE ALSO HIGHLY RECOMMEND…

The Air Fryer Bible – It's the best, most comprehensive air fryer cookbook with over 200 recipes, including all your familiar favorites plus lots of deliciously different treats.

The Must–Have Accessory, the Baking Pan – If you haven't tried baking in your air fryer you're in for a wonderful surprise. For an excellent buy, check out this Hiware Accessory set on Amazon – That's a standard size set, but Amazon offers a variety of shapes and sizes to fit most any air fryer on the market.