As an Amazon Associate I earn from qualifying purchases.
Nobody knows air fryer pros and cons better than us – we learned from the experience of developing and testing more than 350 air fryer recipes!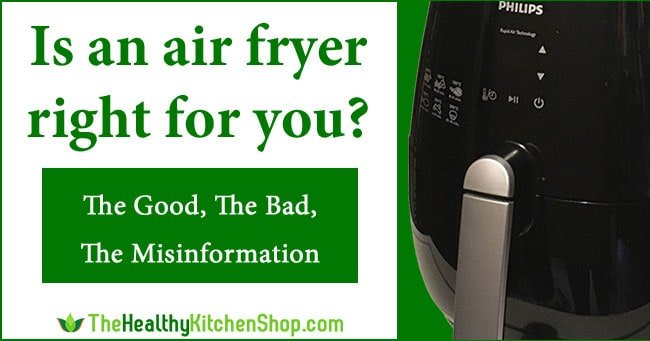 That recipe developing/testing experience came from co-authoring "The Air Fryer Bible" and "The Complete Vegan Air Fryer Cookbook". You might assume that anyone writing cookbooks for an appliance must think it's great, and you'd be correct.
However, that also means that I have first-hand knowledge about the downsides of air fryers and all the reasons why different people may or may not want one.
If you've visited this site before you know you won't find "sales pitches" here, just objective product reviews. The same goes for this article. I'm sharing what I've learned from hundreds of hours of air fryer cooking – the good, the bad, and the ugly too!
Hopefully this information will help you decide whether an air fryer is right for you.
A Few Basics About Air Fryers
If you already have a general idea about what these appliances are and how they work, you may want to skip on down to the next section, "Pros".
What Is An Air Fryer?
Generally speaking, these appliances enable you to cook with air instead of a pot of boiling oil, and you get results that taste very close to that of foods fried in deep fat. In some cases the taste is even better, even for us devout grease lovers here in the south.
Air fryers use a combination of heat and rapidly circulating air, a convection-type process. Most foods require no more than a light misting with oil, which spares you lots of fat and calories.
For a detailed explanation please see our article What is an air fryer?
What do air fryers cost?
Now that there is such a huge demand for air fryers, prices of many brands have come way down. Unfortunately, the market is also now flooded with super cheap models from unknown makers. Some of them may work fine and hold up for a while. Others are a complete waste of money.
You also now have a range of sizes from which to choose, and naturally, the larger models cost more.
Depending on the brand and size, you can expect to pay anywhere from about $75 to just over $300. For quality, performance, and durability, we don't recommend any of those that sell for less than $50.
If you want top of the line look at Philips models. They are the most expensive, but in my experience they're worth every penny. For all the details you can read my review of the HD9641 model where I explain why I think Philips is the best.
For comparing models and price shopping you may also find these links helpful:
For complete details on a specific model, please see our Air Fryers Category Page where you'll find links to individual product reviews, all comparison charts, information articles, and air fryer recipes.
Pros – The Good Points About Air Fryers
Cook Healthier
To be clear, we don't claim that air frying is a healthier way of cooking. It's a healthier way of frying. We all know that foods fried in deep fat are bad for us. With an air fryer you need only a spritz of oil, which is a definite improvement over foods boiled in a vat of grease. Of course, crispy coatings require breading that may not be so good for you. When health is top priority, remember that air fryers can also roast all kinds of foods, and the results are delicious.

Also worth mentioning is that limited capacity can work in your favor. Air fryers do a great job of baking, and you can whip up a decadent dessert that isn't at all healthy. The good news is that even XL air fryers can't cook a big 3-layer cake or 9-inch pie. Get your sugar fix if you must, but at least you won't be eating leftovers for days!

Cook Faster
Don't be misled. Air fryers are usually faster than full size ovens, especially considering time required for preheating. The same is not always true for frying. In some cases air frying may actually take a little longer than frying in deep fat. However, you still save time because you won't have the mess to clean up later.

Keep Kitchen Cool
An air fryer does put off some heat, but it's not enough to heat up the kitchen like using your oven. You'll appreciate that on hot summer days, especially if you live in the deep south.

User Friendly
Air fryers are not complicated. They don't have dozens of options, just basic controls that are simple to understand and to use.

Versatile
Chances are you're going to be shocked at the wide variety of foods and dishes that you can cook. Everything doesn't need to be coated and fried. Roasted vegetables taste wonderful, and baked goods turn out extremely well. A boneless ribeye is superb, even if your air fryer doesn't have a grill plate accessory.

Perfect for Reheating
This might be the most amazing feature of air fryers. Microwaves make leftovers tough and rubbery. Ovens make them too dried out. Air fryers make them taste fresh cooked. Even French fries from your restaurant doggie bag can be successfully reheated in an air fryer.

Cooking is Fun Again
It's new and unique and let's face it, we all love new "toys". One success is all it takes to have you looking around for what to try next. If you're stuck in a rut or same-ole routine, and air fryer offers an interesting change of pace.

No Grease Odors
Your house won't stink. Unlike deep fat frying, air fryers don't fill the air with that heavy grease odor that can linger for days.

To be fair, cruciferous vegetables are a whole other story. Cooking Brussels sprouts in your air fryer stinks up the house just as bad as cooking them in your oven. Cooking whole eggs in their shells also creates a less than pleasant odor. (Yes, you can actually cook "hard boiled" eggs in an air fryer.)

Faster Cleanup
You won't have grease spatter all over your range and counter. Everything is contained inside the air fryer, so you only have the basket and drawer to clean. On most models, both will go in your dishwasher.

This also means you save cleaning time over the long term because you don't get grease build-up on the inside of your vent hood.

No Popping Grease
Needless to say, it is certainly possible to get burned with an air fryer. The basket and interior of the unit get very hot. However, what you don't have to deal with are burns on your skin from splashing or popping grease (not to mention impossible-to-remove grease stains on your clothes).

Save Money
Air frying requires only a light misting of oil, and you can usually use healthier oils such as olive or avocado. You also don't have to deal with finding a way to dispose of the large amounts of oil required for deep fat frying.
Cons – The Drawbacks to Air Fryers
Taste
If you really love deep fat fried foods, you will probably think the difference in air fried is slightly different. The vast majority of people are perfectly happy with the taste, especially knowing that they're avoiding deep fat. What's more surprising is that you'll discover a few foods that actually taste better air fried.

That said, there are some folks who don't think the taste is worth giving up the grease. Those people are in the minority, but hey, we have a right to like what we like, right?!

Slight Learning Curve
Operation of the appliance itself is easy, but the cooking method is not familiar to most of us. Perfecting your favorite recipes may require a little trial and error. A good cookbook can be very helpful, but that's also another expense you might not have counted on.

Exterior Size
These are not small appliances. Even a standard size air fryer will make a pretty large footprint on your counter top. Check exterior dimensions before you buy to make sure you know what you're getting.

Weight
Chances are that you'll use your air fryer so often you'll want to keep it handy on your counter top. Regardless, check the appliance weight before you buy. Most air fryers are fairly heavy. Moving them in and out of a cabinet can be awkward, or maybe even impossible for some people.

Cooking Capacity
As big as air fryers look on the outside, they are surprisingly small on the inside. The standard size air fryer is great for singles and couples, but even a family of 4 may need to consider the extra large size. That's definitely true if you have hearty eaters in your household (like teenage boys!).

You Get What You Pay For
As demand for air fryers exploded, dozens and dozens of extremely cheap models suddenly appeared on the market. These units have unknown brand names and sell for under $50. If you don't mind taking a chance, go for it. Otherwise be aware that these models may not hold up well over time. They also may not cook well, and if you get poor results don't assume that all air fryers are bad.

Lots of Air Fryer Recipes Aren't Really For Air Fryers
I'll be the last to criticize anyone for trying to make money online. That's how I earn my living. The problem is that some of those people peddling recipes and air fryer cookbooks are, in truth, snake oil salesmen.

Don't believe all the air fryer recipes you see online! Legitimate food bloggers have very nice websites that are well organized and loaded with recipes and helpful information. They also have an easy-to-find "About" page with a personal message about who they are, the types of recipes they create, and what inspires their cooking and their writing.

Amazon is also flooded with air fryer cookbooks that are a complete waste of money. There are people who copy a bunch of recipes from around the web (think 500, 550 or more), put them all together and use a free service to self-publish their "cookbook", and make up some nice sounding "credentials". These people are just trying to make a fast buck. They aren't cooks, and they don't even take the time to notice that the recipes they are copying won't work in an air fryer.

If you want a good cookbook, please check our air fryer cookbook guide – and yes, we promote our own cookbook first, but there is also a long list of cookbooks from people like Linda Larsen, Meredith Laurence, and other legitimate cookbook authors.
Misinformation About Air Fryers
You can't believe everything you read on the web. Boy, that's a real shock, huh?
Some other websites make statements about air fryers that don't make sense to me. I respectfully disagree because my personal experience has been otherwise.
The Claim: Food burns easily – My Opinion: No, not necessarily. Some foods cook faster, and some cook slower. Air frying is a new cooking method that will take a little getting used to. You do need to watch certain foods closely to avoid over cooking. An example is roasted nuts because once they start browning, they can quickly burn. But then, that isn't surprising because the exact same thing is true when you roast nuts in your oven.
The Claim: Foods dry out in an air fryer but deep fat keeps them moist – My Opinion: This is just flat wrong. One great example is pork. I'm a freak about making sure pork is not under-cooked. Because of that I've been known to fry pork chops in deep fat too long, and they turn out dry and tough. My experience with air frying pork and other meats and poultry is that it turns out very moist and juicy. Can you overcook it? Sure, but you can overcook it in deep fat too, and it will be just as dried out either way.
The Claim: Air frying is not necessarily healthier – My Opinion: This is my favorite. An article in a respectable university newsletter, which shall remain nameless, says that since research on air-fried food is very limited, this cooking method cannot be recommended as a "better" way to cook or fry. The article further states that the notion of air frying being a superior cooking method could lead to overuse, which would in turn eliminate its benefits.
Here's how I interpret that statement: People aren't smart enough to understand anything like moderation. We think that if you get an air fryer, you will air fry ALL of your food and will never eat anything healthy again. If we endorse this, you will think that air frying is a "better" way to cook and therefore the only way to go, so that's all you will ever do – air fry everything.
Now you and I both know that visitors to this website are smarter than that. You are smarter than that! The problem with a lot of these studies is that they sometimes don't include plain ole common sense. So, no, I'm not advocating that anyone should use an air fryer to fry literally everything. Use it for your favorites and for when you want that deep fried taste without overloading on grease. Too, remember that air fryers do an excellent job of roasting and baking, which gives you more healthy options.
The Verdict
Nothing is perfect, and this appliance is no exception. Would it be a great addition to your kitchen, or just a waste of money? Hopefully, reading all the air fryer pros and cons above will help you decide.
In closing here are a few more things to think about. These might apply when shopping for yourself and also for choosing a gift.
Who Is Least Likely to Enjoy An Air Fryer?
One group of people will almost certainly hate an air fryer. It all has to do with attitude.
It's okay if you're a devout lover of southern fried foods. That describes me to a tee. You just have to be open to the possibility that the foods cooked in this newfangled appliance might actually be tasty. Are you willing to give taste a chance?
Then there is the healthier eating aspect. Most of us are accustomed to making little trade-offs between what tastes best and what's good for us. For you personally, if you discover a slight taste difference in air fried food, is that small concession worth the health benefits?
If not, and if you've already made up your mind that you'll never like anything but deep fat fried, it's highly unlikely that you'll ever be happy with an air fryer.
On the other hand, what if you're willing to keep an open mind? Even then, an air fryer might not be for you if:
You don't like change. As a cook you're set in your ways and simply not interested in trying something different. There's nothing wrong with that. It just means that getting used to a new cooking method will probably be annoying for you.
You have a large family. An average size air fryer doesn't have enough cooking capacity for much more than a family of four. (Especially if you're feeding teenage boys!) Even with an extra large size, often times you may only have room for about 6 servings in a batch. That doesn't mean you'll hate an air fryer, only that you may not use it as much as some others do.
You regularly cook for crowds. In this case you may certainly use an air fryer for every day cooking, but don't count on it to be your go to appliance for entertaining. Its limited volume just isn't feasible for cooking for big dinner parties and buffet tables.
Who Is Most Likely To Enjoy An Air Fryer?
Based on personal experience, it's tempting to claim here that literally everyone will enjoy using an air fryer at least some of the time! To be fair, the following are thoughts on who will probably enjoy having an air fryer the most:
You Love To Cook – If you enjoy cooking you're in for some fun. You'll enjoy cooking your old favorites and also experimenting with new recipes and ideas. Having a new appliance may also inspire you to explore local markets for new foods to try.
You Hate To Cook – The fact that air frying is new and different will make cooking seem like less of a chore. If you aren't into trying out recipes, you'll find that air fryers do a wonderful job on all sorts of frozen foods, from chicken nuggets to french fries to breaded veggies. When you're finished, clean up is easy, so that gets you out of the kitchen faster.
You're Health Conscious – Air fryers are ideal for anyone who is already actively looking for ways to eat healthier. The taste is so close to deep fried you'll be amazed, and in a few cases you'll be shocked. One example is fried mushrooms. You'll have to taste to believe it, but they are much better air fried!
Singles – When you live alone it's tempting to eat everything from a box. It seems such a waste to heat up the oven or make a big mess. An air fryer is the perfect size for you. It gives you room to cook 2 things at once and keep mess to a minimum. It's also faster and more economical than using your big appliances for a one-serving meal.
Couples – Busy young people will love the ease of cooking a quick main dish to pair with a salad. It's a great meal that gets them out of the kitchen fast. That goes for you older empty nesters too! After years of cooking for kids it can be hard to downsize again. An air fryer is handy for such a huge variety of dishes, and a standard size model gives you all the volume you need. It may also help turn your thinking back to fewer-serving recipes (because we get so used to always needing a double batch of everything).
Families – These days most families are too busy to eat at the same time every night. If that's you, you'll be thrilled at how air fryers reheat food without making it dry or tough. Got a picky eater? It's good for that too. Make a quick but filling snack for the one who won't eat your exotic Mediterranean dish. In fact, air fryers are so easy to use and safe enough that you may be comfortable letting your older kids do their own cooking. Or cook a hot dish for the only skinny one in the family who isn't on your lettuce diet.
That should cover it, but if you think we left something out, please leave a comment below!
Click here to Read Our Air Fryer Buying Guide

Click here to Shop Air Fryers on Amazon
If you found this info helpful please share on Pinterest and spread the word!