As an Amazon Associate I earn from qualifying purchases.
This air fryer recipe takes the boring old PB&J to a whole other level, a delicious and hearty sandwich for breakfast, brunch, or lunch!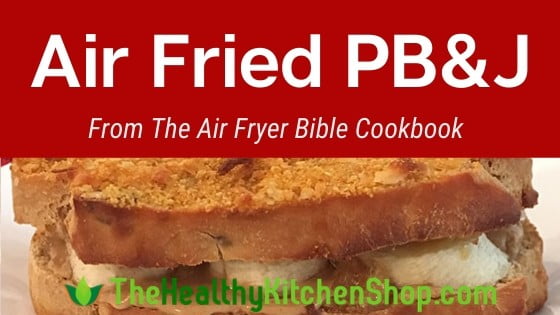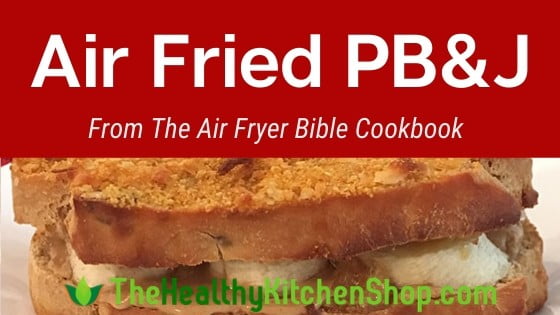 This simple air fryer recipe is perfect for beginners. It's easy to do, and you won't believe how tasty it is until you try it.
As with any great sandwich, one key to success here is to start with great bread. Oat nut is a good choice, but don't hesitate to experiment. Go with any whole grain that has a flavor you love, as long as it's a dense bread that can handle a hearty amount of filling.
The sandwiches pictured in this article were created using homemade White Wheat Walnut Bread.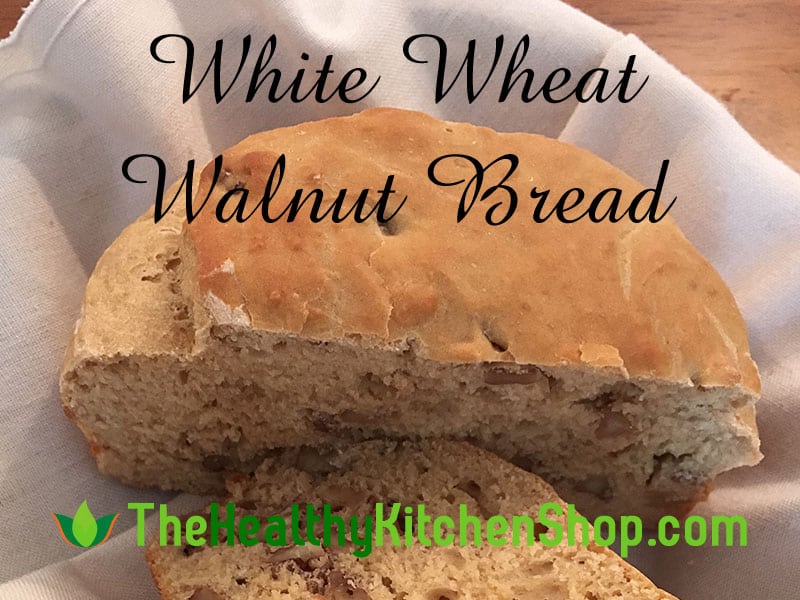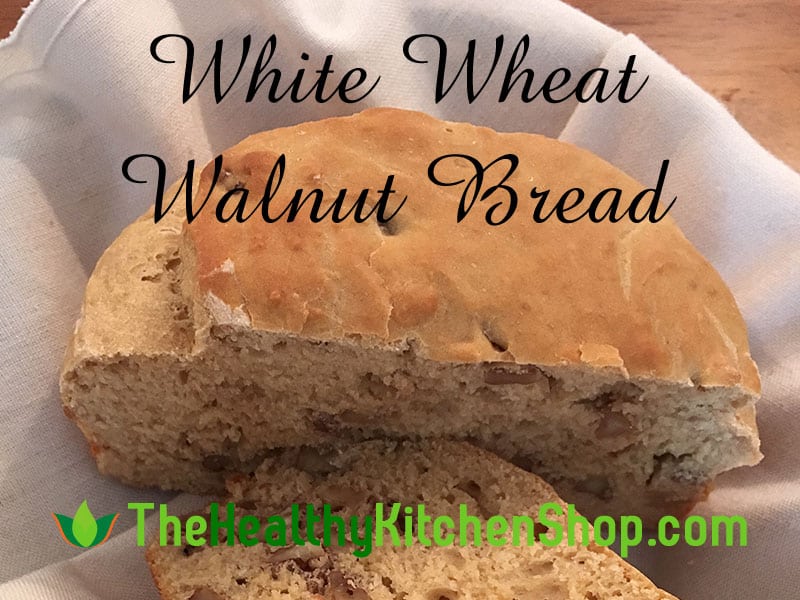 That loaf was baked in my favorite Philips Airfryer. I rarely cook yeast breads due to the time involved, but this one goes from scratch to hot-out-of-the-air fryer in less than an hour. It has become one of my favorites because it's not only quick but also delicious and very versatile.
Both recipes – the White Wheat Walnut Bread, and the Fried PB&J recipe below – are from The Air Fryer Bible cookbook by Elizabeth Hickman and yours truly.
---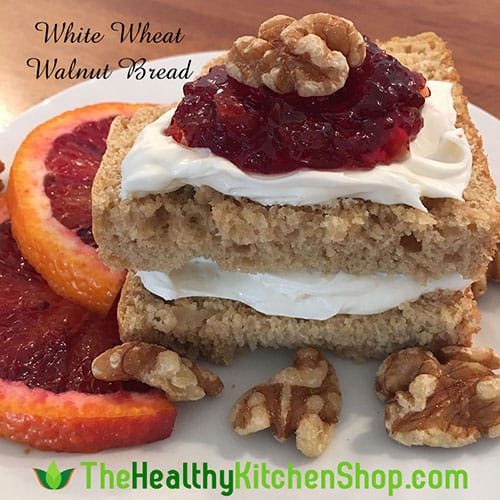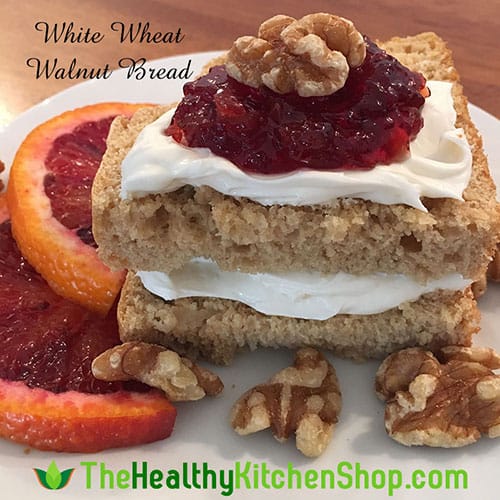 A quick aside…
For a reasonably healthy breakfast treat, serve slices of White Wheat Walnut Bread plain or toasted and spread with fat-free cream cheese. Top with all natural cherry preserves if you like, or add a drizzle of honey.
(I've slathered it on in the photo because it made for a prettier photo. That just shows my severe lack of talent as a photographer, but after all I'm really not a food blogger! In reality, this bread is so good on its own that you only need a dab of toppings to complement the taste.
But … enough about bread!
---
Whether you use homemade or store bought, this sandwich is definitely not your ordinary PB&J. When we first developed this air fryer recipe, one of our test panel members warned us that she doesn't care much for peanut butter. Imagine our surprise when even she thought this sandwich was delicious. We hope you enjoy it too!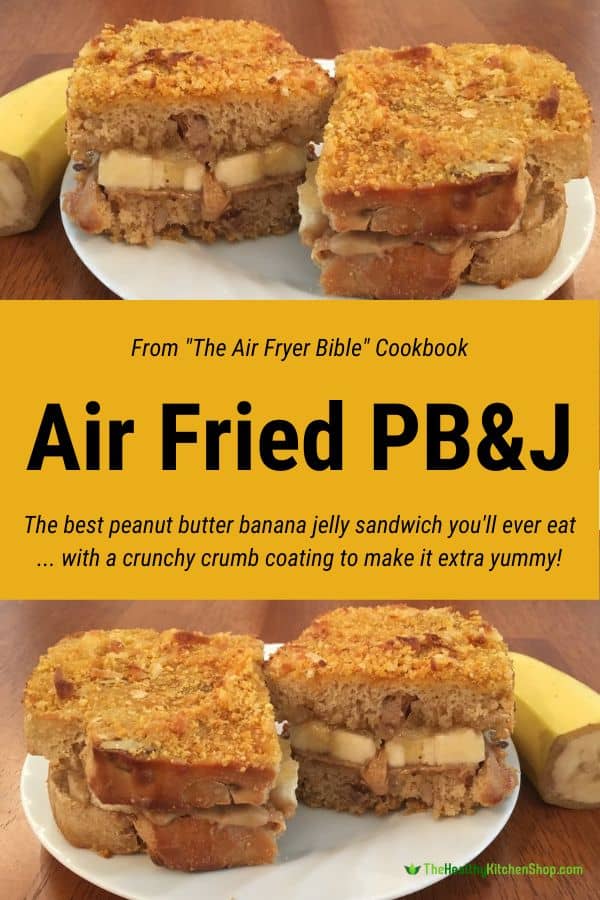 Air Fried PB&J
Here's an adult PB&J for the kid in all of us. It makes for a hearty, healthy lunch and is so delectable it's almost like eating a dessert.
Ingredients
1/2

cup

cornflakes, crushed

1/4

cup

shredded coconut

8

slices

oat nut bread or any whole grain, oversize bread

6

tbsp

peanut butter

2

medium bananas, cut into 1/2" thick slices

6

tbsp

pineapple preserves

1

egg, beaten

oil for misting or cooking spray
Instructions
Preheat air fryer to 360℉.

In a shallow dish, mix together the cornflake crumbs and coconut.

For each sandwich, spread one bread slice with 1 1/2 tablespoons of peanut butter. Top with banana slices. Spread another bread slice with 1 1/2 tablespoons of preserves. Combine to make a sandwich.

Using a pastry brush, brush top of each sandwich lightly with beaten egg. Sprinkle with about 1 1/2 tablespoons of crumb coating, pressing in to make it stick. Spray with oil.

Turn sandwiches over and repeat to coat and spray the other side.

Cooking 2 at a time, place sandwiches in air fryer basket and cook for 6 to 7 minutes or until coating is golden brown and crispy. If sandwich does not get as brown as you like, spray with a little more oil and cook at 390℉ for another minute.

Repeat previous step to cook remaining sandwiches.

Cut cooked sandwiches in half and serve warm.
Notes
Variation: Try apricot of any other mildly flavored preserves.
© 2017 Susan LaBorde and Elizabeth Hickman. All rights reserved. No part of this recipe may be reproduced or transmitted in any form or by any means without prior written permission.
Want more? This recipe is from The Air Fryer Bible Cookbook by Susan LaBorde and Elizabeth Hickman. Click here to see The Air Fryer Bible on Amazon.
You may also like: