As an Amazon Associate I earn from qualifying purchases.
Go guilt-free this year with these healthy Halloween treats. For parties or trick-or-treaters, choose from fun food or non-food ideas that kids will love!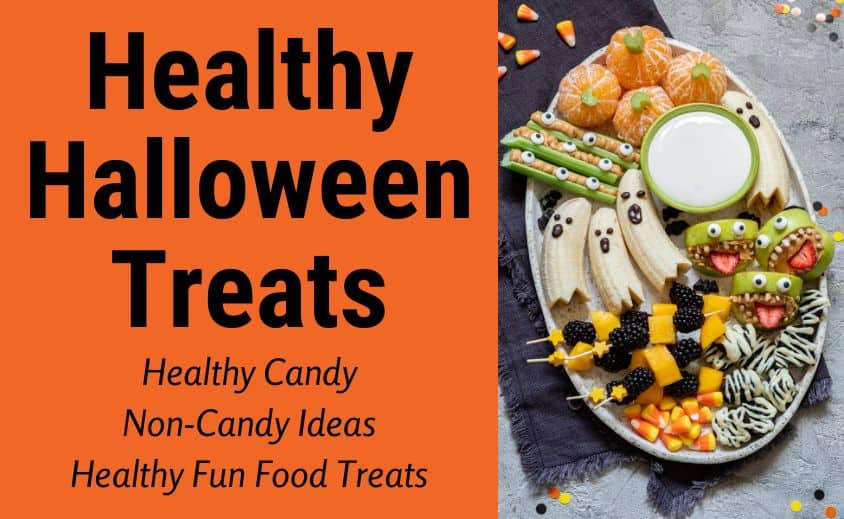 Are Healthy Halloween Treats Expensive?
If you think eating healthier is always more expensive, you might be interested in this prediction from the National Retail Federation: Survey results show that in 2023, Americans expect to spend $3.6 billion on Halloween candy.
That's billion with a "B"!
When it comes to choosing Halloween treats, does that help give you a better perspective? Whether you plan to hand out goodies, throw a party, or just do something special for your own kids, the alternatives may cost little or no more than traditional candy.
A Few Spooky Sugar Facts
Also worth noting are these scary stats reported by Business Insider:
In the U.S., the candy collected by the average child contains between 3,500 to 7,000 calories.
A child can eat enough Halloween candy to consume up to 3 cups of sugar.
I won't bore you with a plethora of data on the evils of sugar. In a perfect world we would do away with refined sugar altogether, and maybe even limit our intake of honey, maple syrup, high-sugar fruits, and other natural sources of sugar.
In the real world we can aim for progress, not perfection. Never mind the long term effects of excess sugar consumption. Just surviving Halloween night can be bad enough. A sugar overload can transform even your precious, most docile child into a crazed little being you hardly recognize.
The good news is that there are alternatives that your kids will actually like. If you want to avoid sugar altogether, check out the non-candy ideas below. For moderation there are healthier candies with low sugar or no sugar.
Perhaps most festive of all are all the spooky Halloween foods you can make. These do require a little more effort, but none are difficult or terribly time consuming – and they're so cute.
As you'll see below, healthy Halloween treats really can be fun and not boring!
Non-Candy Halloween Treats
Most of us think of Amazon first, and I'll get to that in a sec, but it's not the only game in town.
One other great place to order online is Oriental Trading. If you're not familiar with it, they specialize in small, very inexpensive items that are excellent for kids' party favors, for teachers to use as prizes in the classroom, and for holidays including Halloween.
The only drawback is that shipping can be slow (as compared to Amazon), so you'll have to plan ahead. For items you could hand out to trick-or-treaters:
Another option is to shop locally. For that my favorite stores are Dollar Tree, Dollar General, and Family Dollar. There you'll find items such as:
mini puzzles
stickers, temporary tattoos
glow sticks, glow-in-the-dark bracelets
bubbles
decorated pens or pencils, fun-shaped erasers
Hobby Lobby also has some fun items but is usually much more expensive than your local "dollar stores".
Then of course there is Amazon, and if you've waited until the last minute their overnight shipping can save you. Here are just some of the ideas I found:
Halloween LED Bracelets Flashing Glow in The Dark Toys
TINYMILLS 50 Pcs Halloween Stamps for Kids(Stamps 50 DIFFERENT Designs,Trick or Treat Stamps)
JOYIN 48 Pcs Halloween Foam Glider Airplanes
NPET 50Pcs Halloween Treats Light Up LED Rings
JOYIN 72 PCS Halloween Stretchy Skeletons
JOYIN 72 PCS Halloween Glow-in-Dark Bouncy Balls with 12 Varied Designs
ArtCreativity Halloween Temporary Tattoos for Kids – Pack of 144
Votijila Halloween Party Bags with Assorted Stationery including Notepad, Stamper, Sticker, Pencil, Eraser, Ruler
Healthy Candy for Halloween
If you need a large amount of candies for parties, school and church carnivals, or lots of neighborhood kids, the following items are probably your best bet. These are the least expensive of the candies that contain no or low sugar, and all these are individually wrapped.
There are also some sugar-free and low-sugar candies that are far more expensive than those loaded with processed sugars and high fructose corn syrup. These may not be feasible for big crowds or limited budgets.
However, if you're planning treats for a smaller group, or if you're fortunate enough that you can afford to splurge, here some more ideas to consider for healthier candies:
Note: For some kids dyes are a bigger problem than sugar. The YumEarth candies below do contain sugar, but no dyes and no high fructose corn syrup.
For the complete selection of healthier candy see: Low-sugar candy on Amazon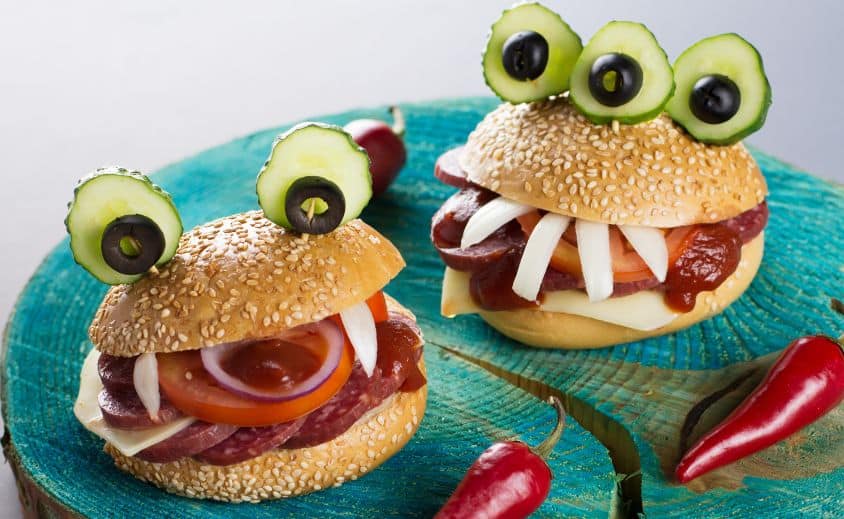 Fun Food Halloween Treat Ideas
This one is easy because Pinterest is a goldmine of ideas! Many of these fun Halloween foods are so simple to make that you only need to look at the photo.
For example, you'll see several ways to dress up popcorn to make treats you can pass out to trick-or-treaters. Another quick idea is to use a black marker on individually wrapped cheese sticks to make healthy little ghost snacks. Look at the cute foods on this tray:
If you're unsure about an idea you can always click the Pinterest pin to go to the site and read specific instructions. Sometimes the creator will give you helpful hints or options for variations.
Are you hosting a Halloween party? Whether it's for adults or kids, Pinterest shows you lots of Halloween themed charcuterie boards. There are dozens of great ones, but here's one of my favorites:
For tons more ideas you can go to Pinterest and do a search for "Halloween charcuterie boards" or "Halloween charcuterie boards for kids".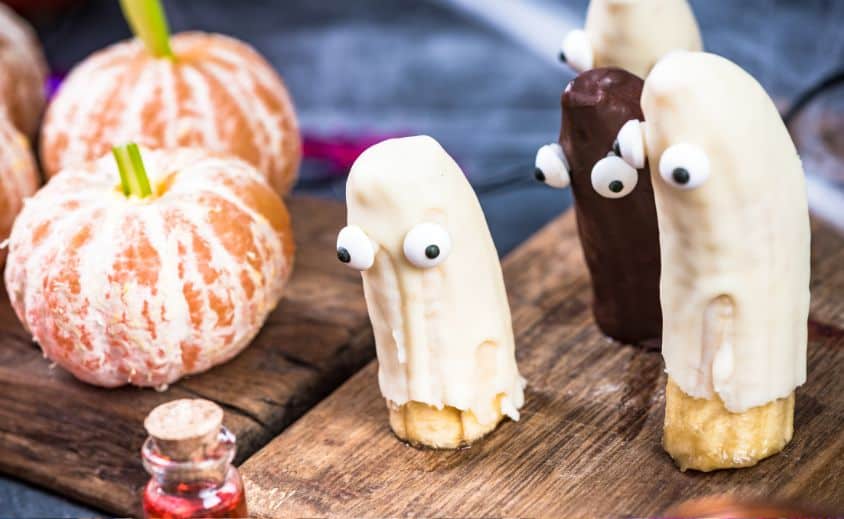 As for individual halloween fun foods, it's impossible to pick favorites. There are SO many cute ideas! Here's just one example:
Again, you can find more by doing a search on Pinterest, but to make it easier I've created a Pinterest board for you. Below is just a snapshot, but to see everything I've added click the title or image to go to the board:
Fun Food Halloween Treats
I hope all this helps you discover ways to make Halloween a little healthier and still loads of fun for you and all the kids in your life. Happy tricking and treating!
You may also like…
Please share this!