As an Amazon Associate I earn from qualifying purchases.
My T-fal Actifry Review explains how this machine differs from all other air fryers. Is that a good thing or bad thing? Get all the details to decide for yourself!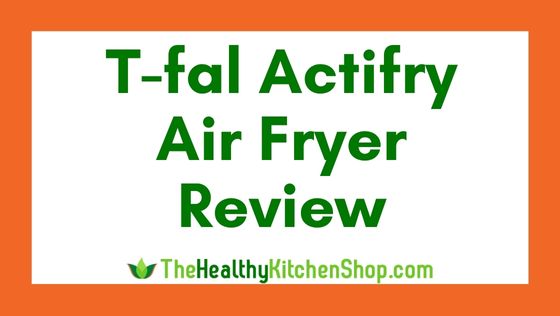 Rating: 4.3 Reviewed by Susan
The T-fal ActiFry doesn't rate as high with consumers as several other brands, and it's one of the most expensive models on the market. However, it has been around for years and continues to be a steady seller. This air fryer has a capacity of 2.2 pounds, and it features a one-of-a-kind built-in paddle that stirs foods as it cooks. Close to 70% of owners give it a 5 star rating, and those satisfied users are very happy with how it cooks French fries and a variety of other foods such as chicken wings, shrimp, and all sorts of fresh and frozen vegetables.
That unique stirring paddle seems to be the make or break feature on this model. Users either love it or hate it. Below are complete details about that, as well as all the other good and bad points of this air fryer.
Features
2.2 lb. Capacity
1,450 Watts
Countdown Timer with Buzzer
Dishwasher Safe Lid, Pan, Paddle and Filter
Includes Measuring Spoon & Recipe Booklet
1 Year Limited Warranty
The T-Fal Actifry works by using an optimized hot air distribution system that evenly circulates heated air. Unlike many other brands and models, the actifry does not have an adjustable thermostat. It always cooks at the same temperature, which is 338 degrees Fahrenheit. According to the manufacturer, this is to "ensure even and thorough cooking of the food".
For comparison, Philips models and many other brands of air fryers have a maximum temperature of 390 to 400 degrees Fahrenheit. In many cases that higher temperature may save you time as it allows you to cook foods faster.
There is no automatic shut-off feature on the Actifry. Its timer is designed only to alert you when cooking is finished. You can't leave it unattended because you have to manually turn it off.
T-Fal does not claim that this appliance will let you cook completely oil free. You do need to use oil, but only in very small amounts. Two pounds of French fries will require approximately 1 tablespoon of oil. For other foods you may need anywhere from zero up to 2 tablespoons of oil. A measuring spoon is included for your convenience.
There is a 1-year limited warranty, and you can click here to find complete information on the T-Fal website.
Size & Capacity
Exterior Dimensions: 16.7 x 13.6 x 9.4 inches
Interior Capacity: 2.2 lb
Weight: 8.9 pounds
If you look at our chart to compare air fryers, you'll see that they all take up quite a bit of room on your counter. The ActiFry is even bigger than the two standard size Philips models (which are not small), but it does give you a little bit more cooking capacity.
The actual interior capacity needs some clarification. The manufacturer is apparently basing this measurement on potatoes. The Actifry will hold up to 2.2 pounds of french fries. Maximum quantities on other foods may vary because you have to consider the total volume. For example, a pound of okra takes up a lot more space than a pound of potatoes.
What's Included with the T-fal Actifry?
Measuring Spoon (one tablespoon)
User Guide
The user's guide gives you basic instructions and charts with recommended cooking times for various foods. It also includes 35 recipes for meat, seafood and poultry, as well as vegetables and desserts.
For more places to find recipes see our Air Fryer Cookbook & Recipe Guide.
Note: When looking at cookbooks or recipes, keep in mind that the T-Fal Actifry is the only air fryer with a stirring paddle. In some cases that stirring motion could make a difference, so you may need to experiment and make adjustments to any recipes that weren't created specifically for the T-Fal.
(Back to Top)
Update: Optional Accessory
Now available from the manufacturer, the "Snack Grill" allows you to cook foods that are too delicate to hold up to the stirring paddle. That includes many (if not most) foods with any type of breading or other coating.
Note that in my opinion this accessory is quite pricey, especially considering that the Actifry itself costs well over $200. You can see the accessory on Amazon here: T-fal XA701050 Actifry Dishwasher Safe Snack Grill, Silver, 1-Kilogram and 1.2-Kilogram Models
Customer Reviews
First of all, consumers are delighted to be eating healthier by using only tiny amounts of oil to cook everything from french fries to meatballs to stir fry and other one-pot meals. The Actifry also makes a delicious dish out of fingerling potatoes. Chicken wings may lose some of their breading, but they come out crispy, and much of the fat will drain off during cooking.
Hard core deep fried food lovers admit there is a difference, yet they are pleasantly surprised by the taste and crispiness produced by the Actifry. Air frying is definitely healthier, and even if you occasionally indulge in deep fat frying, you're still better off – progress, not perfection!
Those who really love this unit describe it as being more like a self-stirring roasting oven. In addition to your basic air fried foods, it does well making meat/vegetable stews, stir-fried dishes, and even granola and roasted nuts.
On the other hand, ironically, the biggest complaint from those who don't like this unit is the stirring paddle. The purpose of this scraping paddle is to lift and turn food as it cooks, which is supposed to create more even results. Unfortunately it may not always work as intended, and some of the problems reported include:
Small foods like hashbrowns can get caught and stop the paddle from turning.
Softer foods can get turned into mush. (One example is tator tots. You may have better luck using the smaller, round frozen tator.)
Breaded coatings can get partially or completely rubbed off.
The problem with foods getting caught and stopping the paddle is that if you don't stop the unit and free the paddle, it can burn up the motor. For that reason, you don't want to leave this cooker unattended in case the scraping paddle jams.
To help put this in perspective:
In my experience with standard, egg-shaped air fryers, stirring is not a big issue. Whether you're cooking French fried potatoes or roasted green beans, generally, all you need to do is stop once during cooking to shake the basket or give food a quick stir. Good air fryers do an excellent job of cooking evenly without constant stirring. I like to use breadings on all sorts of foods, so to me the paddle would be annoying. But then, that's just my personal preference.
Lastly, the other obvious drawback to the paddle and design of this model is that it will not accommodate any kind of baking dish, silicone muffin cups, or ramekins. Baked goods such as cakes, breads, and muffins won't work in the T-fal.
The other most common complaints about the Actifry are:
It doesn't shut itself off when finished cooking.
The alert that sounds when timer runs out is too quiet to hear above the sound of the unit.
Versatility is somewhat limited because the single temperature setting is too high for certain foods.
It's important to note that one way to avoid problems is to actually read the instructions before you begin. Of course, most of us hate to do that! The fact is that air fryers work differently than the appliances we commonly use. In particular, the T-Fal instructions go into great detail about cooking potatoes – which variety to use, how to prepare and cut them, etc. In fact, no matter which model you decide to buy, a good air fryer cookbook could make a world of difference in whether you like the results you get.
A note about online customer reviews: On the T-Fal product page Amazon is now showing a combination of customer reviews for the T-Fal Actifry plus two T-Fal deep fat fryer models. Obviously, that skews the average customer rating shown on that page.
We never base averages on Amazon alone. In this case, the 4.3 average consumer rating given in this review omits all Amazon reviews and is based on reviews from numerous other online retailers.
(Back to Top)
Pros
Good size cooking capacity
Works well on a variety of foods
Reasonably easy to clean
Cons
Stirring paddle may crush some foods or jam machine
Breaded coatings get scraped off foods during cooking
No automatic shut-off feature
Single temperature setting may be too low or high for certain foods
Model is priced high, and accessory is also expensive
T-fal Actifry Review: Summary
The bottom line: A good many consumers give the T-fal ActiFry a 4 or 5 star rating. Depending on your needs or family size, the larger capacity could be a plus. Like a lot of these satisfied customers you may also like the convenience of the scraping paddle that stirs your food as it cooks. However, before you buy I recommend that you check out our chart to compare airfryers, see our comprehensive buyer guide, and read reviews on some other models. You may decide that on balance, the T-fal Actifry seems to have too many drawbacks to justify the high cost.
You may also want to consider…

Two brands that I own and highly recommend:

Philips Premium Airfryer XXL – Top quality, high end model from "the original" air fryer manufacturer (and only a few dollars more than the T-fal). See my Philips XXL review here, or see the Philips Premium Airfryer XXL on Amazon here.

Cosori Pro Air Fryer Max XL – Excellent quality at a much lower price than T-fal or Philips. See my Cosori Pro II Air Fryer review here, or see the Cosori Pro II Air Fryer on Amazon.

To compare all air fryer models see: Air Fryer Comparison Chart (standard size models), and Largest Air Fryer Comparison Chart.