As an Amazon Associate I earn from qualifying purchases.
Exactly what is a Flexitarian? Read on to discover how you could start eating healthier without giving up foods you really love!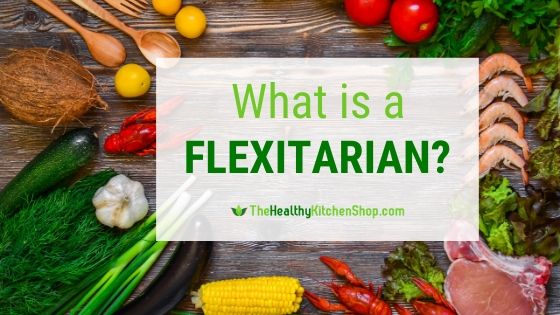 Everyone wants to eat cleaner, greener, and leaner. It's been a steadily growing trend for years because people have become so much more aware of every aspect of nutrition, from the individual food choices we make to contaminants and other problems with our commercial food supply.
The Quest to Eat Healthier
Study after study tells us that one of the best things we can do for our health is to eat a plant-based diet. A few years ago I read The China Study, and it was a real eye opener. It left me convinced beyond doubt that the only truly healthy way to eat is to become a vegan.
If you can do that, you have my sincere admiration. For me, knowing what I should do and actually following through are two entirely different things. Eating less meat is no problem, but deep down in my southern fried heart, I know I'll never give it up entirely.
To clarify, I do have strong preferences. If I never see another piece of chicken or pork so be it, but every now and then I really want a good hamburger or steak – and the idea of never eating seafood again is too depressing to consider!
Thankfully, this is where the Flexitarian diet comes in because it lets me strive for improvement, not perfection.
Vegetarian vs. Flexitarian
One common definition goes something like this:
flexitarian: someone who primarily eats a vegetarian diet but also eats meat or fish occasionally
True vegetarians tend to dislike the word because for them it confuses the issue. There is no such thing as an occasional vegetarian. Either you are, or you aren't.
Vegetarians do not eat meat. Period. If you stick to a vegetarian diet most of the time but cheat a little, you are not a vegetarian.
What you might be though, is a flexitarian. The word is a combination of the terms "flexible" and "vegetarian". It's a great alternative for anyone who wants to eat healthier but, like me, wants to keep it real. You don't have to just pretend to be a genuine vegetarian when others are looking, while hiding the guilty secret that you're actually a closet meat eater.
You also have lots of leeway. The word "occasionally" in the definition means that you can start at any point that seems reasonable for you. Plan to eat meat or seafood:
only once a week
only once a day
only once every few days
No matter how you begin, any reduction at all is an improvement.
The point is that you look at the amount of meat, seafood and poultry that you're consuming now, and you choose to eat less of it. You might have a meatless meal on certain days, or a designated number of meatless days every week.
Benefits of a Flexitarian Diet
You may be interested in going meatless for reasons related to the environment, the world food supply, and animal rights. Those topics are beyond the scope of this article, but you'll find plenty of information available on vegan and vegetarian websites.
Focusing strictly on health issues, a flexitarian diet offers numerous benefits, including:
No foods are forbidden: It's much easier to change eating habits when you can ease into it. With a flexitarian diet there is no D-Day when you know you must forever give up some certain favorite food. Every time you enjoy a meatless meal or day you can pat yourself on the back for your accomplishment. The next day you can indulge in a meat dish without the need to beat yourself up over it.
Weight Control: By eating meat less often you will naturally consume more vegetables, fruits, grains and beans. Unless you decide to gorge on bread, your meatless meals will be built around foods with less fat and fewer calories, and more of the good stuff such as higher fiber, vitamins and other nutrients.
Your heart and your overall health: According to WebMD, research indicates that a strict vegetarian diet may lower your risk of heart disease. Other studies have shown that eating vegetarian may also help:



reduce your risk of developing type 2 diabetes
reduce triglycerides
reduce glucose levels
lower blood pressure
reduce your BMI (body mass index)

Keep in mind that your body weight and the amount of exercise you get are also very important factors. The studies referenced by WebMD were based on true vegetarian diets, but the benefits are clear for everyone, even non-vegetarians. By reducing the amount of meat you eat every week or month, you can take a significant step toward improving your health through improving your diet.
The Main Reason You Should Try a Flexitarian Diet
Finally, there is one other reason to consider trying a flexitarian diet. That is, you don't know what you don't know. Here's what I mean.
It's easy to get in such a rut that you prepare the same types of meals over and over. All of them may taste great, but some (or many!) may not be very good for you. Choosing to go meatless for a meal or a day forces you to look into other options and experiment with new recipes.
Wouldn't it be a pleasant surprise to discover some new dishes that are healthy and delicious too? Two examples from my personal experience:
Coconut Bacon – This tasty treat came to my attention while I was developing recipes for The Complete Vegan Air Fryer Cookbook. I had never heard of coconut bacon and had no idea what I was missing! It is absolutely wonderful and totally guilt free.
Plant-Based African Peanut Stew – I stumbled across this while searching for Instant Pot recipes on Pinterest, and oh my! It's a vegan recipe that is hearty and filling, very unique, and honestly one of the best things I've ever eaten!
Let's face it, we all love our little comfort zone. Making a major lifestyle change can be very difficult, and sometimes making a big drastic change at once just sets you up for failure.
A flexitarian diet lets you ease into it, testing the waters as you go. Perhaps you'll eventually go all vegan, but if not, it does NOT mean you've failed. Even if you only make a few changes, in the long run you've accomplished your goal of eating a little healthier!
If you found this information helpful please share on Pinterest and help us spread the word!