As an Amazon Associate I earn from qualifying purchases.
If you think air fryers are only for fried foods, you must try this Air Fryer Teriyaki Beef Tips recipe. It's fast, easy, and you'll be amazed at the delicious results!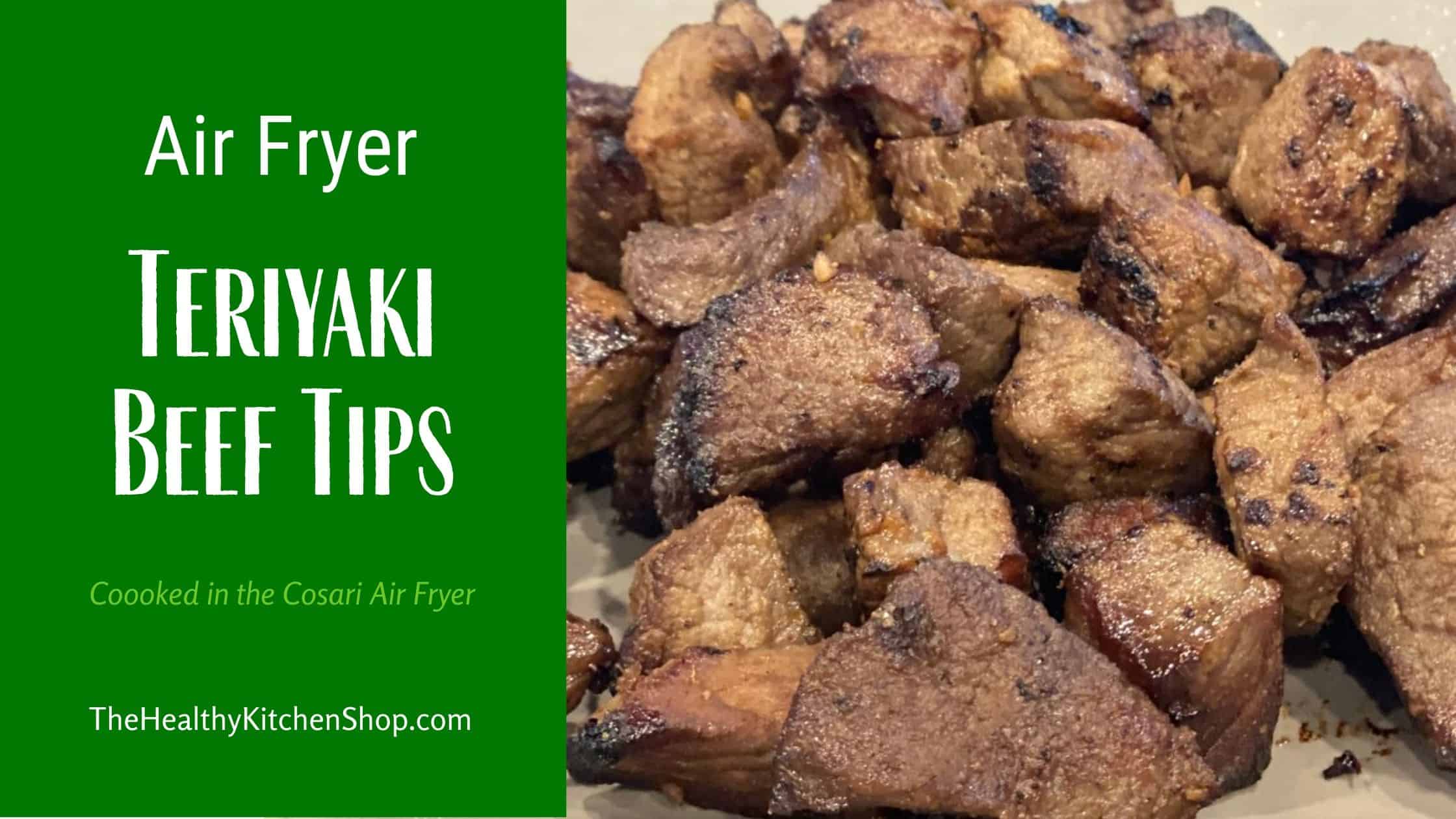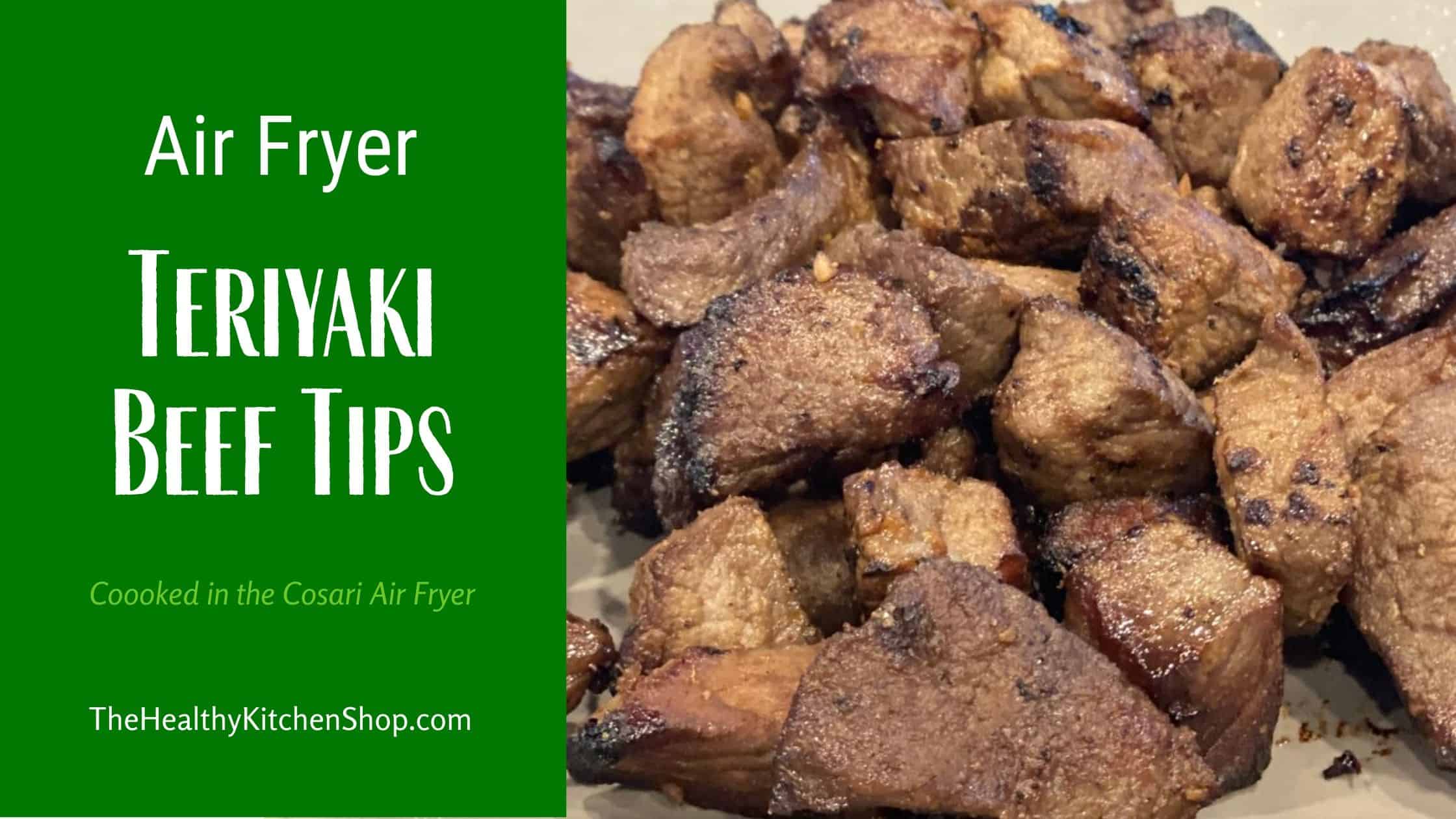 No one loves beef cooked on a charcoal grill more than I do, but that isn't always feasible. Outdoor grilling is not my first choice when it's raining or freezing cold, or when I simply don't have the time.
One excellent alternative is to use your air fryer. If you're skeptical, you'll just have to try it to believe it. All you need is a good marinade, and in 10 minutes (or less) you can cook beef tips that are tender, moist, and delicious.
Air frying also gets you out of the kitchen fast because cleanup is so easy. This particular recipe was tested in a Cosori air fryer, and it's as easy to clean as my Philip models.
Here's my special helper, Kate, unboxing a brand new Cosori Air Fryer.
This air fryer is new at our house, and so far we absolutely love it! The quality seems to be very good, and you get extra large capacity for a very reasonable price. If you're interested you can see it on Amazon here: Cosori Air Fryer, Max XL 5.8 Quart, 1700-Watt Electric Hot Air Fryer
Note: You may also want to check out our Large Air Fryer Comparison Chart where you can compare features and price ranges of the best large capacity models.
First You Need a Good Marinade
The recipe used here was created by Just One Donna. It uses just 6 ingredients that you probably have on hand: soy sauce, vegetable oil, molasses, ground ginger, dry mustard, and minced garlic. Though it was developed as a grilling marinade, it works perfectly for air frying too.
For exact ingredient amounts and other details, see the original recipe here:

A Quick and Easy Summer Grilling Dinner
by Just One Donna
Of course, lots of marinades will work. If you have a personal favorite – teriyaki or otherwise – you may prefer to experiment with that.
How to Cook Beef Tips in an Air Fryer
The steps are simple enough. The original recipe uses skewers, but in an air fryer your beef tips will cook more evenly without skewers.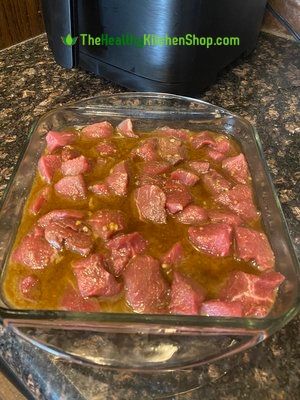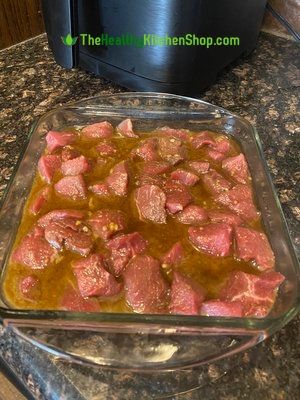 Combine all marinade ingredients. Donna Urso suggests using a blender to mix, which is especially helpful if you're using fresh garlic and/or fresh ginger. You should have enough marinade for 1 to 3 pounds of beef tips.
Place your beef tips in a glass or ceramic dish. Pour marinade over beef. To ensure good coverage you may also use a heavy zip top plastic bag.
Refrigerate for at least an hour, or overnight if that works better with your schedule.
Using tongs, remove beef tips from marinade and place directly in your air fryer basket. It's best to not drain the beef to keep more of that flavorful, juicy marinade on the cooked tips. And yes, you're going to get some dripping, but cleaning is not a problem with air fryers.
For well done, cook at 400° F for 8 to 10 minutes. If you prefer your beef tips medium or rare, reduce the time. This will take a little experimenting because it partly depends on the size of the individual pieces of meat. For small chunks I suggest checking after 5 minutes of cooking time. A meat thermometer is a huge help for this, especially the instant-read type.
Important: Air fryer was not preheated before cooking. This timing is based on starting with a cold air fryer. Note that if you cook more than one batch of beef tips, the second and subsequent batches will cook much faster because the air fryer will be preheated.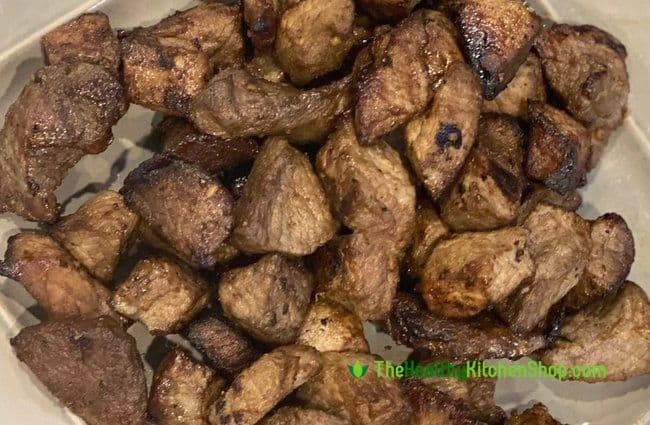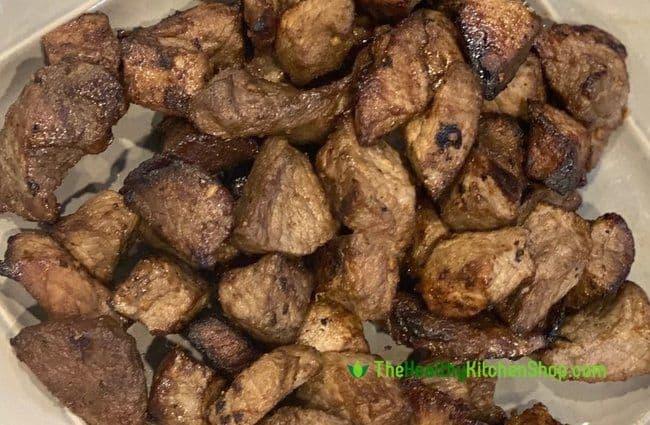 More Marinade Recipes
These beef tips are so easy and fast to make that you'll probably want to cook them often. For a change of pace, here are some other marinade recipes you might want to try.
More Air Fryer Recipes You May Like
On this site:
From around the web:
If you enjoyed this recipe please share on Pinterest and help spread the word!