As an Amazon Associate I earn from qualifying purchases.
These healthy snack ideas for work prove how just a little planning ahead can impact your entire day. Avoid between meal slumps and increase your productivity. You can even give a lift to your mood and your energy level.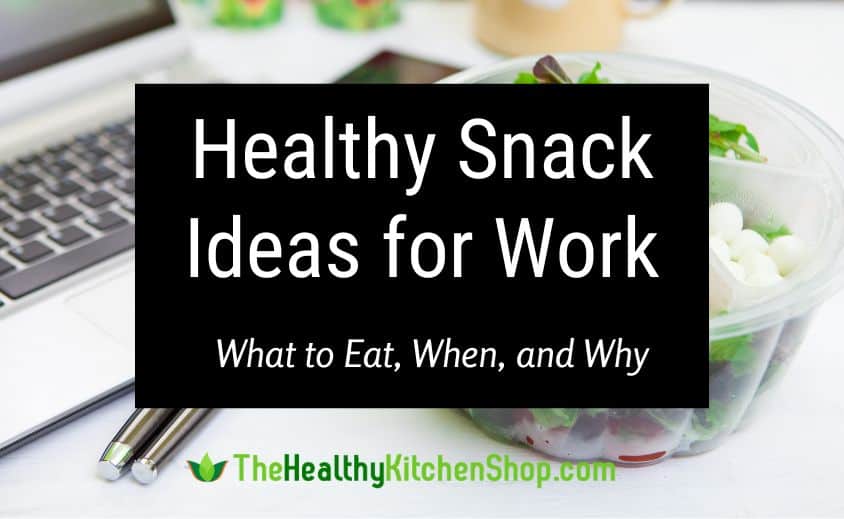 Healthy vs. Unhealthy – Are You Sure You Know the Difference?
For many of us snacking brings to mind all the wrong foods. Topping the bad ideas list are the obvious – chips, candy bars, cookies, typical vending machine fare, and any of the huge variety of packaged snack cakes and cupcakes.
Just as offensive are some foods that may surprise you. Pretzels, crackers, and even rice cakes are basically empty calories. Baked chips and "veggie" chips are highly processed and have almost zero nutritional value. Many granola bars contain an excessive amount of sugar that far outweighs the benefit of their small amount of protein.
Other snacks can be deceiving if you don't pay attention to ingredients. The most common offenders are excessive amounts of sugar and salt, not only in foods but beverages such as sports drinks and other flavored water.
Another common pitfall is portion size. Trail mix is healthy in limited amounts, but be aware that calories add up fast. The same is true of other snacks such as granola, flavored nuts, fruit drinks, and certain brands of yogurt and protein bars.
The good news is that there are tons of better food choices that taste great and are good for you too. I'll get to that below, but first let's look at what times you should snack and how that can affect your day.
And by the way, all this information isn't just about people working in a downtown office building. It applies to everyone working from home as well. In fact, planning snacks for your home office may be even more important because it keeps you from going to the pantry at the last minute and grabbing something not-so-healthy. Instead you can look forward to that tasty and nutritious snack that's waiting for you in the kitchen.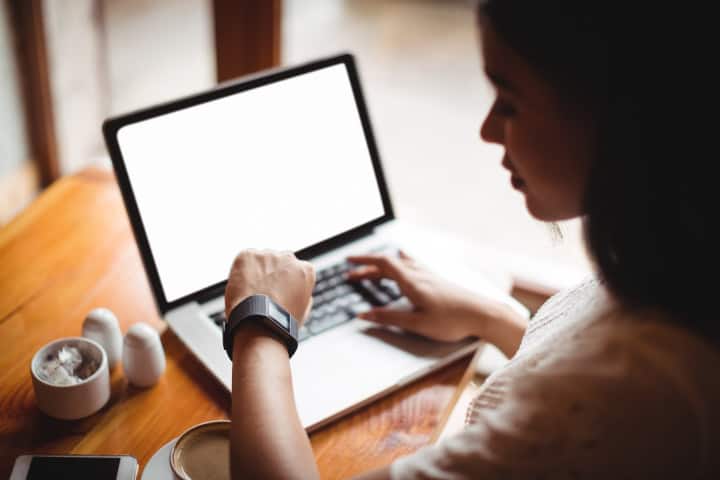 When Should You Snack, Morning or Afternoon?
As long as you're eating healthy foods in limited portions, you may find it helpful to snack both morning and afternoon. Two important keys are to:
Be mindful of why you're eating.
Listen to your body.
Being mindful simply means to think about what you're doing. Why are you grabbing that snack? Are you really hungry, or is it a habit triggered by something else? Common reasons for mindless eating are stress, boredom, or strong emotions such as anger. If that's why you're snacking, food isn't going to satisfy you, and over time it may even lead to unwanted weight gain.
Listening to your body means exactly that. Each individual is unique in so many ways, from our eating habits to our body chemistry. Take the time to notice how you feel during the day. Are there certain times that you feel a little slump in your energy level? Do you get listless, distracted, or just plain tired?
If so, those are the times of day that a good snack might give you the boost you need. Use the following information to help you figure out what will work best for you.
Benefits of a Healthy Snack
I repeat that listening to your own body is key. Some of us are morning people, and others are night owls. You'll get the most benefit from snacking at the times you're struggling with one issue or another. As you read through the list below, see if anything resonates with you.
Energy Level
A nutritious snack helps keep your blood sugar level on an even keel. In turn that prevents energy crashes and enables you to feel good and do your best work. Many people experience an energy slump in the afternoon, but it can happen in the morning too, especially if you have to go a long time between breakfast and lunch. A helpful snack would include protein, fiber, and healthy fats.
Alertness
Your ability to focus and concentrate can benefit from a snack that is rich in protein, complex carbs, and healthy fats. This is especially important for being able to maintain your productivity level.
Stress
An overall balanced diet supports your immune system, helps repair damaged cells, and gives you the extra energy needed to deal with stress. Certain vegetables and foods containing omega-3 fats may help regulate cortisol levels. A snack dense in nutrients may well provide just the help you need in coping with a stressful day.
Mood
Granted, some days you're just in a bad mood. That may be caused by a specific reason or by no reason you can put your finger on. Regardless, studies show that a snack that provides the nutrients needed for good brain health can have a positive impact. Protein, omega-3 fatty acids, and complex carbohydrates can contribute to production of neurotransmitters that regulate mood.
Muscle Support
If you go to the gym at noon or do any regular exercise activity during your work day, consider having a good protein snack. After a workout it can help support the recovery and growth of your muscles.
Aiding Digestion
One of the most common and most unpleasant problems we experience is caused by underactive or overactive bowels. One way to help that is to eat a fiber-rich snack that will keep your gastrointestinal system functioning as it should.
Appetite Control
Quite often extreme hunger leads to overeating. A satisfying snack – either morning or afternoon or both – can help control hunger and stem the urge to overeat later in the day. Naturally, this plays a role in weight control as well as overall balanced nutrition.
Staying Hydrated
This may sound crazy, but most of us don't know when we're thirsty. In fact, quite often we mistake hunger for thirst. Eating a healthy snack may serve as a reminder to enjoy a glass or water of healthful drink at the same time. Good hydration is important for virtually every function of your body and good health in general.
The bottom line is that including healthy snacks in the proper amounts at the right time of day works as a part of your overall health plan. You'll become more conscious of avoiding unhealthy choices and forming healthier eating habits. Over time you'll learn how to listen to your body better and give it the nutrition it needs to support the lifestyle you live.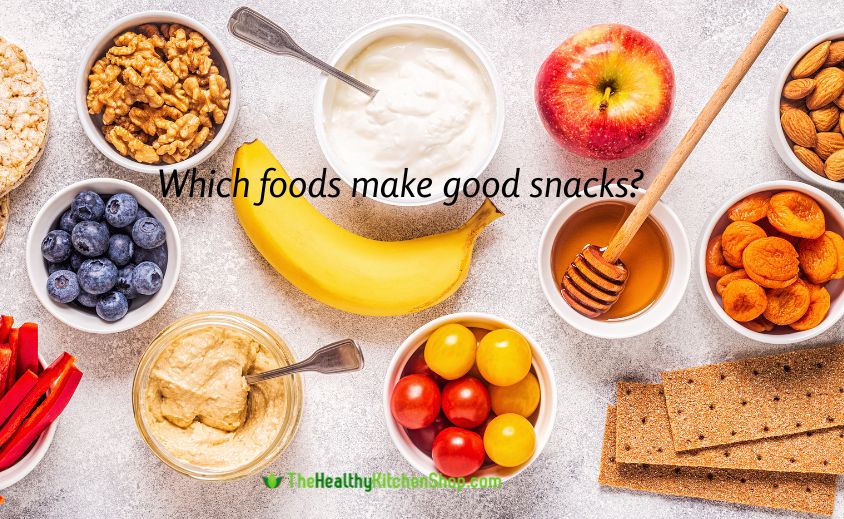 Which Foods Make Good Snacks?
In all the categories below, keep in mind that you must always consider portion size. Even healthy foods can be high in calories, so overeating them defeats your purpose.
Snack Foods High in Protein
Foods that are highest in protein include all lean meats, poultry, fish, some dairy products, nuts and seeds.
nuts, nut butter, pumpkin seeds
roasted chickpeas, roasted edamame
turkey, canned tuna or salmon, jerky
Greek yogurt, cheese, cottage cheese, tofu
hard boiled eggs
protein shakes
My personal favorites are Premier Protein Shakes with 30 grams of protein and 160 calories, and Pure Protein Shakes with 30 grams of protein and 140 calories. Both are delicious, especially the vanilla and chocolate flavors, and that's a lot of protein for a reasonable amount of calories.
Complex Carbohydrates
Some examples of bad carbohydrates are white flour, white bread, polished rice, high-sugar drinks, pasta, many (if not most) breakfast cereals, and any sweet dessert. Generally speaking, anything that is highly processed or has excessive added sugar will fall into this category.
Good carbs, on the other hand, have not been stripped of their nutritional benefits and are an important part of a healthy diet.
100% whole wheat bread
oat, barley, quinoa
brown rice, millet, buckwheat
lentils, chickpeas, beans (kidney, black, pinto)
potatoes, sweet potatoes, beets, squash
blueberries, bananas, apples, peaches, oranges, strawberries
Healthy Fats
Bad fats are the trans fats that are detrimental to your body even in small amounts. They are found in partially hydrogenated oil. Not as bad but also unhealthy in large amounts are saturated fats, which are found in red meat and milk products such as ice cream, butter and cheese. Coconut and palm oils also contain saturated fats, so these foods should be eaten in moderation.
Foods that contain good fats, known as "unsaturated fats", include:
avocado
salmon, tuna, sardines, mackerel, herring
seeds – pumpkin, sesame, sunflower
pecans, walnuts, hazelnuts, almonds, cashews
eggs
olive oil
soybeans, kidney beans, navy beans
ground flaxseed
You can also look for foods that have been enriched with omega-3s to make them healthier. To find them read the product labels on foods such as enriched milk, bread, eggs, and breakfast bars.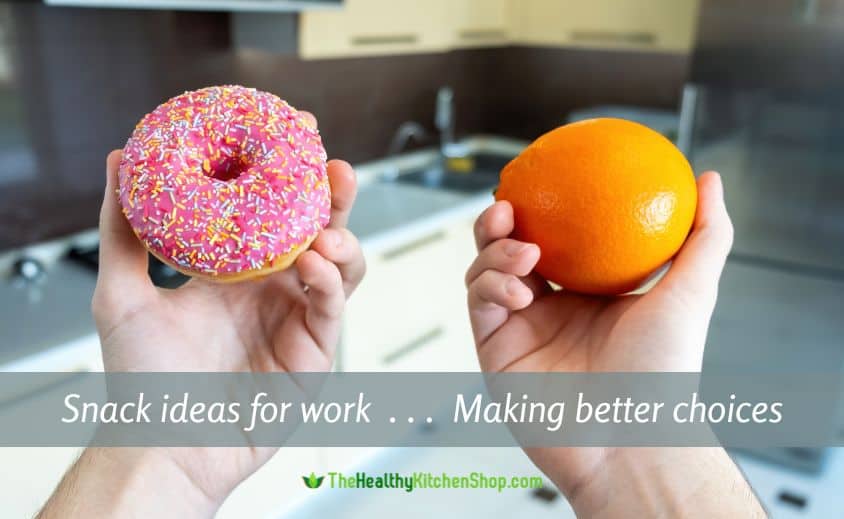 Healthy Snack Ideas for Work
Eating healthier is always easier when you prepare ahead. This list gives you super simple ideas to take to work with you. You may need to shop ahead for some of these items, but none of the snacks involve a lot of prep time.
Hummus with Vegetable Dippers
My favorite veggie for hummus is red bell pepper strips, but other great choices include green bell pepper, celery or carrott sticks, and cucumber slices. For a change of pace try sliced fruit.
Apple Slices and Nut Butter
Spread thick apple slices with peanut butter, almond butter, cashew butter, or whatever you like. Chunky peanut butter is great for adding a little extra crunch. The more I get to chew, the more it seems to satisfy my hunger, which I'm sure is all in my head but who cares?
Cottage Cheese and Fruit
Top a small portion of cottage cheese with fresh blueberries or your favorite fruit. I like this so much that I make a slightly larger serving and eat it for lunch.
Nut Butter and Veggies
Favorites for this include carrot and celery sticks. For a change of pace you can add a few raisins or dried cranberries, but go easy on such toppings because in excess they can add unwanted calories.
Whole Grain Toast with Avocado
Spread a slice of toasted whole grain bread with ripe avocado. You can also use a sturdy whole grain cracker such as Wasa Crispbread. It doesn't get easier than that, and it's so delicious.
Chia Seed Pudding
Stir together 1/2 cup of almond milk and 2 tablespoons of chia seeds. Let soak until the mixture is the consistency of pudding, 1 to 2 hours or overnight. Top with small sprinkle of berries or nuts.
Homemade Trail Mix
Make your own blend with a handful of almonds and or other nuts, some pumpkin seeds and dried cranberries. Add a small bit of very dark chocolate if you like. Just remember this can be a very high calorie snack so it's only healthy in moderation.
Cinnamon Apples
Place sliced apples in a sandwich bag, sprinkle with cinnamon (as much as you like), and shake well. The taste will please your sweet tooth, and the cinnamon may help with managing your blood sugar level.
Popcorn
Movie popcorn gives this snack a bad rap, but air popping without butter makes it much healthier. Don't overdo the salt, and you can get creative to add flavor – try your favorite herbs, nutritional yeast, or taco seasoning. (For super convenience see my favorite microwave popcorn popper on Amazon.
Celery Everything Sticks
Fill fresh celery sticks with cottage cheese or low-fat cream cheese. Sprinkle liberally with Everything Bagel Seasoning – it doesn't add calories but do pay attention to the salt content of your preferred brand.
Hard-Boiled Eggs
This is a standard at my house. While you're preparing a weeknight meal, boil a few eggs. Cool, peel and stick them in the fridge for a snack any time that's nutrient dense and high in protein.
Guacamole and Sliced Veggies
Guacomole is so easy to make with avocado, lime juice, onion if you like, and a dash of salt and garlic powder. For dippers use bell pepper strips, slices of zucchini or cucumbers, or any other vegetable you like. (I like yellow summer squash.)
Tuna & Crackers
This one saves you from last minute, unhealthy choices when you're in a hurry. Just stock your pantry with tuna packets and some healthy whole grain crackers for a snack you can grab at the last minute. For flavor variety sprinkle with your favorite seasoning blend, or top with a few jalapeño slices, or give it a splash of Worcestershire or soy sauce.
Melon Balls and Roasted Chickpeas
For a nice sweet/salty combination have some watermelon or cantaloupe balls with roasted chickpeas, store bought or DIY. Another option you might enjoy trying is roasted kidney beans.
Turkey Rollups
Spread a thin layer of hummus on deli turkey slices. Top with your choice of chopped cucumber, celery, red bell pepper, or edamame. Roll up and enjoy. Even a filling of plain lettuce and tomato is good.
Jerky and …
This is strictly a matter of personal preference. Depending on your taste buds, you may enjoy pairing beef or turkey jerky with cheese slices, pickled cucumbers, pistachios, clementines, or whole grain crackers. Brown rice also pairs well with teriyaki flavored jerky.
Leftovers
This of course depends on your typical meal menus, but the possibilities are almost endless. Here are a few ideas to get you started:


Oatmeal – Warm it up or eat it cold. For added nutrition mix in a small amount of peanut butter, chopped nuts or fruit.
Meat & Poultry – Make a meat salad snack by combining chopped lean meats with chopped veggies, brown rice, or black beans. If you need a dressing use a dash of Italian dressing made with olive oil.
Quinoa – Mix together some chopped red bell pepper and cucumber with leftover quinoa. If you like, add a dressing of avocado oil and balsamic vinegar or lemon juice.
Cooked Vegetables – Mash and use as a spread on whole grain crackers or as a filling for lettuce or turkey wraps. Chop and combine with a light oil and vinegar dressing for a cold veggie salad.
---
A healthy diet is vital to your well-being, and that includes your snacking habits. Plan ahead, try to use whole foods with balanced nutrients, and keep portion sizes appropriate. You'll feel better, work better, and enjoy your day more.
You may also like…
Please share on Pinterest and Facebook!