As an Amazon Associate I earn from qualifying purchases.
These nutty, nutrition-packed whole wheat air fryer muffins are some of the best you'll ever taste – and their staying power makes them perfect for breakfast or for snacking any time of day.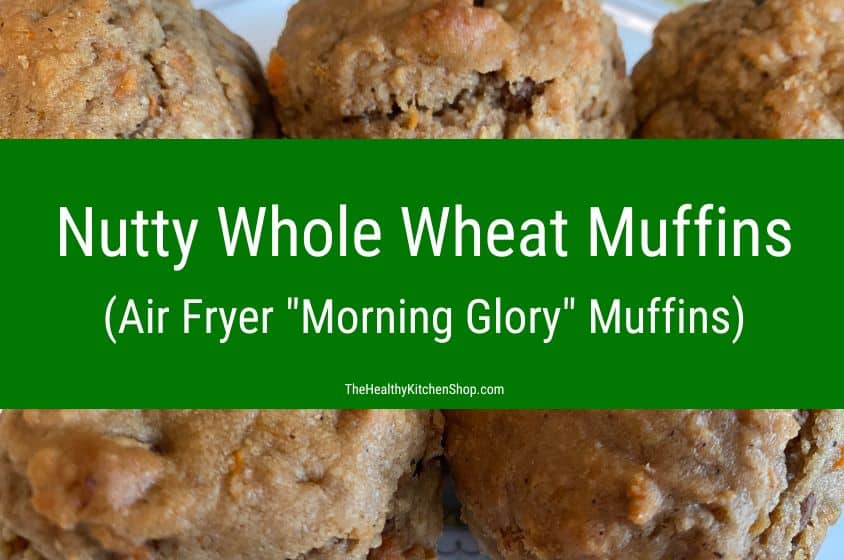 Like "morning glory" muffins, these hearty treats satisfy both your taste buds and your appetite. The rich texture and crunchy nuts and seeds make for a perfect combination.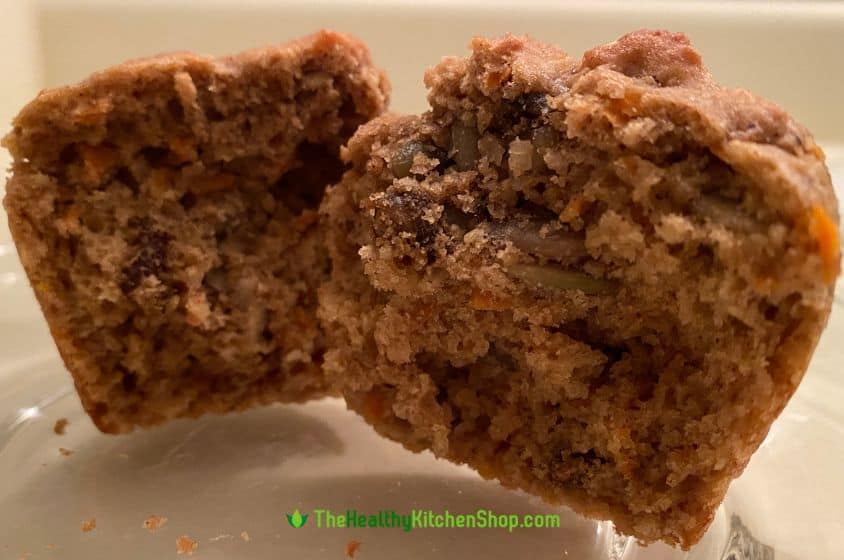 As a bonus this recipe is light on sugar and packed with nutritious ingredients such as carrots, walnuts, pumpkin seeds, and flaxseed meal. Some of the health benefits include dietary fiber, omega 3 fatty acids, and antioxidants.
Of course it's still just a muffin and isn't going to make the top of any "health food" list. However, I always love finding a food that tastes delicious, satisfies my hunger, and has the added benefit of some protein and nutrients. Plus, since it's homemade you control the ingredients, so you can avoid unhealthy additives and preservatives.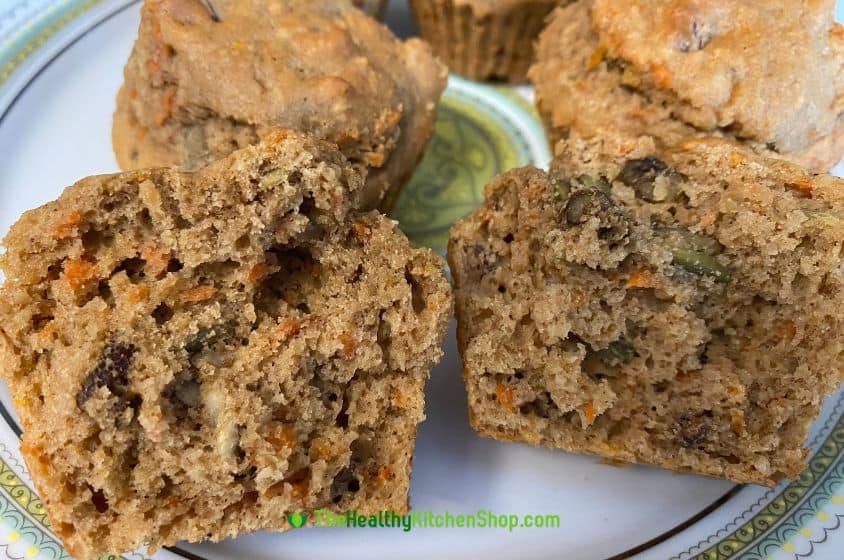 Table of Contents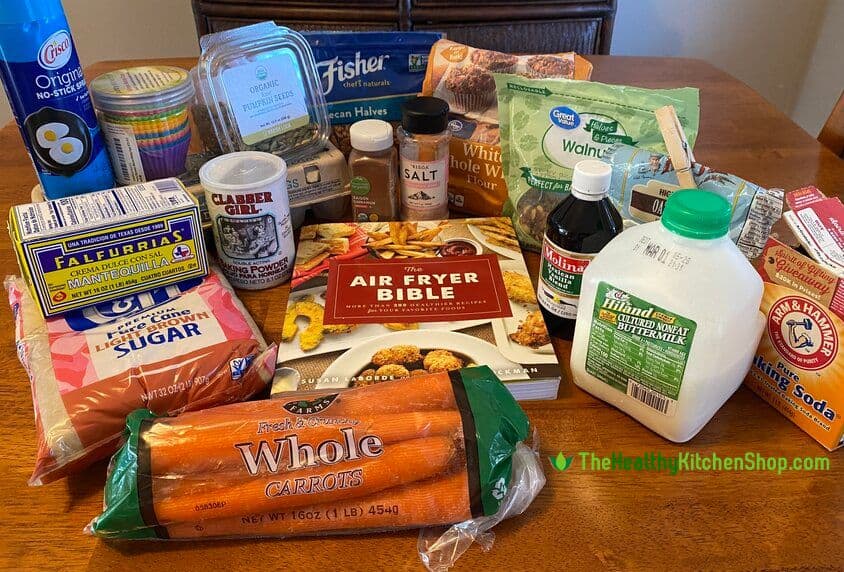 Too Many Ingredients?
Do you always avoid recipes that have a really long list of ingredients? I understand. Sometimes I do that too, but in this case don't let that scare you off! You can omit a few things or substitute and still have a really great muffin.
I made the muffins pictured here on a freezing Saturday morning. I had not planned ahead and didn't have all the ingredients in my pantry, but I had a serious craving going on. I really, really wanted these muffins for breakfast, and I really, really did NOT want to have to go to the store in the frigid cold.
First off I discovered I was out of whole wheat flour. I did have white wheat flour so I used that instead. To me the result was excellent. If desperate you could even use all purpose white flour, but then you do sacrifice a little of the original taste. You know, white flour just can't give you that unique nutty flavor of the whole grain (and white flour isn't as healthy either).
I was also out of flaxseed meal, so I omitted it altogether with no substitute. Unless you have superhuman taste buds you won't notice the difference in flavor. What you do lose is a little of the nutrition. Flaxseed is high in fiber and omega-3 fatty acids, so definitely use it whenever possible.
Finally, I was out of sunflower seeds, so I just doubled the amount of pumpkin seeds. I lost a little bit of the variety in the muffins, but to me it was fine because I happen to love pumpkin seeds. Using one or the other is also a good option when you're trying to save money at the grocery store.
The same goes for nuts. You can use all pecans or all walnuts, whatever you have or want to buy. Again, that affects taste in terms of the variety in the muffin, but you can do whatever suits your personal taste and/or your budget.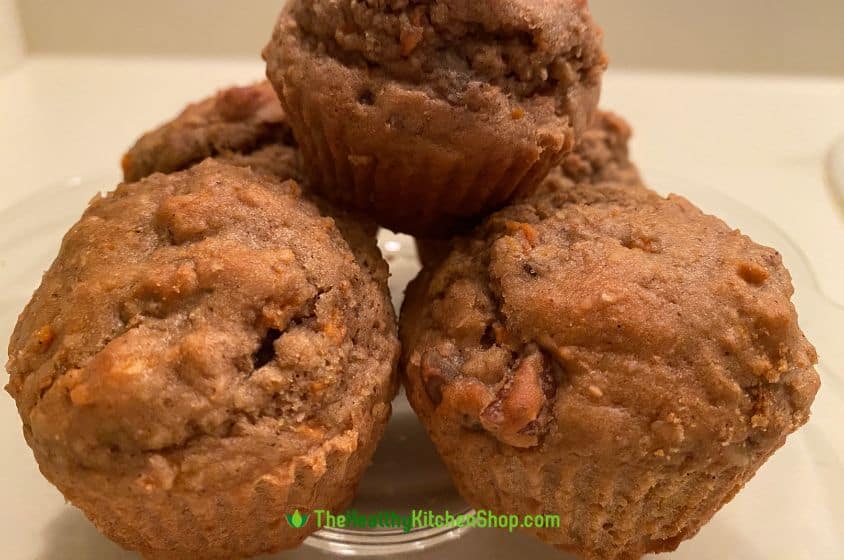 Can You Really "Bake" in an Air Fryer?
Oh my, yes! If you haven't yet tried baking in your air fryer you're in for a very pleasant surprise. I have yet to bake anything that didn't turn out great.
During the creation of The Air Fryer Bible cookbook my friend Elizabeth came up with a super easy scone recipe. I'll never forget the first time we cooked them. Honestly, they were better than any scone we had ever baked in a conventional oven. Something about the air fryer gives them a unique, very light texture, absolutely divine!
True story: Elizabeth swore (jokingly) that when she bit into that first scone she heard the Hallelujah Chorus. We had a good laugh and then decided to name the recipe "Glorious Scones". Unfortunately we had an editor who was obsessed with alphabetical order. He changed the name to just "Scones". In fact, he changed the names of all our recipes, which is a whole other story, and some day I should write a book about what it was like to write a cookbook for a major publishing house.
But I digress. The point is, our cookbook is filled with baking recipes, and you'll find lots more from good air fryer cooks on the web. I admit I don't bake cookies in my air fryer because it just isn't feasible. Even if you have the biggest air fryer, using cookie sheets in a full size oven is much faster.
Otherwise everything turns out great – all kinds of bread, quick bread, cornbread, biscuits, muffins, cakes, and other desserts. (See More Air Fryer Recipes below.)
Success Tips for Nutty Whole Wheat Air Fryer Muffins
Mixing
Whether you use an air fryer or a conventional oven, the golden rule of muffin making is do not overmix. Too much mixing makes muffins tough and can give them a spongy texture.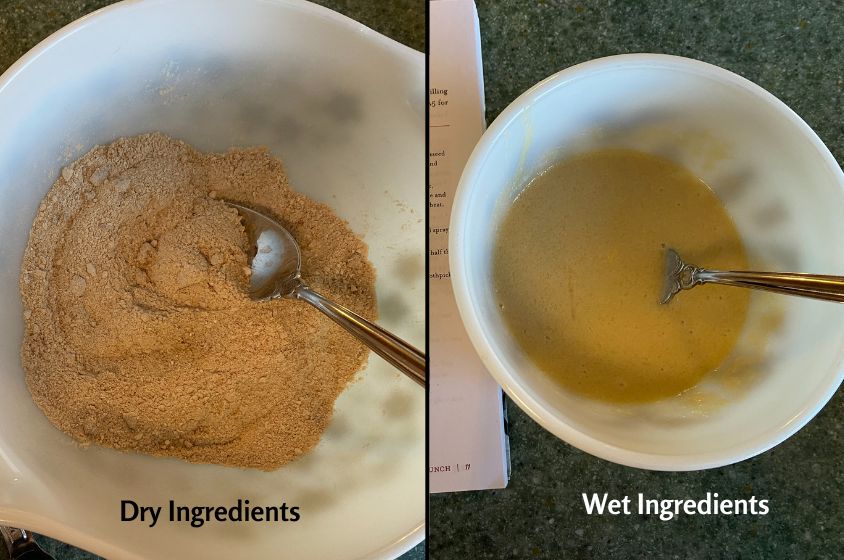 Follow the instructions in the recipe below to mix your dry and wet ingredients separately first. Then, when you combine the two you stir very gently and only as needed. As soon as your dry ingredients are moist, stop stirring. Then use as few strokes as possible to stir in the carrots, nuts, and seeds.
Cooking Time
Temperatures vary from one oven to another, and the same is true of air fryers. If you have used your air fryer for a while, you may have a good sense of whether it tends to cook fast or slow. Either way, with a new recipe I always start with the shortest cooking time to avoid the risk of overcooking or burning foods.
For example, the cooking time listed in the recipe below is 9 to 11 minutes. Set your first cooking time for 9 minutes. If you think your air fryer cooks especially fast, you might even pause it at 7 or 8 minutes and take a peek just to be safe. Test for doneness and cook for another minute or two as needed.
A common way to test is by inserting a toothpick. If it comes out with wet batter you need more cooking time. If the toothpick comes out clean or with crumbs, your muffins are done. I also like to just press lightly on a muffin, and if the top springs back then you know it's done.
Testing for doneness is absolutely necessary because there are numerous reasons why no recipe can "guarantee" an exact cooking time. Again, that's true no matter what appliance you're using. If you want to know more I wrote an entire article about this issue. See Why You Should Never Trust An Air Fryer Cooking Time Chart.
Spacing
The way air fryers cook is by rapidly circulating hot air. It follows then, that in order for your air fryer to cook properly, you must leave enough room between muffin cups for air to circulate.
I baked these in my old original Philips model HD9230, which has about the smallest capacity of today's air fryers. In my basket, the limit is about 4 muffin cups, 5 at most.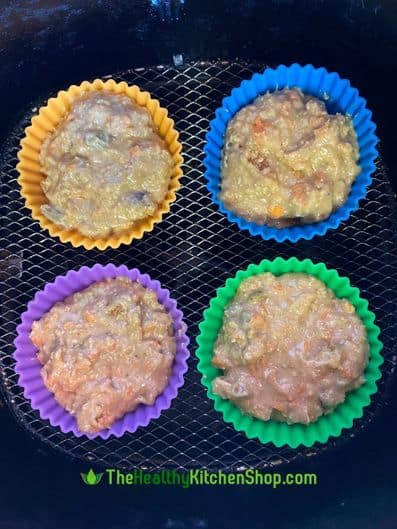 If you have a large capacity air fryer you can certainly cook more that 4 muffins at a time. The photo above gives you an idea of how much space you need to leave. You can also "live and learn". That is, if your muffins are cooking unevenly, you're probably overcrowding the basket so that air can't circulate well enough.
Baking Cups
Lastly, this is not a success tip but rather a matter of preference and convenience. The recipe below explains how to use foil muffin cups in your air fryer. Since you usually aren't using a muffin tin inside your air fryer, foil cups work best for very heavy batters. In other cases paper muffin cups may work fine, but often you'll need to double them.
Personally, I much prefer silicone muffin cups like those from Amazon shown below.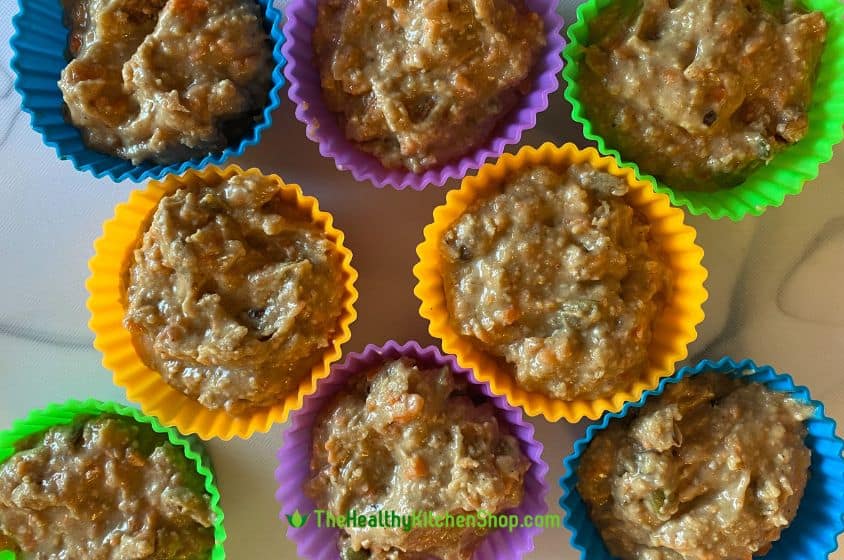 They are inexpensive, reusable, air fryer safe, oven safe, and dishwasher safe on the top rack. They are so sturdy they will hold up to most any filling, even a very liquid, runny batter. If need be you can coat them with cooking spray, but quite often that isn't necessary. I absolutely love mine and use them all the time – one of those super cheap purchases that makes you think wow, why didn't I buy these years ago?
Go here to see these Silicone Baking Cups on Amazon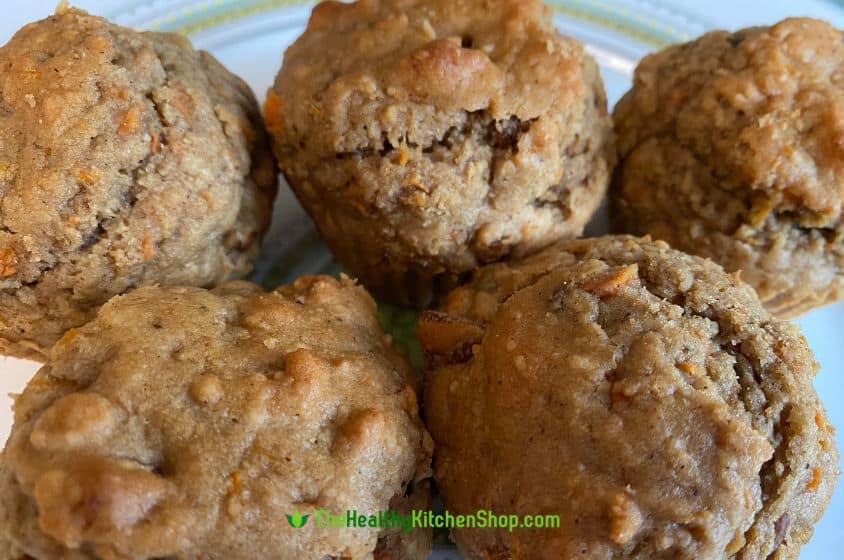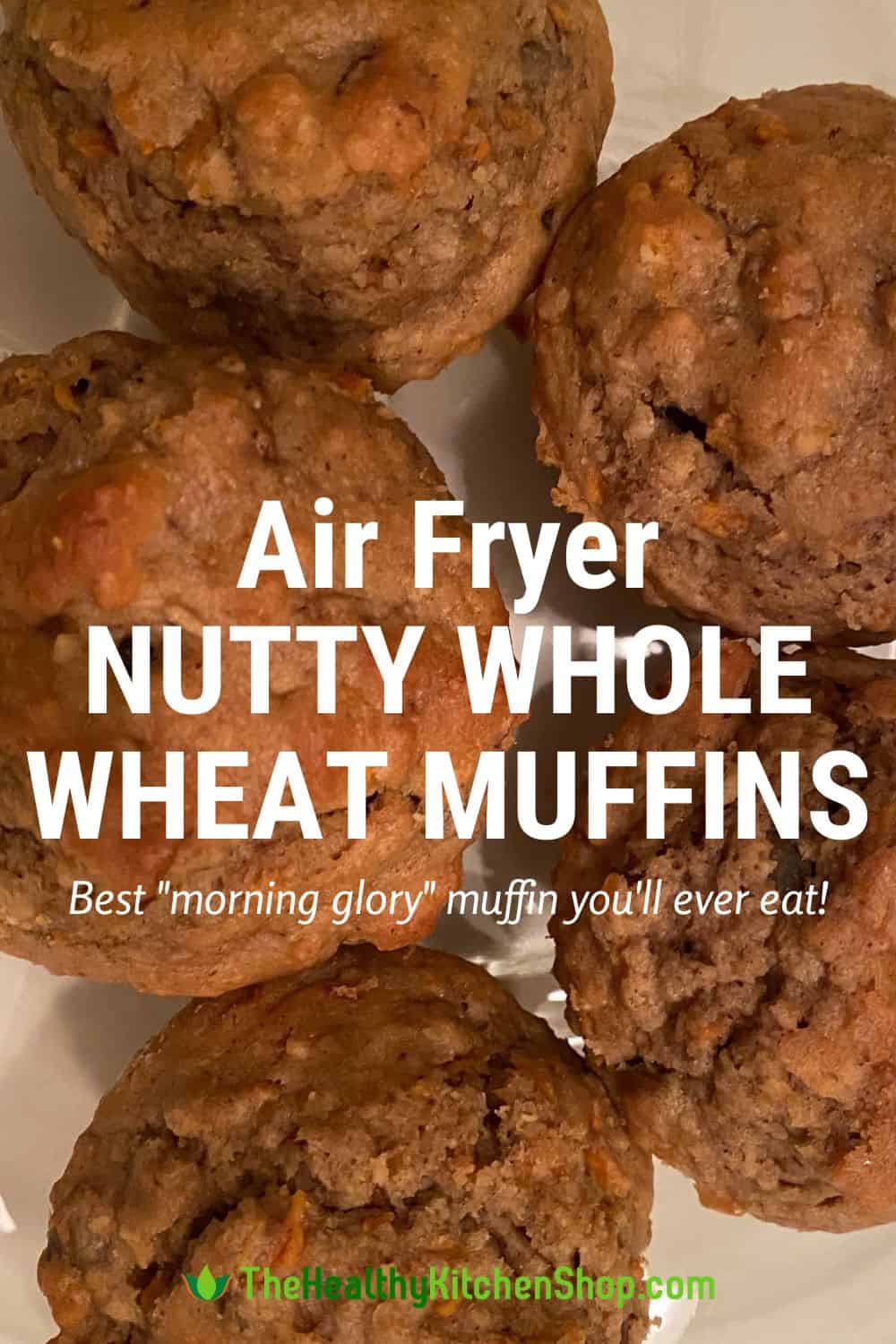 Nutty Whole Wheat Air Fryer Muffins
Hearty, healthy, and a little sweet, these morning glory style air fryer muffins make an excellent breakfast or snack. Easily add or omit ingredients to suit your taste.
Equipment
Air Fryer

Foil or silicone muffin cups
Ingredients
1/2

cup

+ 2 tbsp whole wheat flour

1/4

cup

oat bran

2

tbsp

flaxseed meal

1/4

cup

brown sugar

1/2

tsp

baking soda

1/2

tsp

baking powder

1/4

tsp

salt

1/2

tsp

ground cinnamon

1/2

cup

buttermilk

2

tbsp

butter, melted

1

egg

1/2

tsp

pure vanilla extract

1/2

cup

grated carrots

1/4

cup

chopped pecans

1/4

cup

chopped walnuts

1

tbsp

pumpkin seeds

1

tbsp

sunflower seeds

cooking spray
Instructions
Preheat air fryer to 330℉.

In a large bowl, stir together the flour, bran, flaxseed meal, sugar, baking soda, baking powder, salt, and cinnamon.

In a medium bowl, beat together the buttermilk, butter, egg, and vanilla. Pour into flour mixture and stir just until dry ingredients moisten. Do not beat.

Gently stir in carrots, nuts, and seeds.

If using foil cups, remove paper liners from 16 cups, and then double the foil cups to make a total of 8. Coat lightly with cooking spray. If using silicone cups, no need to double or to use cooking spray on them.

Place 4 of the doubled foil cups or 4 silicone cups in air fryer basket, and divide half the batter among them.

Cook at 330℉ for 9 to 11 minutes or until toothpick inserted in center comes out clean.

Repeat step 7 to cook the remaining 4 muffins.
© 2017 Susan LaBorde and Elizabeth Hickman. All rights reserved. No part of this recipe may be reproduced or transmitted in any form or by any means without prior written permission.
Want more? This recipe is from The Air Fryer Bible Cookbook by Susan LaBorde and Elizabeth Hickman. Click here to see The Air Fryer Bible on Amazon.
How to Double This Recipe
It's very easy to double this recipe, which is a must if you're cooking for a big family or for a crowd.
These muffins also freeze beautifully. I like to cook them on a Saturday and freeze leftovers for busy weekdays. You can quickly reheat them in the microwave. If you prefer a crispy exterior that's more like freshly baked muffins, you can thaw them in the microwave and then pop them back in your air fryer for a minute or two.
More Air Fryer Recipes
Air fryers do a wonderful job on all kinds of baked goods. There are two other air fryer baking recipes on this site that you might enjoy:
Those two recipes and the Nutty Whole Wheat Muffins recipe above are all from The Air Fryer Bible cookbook, written by yours truly and my dear friend Elizabeth Hickman. Our cookbook includes several other muffin recipes and a wide range of other baked goods: quick breads, yeast breads, cornbread, biscuits, and a variety of desserts. Here are just a few of the recipes you'll find:
Cheddar-Ham-Corn Muffins
Apple-Cinnamon-Walnut Muffins
Corn Dog Muffins
Banana Bread
Strawberry Bread
Southern Sweet Cornbread
Broccoli Cornbread
Buttermilk Biscuits
Garlic-Cheese Biscuits
Scones
White Wheat Walnut Bread
Sound good? Check out this full-color, 244 page cookbook on Amazon:

THE AIR FRYER BIBLE
More Than 200 Healthier Recipes for Your Favorite Foods
Click here to see The Air Fryer Bible on Amazon
If you enjoyed this recipe please share on Pinterest and help spread the word!