Lunch containers for adults don't have to be boring. In fact they can be an essential part of packing a healthier and more appetizing noon meal.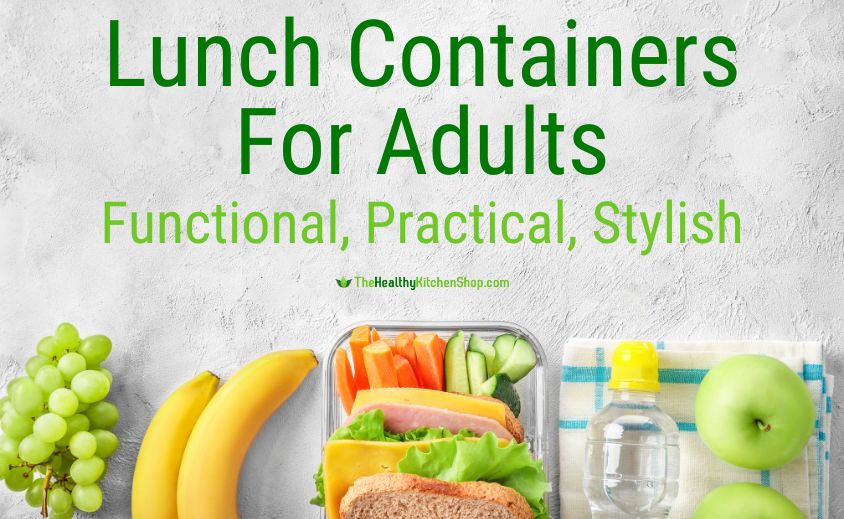 Lunch Is Important Too!
You've heard a million times that you shouldn't skip breakfast. That's true, but lunch is another meal you shouldn't skip or skimp on. Whether you're at work or play, it can make a big difference in how well you're able to perform and how much you enjoy your day.
Have you given much thought to your lunch lately? Are you making good choices or stuck in a not-so-healthy rut? Do you enjoy your noon meals, or are they filling but boring?
More importantly, how do you feel every day after lunch? We all know that healthy meals are good for overall health, but your lunch can also have a direct impact on your energy and mood all afternoon.
Below I cover all the details about that and much more – how foods affect you, the three main components of a healthy lunch, and some ideas for putting together nutritional noon meals that taste great.
Whatever your eating habits, packing a lunch is a lot easier when you have the right food containers. You might even eat healthier if you had containers that allow you to take a wider variety of both hot and cold foods.
Besides that, you don't have to be a kid to appreciate a great lunch box. If you're already a super healthy eater then skip right down to my personal picks for great lunch containers for adults<. You're bound to find at least one that your inner child will love.
But first, a few important facts and ideas.
How Your Noon Meal Affects Your Afternoon
It shouldn't come as a surprise that what you eat for lunch impacts how you feel and function during the afternoon. Depending on what you eat, some of the negative effects you may experience include:
lack of energy and/or enthusiasm
feeling distracted because you're still hungry
feeling sluggish from overeating or from eating certain foods
mood swings
impaired cognitive function
Affects on your cognitive function can include a wide range of problems such as your attention span or the time it takes you to process information and react. You may even find it more difficult to get organized, make plans, or solve problems.
Of course it follows that the opposite is true. Eating better can make you feel better. So what exactly does "eating better" mean?
How To Plan Healthier Lunches
There are three aspects of a healthy lunch: nutrition, portion size, and individual body chemistry.
NUTRITION: Here are some tips for packing a nutritious lunch:
Start with a serving of protein. It will help satisfy your hunger and will give you energy that lasts through the afternoon.
Avoid refined carbohydrates. "Empty calorie" foods and those with high sugar content tend to give you a great burst of energy that is very short lived, and then you have a crash that leaves you feeling worse than before you ate.
Do include complex carbs because they help give you the kind of energy that has some staying power.
Add a moderate amount of healthy fats. They are essential for helping you absorb nutrients, and they're good for your brain. Good fats also help you feel full longer and maintain your energy level.
Make sure you stay hydrated with plenty of water or beverages that aren't overloaded with sugar. If you work in the heat you may also need a beverage that replaces your electrolytes. Just beware of sports drinks with excessive salt. My personal favorite is Body Armor Lyte because it's all natural with no added sugar.
PORTION SIZE: This aspect is harder for most of us. One problem is that we're accustomed to the gigantic servings we get at restaurants and fast food establishments. Another problem for us boomers is that we were raised to never waste food, and always "clean your plate". Put those two together and you're doomed.
If you aren't sure about proper portion sizes, I've written an entire article with all the answers. See 5 Portion Control Tips – Easy Ways to Eat Healthier. It's a fairly quick read, and you'll learn how much is enough vs. too much. You'll also see a "hand guide" that makes it super easy to determine portion size any time, anywhere.
YOUR BODY CHEMISTRY: Some things are personal, and that includes food. In this instance you need to know your body and listen to it.
The most common example is that certain foods just don't agree with us. That varies from person to person, and most often we don't know the reason why. What gives you indigestion or heartburn? What leaves you feeling a little nauseated, or sends you on an urgent trip to the bathroom?
Pay attention to any foods that have an adverse affect on you in any way. You may be more sensitive to sugary foods. I may be more sensitive to hot spices. Start noticing the relation between what you eat for lunch and how you feel afterward.
Some things are obvious such as very greasy foods. They aren't good for you and are hard to digest, which can leave you feeling sluggish or sleepy. Other effects can be more subtle. You might want to keep a diary or jot notes on your phone. Over time you'll begin to see what foods work best for you and which ones to avoid.
Food & Menu Ideas For Healthy Lunches
As always the web is a wealth of information. Here are a few sites I found that are practical and helpful:
Now, the only other question is … what are you going to pack that healthy lunch in?
Lunch Containers for Adults
Actually, these containers could also be ideal for college kids, older teens, and even some middle school kids. One group that comes to mind are young athletes. I know that those in my family are super conscious of what they eat, whether they are eating for maximum energy levels or support muscle and bone growth. The container selection below includes items suitable for a variety of needs.
Lunch Containers with Dividers
Salad & Meal Prep Containers
Insulated Lunch Containers for Adults
Stylish Lunch Bags for Adults
Finally, what if you're looking for something a little more exciting than a basic container? Grownups can have cool lunch boxes too!
Below are some the top sellers on Amazon for both women and men. Most are available in other colors or patterns than what is shown, so be sure to click through to see all the options.
You'll also find some photos and illustrations that will give you a better idea of the size and number of containers each bag will hold. One bag, the navy polka-dot, actually includes its own matching tumbler and two nice sized food containers.
You may also like…
If you found this helpful please share on Pinterest!