As an Amazon Associate I earn from qualifying purchases.
I bought this vacuum sealer because it does everything I want. I love it, but is it right for you? My complete FoodSaver FM2100 Review gives you all the details so you can decide whether this is the best model for your needs. Know before you buy!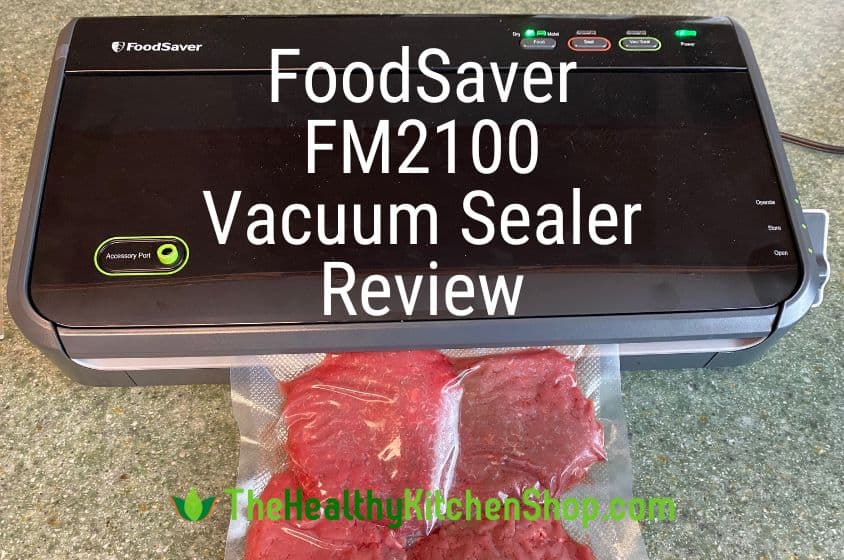 Rating:
4.5
Reviewed by
Susan LaBorde
The FoodSaver FM2100 Vacuum Sealer is a great value because it offers a wide range of features but without a huge price tag. This model is a channel (suction type) vacuum sealer that is designed for use with bag rolls, pre-cut bags, and zipper bags. It includes an accessory port and hose, but the handheld sealer is sold separately.
As with any product you'll always find complaints, but FoodSaver is a well established brand, and over the years it has earned a good reputation for quality. My own experience, plus that of friends and family who own FoodSaver products, supports that. My review below covers all the other details, pros, and cons.
Features
Seals rolls, pre-cut bags, and zipper bags
Includes accessory port and hose (handheld sealer is sold separately)
Optional setting for moist or dry foods
Removable drip tray
Internal roll storage
Built-in roll cutter bar and bag cutter
Includes starter roll/bags (see details below)
5 Year Limited Warranty
Contrary to what you might see on Amazon, the FoodSaver FM2100 DOES NOT have the automatic bag detection feature. Despite that, this model is extremely easy to operate, as explained below. Personally, I prefer manual because it's so incredibly simple, and you don't have to worry about sensors in the machine that can sometimes be a little finicky.
Quite often you can save money using bag rolls because you cut them to custom fit your contents. For that purpose the built-in bag cutter is a big help in getting a clean, straight cut.
The internal roll storage is also a helpful space saver, but be aware that it has its limits. This model will only hold the smaller bag rolls, those that measure 11 inches by 16 feet or 8 inches by 20 feet. To be clear, you can still use the bag cutter on bigger 50-foot rolls. You just can't store those big rolls inside the machine.
NOTE: Zipper bags are for use only in the refrigerator and pantry. These are the bags you would want for foods that you want to open and reseal often. For resealing the zipper bags you will need the Handheld sealer attachment that is sold separately. See below.
Operating the FoodSaver FM2100
It couldn't be simpler. Here's a step-by-step guide with photos. (Yes, that's old school, but to me it's faster than having to watch a video.)
How to Make a Bag from a Bag Roll
Open your FoodSaver and place a bag roll into the Roll Storage.

Raise the Roll Cutter Bar. Pull end of bag roll under the Cutter Bar, pulling until you reach the size you want. You'll need a bag large enough to hold your contents plus 3 inches.

Lower the Cutter Bar over the Bag Roll. Slide the cutter across the Cutter Bar.

That's it. You're done.
How to Vacuum Seal a Bag
I repeat, it couldn't be simpler.
Place food items in your bag. Leave at least 3 inches of empty space between the contents and the open end of the bag.

Open your FoodSaver and place the open end of the bag into the drip tray.

Close lid. Turn the Lock Latch on the right side of the machine to the "Operate" position.

Press the button labeled "Vac/Seal".

Now all you have to do is wait. You'll hear the motor running while it is vacuuming. The machine will then be silent while it is sealing the bag. You'll know the process is finished when the Seal Indicator Light goes off.

After the Seal Indicator Light goes off, turn the Lock Latch to the "Open" position, raise the lid and remove your sealed bag.
Any time you wish to stop the vacuuming process, you simply press the "Vac/Seal" button again. You will want to do this when sealing delicate foods such as bread or muffins that may be crushed if the bag is fully vacuumed.
The button labeled "Seal" is used when you want to seal only, with no vacuum. This can come in handy with extremely crushable foods such as chips or delicate cookies.
What Are This Model's Limitations?
Liquids: As with any channel vacuum sealer, the FoodSaver FM2100 will not work with very liquid foods. That includes soup, salsa, gravies and other sauces.
Note that "moist" foods means anything with a limited amount of moisture, such as poultry, fish, meat, fruit, and some vegetables.
Extensive Heavy Use: The FoodSaver FM2100 is not designed for continuous hours of heavy duty use. It's not for hunters, fishermen, and gardeners who plan to do batch processing for hours on end. For that you you'll want to consider investing in a chamber vacuum sealer.
This model is designed for average use in a home kitchen. When sealing you must wait 20 seconds between bags to allow for cool-down time. Normally that is not an issue because when you finish sealing a bag it takes that long to prepare the next one for sealing.
Those limitations were not important to me, but you should think about how you plan to use a vacuum sealer. (For more see Why I Chose This Model For My Kitchen below.)
Size and Capacity
Exterior Dimensions: 16.3 inches wide x 9.2 inches deep x 4 inches high
Weight: 6.6 pounds
Maximum Bag Size: Up to 11″ wide bags or bag rolls
What's Included?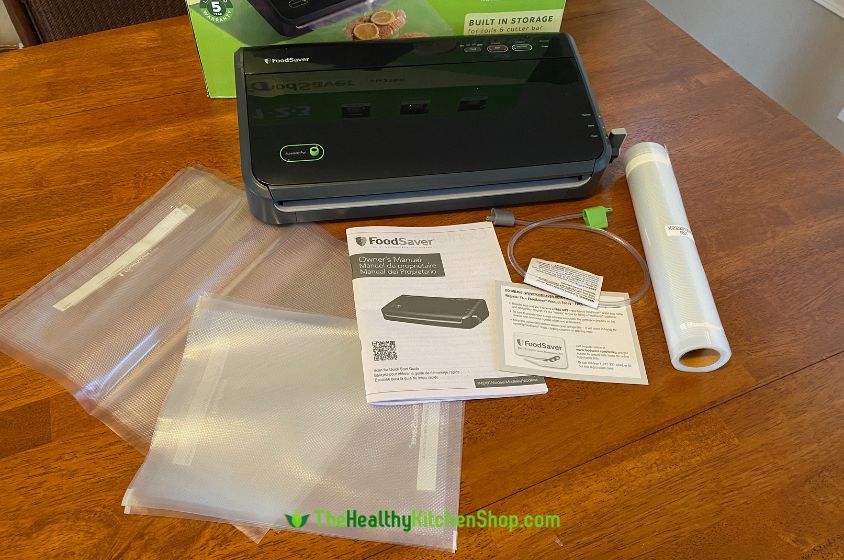 2 Gallon size pre-cut bags
3 Quart size pre-cut bags
1 vacuum seal bag roll, 11″ by 10′
Accessory Hose
Owner's manual
The Owner's Manual includes some very important information about anaerobic bacteria in foods and other safety precautions. There are also some helpful tips on preparing and reheating various kinds of foods, including make-ahead meals and leftovers. can be viewed online here: FoodSaver Owner's Manual for FM2100 Models
(Back to Top)
Bag Rolls, Pre-Cut Bags, and Vacuum Zipper Bags
You are not limited to FoodSaver brand bags, but you absolutely must use the correct type of material. Bags and rolls for this model are designed with "channels", and this design is what allows removal of air from the bag.
I do like the quality of FoodSaver brand products. All of their bags and rolls are BPA free, multi-ply construction, and safe for microwaves and for simmering. Choices include bag rolls as well as pre-cut bags and zipper bags in a full range of sizes. View all the available choices on Amazon:
Optional FoodSaver Vacuum Sealer Accessories
FoodSaver VA2000 Handheld Sealer Attachment
The handheld sealer makes your FoodSaver even more versatile. It is designed to work withFoodSaver containers, canisters, the Quick Marinator, jar sealers, and wine stoppers. It also works with zipper bags.
This attachment is most useful in working with pantry and refrigerator foods that you want to seal and reseal. It can help you keep foods such as hard cheese fresh longer.
The handheld sealer gets a good rating in reviews, but there are quite a lot of complaints that the clip that plugs into the vacuum sealer breaks off after a fairly short time. I am not aware of any warranty on this accessory.
FoodSaver Jar Sealer
One of the most popular accessories by far is the jar sealer. You can use it to seal jars containing liquid or very juicy foods such as fruit preserves, salsa, and soup. Jars also work well for dehydrated foods and very delicate items.
NOTE that vacuum sealing mason-type jars is not a substitute for canning.
The jar sealer includes attachments to fit both wide-mouth and standard size jars. It works with Ball® and Kerr® brand jars.
FoodSaver Marinators/Storage Containers
These containers can be used to keep foods fresh longer in the freezer, refrigerator, or pantry. They also work for marinating foods so that marination requires only a few minutes instead of hours or overnight.
Choose from a single, 10-cup container, or the set of two that contains one 10-cup and one 3-cup container.
FoodSaver 2129973 Preserve & Marinate 10 Cup Vacuum Seal Container

FoodSaver 2116382 Preserve & Marinate Vacuum Containers, 3-cup and 10-cup (Count-2)

(Back to Top)
Customer Reviews
This product gets a very good average consumer rating among online reviews. As usual the problem is that the largest number of reviews are on Amazon, and in many cases they are "blended" reviews. That is, they may all be verified purchases, but Amazon may combine reviews from more than one model of a particular product.
On this FoodSaver the biggest complaints I find involve machines that either did not function at all on arrival or stopped working within a few weeks or months. Many of these customers are angry that the breakdown occurred just after the Amazon return period of 30 days.
Please remember that this product has a 5 Year Limited Warranty. Your warranty is not from Amazon. It's from FoodSaver. Keep in mind how returns actually work.
Amazon offers a 30 day return option on many products that it sells. After 30 days, you must contact the manufacturer, in this case FoodSaver. Only the manufacturer can help you with warranty claims.
Some other owners complain that the machine does not create a good seal especially on wet foods. I'm sure some of them have machines that just aren't working properly. However, I suspect that in other cases the problem may be operator error. I know you don't want to hear this, but sometimes the solution is as simple as reading instructions.
Even if you have owned a FoodSaver or other vacuum sealer before, remember that every model works differently. The owners manual for the FM2100 includes lots of tips for getting good results depending on what you are sealing.
Operation is really not difficult, but for best results you need to follow the manufacturer's guidelines. Another reason to read the instructions is that they contain some very important information about mold, yeast, bacteria, and even precautions about handling foods before preserving them. Take a few minutes to read the manual, and you might avoid a lot of frustration and possibly a health hazard.
Aside from those issues the majority of consumer feedback is quite positive, mainly because this vacuum sealer is easy to use and gives a good seal. Favorite features are its bag storage and bag cutter, as well as the option to add a handheld sealer if you discover you have use for that later on.
(Back to Top)
Why I Chose the FoodSaver FM2100 For My Kitchen
For my personal needs I consider this model very versatile. It's perfect for every day use, and I can take advantage of grocery store sales and seasonal buys. It also works fine when I load up at the local farmers' market. The required wait time doesn't slow me down because I use that 20 seconds to prepare my next bag. Also, the machine is going to have some long breaks while I work on blanching and other food preparation. I'm just never going to be running it all afternoon or all day without lots of breaks.
The fact that this model does not come with a handheld sealer was not a deal breaker for me. I don't think I will miss it. However, if I change my mind I do have the accessory port and hose. All I have to do is buy the attachment and containers to use.
This model seals bag rolls, pre-cut bags, and zipper bags. Most important to me is the ability to use bag rolls because they enable you to make custom size bags for whatever you want to seal. That's great for oversize or oddly shaped foods, and it also lets you avoid bag waste when you want to freeze small items or individual servings.
The only slightly negative thing I can say is that it's rather noisy while the vacuum is in progress, much louder than I expected. I can't imagine that this would be an issue unless perhaps you have a baby sleeping in the next room who awakens easily.
I like the FoodSaver brand because it has a good reputation for quality products and customer service. There are more expensive vacuum sealers with more bells and whistles, but I chose this model because it meets all my needs for a moderate price.
Pros
Versatile – use with rolls, precut bags, and zipper bags
Option to add handheld sealer to use with jars and containers
Extremely easy to operate
Creates a good, tight seal to protect foods in freezer, fridge, and pantry
Internal bag storage saves a little space
Bag cutter is very helpful for making neat, straight edges on bags
Removable drip tray that is easy to clean
Cons
Achieving a sturdy seal on wet foods may involve a slight learning curve
FoodSaver rolls and bags give you great quality but cost more than other brands
Not designed to hold up to long periods of heavy duty use
A bit noisy during vacuuming process.
FoodSaver FM2100 Vacuum Sealer Review: Summary
The FoodSaver FM2100 Vacuum Sealer is a good value for the money. This medium priced model offers manual controls that are very easy to understand and operate, and it produces tight, lasting seals. It works with bags, rolls, and zipper bags, and it has the option to add more capability if you purchase the handheld sealer that is sold separately. It is not for the deer camp or a truck farm, but for average kitchen users it will perform well and give you all the features you need at a price that won't wreck your budget.
(Back to Top)



Not sure whether this model is best for you? See my Vacuum Sealer Comparison Charts to compare features of all models and check out the reviews.
If you found this info helpful please share on Pinterest and help spread the word!