As an Amazon Associate I earn from qualifying purchases.
Cosori Air Fryer Recall

Cosori has recalled some 2,000,000 air fryers due to a safety hazard. The recall applies only to certain models.

For information about the recall and what you can do if your air fryer is one of the recalled models, see Cosori Air Fryer Recall (on this site). You can also find information at the manufacturer's website, Cosori.com.
UPDATE FEBRUARY, 2023: The following review has been updated to cover the newer Cosori Pro II Air Fryer. The model number is CP358-AF, and this model is not part of the above mentioned recall.
I used to be totally loyal to Philips, but now I own a Cosori too, and I really love it! It's a great machine at a great price. Get all the details in my Cosori Air Fryer Review below.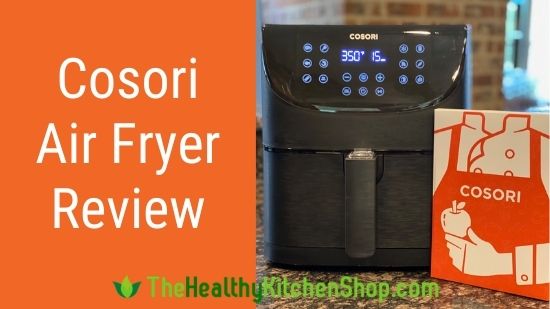 Rating:

4.7
Reviewed by
Susan LaBorde
This Cosori Pro II Air Fryer is one of the largest models on the market, making it family friendly and good for crowd size cooking. It's also a huge bestseller that has earned a superior average rating from thousands and thousands of online reviews.
Perhaps most impressive is that you get a huge 5.8 quart cooking capacity for a very reasonable price. It usually sells for less than $130, but you may pay even less if you catch it on sale. That's a great value for an air fryer of this size.
If there is a drawback, it might be durability. I own a previous Cosori model, and after approximately 3 years of heavy use it is showing some wear and tear. A screw that holds the handle in place has come loose and had to be tightened several times, and there are places where the finish seems to be coming off of the basket. Despite that it still works perfectly fine, and again mine is an older model. My personal opinion is that for the price, there is a lot to love about Cosori. Read on for all the details.
Features
5.8 Quart Capacity
1,700 Watts
Digital Touchscreen
Adjustable Temperature – 170°F to 400°F
60 Minute Timer
Automatic Shut-Off
12 Presets, Including Preheat and Keep Warm Functions
Personalized Shake Reminder
On/Off Power Button
Basket Non-stick and Dishwasher Safe
2 Year Limited Warranty
Air fryers are fairly simple appliances because there is no need for complicated functionality. As you can see from the list above, the Cosori includes all the features you need for convenience and ease of use.
I never use presets, but if you're a fan then you'll be delighted with the choices here. Cosori gives you 12 preset modes: steak, chicken, fish, shrimp, seafood, frozen foods, French fries, vegetables, bacon, Preheat, Toast, and Bake. This model also has a Keep Warm function.
The 5.8 quart size is one of the largest on the market. The basket is square, which makes it roomier than round baskets. According to the manufacturer, this Cosori will hold a whole chicken up to 5 to 6 pounds. This is definitely a great choice for families who need to cook in larger quantities.
Below is a brief "unboxing" video of my original Cosori. Even though this video shows an older model, it's very similar to the model in this review, so it gives you a close-up look at the unit.
(Back to Top)
Size & Capacity
Exterior Dimensions: 11.78″ x 12.01″ x 12.65″, not including handle
With the handle, it measures approximately 11.78″ x 13.87″ x 12.65″
Basket Dimensions: 9″ x 9″ x 3.75″*
Weight: 12.3 pounds
Cooking Capacity: 5.8 quarts
What's Included with the Cosori Air Fryer?
Cosori does not include any accessories with this model, but they do give you a rather nice looking cookbook. It has color photos and and includes 100 recipes for every meal. Click here to view it online, and for more recipes on the company website see Cosori Air Fryer Recipes.
You should also receive a User Manual with basic operating instructions.
Optional Accessories
Before you buy either of these accessory sets, see My Opinion below.
Cosori Air Fryer Accessories XL – These accessories were designed to fit several Cosori models, including the 5.3Qt and 5.8Qt air fryers. By design, the pans may be a tight fit for the 5.3Qt air fryer, but not for the 5.8Qt model. This is not a huge drawback. It just means you aren't able to take full advantage of the space in a 5.8Qt model.
Unfortunately, no dimensions are provided for any of the pieces in this set.
---
Another option is this accessory set from Simple Living Products:
It has fewer pieces but also costs less than the brand name set. I bought this myself, and the pieces are a good fit for the Cosori basket. Click here to see it on Amazon.
My Opinion: In my experience, the most useful item in these sets is the deep baking pan. I LOVE it and use it all the time. The shallow pan is occasionally useful but not a "must-have".
The double layer rack is virtually useless in my book. During cooking you can't see the food on bottom to know whether it's done, and it's impossible to shake or stir foods without first removing the rack. That's not so easy to do when it's blazing hot.
I can't offer advice on the skewers. I don't own them because I've never been a fan of skewer cooking. I'm picky about doneness and always seem to end up with meats and vegetables that are either overdone or undercooked.
As for the muffin pan, my personal preference is individual silicone baking cups because you can get better air circulation around them, which is the key to successful air frying. I use my silicone cups all the time. They are air fryer safe, oven safe, dishwasher safe on the top rack, sturdy enough for even very liquid fillings, and very inexpensive. They also stack for storage so they take up very little room in your cabinet.
Go here to see these Silicone Baking Cups on Amazon

(Back to Top)
Customer Reviews
I'm sorry to say that the Amazon reviews on this product do not appear to be very reliable. There are close to 30,000 ratings, but they do not all apply to this Cosori air fryer model. Rather, what you see on the Amazon site are merged ratings.
That is, those thousands of ratings apply to 4 completely different products: the Cosori Air Fryer Toaster Oven; the Cosori Pro III air Fryer Dual Blaze; the Cosori Air Fyer Pro LE (compact small oven); and the model in this review, the Cosori Pro II Air Fryer Oven (model CP358-AF).
The only conclusion you could possibly draw from those ratings is that generally speaking, those 4 Cosori products appear to rank quite well with consumers.
However that does not help us with knowing what sort of problems customers have experienced with the Cosori Pro II Air Fryer.
What does seem apparent in those reviews is that Cosori is no longer monitoring and responding to consumer complaints. I have mixed feelings about this. On the one hand, a company monitoring customer complaints appears to be interested in making sure buyers are satisfied with their products and trying to provide solutions to any problems.
On the other hand, I can't really fault a company for not monitoring Amazon reviews. If you've ever read those reviews you know people often complain about the oddest things. Quite often a complaint concerns some personal preference like "I hate air fried food", or it's about something clearly stated on the sales page such as size or weight of the product. In the manufacturer's defense I must say that anyone who wants the company to help them with a problem should go directly to the company.
The company does monitor reviews on its own website, but there aren't very many. The few customers who gave this model a poor rating had the following complaints:
1 star – unit quit working after 1 month (Company responded that unit is still under warranty and requested customer contact them for help.)
3 stars – basket screws would not stay tightened; unit died after a little over 1 1/2 years
3 stars – Canadian customer did not receive instruction manual or recipe book (Company responded with offer to help.)
4 stars – customer says on-off and start buttons are too easy to confuse with each other; also exterior is not shiny but rather a dull black (I believe this is intentional as the dull finish is designed to be fingerprint resistant.)
The Cosori I own is one of the models that has been recalled. When I receive my new one, which will be this Pro II Air Fryer model, I will add my own experience to this review.
Meanwhile, what about that recall? Does the fact that there has been a recall mean you should not consider buying this brand? Only you can decide that. Here's how I feel about it.
I believe that even the best manufacturers can and do sometimes make mistakes or create products that turn out to be complete lemons. To me, what determines my opinion about a company is not the fact that they made a mistake but how they handle that mistake.
In this case it appears to me that Cosori has stepped up to the plate to make things right with their customers. If you follow their steps to determine whether you own an air fryer that has been recalled, they will replace it. They have a very good system in place for you to show proof you own the air fryer even if you don't still have the original receipt, even if your air fryer is out of warranty, and even if it is no longer working.
It appears to me that Cosori is going above and beyond to try to be fair to its customers. They have an entire list of Frequently Asked Questions that you can see for yourself if you go to https://recall.cosori.com/.
To address the negative first, online reviews contain a good many reports of units that did not work on arrival, or that stopped working during the first year. To see the FAQs just go to that link, click on your country, and scroll down the page.
Again, this is just my opinion, but at this point I still think Cosori is a great choice, despite the recall on the older models.
(Back to Top)
Pros & Cons
Pros
huge capacity – even larger than the Philips XXL
excellent value – very reasonable price for air fryer of this size
digital controls with 12 presets
all standard features plus Keep Warm and Preheat buttons
previous Cosori models have performed well with consistently even cooking
Cons
previous Cosori model still working after almost 3 years but showing some wear and tear
exterior size – makes for fairly large footprint on countertop
slight learning curve if you are brand new to air frying
Cosori Air Fryer Review Summary
More and more people are discovering all the many benefits of air fryers. Besides making tasty "fried" food without all the grease, they work for cooking all types of meats, side dishes, breads, breakfast foods and even desserts. They're easy to use, they cook fast without heating up the kitchen, and they do a fabulous job of reheating leftovers and takeout foods. Once you own one, you'll find it handy for so many things you'll wonder how you lived without it.
It's no secret that I'm a huge fan of Philips because I own several models that have been used extensively for years and are still running strong. Unfortunately, the big drawback with Philips is the high price. For comparison, see the Philips Premium Airfryer XXL on Amazon:
One of the most attractive aspects of the Cosori Air Fryer is that it offers you the largest capacity on the market at a price that beats Philips hands down. As mentioned above, durability could be an issue with the Cosori. After almost 3 years of heavy use my original Cosori model is showing it's age. If not for the recall I would have to replace the basket soon, but then, a new one sells for around $20.
The bottom line is that my personal experience with Cosori has been all positive. If you want extra large capacity and Philips is too rich for your budget, this Cosori Air Fryer model is definitely worth considering.
(Back to Top)
Still undecided?

Our features and specifications chart gives you a side-by-side comparison of the largest air fryer models, including Philips and other brands.

Click here to read our detailed Philips XXL Airfryer Review.
If you found this information helpful please share on Pinterest and spread the word!