As an Amazon Associate I earn from qualifying purchases.
Got a passion for purple? Then you're gonna love this amazing collection of purple kitchen utensils, appliances, accessories, towels, linens, rugs, wall art and décor!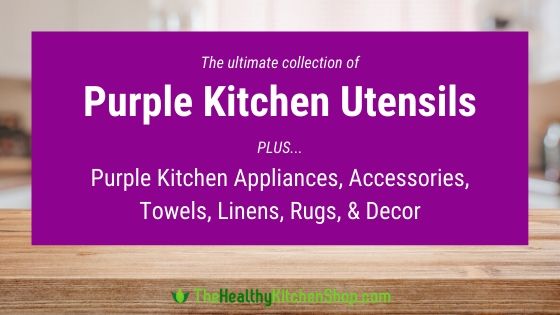 With all the choices below, you can add just a touch of your favorite color, or go all out. You'll find a full range of styles, so there's something to suit every taste and fit into any decorating scheme.
Even if you aren't totally wild about purple décor, this can be a great color for parties and special occasions. Here in Louisiana purple is a must-have for Mardi Gras season, and it's popular with LSU fans year round – Geaux Tigers!
Purple Kitchen Utensils
This collection includes a variety of styles from elegant to quirky. For the most part these are kitchen tools that are actually useful, but there's nothing wrong with just plain fun too. For everyone who loves purple, enjoy!
Click any image below to see the product on Amazon.
Purple Kitchen Appliances
Choose one of the smaller items below to add a little pop of color to your kitchen counter, or go all out with a big appliance that makes a big splash. In fact, some of you may be surprised to know that the purple mini fridge in our collection is listed as one of Amazon's best sellers.
Purple Kitchen Accessories
Here you'll find bakeware, dinnerware, pots & pans, and odds & ends. These items don't fit neatly into a particular category, but as you'll see, they're definitely worth a look.
Purple Kitchen Towels, Linens, Rugs & Décor
Sometimes a simple touch can have a significant impact. Here are a few ideas to update the look of your kitchen without a major investment of money, time, or remodeling work.
Kitchens and The Color Purple
Purple is the color associated with royalty, wealth and luxury, and it symbolizes magic and mystery and power. It is said to embody the perfect balance between the stimulating energy of red and the calming stability of blue. This magnificent color has special meaning in many cultures and is often connected to spirituality and those seeking enlightenment.
You can easily find profound meanings and interesting psychology related to the color purple. Do enough reading online and you may discover fascinating reasons behind your attraction to it.
Then again, maybe you just like purple, and what a great choice for your kitchen! In nature it's the color of lots of delicious foods like eggplant, plums, and grapes, and certain varieties of endive, asparagus, and onions.
Indoors it can go the direction you choose. Does your taste lean toward the dark and dramatic? Check out these purple kitchens:
For a setting like one of the above you'll want purple kitchen accessories with clean lines, a more classic look, and deep, rich color.
If you prefer light and bright, there are so many possibilities. For example, a kitchen like one of those pictured below gives you lots of flexibility.
Whether you prefer sleek & sophisticated or fun & playful, you'll find plenty of items above to help you set the right tone. You may be surprised at what a few inexpensive changes can do. Chances are it will be easier than you think to give your kitchen décor a lift and achieve the look you love.
If you enjoyed this article please share on Pinterest and spread the word!