As an Amazon Associate I earn from qualifying purchases.
There are several useful air fryer accessories, but the one must-have item is the deep dish baking pan.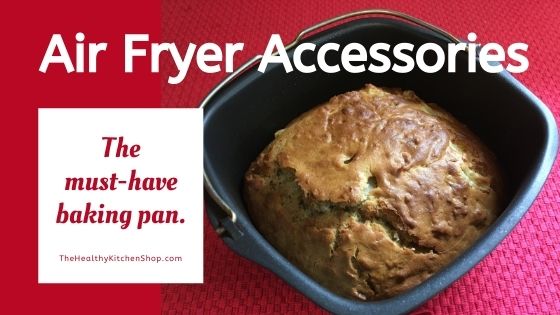 What? Bake in an air fryer? Absolutely!
Air fryers are capable of more than just frying, and you may be shocked to discover how well these appliances bake. Using the deep dish baking pan, you can get delicious results on a wide variety of foods such as:
cakes, brownies, and bar cookies
fruit cobblers and crisps
baked custards
yeast breads, quick breads, and cornbread
The baking pan also comes in very handy for:
scrambling eggs
making omelets
sautéing onions or other recipe ingredients
baking vegetable dishes with runny sauces
cooking any dish with lots of cheese or high liquid content
You can use any oven-proof dish in most air fryers, but read your instruction manual first and don't do anything the manufacturer says not to do. If you have a dish that will fit, that may be fine for experimenting, but it isn't ideal.
The deep dish pans made for air fryer's have a handle, and it makes all the difference! Be aware that these pans make for a pretty tight fit inside the air fryer basket. That handle makes them much easier to remove without getting burned or accidentally spilling contents from the pan. It seems like such a small thing but is so important – worth every penny you pay for the baking dish.
Below are the baking pans currently available either alone or in sets. The good news is that most of the prices have come way down in recent months, so if you want to start getting the most from your air fryer, now is a great time to buy.
Philips HD9925/00 Non-Stick Baking Dish, Black
This is the original air fryer baking pan made by Philips. It measures 6″ x 6″ x 3″ and will fit either the average size or extra large Philips air fryer models (or any air fryer that can accommodate a 6″ square pan). I own this pan and can vouch for its quality. After hundreds of uses, it is holding up extremely well.
However, it is also the most expensive pan. Compare to the next option from Demedo.
---
Square Air Fryer Accessories 11 pcs with Recipe Cookbook Compatible for Philips Air Fryer, COSORI and other Square AirFryers and Oven, Deluxe Deep Fryer Accessories Set of 12-6.5 inch
At this writing, this entire set sells for less than the Philips pan alone. I haven't ordered it yet, but the pan in that photo sure looks exactly like the Philips pan. I do own both the Philips pan and one from Hiware, and they are virtually identical in size shape and quality. The Demedo pan looks exactly like the two that I own.
I highly recommend the Hiware, but it's extremely hard to find. If you want to see if it's in stock at Amazon try this link: Hiware Air fryer Accessories.
---
Air Fryer Accessories for Gowise Phillips and Cozyna, Set of 5, Fit all 3.7QT – 5.3QT – 5.8QT
If the basket of your air fryer is round, the pan in this set should be a better fit for you. This pan is 6″ in diameter, so if you ever buy an air fryer with a square basket, this panit should also fit as long as the basket measures more than 6″ in width and length.
---
Air Fryer Accessories-Fits Philips,Gowise USA,Power, Farberware, Black and Decker, Cooks Essentials and Many more Brands (Universal) -Airfryer Baking Dish (Pan)- Fit all 2.75QT 3.7QT, 5.3QT, 5.8QT
For the record, instead of buying the above set you can opt to purchase the round baking dish alone. You may have no use for the other items in the above set, and buying the pan by itself will save you a few dollars.
---
Air Fryer Accessories for Large and XL Models
All of the above accessories are designed to fit standard size air fryers. These are the smaller, original models.
Accessories for larger models are also available, and it's important to be sure you buy the correct size. To see the options for all the various air fryer sizes see this guide:
Universal Air Fryer Accessories
See All Sizes – Find the Best Value
Still Shopping for an Air Fryer?
Compare models and see details of top sellers: Air Fryer Comparison Chart
Editor's Pick: Philips Air Fryer Review
If you're looking for XL capacity check out: Philips Airfryer XL Review, Model 9240, Digital
If you found this info helpful please share on Pinterest and spread the word!