As an Amazon Associate I earn from qualifying purchases.
Do you know about the timer on this air fryer? You might think it's no big deal. Then again, it could be a deal breaker for you. Get all the pros and cons in my Big Boss Oil Less Fryer Review.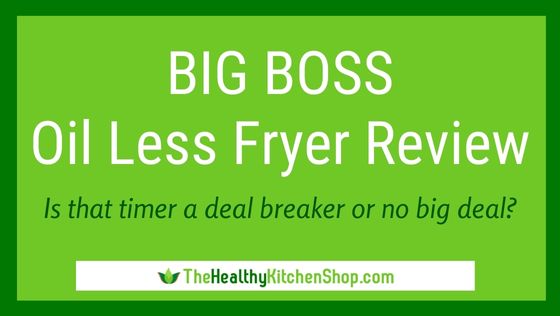 Rating:
4.4
Reviewed by
Susan
The Big Boss Oil-Less Fryer may be the most well-known airfryer because it has been highly advertised. True to its name, it's also the biggest of all the popular models. At 16 quarts, this air fryer offers the largest capacity, which is very appealing, but that may be its only advantage over the competition.
More than 50% of consumers gave this model the highest possible rating, so there are obviously some happy, satisfied users. At the same time, though, you'll also find so many low ratings that it brings the overall average way down. Among those the most common complaint is about the very poor customer service. Below you'll find complete details about this and all the other pros and cons of this air fryer.
Features
16 Quart Capacity
Adjustable Temperature Control
1,300 Watts
Timer
Two Cooking Racks (can be used simultaneously)
Dishwasher Safe Parts
The Big Boss cooks using a combination of halogen heat, convection, and infrared technology. Browning is achieved by the halogen directly heating food surfaces, and convection creates circulation to distribute hot air and speed the cooking process. Infrared technology creates the ability to heat (cook) foods from the inside out, which helps retain juices that keep cooked foods moist.
Temperature ranges up to 450 degrees F, allowing you to adjust for what you're cooking – you've got the high needed for foods such as fish and french fries, or you can select a lower setting for better results when frying chicken.
The mesh tray of the Big Boss is used for air frying and works with a wide variety of meats, poultry, french fries and other vegetables, as well as frozen breaded foods such as fish sticks. The extender ring is used to increase the capacity inside the glass bowl so that you can cook roasted chicken and other large foods.
Despite all its good features, what stands out most to me is that the timer on the Big Boss has what I would consider a big design flaw.
That is, if you mistakenly set the timer for too many minutes, you can NOT turn the dial back down to reduce the timing. If you do, you'll break the timer. Instead, you have to wait until the counter gets down to the correct time (the time you meant to set) before you put in your food. What an annoying inconvenience!
There are a few other downsides worth noting, and those are covered next under Size & Capacity. Though not a "feature", another big issue is customer service, and you can read all about that under Customer Reviews below.
Size & Capacity
Exterior Dimensions: 16 x 12.5 x 13.5 inches
Interior Capacity: 16 quarts
Weight: 14.7 pounds
As you can see, it's called the "Big" Boss for good reason. If you want huge interior capacity, this just might be the model for you. The trade-off for all that cooking space is the counter and storage space required, and also in the cleaning.
Even some of the consumers who like cooking with this model complain that it's difficult to clean. The glass bowl is very heavy, and the cooking unit is built into the lid. The weight of both pieces makes them awkward to handle and to clean.
You should also be aware that in some cases that 16 quart capacity can be a little deceiving. The reason is that foods (even French fries) can't be stacked, or they won't cook evenly or completely. Having two cooking racks does help, but at times you may have less room than you expected.
For example, the extender ring is only helpful for something like a whole chicken. The extender ring does not enable you to cook big piles of french fries or chicken nuggets. When cooking in volume, you will still need to cook one layer at a time in separate batches. In this case, what does help you is that the Big Boss comes with two cooking racks.
What's Included with the Big Boss?
This model includes two cooking racks that allow you to cook multiple foods simultaneously. These racks would not be considered accessories. It's simply the way this particular air fryer is built.
Optional Accessories
There are no optional accessories available. You'll find basic cooking settings listed in the instruction manual, but if you're new to air frying you may want to invest in a cookbook with recipes designed especially for airfryers. See our Air Fryer Cookbook & Recipe Guide for a list of cookbooks as well as some free online resources.
(Back to Top)
Customer Reviews
Fans of this model say it does great French fries and cooks chicken that is nicely crisp outside and still very moist inside. It's also noted for doing a good job with foods such as chicken fried steak, frozen fries and chicken strips, beef and pork roasts, and even pastries.
Unfortunately, though, a tremendous amount of the online customer feedback is pretty negative. One of the most often mentioned problems is that it's difficult to get consistent results with the Big Boss. Of course, the experience of the user makes a difference, but these complaints appear often enough to indicate that either there is quite a learning curve with this air fryer, or it just doesn't cook as precisely as its competitors.
In fact, compared to the other top selling air fryers, this "as seen on TV" model has the lowest overall consumer rating.
Customer Service – Of all the complaints, perhaps most disturbing are the number of reports that customer service is very poor at best, and in many cases non-existent. The documentation for this model includes an 800 number you can call, but it is a recording. There is no website for the manufacturer where you can find details about any warranty or contact them for repair or replacement. If you buy the Big Boss from Amazon, you should have up to 30 days to return it directly to Amazon. After that it may be difficult to resolve problems with a broken or defective unit, so you may want to consider whether it's worth the money to purchase a warranty plan through Amazon or another company. Walmart also offers protection plans and has a longer return period for many items.
(Back to Top)
Pros
Large cooking capacity
Two racks for cooking multiple foods simultaneously
Less expensive than many other models
Cons
Huge footprint requires lots of counter and storage space
Very heavy parts make it difficult to clean
Timer is not user friendly
Extremely poor customer service
Big Boss Oil-Less Fryer Review: Summary
The bottom line: If you don't expect perfection, you might be happy with this model. Personally, I wouldn't mind having to experiment a little to figure out how to get the best results, but I don't have the patience to deal with that crazy timer. For me, the customer service issue is also a big factor. Still, the Big Boss does give you a way to cook healthier by "frying" foods with little to no oil, and compared to the high end models, the price is a real bargain. Just to be safe, you could consider buying appliance warranty protection.
May we suggest …

My two absolute favorite air fryers are the high end Philips and the much lower priced Cosori. I own both and can attest that they are great machines. See my reviews here: