As an Amazon Associate I earn from qualifying purchases.
What is an air fryer? It's a unique kitchen gadget that enables you to indulge your taste buds without wrecking your health. Plus, your house won't stink, and your kitchen won't be a grease-spattered mess.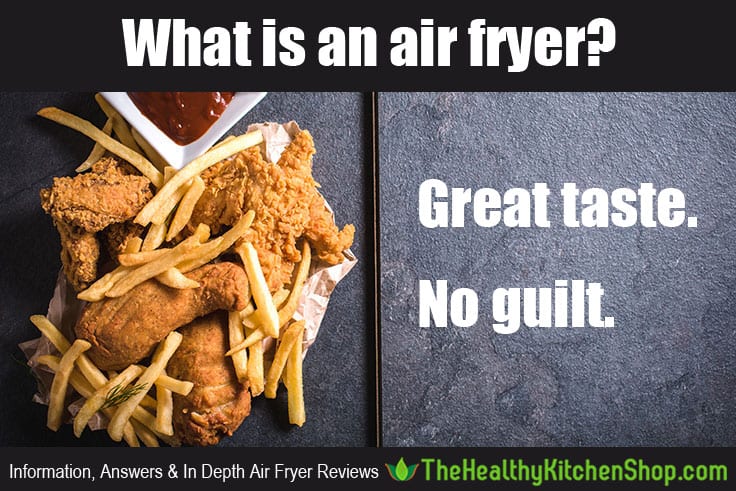 An air fryer uses rapid air circulation to cook foods that taste like deep fried but aren't overloaded with fat. Hot air frying simulates the cooking process of boiling in oil to produce the crispness and texture you love.
At least one manufacturer uses the term "oil-less" in its model name, and in fact plenty of food items can be cooked completely oil free. Many others such as french fries require a very small amount of oil in order to achieve the desired browning and crispiness. At most you'll use only a tablespoon of oil or less, so there is a tremendous reduction in the amount of grease you are actually consuming.
How does the taste of air frying stack up to good ole deep-fat fried?
Especially down here in the south, a lot of us actually like that heavy, grease-saturated taste you get from using so much oil that your chicken or potatoes are literally floating in it. If you're a hard core fan of that, and if your mind is made up that nothing can match it, I'm not here to convince you otherwise. But, here's what I can tell you.
As much as I dearly love deep fried, I gave it up years ago because it's so unhealthy. To this day I do still cheat occasionally, of course! What I find though is that since I'm no longer accustomed to a regular diet of deep fried, it leaves me feeling bloated and sluggish, even a little queasy sometimes.
Besides that, I simply no longer want to eat anything that is so horribly unhealthy. The answer is air frying. Some would call it the next best thing to deep frying, but for me it's better because the taste is so close, and in addition to the healthy factor there are lots of other benefits that are all positive.
Perhaps most surprising is that when done well, many foods actually taste better air fried than deep fried. The key is to get a good cookbook. Some good choices include those by Linda Larson and others listed in our Air Fryer Cookbook Guide, and of course I highly recommend The Air Fryer Bible, which I co-authored with one of the best cooks in the entire south, Elizabeth Hickman.
What are the benefits of air fryers?
Eat delicious fried foods without consuming huge amounts of unhealthy fats.
Eliminate household odors from deep frying.
Eliminate the hassle of properly disposing of used oil.
Enjoy much faster cleanup time without all the messy grease spatter of deep frying.
You'll also discover that air fryers to an amazing job of reheating almost any kind of leftovers or takeout foods.
If you look at time charts for cooking in an air fryer, your immediate reaction may be that it takes much longer than traditional frying. That maybe true in some cases, but don't forget that deep frying takes extra time for pre-heating the oil, and then for cleaning up the grease that splatters all over your range and surrounding cabinet area. On balance you probably won't spend any more time air frying than cooking your old way.
Another great benefit of air fryers is that they can be very versatile. In addition to frying, you can roast, grill, and even bake in them. In some cases you may have to purchase the baking pan separately, but with that accessory you can cook soups, stews, stir-frys, one-pot meals, and other kinds of liquid or semi-liquid foods.
You can even make cakes, muffins, cornbread and other breads in an air fryer. In fact, a lot of people (including me!) have been a little amazed to discover that baked goods turn out beautifully.
(Check out my recipes for Air Fryer Blueberry Muffins and Brownies After Dark.
Obviously, an air fryer isn't going to match your outdoor or contact grill on features and exact taste, but it does let you grill "after a fashion". The cooking basket is perforated on the sides and bottom (on most models), which allows grease to drain off of foods such as hamburgers, chicken pieces, pork chops, fish fillets, or meatballs.
The first time I cooked a ribeye in my air fryer I was certain that would be wasting a perfectly good piece of meat. I was dead wrong! For photos and directions check out my Air Fryer Steak recipe.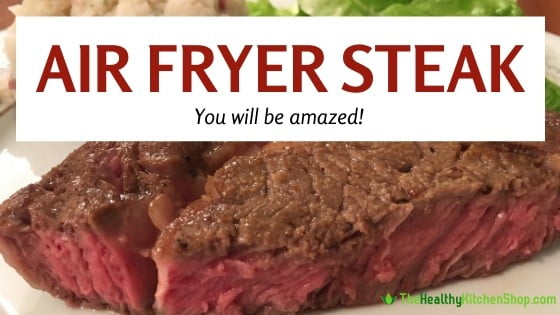 The point is that if you're reluctant to buy an appliance that has only one use, that isn't the case with your air fryer. After some experience and experimenting, a whole lot of happy customers have discovered it works for quite a variety of foods. You might well think you're just buying an air fryer but end up using it far more often than you expected.
Many people are surprised to learn that air fryers are not brand new. They have been used and loved for some time now in Australia, European countries, and other areas around the world. Hello, America! Yes, we've been slow to get on board, but recently there has been a huge surge in popularity here in the states. We also now have lots more buying choices.
What to know more? We've added an entire article explaining all of the good points and drawbacks of air fryers, including our opinion about some misinformation you've probably seen on the web. Check it out here: Air Fryer Pros and Cons.
How do I find the best air fryer?
Needless to say, you've come to the right place! There is never a single "right" choice for everyone, but here on this site you'll find all the information in one place to make your decision faster and easier.
You may want to start with our chart where you can quickly Compare Air Fryers. Also see our Largest Air Fryer Models comparison chart. On those pages you'll find links to the individual review of each model, and each review provides complete details backed by thorough research.
If you've heard of any air fryer, it's probably Philips. It isn't the only good option, but it's the leading name brand and an excellent choice. The Philips HD9220 and HD9230 models have been the leading sellers for a good while here in the U.S., and you can get complete details in our Philips Air Fryer Reviews, which covers both models.
For the newer and larger Philips models see these reviews:
You may have also heard of the Big Boss because it's been so widely advertised, the "as seen on TV" model.
The T-Fal Actifry is in a class of its own because it's the only air fryer (to my knowledge) that has a built-in stirring paddle. Reviews on that are mixed because this automated stirring feature works well for some foods and not so good (or not at all) for others. Users tend to either love it or hate it.
One of the newer models on the market is from Cosori. This air fryer may not have been around as long as some other brands, but it offers extra large capacity and the best features of the top selling brand and at a much lower price.
I personally own a Cosori and have been extremely pleased with it. Of course you'll want to read the complete Cosori Air Fryer Review to decide for yourself, but so far it has earned a reputation for being a great value for the money.
Don't forget a cookbook! Right now Amazon has a great price on The Air Fryer Bible (And if you prefer digital, it's now available in a Kindle version too!)
So … What Is An Air Fryer?
Hopefully you now have a good idea, but there is plenty more on our site. Please check out our category page for Air Fryers for links to all reviews, charts, information, tips, answers to common questions and even a list of our recipes.
If you found this information helpful please share on Pinterest and spread the word!