As an Amazon Associate I earn from qualifying purchases.
Ready for a real taste bud treat? Enjoy these air fryer Indian recipes and discover the uniquely flavorful and spicy cuisine of India!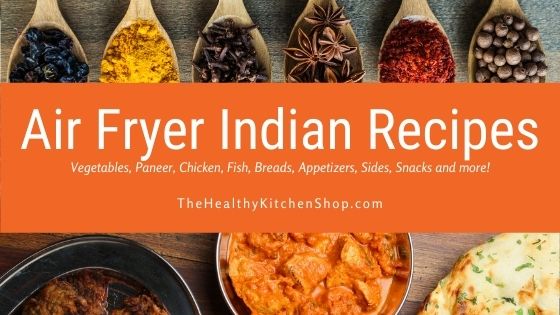 Indian cuisine is known for its diversity in both variety and taste. The "typical" diet varies greatly among the different regions of the country, and that's due to a number of factors. Climate and soil properties play a role, but specific regional cuisines are also influenced by local culture, traditions, and even religion.
That diversity is reflected in this recipe collection, so you're sure to find dishes that appeal to your personal taste. Some of these recipes may include metric measurements, but that's no problem! Below you'll find links to easy-to-use conversion tools – click here to jump to them.
Table of Contents
Air Fryer Indian Recipes By Category
Chicken & Turkey
Beef & Lamb
Fish & Seafood
Vegetables
Paneer
Breads
Appetizers, Sides, Snacks & Miscellaneous
A Tip About Measurements
Some of the above recipes may list measurements in metrics, but don't let that scare you off. Thanks to the web, it's easy to find the correct amounts to use, and it's well worth it! The flavor of Indian food is uniquely delicious. You'll enjoy cooking familiar Indian dishes, and chances are you'll discover some new favorites.
For help with measurements just use your favorite search engine, and it should bring up most any conversion tool you need. To get you started, the links below will help you do quick conversions of ingredient amounts. I've also included one for temperature conversion since America is the only country using Fahrenheit.
You may also like…
---
If you enjoyed these recipes please share on Pinterest and spread the word!