As an Amazon Associate I earn from qualifying purchases.
Healthy food doesn't have to be bland and boring. Check out our list of the 10 Best Healthy Cookbooks, and discover how to eat healthier without sacrificing great taste!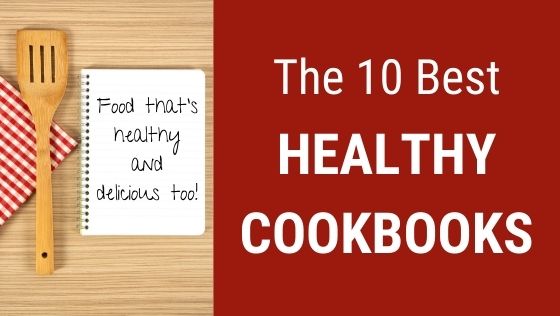 The problem with trying to eat healthier is that we automatically think we have to give up anything that tastes good. Granted, that may be true of a few of your favorite comfort foods, especially those decadent desserts.
However, a great way to succeed in improving your diet is to invest in a good cookbook. You don't have to be a gourmet chef to cook these dishes, but you do get to benefit from the expertise of excellent cookbook authors. These great cooks have a talent for combining just the right seasonings and ingredients to make even a lightweight meal taste divine.
Many of the recipes in these cookbooks are fast, easy, or both. There is no shortage on variety either. You'll find everything from vegetarian dishes to Mediterranean cuisine to meals from your air fryer, slow cooker, pressure cooker, and other favorite appliances.
A great example is the first choice on our list from Well Plated, with recipes that are fast, easy, affordable, and even include healthier versions of some traditional comfort foods. On the other hand, Soul Food Love is much more than just a cookbook, a genuine treasure!
Check out all 10 of the best healthy cookbooks below. No matter what you're looking for, you're sure to find something perfect for you.
The Well Plated Cookbook:
Fast, Healthy Recipes You'll Want to Eat
Author: Erin Clarke
Publisher: Avery

320 pages, 130 recipes, full color photos
This cookbook has you covered no matter what. The author truly thought of everything to give you the best healthy cooking experience possible, including:
recipes that are fast, easy, and won't bust your budget
common ingredients you have on hand or can find in most any supermarket
ingredient swaps & recipe hacks to max out on both nutrition and flavor
lighter versions of beloved comfort foods
simple recipes with lots of variations
substitutes to accommodate seasonal availability and/or what's in your pantry
tips & tricks for reheating or repurposing leftovers
Honestly, could anyone make healthy cooking any easier or more appealing? I don't think so!
What do owners say? This is a bestseller on Amazon, and reviews are over the top. Readers love everything about this cookbook. Besides the recipes they praise the photos, cooking and food storage tips, writing style and easy-to-understand instructions. A couple of people gave it a poor rating because it doesn't include gluten-free dishes. Well, why would it? It is NOT a gluten-free cookbook, and it is not advertised as such.
About the Author: If you aren't aware, Erin Clarke is quite a famous blogger who created WellPleated.com. She gets literally millions of readers every month. Her specialty is healthy food that can be easily prepared by average cooks on hectic weeknights.
The Complete Mediterranean Cookbook:
500 Vibrant, Kitchen-Tested Recipes for Living and Eating Well Every Day
Author: America's Test Kitchen
Publisher: America's Test Kitchen

440 pages, 500+ recipes, full color photos
This cookbook doesn't fall into the super fast and easy category, but it isn't horribly complex either. If your weeknight schedule isn't too hectic or you enjoy weekend cooking, this is definitely work a look.
Make healthier eating an adventure with uniquely flavored dishes from Greece, Turkey, Egypt, Lebanon, Morocco, and other countries around the Mediterranean Sea. You may need to add a few new spices and ingredients to your pantry staples, but nothing you can't find in most supermarkets. Once you taste some of these recipes, you will likely agree it's well worth it.
You'll find recipes for seafood, meat, poultry, beans, vegetables, fruits, sweets, and more. The book is organized by the Mediterranean Diet pyramid, and it includes information on specific food items such as grains, fish, and types of salad greens. Each recipe give you nutritional information, and each food category gives you nutritional guidelines.
If you enjoy cooking and want to try a deliciously different healthy diet, click the link below and take a closer look at this cookbook. It might just become your new favorite.
What do owners say? Some recipes may take a while to prepare, but instructions are easy to follow. Lots of satisfied customers like that and the fact that so much educational information is included. Even long time cooks say they've learned a lot about choosing and mixing ingredients as well as the reasons for various cooking methods. Complaints about the book are from those looking for quick & easy recipes and who don't want to buy or try new spices or ingredients.
About the Author: America's Test Kitchen is renowned for publishing excellent cookbooks , as well as for producing the top-rated TV shows America's Test Kitchen and Cook's Country. And yes, it really is a kitchen, and it's located in Boston and staffed by over 60 cooks, editors, and members of the expert tasting panel.
Skinnytaste One and Done:
140 No-Fuss Dinners for Your Instant Pot, Slow Cooker, Air Fryer, Sheet Pan, Skillet, Dutch Oven, and More
Authors: Gina Homolka and Heather K. Jones R.D.
Publisher: Clarkson Potter

304 pages, 140 recipes, 120 full color photos
Here's a way to cook healthier a lot faster – prepare all-in-one meals in a single cooking vessel. That single vessel can be anything from an ordinary sheet pan to a slow cooker to a to a pressure cooker to a skillet or dutch oven. This method speeds up both cooking and clean-up time.
Recipes are organized by appliance (or cooking vessel, e.g. dutch oven), so you can easily find dishes you'd like to try and avoid those for appliances you don't own. If you don't have a pressure cooker no problem. With 140 recipes you'll find plenty of other meals to try. As well, wherever possible the authors have provided instructions for alternate cooking methods.
Recipes include complete nutrition information, and you can find the most current Weight Watchers points on the Skinnytaste.com website.
This cookbook is a good choice for eating healthier and also for those interested in weight loss.
What do owners say? A lot of reviewers call this the best Skinnytaste cookbook so far. They especially love the fabulous photos, low cal and low fat recipes, and alternate cooking instructions for those who don't own a pressure cooker or air fryer. Complaints are that it doesn't have enough Instant Pot recipes (see the Instant Pot cookbooks in this list), and that some recipes include unusual ingredients or flavor combinations. On the latter, if you don't want to try something different, you probably don't need a new cookbook as you'll be happier sticking with your own recipes that you know you like.
About the Author: Gina Homolka created the website Skinnytaste.com, an award winning site with hundreds of recipes made for healthier eating that tastes great. She has been featured on major media outlets such as Better Homes and Gardens, Oprah.com, and Fitness Magazine.
The Fresh and Healthy Instant Pot Cookbook:
75 Easy Recipes for Light Meals to Make in Your Electric Pressure Cooker
Author: Megan Gilmore
Publisher: Ten Speed Press

208 pages, 75 recipes, full color photos
For those of you wanting more Instant Pot recipes this is the choice for you. This cookbook focuses on weeknight meals that are easy to prepare and use readily available, whole-food ingredients. The author avoids using refined sugar and some of the common food allergens, and she gives gluten-free options for every recipe.
Nutritional information and detailed cooking times are provided for each recipe.
What do owners say? One complaint about this cookbook is that the cover says "Gluten-Free" when in fact, the recipes do use gluten ingredients but give you gluten-free options. Otherwise the reviews are overwhelmingly positive, with praise for recipes that are healthier yet very tasty with the appeal of "comfort" foods.
About the Author: Megan Gilmore came from being raised as a junk food eater to becoming a certified nutritionist consultant. She created the blog Detoxinista.com and has written two other cookbooks, Everyday Detox and No Excuses Detox. She has appeared on several TV channels and has been featured in Clean Eating Magazine, Shape, and other well-known publications.
See it on Amazon: The Fresh and Healthy Instant Pot Cookbook
The Lighter Step-By-Step Instant Pot Cookbook:
Easy Recipes for a Slimmer, Healthier You
Author: Jeffrey Eisner
Publisher: Voracious

272 pages, 90+ recipes, full color photos
For Instant Pot fans here is another great choice. It includes color photos of the finished dishes plus photographs of every step in the recipes, which is especially helpful for those new to the Instant Pot or new to cooking altogether. You'll run across a few unfamiliar ingredients, which some people complain about, but if you don't ever branch out a little how will you ever discover new tastes you love?
Be aware that these are not Weight Watchers type recipes. Rather, you'll find dishes that work with Keto, Paleo, gluten-free, dairy-free, vegetarian, and vegan diets.
What do owners say? The majority of reviews are overwhelmingly positive, especially from those who bought his first Instant Pot cookbook and appreciate this lightened up version. Those who complain don't like the taste of some dishes and don't like having to buy unfamiliar ingredients. They also gave lower ratings because some recipes require the Instant Pot's air fryer lid, which many do not own.
About the Author: Jeffrey Eisner has appeared on Rachel Ray's show as well as the Food Network and Good Morning America. He created the Instant Pot food blog Pressure Luck Cooking, and his first bestseller was The Step-By-Step Instant Pot Cookbook.
See it on Amazon: The Lighter Step-By-Step Instant Pot Cookbook
Soul Food Love:
Healthy Recipes Inspired by One Hundred Years of Cooking in a Black Family
Author: Alice Randall, Caroline Randall Williams
Publisher: Clarkson Potter

224 pages, 80 recipes
This is not a collection of common Soul Food recipes altered to be healthier – but read on because it is so much more! What you'll find are recipes created from the combined legacies of several generations of this African-American family. Along with that you'll learn the very rich and interesting history of this family, including intimate stories, insight into an African-American woman's perspective and so much more, all beautifully written.
The mother and daughter authors have created recipes that are easy to prepare, affordable, healthy, and still remain true to their family traditions. In my personal experience, the best cooks in this country are from the south, and the best cooks in the south are African-American. Combine that with the talent of these two multi-published, bestselling authors, and you get a truly unique and fascinating cookbook. I can't possibly do it justice in this short review. You really owe it to yourself to go to Amazon and read all about it to get the complete picture.
This is definitely the most unique and most interesting cookbook on our list, and it would make a great addition to any collection as well as a great gift.
What do owners say? The only real complaint is from those who bought the book not understanding what I explained above – that this is not a book of recipes for "light" versions of what most of us think of as familiar Soul Food dishes. To repeat myself, it is so much more! By far the vast majority of reviewers give the book high praise. They describe the stories as intriguing, enlightening, and enjoyable to read. They love the recipes for being easy to cook and delicious, and for including some tastes that are familiar and others that are delightfully new.
About the Authors: Alice Randall is a Harvard educated African-American multi-published fiction author, country song writer, and food activist. Her daughter, Caroline Randall Williams, is an award winning author of young adult fiction. Motivated by Alice's quest to be "the last fat Black woman", the two teamed up to take generations of traditional recipes and reinvent their dietary habits.
Love Real Food:
More Than 100 Feel-Good Vegetarian Favorites to Delight the Senses and Nourish the Body
Author: Kathryne Taylor
Publisher: Rodale Books

272 pages, 100+ recipes, full color photos
Carnivores who want to eat healthier may find these vegetarian recipes tastier than strictly vegan and also easier to prepare. The author takes a creative approach to cooking real food in a way that isn't difficult. She provides dishes that are so enjoyable they will inspire you to want to rethink your dietary habits and cook more plant-based foods. Wherever possible the recipes also include dietary substitutions for options such as gluten-free, dairy-free, and egg-free.
Almost everyone who loves the Cookie + Kate blog likes this cookbook. It's a great choice for anyone who wants to eat healthier, but especially those trying to transition to eating less meat without feeling like they are giving up everything they love.
What do owners say? About the only significant complaint is that the recipes do not include nutrition information. Beyond that owners really love this cookbook for providing recipes that use common ingredients, taste great, and are reasonably easy to prepare. They appreciate the opportunity to discover new dishes that are both healthier and delicious too.
About the Author: Kathryn Taylor created the tremendously successful Cookie + Kate blog, which features vegetarian recipes made from all natural foods. Every recipe on the blog is created by Kate, including research, development, test cooking, and photography.
Pamela Salzman's Quicker Than Quick:
140 Crave-Worthy Recipes for Healthy Comfort Foods in 30 Minutes or Less
Author: Pamela Salzman
Publisher: Hachette Go

272 pages, 140 recipes, full color photos
The subtitle pretty much says it all! If you want to eat healthier but hate the thought of giving up all your favorite comfort foods, this cookbook should work for you. An added bonus is that it won't keep you in the kitchen all day.
The author includes a wealth of information on stocking your pantry, cooking techniques, easy swaps and substitutions, equipment you might want to have (and equipment you really don't need), and ideas for using leftovers. You'll also find recipe codes for dishes that are vegan, vegetarian, gluten-free, or dairy-free, or that are adaptable to one of those four categories.
This cookbook includes recipes for every meal of the day plus snacks and desserts. The wide variety of foods and familiar flavors make it a good choice if you're cooking for a family and trying to eat healthier.
What do owners say? This cookbook doesn't have as many reviews as the others on our list, but they are virtually all positive. Owners love the taste, super quick cooking, and all the helpful information on everything from pantry stocking to cooking hacks. They say it makes cooking healthy a pleasure especially since family members enjoy the results.
About the Author: Pamela Salzman also authored Kitchen Matters: More than 100 Recipes and Tips to Transform the Way You Cook and Eat – Wholesom, Nourishing, Unforgettable. She teaches cooking full-time an dis a certified holistic health counselor.
The How Not to Die Cookbook:
100+ Recipes to Help Prevent and Reverse Disease
Author: Michael Greger M. D. FACLM and Gene Stone
Publisher: Flatiron Books

272 pages, 120+ recipes, full color photos
For anyone committed to disease prevention and truly healthier living this is a must have. The plant-based recipes are rooted in the nutrition science explained in Dr. Greger's original book How Not To Die. This is a plant-based diet that features the doctor's "daily dozen", the ingredients he recommends that will keep you stay healthier and live longer.
Vegans will certainly enjoy this cookbook, but it's also good for those new to plant-based eating. It provides meal plans that help you understand and learn how to eliminate meat and dairy and still provide for all your nutritional needs. Some ingredients may be unfamiliar, but if you're serious about healthier eating it's worth keeping an open mind and discovering some new tastes and treats.
What do owners say? Those who don't like this cookbook complain that the recipes are too complicated and the taste is rather bland. However, vegans and those who are already accustomed to plant-based cooking and eating give it great reviews and love the food. They are accustomed to a different style of cooking that may at first seem a bit time consuming.
About the Author: Dr. Michael Greger is creator of the NutritionFacts.org website and a renowned nutrition expert and author of How Not To Die. Note that the recipes in this cookbook are by Gene Stone, also a bestselling author and contributor of plant-based diet books, including Forks Over Knives and Eat For The Planet.
Forks Over Knives – The Cookbook:
Over 300 Simple and Delicious Plant-Based Recipes to Help You Lose Weight, Be Healthier, and Feel Better Every Day
Author: Del Sroufe
Publisher: The Experiment

368 pages, 300 recipes
More than just a cookbook, Forks Over Knives has become a movement, helped in large part by the documentary of the same name. Based on comments in customer reviews, I'd say this is best for those already accustomed to a vegan diet or something very close to it. Both the taste of the food and the length of the preparation time may be too much of a jump for anyone completely new to plant-based eating.
That's why we saved this for last on our cookbook list. Before you buy, go to Amazon and use the "look inside" feature. Check out the table of contents, read through the front matter, and look at the sample recipes. This should give you a good idea whether this cookbook provides the kind of recipes and cooking experience you're looking for.
What do owners say? Some readers complain the recipes are too involved, use soy products too often, and are either too spicy or too bland. They also say that a large number of the recipes are repeats with just a single ingredient addition or change. That said, thousands of others love the cookbook and give it excellent ratings.
About the Author: Del Sroufe is a vegan/vegetarian cook with extensive experience as both a personal and commercial chef, as owner of a healthy food catering service, and as co-owner of Wellness Forum Foods. There are 4 other contributing authors, including Isa Chandra Moskowitz who has written numerous vegan cookbooks.
You may also like…
If you found this info helpful please share on Pinterest and help us spread the word!