As an Amazon Associate I earn from qualifying purchases.
Our air fryer recipe for Air Fried Okra gives you a healthier way to cook a southern fried favorite – plus it's fast, easy, and eliminates the chore of cleaning up messy grease spatter!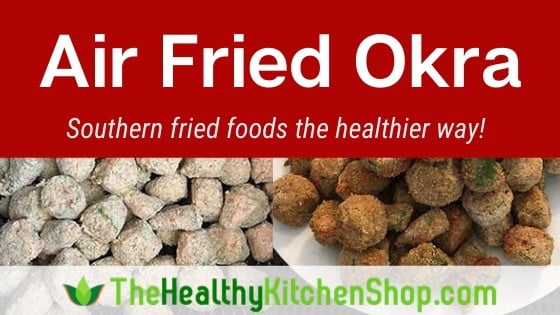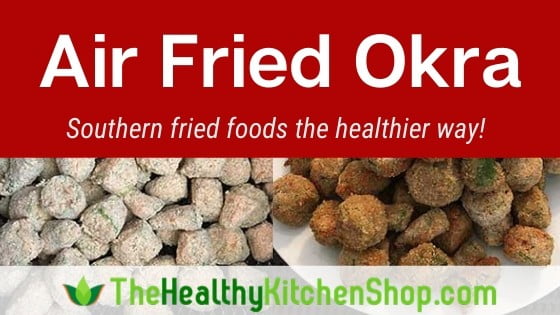 This Air Fried Okra is a great recipe for air fryer skeptics. If you like old-fashioned deep fried okra, get ready for a very pleasant surprise because this healthier version actually tastes better!
Are air fryers perfect? No, there are a few things that simply don't work. An example is hot water cornbread. Despite numerous tests, I still haven't figured out a way to get good results. (If you have, please add a comment below and share your ideas!)
Table of Contents
How to Get The Best Results From Your Air Fryer
On balance, air fryers do an excellent job on the vast majority of foods. One huge key to success is to get a good cookbook. This Air Fried Okra recipe is from The Air Fryer Bible cookbook by Elizabeth Hickman and yours truly. It has over 200 recipes that cover all the standard favorites plus lots of tasty new ideas.
However, this isn't meant to be a sales pitch. If you don't want to buy our cookbook please see all the other recommendations in our Air Fryer Cookbook Guide. A word of caution – unfortunately there's a lot of scamming going on with air fryer cookbooks. Avoid any that claim to have 550 recipes or some other ridiculous number. Rather, look for reputable authors such as Linda Larsen and Meredith Laurence.
About Air Frying Okra
Now, let's cook up some delicious crispy fried okra!
An interesting thing about this recipe is that crowding is okay. More often than not, you have to avoid stacking food in air fryers and cook single layers in different batches.
Of course there are exceptions, and this is one of them. When cooking okra this way you can pile it all into the basket at once. As long as you stop a couple of times during cooking to shake the basket, you'll get good results. Give it a try and see for yourself – enjoy!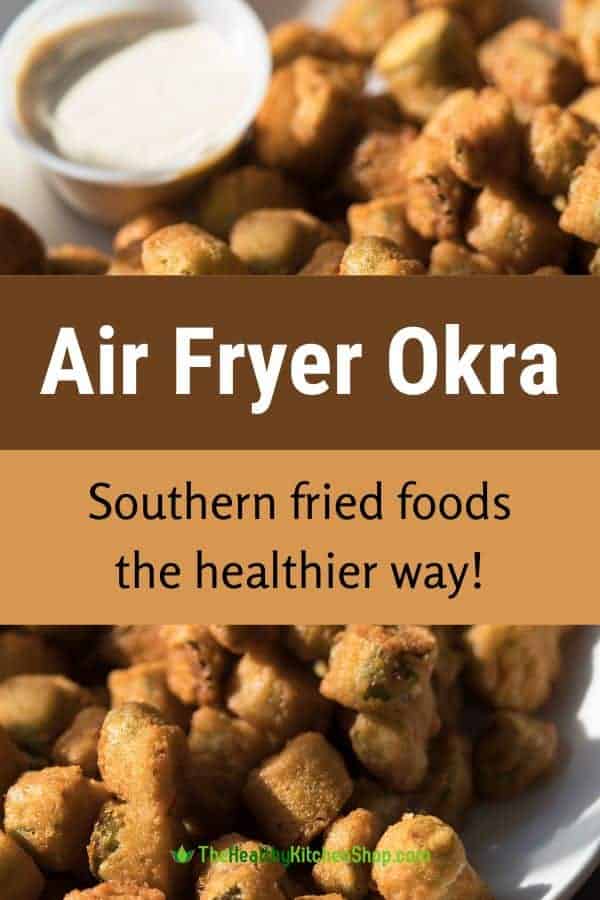 Air Fried Okra
You can't get more southern than fried okra, and this air fryer version lets you enjoy a traditional favorite without all the grease.
Ingredients
7-8

ounces

fresh okra

1

egg

1

cup

skim milk

1

cup

breadcrumbs

1/2

tsp

sea salt

oil for misting or cooking spray
Instructions
Remove stem ends from okra and cut into 1/2-inch slices.

In a medium bowl, beat together egg and milk. Add okra slices and stir to coat.

In a sealable plastic bag or container with lid, mix together the breadcrumbs and salt.

Remove okra from egg mixture, letting excess drip off, and transfer into bag with breadcrumbs. Be sure okra is well drained before placing it in the breadcrumbs. You may want to use a slotted spoon to life a little okra at a time and let plenty of the egg wash drip off before putting it into breadcrumbs.

Shake okra in crumbs to coat well.

Place all of the coated okra into air fryer basket and mist with oil or cooking spray. Okra does not have to be in a single layer, and it isn't necessary to spray all sides at this point. A good spritz on top will do.

Cook at 390℉ for 5 minutes. Shake basket to redistribute and give it another oil spritz as you shake.

Cook 5 more minutes. Shake and spray again. Cook for 2 to 5 minutes longer or until golden brown and crispy.
© 2017 Susan LaBorde and Elizabeth Hickman. All rights reserved. No part of this recipe may be reproduced or transmitted in any form or by any means without prior written permission.
Want more? This recipe is from The Air Fryer Bible Cookbook by Susan LaBorde and Elizabeth Hickman. Click here to see The Air Fryer Bible on Amazon.
More Air Fryer Recipes
When you buy an air fryer you quickly discover it's capable of way more than French fries. The best way to get the most from your appliance is to experiment on your own, and to keep trying new recipes. For lots of ideas and inspiration, be sure to check out these great recipes and recipe collections:
You may also like…
If you like this recipe please share on Pinterest and spread the word!