As an Amazon Associate I earn from qualifying purchases.
Guess what? Your new appliance is not your grandmother's pressure cooker! To get the most from your Instant Pot or other electric pressure cooker, check out these great cookbooks.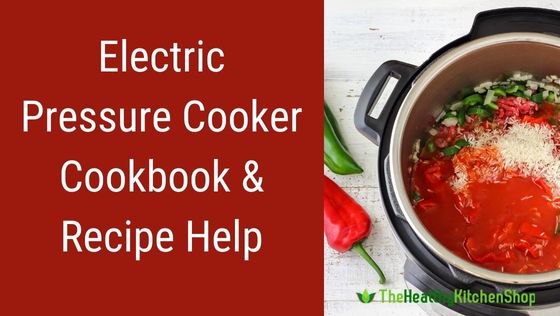 All pressure cookers are not created equal.
In fact, all electric pressure cookers aren't created equal either!
Whether you're a rank beginner or have lots of experience cooking with pressure on the stove top, the very first thing you'll need to do is carefully read the instruction manual that came with your new appliance. Each model is different, and those directions not only tell you how to cook safely but also how to get the best results.
Once you know the basics, the adventure begins. Some owner manuals include a few recipes and time charts to get you started, but to get the most use and enjoyment out of your cooker you may also want to invest in a good electric pressure cooker cookbook. Below are some bestsellers to check out, followed by a few free resources you can easily find online.
→ Don't own one yet? Check out our electric pressure cooker comparison chart, or read our review of the Instant Pot, the absolute best choice in electric pressure cookers!
Electric Pressure Cooker Cookbooks
Hip Pressure Cooking: Fast, Fresh, and Flavorful
Laura Pazzaglia is one of the most well-known experts on pressure cooking, renowned for her delicious recipes as well as her extensive knowledge of the equipment itself. Her book includes the basics you need to know, timetables, and about 250 recipes. The one complaint you'll find about this cookbook is that some people find the green text printed on white pages somewhat difficult to read. However, overall it gets high praise for explanations on how to use a pressure cooker, and each recipe gives directions for both electric and stove-top models.
See it on Amazon: Hip Pressure Cooking: Fast, Fresh, and Flavorful
The Everything Healthy Pressure Cooker Cookbook
Also by Laura Pazzaglia, this cookbook includes pressure cooking basics plus 300 of recipes for everything from appetizers to desserts, even condiments and preserves. It has received some criticism for calling itself "healthy" when many recipes contain a good deal of salt. That's hardly a drawback since it's real simple to make your own decision as to whether to add the full amount of salt called for in any recipe. What's more odd to me is that it includes a recipe for Molten Chocolate Mug Cake. Regardless, the beginning pages, table of contents, and a number of recipes are available for preview before you buy, so it's pretty easy to check it out and see if it's for you or not.
See it on Amazon: The Everything Healthy Pressure Cooker Cookbook
Great Food Fast
With a subtitle of "(Best of the Best Presents) Bob Warden's Ultimate Pressure Cooker Recipes", this is Amazon's #1 bestseller in the category. Most frequent complaints about it are that many recipes call for heavy cream, fats, processed foods, & other less-than-healthy ingredients. Despite that it has earned a 4.5 star rating from over 1,200 reviewers – and anyway, those of us who strive to eat healthier are accustomed to omitting ingredients or experimenting with substitutions to get the taste we want without all the bad stuff. However, one significant complaint is that the cooking time charts may be missing or unreadable on some Kindle and Android versions, so you may want to go with the paperback version of this one.
See it on Amazon: Great Food Fast
The Great Big Pressure Cooker Book:
500 Easy Recipes for Every Machine, Both Stovetop and Electric
One of the newer cookbooks available, this one starts out with a good introduction with information and advice about the pressure cooking and cookers. Each recipe includes directions for both electric and stove-top pressure cookers, as well as a label that indicates the amount of effort required. (The 3 levels are: Not Much, A Little, & A Lot.) It has a nice center section of photos but otherwise very few pictures, which some people find disappointing. However, the majority still rate it very high for being well written with detailed explanations that are very helpful. It doesn't have the "Look Inside" feature on Amazon, but if you scroll down the page you'll see a long excerpt from the book, and that should give you a good idea about what to expect.
See it on Amazon: The Great Big Pressure Cooker Book: 500 Easy Recipes for Every Machine, Both Stovetop and Electric
Free Resources: Electric Pressure Cooker Recipes Online
Pinterest is loaded with good pressure cooker recipes, but unfortunately the vast majority of them were created for stove-top models. That may be fine for experienced cooks because mainly it's just a matter of adjusting the amount of liquid used and the cooking time.
However, if you prefer specific directions then the references below can be a huge help. Keep in mind that these particular directions were written for a specific brand of pressure cooker. Some models have more capabilities than others, such as the option to choose either low or high pressure. If you've read my reviews, you know that the "editor's pick" on this site is the Instant Pot, hands down the best electric model on the market. (Read my Instant Pot Review here, or click here to see the Instant Pot on Amazon.)
But then, no matter which model you own or plan to buy, you can't go wrong with any of these resources because they're all free.