As an Amazon Associate I earn from qualifying purchases.
The Instant Pot Pressure Cooker is the best selling, highest rated model on the market. That is for very good reasons, and it remains true despite the one drawback explained below.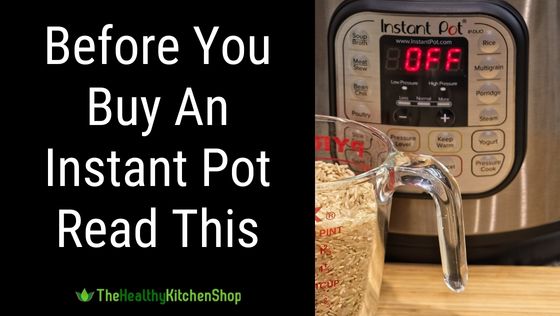 (For full details about this electric pressure cooker please click here to read my complete review of the Instant Pot IP-DUO60.)
After publication of the original review, one issue came up that you'll definitely want to know about before you decide which electric pressure cooker might be best for you.
In my opinion, this is definitely not a deal breaker. However, it is one of those things that most of us would much prefer knowing before we buy.
The Problem: Instant Pot Sealing Ring Absorbs Odors
You'll find this complaint in some online customer reviews, and I can confirm from personal experience that it's true. The sealing ring that goes inside the Instant Pot lid tends to absorb odors when cooking certain foods.
Don't worry, it doesn't have any effect on the taste of what you cook. Those odors are not transferred to the food inside the pot. The smell is just in the air.
(Update July 2019: At least one person disagrees with me, which you can see in the comment below from Jerry. Jerry says the lingering odor did affect taste, but unfortunately we don't know what foods were involved. I do have to wonder about highly seasoned Indian curry dishes that have such a powerful aroma, which might be absorbed by delicate foods.)
Many people do not even think this issue is a big deal, but here's an example to help you decide whether it matters to you.
Let's say you cook a chicken for dinner, and then the next morning you use your Instant Pot again to make quick work of some steel cut oats for breakfast. Your oatmeal is going to taste great, but while it's cooking, you're going to smell the aroma of last night's chicken.
Maybe you won't mind that. I do. I'm one of those people who does well handling the major crises in life. It's the little things that send me over the edge. Personally, no matter how good that chicken was last night, the leftover aroma of it does not go well with my morning coffee.
All You Have To Do Is Clean It Properly, Right?
Well, good luck with that! You can try:
washing the sealing ring by hand
running it through the dishwasher
soaking it in lemon water, vinegar, water with baking soda or whatever else you can think to add
I know one person who tried soaking it in bleach, and even that didn't work.
The sealing ring is made of silicone. Silicone is not supposed to absorb odors, so this shouldn't be a problem, but it is. I can't tell you why, though I've heard others speculate that perhaps the material is not quite 100% silicone. That could be true because what the company actually says is that the ring is made of a "silicon rubber compound".
Regardless, I know of no cleaning method that will remove the cooking odors. If you discover one, by all means leave a comment below to let us know!
Update: Thank you to the reader who suggests leaving the ring in the sun for a few hours to remove the odor. Unfortunately that won't help you overnight or any time the sun refuses to shine for days on end (which could well be during winter holidays when you need your pressure cooker most!).
The Solution That Works
The bad news is, the only solution is to buy an extra sealing ring.
The good news is that this extra part is not expensive, and changing out the rings is very quick and easy.
The sealing ring set pictured below is the Instant Pot brand. Be aware that using any other brand of sealing rings may void your warranty. Anyway in this case there's no reason not to buy name brand because these rings are very inexpensive. Exact price depends on which size you need. The set of 2 rings for 6-quart size Instant Pots usually sells for less than $15. The rings are also available in colors. Click on the image below to check today's exact price on Amazon. Be sure to select the correct size for your Instant Pot model.
With two sealing rings on hand, you can use one when cooking chicken, fish, and any spicy dishes like gumbos or marinated meats. Save the other ring for blander foods like oatmeal that do not produce strong or distinct aromas while cooking.
Switching rings is simple and only takes a minute. The sealing ring is reversible, so there's no way to get it in backwards. You just insert it into the track and push it into place. Here's a real short video that demonstrates how easy it is:
A Tip for Storing Your Rings
As mentioned in the comments below, I have discovered one thing that works quite well for me. When my savory ring is not in use I store it in a gallon zip lock bag along with some baking soda (about 1/2 cup). Before using the ring, I just rinse it quickly, dry it off and pop it into the lid.
I only change out the baking soda every few months. I never have a problem with any odors transferring to foods. But again, I also don't use powerful spices like curry blends in my Instant Pot.
The Bottom Line
Compared to other electric pressure cookers, the Instant Pot is still an all around favorite. I've seen comments from many owners of this model that despite this one issue with the sealing ring, they are still extremely happy with their Instant Pot and would purchase it again. I agree with them, and I hope this information helps you decide which model you will be happy with.
Instant Pot now makes a smaller 3 quart size, 7-in-1 Multi-Use Programmable Pressure Cooker, Slow Cooker, Rice Cooker, Steamer, Sauté, Yogurt Maker and Warmer – See the Instant Pot Duo Mini on Amazon
For more information: