As an Amazon Associate I earn from qualifying purchases.
Is this air fryer really worth the price? I admit that this is my favorite brand, but in my but our Philips XXL Airfryer Review I cover all the pros & cons so you can decide for yourself. Get all the facts before you buy – save time and shop smart!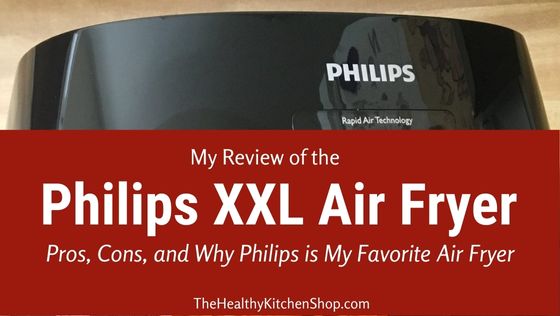 Rating:

4.6

Reviewed by

Susan LaBorde




The Philips XXL Airfryer HD9650/96 is the largest model from this well-known manufacturer. It can handle up to 6 ample servings at once, making it a good size for families or for anyone who likes to cook in volume.

This is the first model with Philips' new patented Twin TurboStar Technology. Other upgrades include a slight redesign of the controls, plus a few extra features such as presets and a Keep Warm function.

Like its predecessors, the Philips XXL gets rave reviews from owners for being well built, producing excellent results, and holding up over the long term. The only drawback is cost, so is it worth the investment? You be the judge. Below you'll find all the pros and cons so you can decide for yourself.

(If cost is a deal breaker, please see my Cosori Air Fryer Review for an extra large unit at a much lower price. BTW Cosori is my second favorite. I own one and absolutely love it.)
Features
4 Quart Capacity
1,725 Watts
Digital Touchscreen plus QuickControl Dial
Adjustable Temperature up to 400°
60 Minute Timer
Automatic Shut-Off with Ready Signal
Keep Warm Function
6 Preset Cooking Programs
On/Off Button
Patented Twin TurboStar Technology
Dishwasher Safe Parts
Internal Cord Storage
Available in Black Only
1 Year Limited Warranty
This latest model from Philips includes a fat reducer plate that fits in the bottom of the air fryer. The drawer still has its patented star shaped design, but the plate is designed to capture excess fat from foods.
Combining the Starfish design with incredibly fast air circulation produces the most uniform results. Based on personal experience plus feedback from others, Philips is the best air fryer brand for consistently even cooking. You won't have a big problem with foods burned outside and not done in the center. When cooking something like French fries, all the fries in the basket will cook more evenly without requiring an excessive amount of basket shaking.
Controls on this model are also newly designed. You choose your settings using a combination of a digital touch screen and a QuickControl Dial. It may look slightly confusing at first, but if you read the instructions you'll quickly get the hang of it.
Like all air fryers, this one can be used to fry, bake, roast, and grill. Unique to this model are presets for French fries/frozen snacks, chicken, meat, fish, and baking. You can also manually select your own cooking time and temperature, which I always prefer.
Some people love presets, but I never consider that a selling point because they are rarely reliable. Here is a quote about these presets taken straight from the owners manual:
"Keep in mind that these settings are suggestions. As ingredients differ in origin, size, shape as well as brand, we cannot guarantee the best setting for your ingredients."
To that I would add that the temperature of your food can also affect cooking time. Presets can give you a ballpark idea on cooking time, but it's best to use them only as a guide. A good rule is to check early and often until you get used to your particular model and air frying in general.
The Keep Warm function is a new feature added to this model. It alternately turns the heater and fan on and off and will keep your cooked food warm for up to 30 minutes.
(Back to Top)
Size & Capacity
Exterior Dimensions: 17.05″ x 12.7″ x 12.4″
Weight: 18 pounds
Cooking Capacity: 4 quarts
What's Included with the Philips XXL?
No accessories are included with the HD9560 model. The instruction booklet includes a cooking time and temperature chart, but temperatures are listed in Celsius.
There is a free app available for iOS or Android, but it leaves a lot to be desired. Even if you select USA as your country, ingredient amounts are listed in metrics. The app might be easier to use on an iPad, but on a phone it's a bit clunky.
Whether you buy this top-of-the-line Philips or a bargain brand, you'll enjoy it a whole lot more if you buy a good air fryer cookbook. Beware of all the "junk" cookbooks online. For those that actually have good recipes created by real cooks see our Air Fryer Cookbook Guide.
Optional Accessories
Baking Pan Set for Philips XXL Airfryer
Philips HD9952/01 Baking Master Accessory Kit Pan and Silicone Muffin Cups, for Philips Airfryer XXL models
Without question, the best accessory you can buy for your air fryer is a baking pan. The good news is that you'll be amazed at how well air fryers can cook all kinds of baked goods, from cakes to cobblers to biscuits to sweet rolls.
The bad news is that so far the only baking pan made to fit this XXL air fryer is made by Philips, and it is not cheap. You can click the image below to check today's price on Amazon. As you can see it includes muffin cups, but if that's all you want they are not expensive. For an example see this set of silicone muffin cups on Amazon.
NOTE: You don't need a baking pan to use muffin cups. Just sit the muffin cups directly into your basket. I do this all the time, and it works for silicone or paper cups, though with paper cups you may need to double or triple them.
---
Grill Plate Set
Philips HD9951/01 Grill Master Accessory Kit with Grill Pan and Skewers, for Philips Airfryer XXL models
The grill pan is not quite as pricey as the baking pan, but it also isn't nearly as useful. When you cook a steak or pork chops or even something like pineapple slices, the grill plate does make for a slightly nicer exterior on foods. However, don't expect to use it for searing. Air fryers just don't get hot enough for that.
---
Basket Divider and Double Layer Rack
Philips HD9950/01 Party Accessory Kit with Double Layer Rack and Basket divider
Neither of these is a "must-have". If you wanted to cook French fries and something else at once, the basket divider would prevent any juices from making your fries soggy. That might come in handy on occasion, but the double layer rack is another matter.
In my experience these racks are not very feasible. If you need to check for doneness during cooking, you can't see the bottom layer of food. If you need to turn foods halfway through cooking, which is often the case, you have to remove the rack. That's harder than it sounds because remember that the rack is blazing hot.
Note: For the best price, don't buy any of these accessories directly from the manufacturer.
(Back to Top)
Customer Reviews
One person gave this model a 5 star review online but called it "overpriced for what it is". He was not impressed with the TurboStar technology and argued that an air fryer is just "a heating element with a fan inside". That might be true for many air fryers, but there's actually a difference with Philips.
The star-shaped design of the drawer is patented, and Philips claims it forces the air to circulate uniformly. As a devout skeptic I originally thought that was just a sales gimmick. Experience with Philips and a few other brands has changed my mind.
One example is the highly popular Power Air Fryer "as seen on TV". It sells extremely well, costs much less than Philips, and overall is not a bad machine. However, it does not always cook evenly. The very cheap brands are even worse.
In my experience, Philips is very consistent about cooking evenly without requiring an excessive amount of shaking or rearranging food. Whether that is due to the star design or not, you can count on uniform results, and in my book that's a big plus.
To date there are very few low ratings on this product. One person reported a unit that quit after 3 weeks and was returned. Virtually every other low rating I found online was nonsense (like the buyer who never tried the air fryer, just took one look and decided it was "too labor intensive", then returned it and gave it a 2 star review).
The consumers who rate this model high appreciate its size, especially those who have upgraded from the small standard models. One reviewer did express disappointment that it "isn't that much larger than the XL model". If you're unsure, please see our comparison chart. To clarify, capacity is 3.5 quarts on the XL and 4 quarts on the XXL.
Owners also praise this model for being easy to use, and even though the big parts are bulky, it's not difficult to clean.
Performance is excellent for a huge variety of foods. If you're brand new to air frying you may have to experiment a little, but it isn't hard to get delicious results with chicken, beef, pork, fish & seafood, fried vegetables, roasted vegetables, quick breads, yeast breads, cornbread, all sorts of breakfast foods, desserts, you name it.
So far about the only thing I have not been able to cook in my Philips is fried hot water cornbread. Still working on that one!
If you've read other Philips reviews on this site you know that I'm a huge fan of this brand. As impressive as performance is its durability. Two of the models I own have survived the writing of two cookbooks that together include over 350 recipes. My co-author and I ran these machines for hundreds of hours, often from morning to night for days at a time. After all that, both Philips airfryers still work perfectly.
In the online reviews you'll find lots of owners who weren't crazy about the high price but, like me, are very pleased with the quality.
(Back to Top)
Pros & Cons
Pros
XXL size – largest air fryer from Philips
digital controls with QuickControl dial
all standard features plus new Keep Warm function
consistently even cooking
manufacturer has excellent reputation for performance and quality
Cons
cost of airfryer
cost of accessories – no generic brands currently available
exterior size – makes for fairly large footprint on countertop
slight learning curve (not difficult, just different)
Philips XXL Airfryer Review Summary
An air fryer is a great investment for anyone who loves fried foods but wants to eat healthier. If you're willing to try something new and keep an open mind, chances are you will be very pleasantly surprised. These machines produce delicious results with a tremendous variety of foods.
The only question is, how much do you want to invest? The Philips XXL Airfyer is a full-featured model with some extras such as presets and a new Keep Warm function. Its 4-quart capacity makes it a good size for families, as well as for anyone who enjoys entertaining or frequently cooks for a crowd. It's also simple to operate and easy to clean.
You can certainly find a decent model at a lower price, but it's hard to beat Philips on quality, performance, and durability. Philips was one of the very first airfryer manufacturers, and consumer feedback on this and earlier models has always been overwhelmingly positive. That, and personal experience, makes this brand the editor's pick, no matter which size model you prefer.
(Back to Top)
Still undecided?

Our features and specifications chart gives you a side-by-side comparison of the largest air fryer models, including Philips and other brands.

Click here to read our detailed Cosori Air Fryer Review – good quality and extra large capacity at a bargain price.
If you found this review helpful please share on Pinterest and help spread the word!