As an Amazon Associate I earn from qualifying purchases.
These apps for eating healthy can help you find the best options available and make better food choices. Not to mention that you'll save loads of time and learn in the process.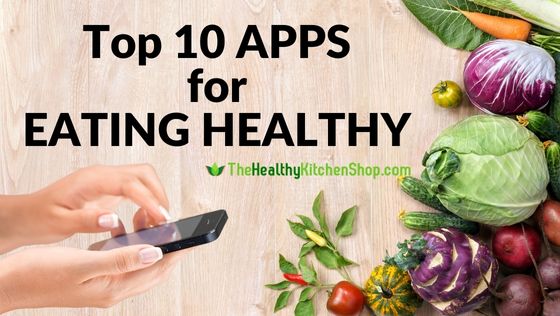 Eating healthier sounds great, but often it can be harder than you would think. The good news is you can put your phone to work to help you out.
You may have already discovered that one of the biggest problems with trying to eat healthier is knowing and understanding the nutritional content of foods. These apps help you quickly identify all the information you need to know, from calories to carbs to, well, you name it. Whatever your goal, there is an app that can help you. with food choices, meal planning, counting calories, tracking your exercise, and much, much more.
Check out these apps and find ways to make healthier eating much easier.
---
List of Healthy Eating Apps
1. Fooducate
Apple, Android – Free
Scan a barcode or say the name of a food to get a grade based on nutritional quality plus need-to-know info about ingredients, additives, calories, fat, carbs, sodium, and more. Fooducate will also give you suggestions for better options. Find out which foods claim to be healthy but really aren't all that. Find the Fooducate app here:
2. Noom
Apple, Android – Free
Losing weight and keeping it off requires more than just a diet. You have to change your eating habits. If you've ever heard the expression "change your thoughts and change your life", it's true. Noom is all about working on your mindset. Before you can win the battle with food, you first have to win the mind game. This is a very comprehensive app. Check out all the features here:
3. MyFitnessPal
Apple, Android – Free*
No matter what your fitness goal, an important first step is understanding your current eating habits. The vast majority of us know very little about calories, and quite often we eat more than we think. This app solves that. Everyone should at least give it a try, if only for a few weeks. You may be surprised at what you learn!
*Note: Unlocking the full functionality of this app requires a monthly paid subscription. Get the free version here:
4. Carb Manager – Keto Dieet Tracker
Apple, Android – $2.99
You don't have to be on the Keto diet to use this. It's also helpful for low carb eating, Paleo, and Carnivore diet plans. It gives you unlimited free barcode scans, as well as free tracking of net carbs. It's free and offers in-app purchases. Get it here:
5. NxtNutrio
Apple, Android – $3.99
Want to know what's in food before you buy? Use this app to scan a bar code and discover all the preservatives and other unwanted additives hiding in foods. Most major brands are recognized, and you can also personalize the app to recognize your own nutritional ingredient risks. Get it here:
6. Dirty Dozen
Android
Ideally, none of us would ever eat pesticides again, but sometimes organic produce can be pricey. Here's a little tool to help you decide when organic is worth the extra cost, and when it may be okay to go for the less expensive choice. The Dirty Dozen app includes two lists, both the Dirty Dozen and the Clean 15. It also has a Guide with answers to common questions about pesticides in fruits and vegetables.
7. Lifesum – Healthy Eating
Apple, Android – Free
Weight loss is a common goal but not the only one. This app can help you with weight loss and offers other options too. Maybe you need to work on building muscle, or you just want to start eating a healthier diet overall. With Lifesum you can get meal plans, track your exercise, and set reminders. It includes a selection of diet plans designed for different goals. Get Lifesum here:
8. Control My Weight
Apple – Free
If you're sick of the lose weight/gain it all back roller coaster, this might be the app for you. It has great features that help you understand what you need to do to achieve your weight goal, and then how to maintain it after you get there. Includes food info, exercise tracking and much more. Available at:
9. Plate Joy – Meal Planning
Android – Free
Planning meals week after week is time consuming and for many people a dreaded chore. Trying to keep those meals healthy makes it even more of a challenge. Plate Joy helps you plan meals based on your preferences, and it even creates grocery lists. Choose from a full range of diet goals including weight loss, low carb, low fat, gluten free, kid friendly, and many more. Get it here:
10. Fig: Food Scanner & Discovery
Apple, Android Free
This can be a great help for anyone with any kind of food allergy or complex diet (gluten free, low FODMAP, vegan, and much much more). The barcode scanner tells you if a food's ingredients are compatible with your dietary requirements. Includes info for grocery and restaurant foods, over 100 diets, and over 2,000 food allergies. Get the app here:
---
Oh Wait, One More!
In addition to our top 10 apps for healthy eating above, you may also find this one useful.
Substitutions
Apple – $1.99
This is convenient when you're home cooking and suddenly realize you don't have one of the ingredients in your recipe, but it does a lot more. In some cases Substitution can help you find alternatives that will help with your specific dietary needs or allergies, or even just to save money. Download at:
---
What's Your Favorite Healthy Eating App?
Do you know of a really great food app that isn't listed here? If so, please add your comments below to share your experience. What is the name of the app, and how are you using it to help you locate good food sources or to make smarter, healthier choices when you shop?