As an Amazon Associate I earn from qualifying purchases.
Air frying makes seitan chicken nuggets crispy and delicious! Taste for yourself with this excellent vegan chicken recipe from "The Complete Vegan Air Fryer Cookbook".
Vegan Air Fryer Recipes
If you've used your air fryer much, you know it's wonderful for cooking plant-based foods. Vegetables can be roasted, steamed, or fried with or without a coating. No matter which method you choose, they turn out delicious.
Seitan is no exception. Air frying breaded nuggets gives you a nice, crispy exterior without drying out the interior.
Also be sure to check out Pecan Crusted Eggplant on this site. It's another sample recipe from "The Complete Vegan Air Fryer Cookbook".
About This Recipe
You'll get lots of rich flavor from the spice mix in this recipe, but feel free to experiment. Add your favorite flavors, or ditch all the listed spices and start from scratch. Cayenne and sriracha work very well if you enjoy a super hot treat.
Another way to achieve excellent taste is to marinate your seitan. Overnight works best, but when you're in a hurry, even a half hour can make a significant improvement in flavor.
A few of the most common flavor preferences include Asian, barbecue, balsamic, and curry, but keep an open mind. The possibilities here are limited only by your imagination and your personal taste.
For more ideas, One Green Planet has a great guide for marinating all types of plant-based foods. It includes helpful tips and some very interesting recipes.
Chicken-Fried Seitan Recipe – from The Complete Vegan Air Fryer Cookbook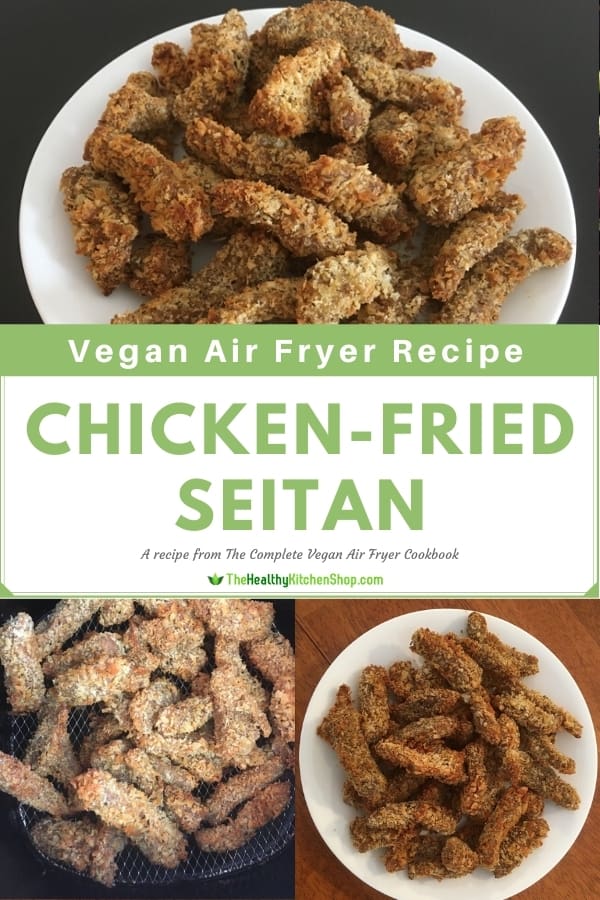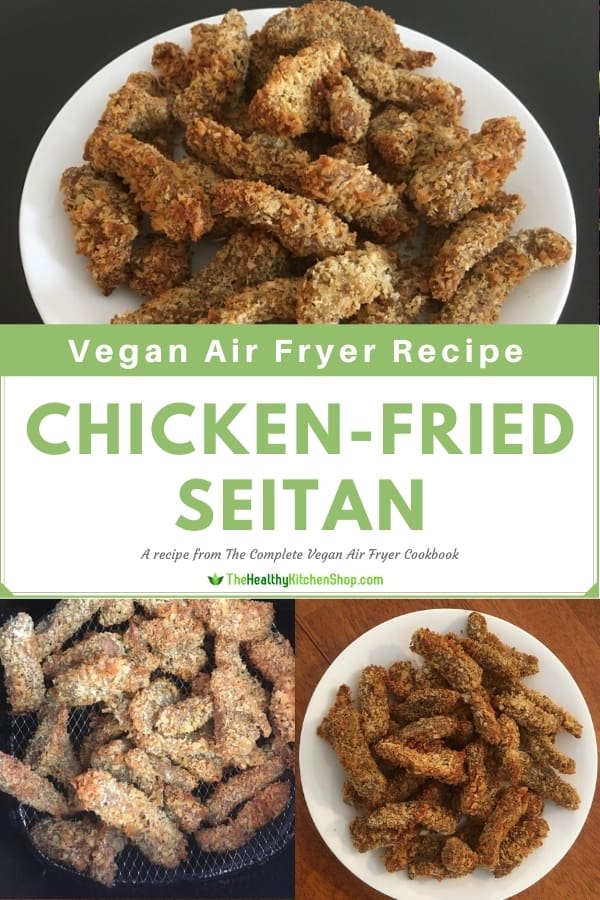 This is very likely to become a favorite, and it's easy to vary it simply by using different seasonings. Instead of marjoram and dry mustard, sprinkle liberally with Italian seasoning and serve with a tangy tomato sauce. For heat lovers spice it up with cayenne pepper and sriracha sauce.
You can try Moroccan spices, or go Hawaiian, or anything else you prefer. Really, the only limit is your imagination. Of course, this original version is our favorite, but you can have fun experimenting to make it your own.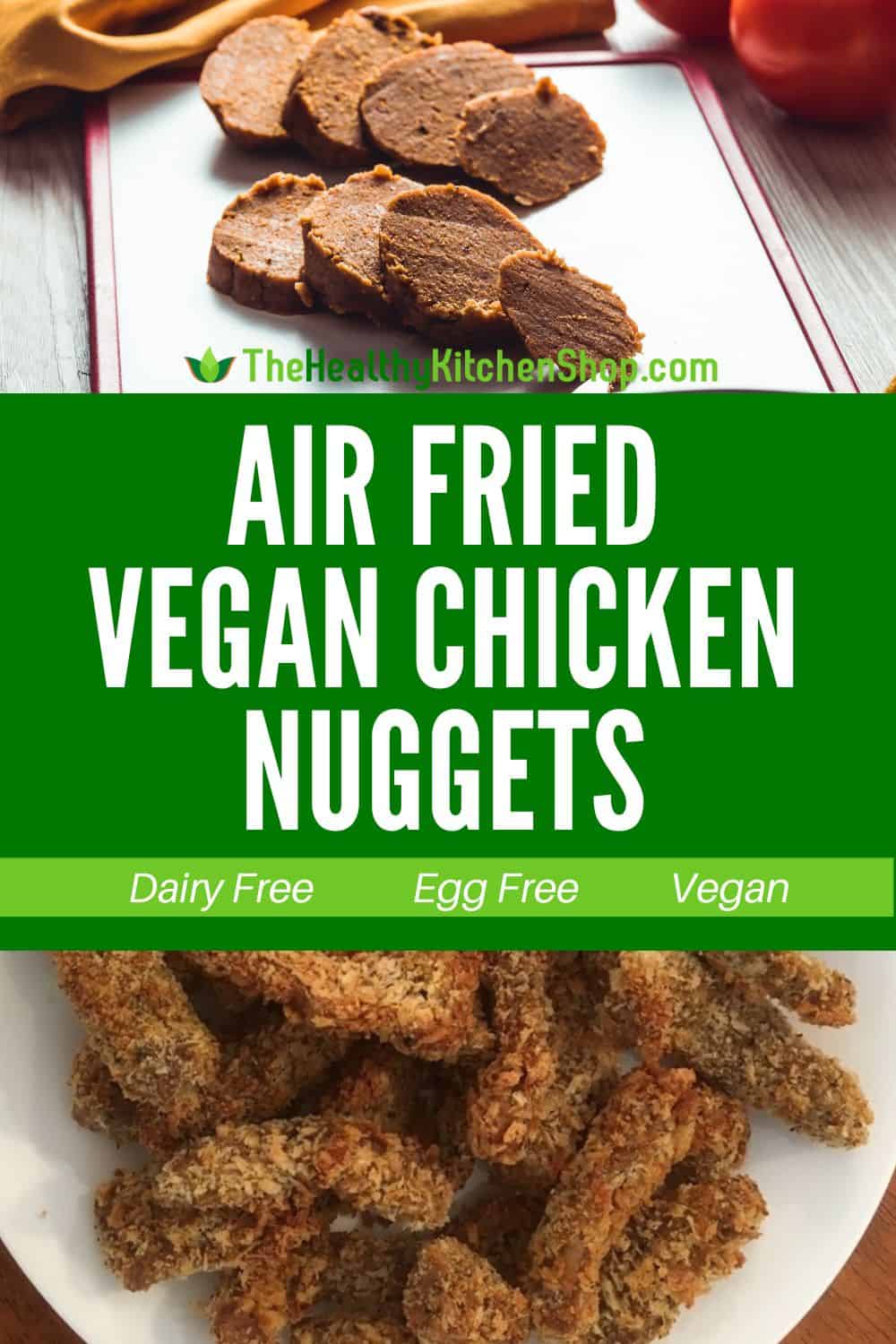 Air Fryer Chicken-Fried Seitan
Light eaters may 3 or more servings from this recipe. For hearty appetites amounts are easily doubled. Follow the directions, but cook in two batches.
Ingredients
2

tsp

egg replacer

4

tbsp

water
Seasoning Mix:
1/2

tsp

salt

1/4

tsp

oregano

1 1/4

tsp

celery seed

1 1/4

tsp

ground mustard

1/4

tsp

paprika

1/2

tsp

garlic powder

1/4

tsp

black pepper

1/4

tsp

ground ginger
Seitan and Coating:
3/4

cup

panko breadcrumbs

2

tbsp

potato starch

1

8-ounce package seitan strips, traditional flavor

oil for misting or cooking spray
Instructions
In a shallow dish mix egg replacer and water to blend. Set aside.

Stir together all seasoning ingredients in a small cup.

In a second shallow dish, stir together panko and 2 1/2 teaspoons of seasoning mix.

Place potato starch in a plastic bag or container with lid.

Preheat air fryer to 390℉.

Gently separate seitan strips and sprinkle with remaining seasoning mix. Place in bag with potato starch and shake to coat.

Working with a few pieces at a time, dip seitan in egg wash, then roll in crumbs.

When all strips are coated, mist with oil or cooking spray and place in air fryer basket. Cook at 390℉ for 5 minutes. Shake basket to redistribute, and mist with oil again. Cook 3 to 4 minutes longer or until crispy and golden brown.
© 2018 Susan LaBorde and Elizabeth Hickman. All rights reserved. No part of this recipe may be reproduced or transmitted in any form or by any means without prior written permission.
Want more? This recipe is from The Air Fryer Bible Cookbook by Susan LaBorde and Elizabeth Hickman. Click here to see The Air Fryer Bible on Amazon.



You may also like:
If you enjoyed this recipe please share on Pinterest!