As an Amazon Associate I earn from qualifying purchases.
With so much junk on the market, we created this Air Fryer Cookbook Guide to help you avoid wasting your hard earned money. And yes, we obnoxiously plug our own Air Fryer Bible cookbook first, but it's only the beginning of a long list of choices. You're sure to find what's perfect for you!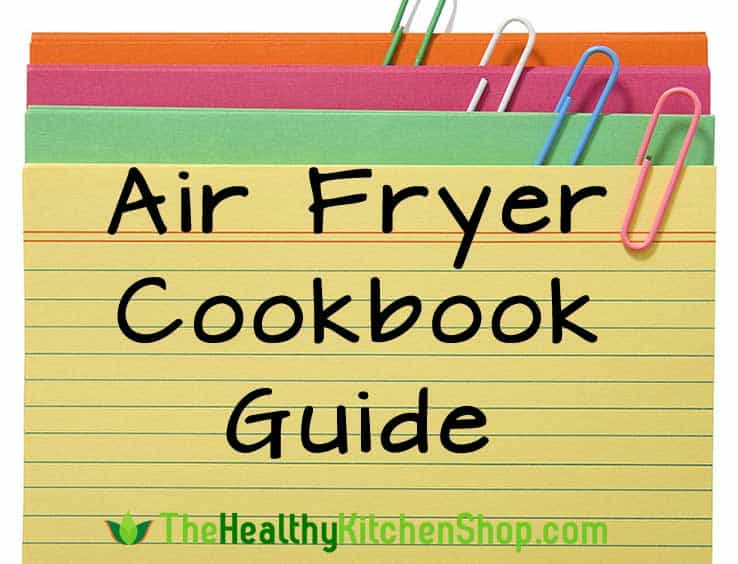 [toc]
Air Fryer Cookbooks
Publisher: Sterling Epicure
256 pages with color photos and over 200 recipes
No one knows fried food better than these two authors – born and raised in the deep south, they've been cooking more years than either will admit, with experience ranging from standard family fare to flaming desserts for the high end buffet crowd!
Together they have created the most comprehensive collection of delicious, high quality air fryer recipes. You'll find dishes for every meal and snack, from familiar favorites to delightfully unique taste treats – plus helpful air fryer success tips, a section on terms & techniques, and an air fryer buying guide.
Do you want to get the most from your air fryer? Then get ready to discover just how versatile these amazing little machines can be!
Click here to see it on Amazon – The Air Fryer Bible
(Kindle version also available)
Want to know more? For full details about the cookbook and its authors read why this is the Best Air Fryer Cookbook.
For our vegan friends – by Susan LaBorde and Elizabeth Hickman

The Complete Vegan Air Fryer Cookbook: 150 Plant-Based Recipes for Your Favorite Foods

For sample recipes from this cookbook see our Pecan Crusted Eggplant and Chicken-Fried Seitan.
Emeril Lagasse Everyday Recipes for the Power AirFryer 360
Publisher: Tristar Products, Inc.
No information available on page count or number of recipes – There is huge demand for Emerial Air Fryer recipes, and finally he has written this cookbook. Unfortunately, it does not have the "look inside" feature, and few details are available except that it features some full page color photos. These recipes were developed specifically for the Power Airfryer 360, which is not an air fryer but a multi-function oven. That means that only some of the recipes in this cookbook are for air frying. Some recipes will use the oven's other functions such as baking, roasting, slow cooking, and dehydrating. Recipes by professional chefs tend to be more complicated, but if you love Emeril, chances are you'll love this cookbook.
Note: Mr. Lagasse has published some air fryer recipes online, and we've got the complete list for you here: Emeril Air Fryer Recipes
The Complete Air Fryer Cookbook: Amazingly Easy Recipes to Fry, Bake, Grill, and Roast with Your Air Fryer
Publisher: Rockridge Press
154 pages with over 100 recipes for main dishes, sides, appetizers & desserts — Linda Larsen has authored 28 other cookbooks. She writes easy-to-follow instructions, and all the recipes in this book are simple to make using common ingredients. There is one color photo at the beginning of each chapter, but no other photos. This book is a good choice for anyone brand new to air frying, and it even includes tips on timing and temperatures.
The Healthy Air Fryer Cookbook: Truly Healthy Fried Food Recipes with Low Salt, Low Fat, and Zero Guilt
Publisher: Rockridge Press
168 pages with over 100 recipes that are genuinely heart-healthy — Linda Larsen is one of our favorite authors, and her newest air fryer cookbook is for anyone serious about heart health. For each recipe she provides complete nutrition information, following American Heart Association guidelines. She also includes vegetarian and vegan variations so you can easily adapt. Air frying is a healthier way to cook, but Ms. Larsen steps it up a notch. If heart health is your main focus, you should definitely take a closer look at this cookbook.
Air Fry Everything: Foolproof Recipes for Fried Favorites and Easy Fresh Ideas by Blue Jean Chef, Meredith Laurence (The Blue Jean Chef)
Publisher: Walah!
300 pages with 115 recipes — Meredith Laurence is known as the "Blue Jean Chef", and her cookbooks are excellent but may not be for everyone. There is lots of positive feedback on this book but also some complaints that most of the recipes are too complicated with too many ingredients, and/or too "fancy" for the average taste. I own this book and would have to agree. You probably won't use this on busy weeknights, but this cookbook is a good choice if you enjoy new taste adventures and don't mind spending extra time in the kitchen. Also, if you just enjoy reading cookbooks this one is filled with lots and lots of beautiful color photos, a gorgeous book!
Air Fry Genius: 100+ New Recipes for EVERY Air Fryer
Publisher: Walah!
270 pages with just over 100 recipes — Also by Meredith Laurence, this is her second air fryer cookbook. I do not own this one, but feedback seems to be the same as on her first book. She is a chef, and that is reflected in her recipes, which tend to be complex and time-consuming. If you're only interested in standard family fare, this probably isn't the book for you. However, if you enjoy cooking adventures and more unusual tastes, be sure to check it out.

Were you looking for information on air fryers? Please see our comparison chart for a quick list of features plus a link to the complete review of each model.
The Air Fryer Cookbook: Deep-Fried Flavor Made Easy, Without All the Fat!
Publisher: Castle Point Books
160 pages – So far some users have been quite pleased with this cookbook and are happy that it includes helpful tips. Others have expressed disappointment that many of the recipes are somewhat complex and have long ingredient lists. Keep in mind that Mr. English is, after all, a chef. Unfortunately there is no "look inside" feature available on this book.
Paula Deen's Air Fryer Cookbook
Publisher: Paula Deen Ventures
208 pages with 150 recipes — This is the only Paula Deen cookbook I own, but it appears to be her typical fare. Recipes include a number of southern favorites, an entire chapter dedicated to potatoes, and a few decadent treats such as fried candy bars. There are some photos scattered throughout the book, and it includes a fairly good index. Her recipes are easy to follow, and while some may involve more time and steps, none are terribly complex.
Air Fryer Cookbook: In the Kitchen
Publisher: Cedar Fort, Incorporated/CFI Distribution
151 pages with 102 recipes and full color photos – Recipes are written to be adaptable for all types of air fryers, and to help you with the basics there is a section on frequently asked questions. Allison Waggoner is a classically trained chef and multi-published author.
The Skinny Hot Air Fryer Cookbook: Delicious & Simple Meals For Your Hot Air Fryer
Publisher: Cooknation
90 pages, no photos – As with all cookbooks from this publisher, there is no author listed. This particular cookbook rates pretty low with customers, but it's included here because some people do love it and give it 5 stars. There is a "look inside" feature on Amazon so you can see some of it before you buy. Besides that, as of November 2015 the paperback version is selling for about $7.00, so it's no big investment. For that price, if you only get one or two good recipes it might be worth it.
The Air Fryer Cookbook
Publisher: Weldon Owen
56 pages, in hardcover only – This cookbook was created by the Williams-Sonoma Company and is advertised as being specifically for the Philips Viva Digital Airfryer. Recipes cover a wide variety from snacks to desserts, including foods such as banana bread, French toast sticks, and kale chips.
The Skinny ActiFry Cookbook: Guilt-free & Delicious ActiFry Recipe Ideas: Discover The Healthier Way to Fry!
Publisher: Cooknation
96 pages, see "look inside" feature on Amazon for idea of recipe types – Keep in mind that this cookbook was written for the Actifry, which has a stirring paddle that makes it work differently than all other air fryers. Most recipes should work fine in other models, but some may need adapting.
No author name given, as with other cookbooks from this publisher.
Hot Air Frying & More
Publisher: Mwb Publishing
68 pages, full color photos – Unfortunately, this cookbook is not tailored to American audiences. However, it does include a measurement conversion chart, and you may want to check it out because it has good illustrations and easy to follow step-by-step instructions. This is the second air fryer cookbook by this author, and most reviewers agree that the recipes are great and include helpful tips.
My GoWISE USA Air Fryer Cookbook: 100 Amazing Recipes for Smart People
Publisher: Rascal Face Press (private publisher?)
222 pages with 100 recipes grouped by meal type – The author was extremely skeptical about air fryers, until he tried one! He loves his GoWISE so much he created this cookbook of his favorite recipes. It includes meals, sides, appetizers, snacks and desserts. Click the image at left to go see all the recipes listed in the table of contents.
Some Newer Air Fryer Cookbooks That Look Interesting
These titles are more recent releases. All of them are from reputable publishers and appear to have been written by legitimate cookbook authors:
What to Avoid When Shopping for an Air Fryer Cookbook
Unfortunately there are dozens (maybe hundreds) of air fryer cookbooks on Amazon that are just awful. I would go so far as to call them scams. The recipes have most likely been stolen from various places around the web, which is bad enough. Worse, many of these plagiarized recipes were not intended for cooking in an air fryer, so they're not going to work.
One glaring example is an Amazon "bestseller" that is full of recipes that were quite obviously intended for a pressure cooker, not an air fryer. There is another such cookbook that calls for placing ingredients in a 6 quart stock pot – oh pray tell, how are you gonna get that in your air fryer?
Also pay attention to the publisher. Beware of any cookbook that is self published such as those listing the publisher as "Independently published", "CreateSpace", or "KindleDirect". The fact is that Amazon makes it very easy and completely free to self-publish, and in the cookbook genre that has resulted in lots of pure junk – the kind of scam cookbooks described above.
Lastly, check out what the Amazon page says about the author. If there is no photo and no information, that's a pretty good sign that the author isn't legitimate. However, some of these con artists go to a lot of trouble. One is using this stock photo from Dreamstime as her author photo. I'm guessing that means her author credentials are also completely fake.
Finally, be wary of any air fryer cookbook with 550, 1,000, or any other huge number of recipes. Developing recipes is an extremely time-consuming process, and it requires multiple testing of each dish to ensure quality results. I would question anything over about 250 recipes. After all, even professional chefs who have staff to assist them don't produce cookbooks with gigantic volumes of recipes.
Note: Almost all of the links above will take you to the hardcover or paperback version, but that is simply my old-school personal preference. Most are also available in Kindle or other ebook versions. Once you click a link and get to the page, you can choose the format you prefer.
Some of the newer cookbooks are available in Kindle version only, but that does not mean you have to own a Kindle. If you buy from Amazon, you can read Kindle books using Amazon's free Cloud Reader.
---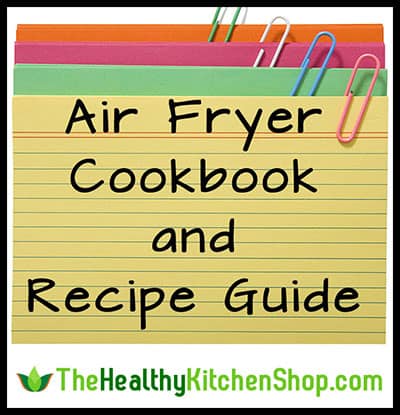 Why Buy an Air Fryer Cookbook?
One of the most common complaints found in online air fryer reviews is that the results are not what the user expected. In many cases these folks readily acknowledge that those initial failures were due to their own inexperience. Eventually they're very happy with their air fryer, but sometimes only after lots of trial and error.
This is a different way of cooking that takes a little getting used to. An air fryer cookbook can save you lots of frustration, not to mention wasted food from failed attempts.
Free Air Fryer Recipes Online
Recipes On This Site
Here at The Healthy Kitchen Shop we've put together several lists of air fryer recipes from various chefs and good food bloggers. We've also published several recipes from The Air Fryer Bible Cookbook.
Air Fryer Recipe Collections:
Individual Recipes from The Air Fryer Bible (click to see it on Amazon):
Individual Recipes from The Complete Vegan Air Fryer Cookbook (click to see it on Amazon):
For lots more ideas be sure to follow us on Pinterest!
Recipes From Around the Web
Air fryers have been popular for years in Australia, Europe, and other parts of the world, and non-U.S. based websites such as AllRecipes Australia have lots of wonderful recipes specifically for air frying. Those are a great sources except that in many cases you'll have to convert ingredient measurements, which can be a little tricky. For help with that, check out this free online Instant Cooking Units Converter.
For U. S. cooks who want the measurements we're accustomed to using, following are some sources for free air fryer recipes online. Keep in mind that most of these were created by product manufacturers, so how well the recipe works for you may depend on whether you have that exact brand of air fryer.
Philips also offers a free recipe app. Just search for "philps airfryer" on either Google Play for Android or iTunes for Apple devices.
---
If you only ever plan to cook French fries and frozen chicken nuggets, you probably won't need any help. However, you could be missing out because air fryers are capable of so much more. Many owners are surprised at how much and how often they end up using their new appliance for a wide variety of foods and dishes.
Hopefully you'll find something in the above that will help you also discover lots more ways to use your air fryer. To me that increases the value of your investment because you get more use from it. Plus, you won't be missing out on dishes you can cook in your air fryer that are delicious, quick to prepare, and healthier too.



Don't own an air fryer yet? To learn more, use the menu at the top of this page to find detailed product reviews of best selling models – or check out our air fryers comparison chart for an overview of features and prices (the chart also includes a link to the complete review of each model).

Ready to buy? Click here to shop for air fryer deals on Amazon.
Please share on Pinterest and Facebook!