As an Amazon Associate I earn from qualifying purchases.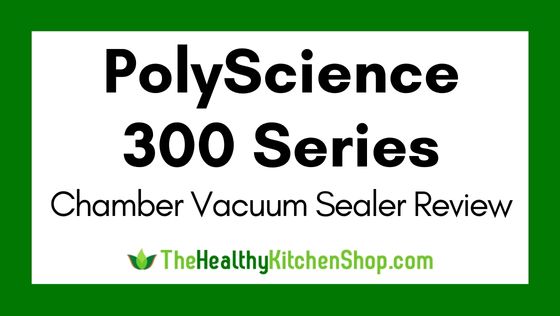 Rating: 3.9 (based on fewer than 20 reviews)
Reviewed by
Susan
This manufacturer specializes in sous vide cooking equipment, but that certainly isn't the only use for the PolyScience 300 Series Chamber Vacuum Sealer. Marinate meat, infuse fruits, protect your keepsakes, or use it for any number of other cooking related or household tasks. Unlike its closest competitors, this model even has an external vacuum port for sealing canisters.
This chamber vacuum sealer has a dry piston pump that doesn't require routine maintenance, and a large interior capacity that can accommodate gallon size bags. It handles solids and liquids equally well, and it offers control pre-sets and other features designed to make it convenient and easy to use.
Features
Stainless Steel Housing
Dry Piston Pump, maintenance free
3 Preset Cycles
Built-in Marinade Cycle
Accommodates Maximum Bag Width 12″
External Vacuum Port
1 Year Limited Warranty on parts & labor; 90 Day Limited Warranty on unit replacement
The stainless steel housing makes this unit sturdy, and its dry pump saves you time since it doesn't need maintenance. Of course there are pros and cons about pumps. Models with an oil pump, such as the VacMaster VP215, will cost you a little more and do require occasional maintenance, but they don't overheat during prolonged working sessions and also may hold up better over the long run for heavy duty users.
The control panel on this unit lets you select vacuum level, toggle between marinate or seal functions, and set processing time. You can also create your own presets to save settings for jobs that you run frequently. That's a time saver that also spares you the frustration of trying to remember what you did last time that worked so well.
Unlike the other leading chamber style models, the PolyScience vacuum sealer has an external vacuum port. If you plan to use canisters this is the way to go. It is actually possible to seal a canister inside the interior chamber of some VacMaster models, but the manufacturer no longer recommends doing it. Even if you get that to work, the canisters just don't hold up well, and they cost too much to keep constantly replacing them.
The video below gives you a closer look at the PolyScience chamber vacuum sealer. It's short, only about 2 minutes, but it shows a little about how this chamber vacuum sealer works.
Some of the many uses for this vacuum sealer include:
vacuum package foods for longer freezer or shelf life
marinate meats and seafood for sous vide cooking
use for culinary techniques such as compression and infusion
protect jewelry, silverware, documents, keepsakes, collectibles and other valuables
seal emergency supplies and other items for camping, boating and picnics
The video below demonstrates using this chamber vacuum sealer for rapid pickling, which not only saves you time but preserves the crispness and bright green color of your cucumbers.
As you can see, it's definitely versatile!
The user's manual can be found online at 110-875 Chamber Sealer 300 Manual It's your basic guide but with plenty of help for setup, operation, and even troubleshooting tips. I like the fact that at the very beginning it provides complete contact information, including a phone number, encouraging you to get in touch in the event that your brand new unit was damaged in shipping or does not work properly for any other reason.
(Back to Top)
Size and Capacity
Exterior dimensions: 18″ x 14″ x 14.5″
Interior dimensions: 13.8″ x 12″ x 4.3″
Weight: 50.7 pounds
It's big and heavy and requires plenty of space both during use and for storage. Also be sure to consider where you'll use it and whether any overhanging cabinets might not give you enough clearance. This is not a drawback but rather the norm no matter which brand or model of chamber vacuum sealer you choose.
What's Included with the Polyscience Vacuum Sealer
This model includes an owners manual and a small assortment of chamber vacuum pouches (1 pint, 1 quart, and 1 gallon sizes).
Bags & Optional Accessories
Bags
With this unit you have the option to purchase bag rolls and create your own pouches by cutting to size and then sealing. However, the pre-cut pouches are more convenient and also cheaper to use than rolls.
Pouches range from small pint-size bags up, and the largest size bag that will fit in this unit is a maximum of 12 inches wide.
Good quality bags are strong, thick, and BPA free. An explanation about recommended bag types and where to find the lowest price is included in my review of the VacMaster VP210. For complete details click this link to read about Bags for Vacuum Sealers.
Canisters
This model is also designed for use with the PolyScience Reusable Vacuum Canister. It is a single, 2.5 quart capacity canister that is BPA free, dishwasher safe, and has a 1 year limited warranty. (No feedback is available on use of this canister with the Polyscience 300.)
Other than bags and canisters, there are no additional accessories designed specifically for the PolyScience vacuum sealer.
(Back to Top)
Customer Reviews
As stated at the very beginning of this review, it has an average consumer rating of 3.9, and that doesn't help much since it is based on fewer than 20 online reviews. There is one report of a unit that was DOA, which can happen with anything. One other owner claims his unit broke within the first year of use, but it appears the company was replacing it.
PolyScience is a familiar brand name to a lot of you because it's a well-known maker of sous vide equipment. Naturally, the company recommends this model as the best chamber vacuum sealer for sous vide cooks, but as you can see from all the above it's a versatile machine suitable for all types of uses.
One major consideration might be the pump. Typically, dry pump models cost less, but this model is actually priced a good bit higher than the best selling VacMaster VP215 which has a rotary oil pump. If you plan on frequent and heavy use, an oil pump unit may serve you better because you won't have to stop periodically to let it cool down. Generally speaking, oil pumps can tend to hold up better for long term use. To compare and read more about oil pumps see the VacMaster VP215 review.
What you do get for that extra cost is the external vacuum port, which you won't find on any of the other top rated models. If you want the option to use canisters, this is a much better method that putting them inside the vacuum sealer. None of the canister brands are cheap, so it would not be cost effective to have to keep replacing them over time.
(Back to Top)
Pros
Includes external vacuum port
Dry pump is maintenance free
Well-constructed, stainless steel housing
Designed for solids, liquids, sous vide, and many other uses
Cons
Priced higher than oil pump models
No feedback from experienced users for reference
Large and heavy, requires plenty of space
Dry pump may not hold up as long for frequent, heavy users
PolyScience 300 Series Chamber Vacuum Sealer Review: Summary
Perhaps the best recommendation for this model is that it sells fairly well on Amazon. Unfortunately, those buyers haven't returned to provide a review about their experience. One might interpret that as positive, since people are usually quick to complain but will procrastinate when they only have good news to report. The biggest downside is that the PolyScience 300 Series Chamber Vacuum Sealer costs so much more than other dry pump units that have similar features, and even more than the top selling oil pump model. However, it's a versatile machine designed to handle a wide range of liquids and solids, and it should perform well considering that it's make by the folks who specialize in sous vide.
---
For comparison you may want to check out the VacMaster VP215.



To compare features of all models at a glance see our
Vacuum Sealer Comparison Charts.