As an Amazon Associate I earn from qualifying purchases.
This freeze dryer may also be available at Amazon. However, the price is higher, selection is very limited, and details are unclear as to which size model is being sold there.
Reviewed by Susan LaBorde
With the Harvest Right Freeze Dryer, it is now possible for home users to make freeze dried foods that meet their own specific needs. This is a freeze dry machine that functions similar to industrial equipment but is designed for average home users in terms of size, capacity, ease of use, and affordability.
Of course, that doesn't mean it's for everyone. Even if the high price tag doesn't scare you off, there are a number of other factors to consider before you buy. This Harvest Right Home Freeze Dryer Review provides the details to help you decide if this is a good investment for you.
Features
Now Available in 3 Sizes – Small, Medium, Large
Stainless Steel Trays
Digital Display Panel
Commercial Grade Vacuum Oil Pump
Made in U.S.A.
Includes Impulse Sealer (for mylar bags)
3 Year Limited Warranty
Most important for newcomers to this process is to be aware that freeze drying is not the same as dehydrating. Dehydration shrinks foods and changes the texture, which of course is exactly what you want when making something like jerky. If that's your purpose, then you need to look into getting an Excalibur.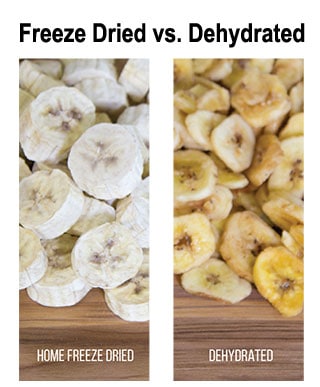 On the other hand, freeze dried foods retain their original size, shape and color. All the moisture has been removed, so they are very light weight.
With very few exceptions (see Capacity & Performance), the freeze drying process produces excellent results on just about any foods, including meat, poultry, eggs, most dairy (cheese, milk, ice cream, yogurt, etc. but not butter), fruits, vegetables, casseroles, complete meals, leftovers, and desserts.
This machine was designed to be very user friendly for do-it-yourselfers. As you'll see in the short video below, there are no complicated settings. The only learning curve you may experience is in how you prep certain foods for faster processing or better results.
Otherwise it's all automatic. You press "start", and you're done. There is no guessing because the unit will sense when the food is ready, stop the cycle, and alert you with a beep. The usual running time is about 24 hours, but some foods can take much longer.
(Back to Top)
Size Options
3 Models of the Harvest Right Home Freeze Dryer
BEST PRICE OF THE YEAR ON A FREEZE DRYER!

On November 1, 2022 Harvest Right begins Black Friday sales for the entire month of November.

If you've ever considered investing in a freeze dryer, now is the time – get the best price of the year!
BEST PRICE OF THE YEAR ON A FREEZE DRYER!

On November 1, 2022 Harvest Right begins Black Friday sales for the entire month of November.

If you've ever considered investing in a freeze dryer, now is the time – get the best price of the year!
This machine makes a large footprint and is quite heavy for frequent moving. As you can see in the photo below, the vacuum pump sits alongside the main unit, requiring a little extra room you must allow for.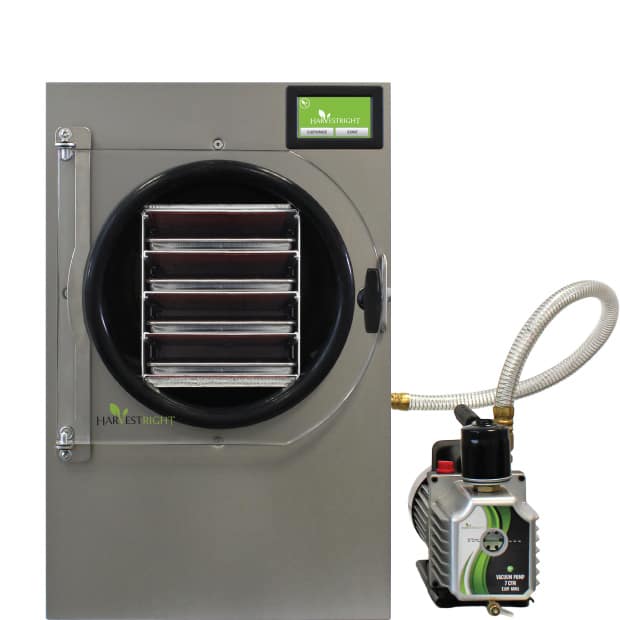 When the pump kicks on it does make some noise. If you love your peace and quiet, then a walk-in pantry or nearby storeroom might be a better location for your unit. In that case a wheeled cart might be ideal.
You may also be able to use your unit in a basement or garage, but there are limits. The manufacturer recommends that you do not operate this freeze dryer in temperatures below freezing or above 90 degrees Fahrenheit. Running your freeze dryer in a hot room can increase the time required for processing.
You must also locate your machine where there is an appropriate power source. As noted in the above chart, a dedicated 20 amp circuit is required for large models, and it is recommended for small and medium models. Such circuits are most often found in kitchens for refrigerators and other large appliances, but these type circuits are also required for other uses such as a treadmill or for power tools in a garage or storage room.
Setup & Operation
While there may be nothing familiar about setting up your new equipment, it isn't difficult. You can see for yourself in this short 2-minute video:
If you do run into any glitches, call customer support. The vast majority of owners report that the staff members are friendly and extremely helpful.
Maintenance
Maintenance is not difficult or overly time consuming, but it cannot be neglected. This is not your standard kitchen appliance. Rather, it is the home user's version of industrial equipment. It's (basically) a piece of commercial machinery that has been designed to be reasonably affordable for individuals.
Oil should be filtered after each cycle, and you must check for proper oil level before beginning a new cycle. If you don't do this regular maintenance, you'll experience problems. It should be part of your normal cleanup routine. If that sounds like too much trouble, a freeze dryer is not for you.
Alternatively, you can pay extra for an oil-free pump. The main advantage is that oil-free pumps do not require maintenance. They can also be less noisy. The bad news is that for a new machine, opting for an oil-free pump will cost you about $1,500 more. Another possible downside is that in some cases oil-free pumps tend to wear out much faster (this is true with the pumps on chamber vacuum sealers).
The bottom line is that an oil-free pump might save you a little time on maintenance, but you're paying a whopping extra price for something that probably won't hold up as well as the oil pump that comes standard on all three models.
(Back to Top)
Capacity & Performance
Capacity varies by model, and specifics are listed in the comparison table above.
For the sake of clarification, the four trays in the medium size freeze dryer will hold 7 to 10 pounds of food. However, your total capacity depends on what you're processing as the amount of air and liquid in foods varies greatly. That is, a pound of ground beef equals about 2 cups, whereas a pound of fresh okra will give you around 4 1/2 cups.
One nice thing about freeze drying is that you don't have to worry about mixing flavors. Here's a quick video showing an entire ham dinner placed in the unit at once:
Time required for freeze drying will vary depending on the type of food, and also on several factors, including:
thickness of food slices or chunks – recommended standard is no more that 1/2 inch
temperature of food when placed in freeze dryer (obviously, if you pre-freeze food as you prep it, you'll reduce total processing time)
liquid content of food (for example, fruits may take much longer to freeze dry than meats)
The only performance issues I've come across related to user inexperience. One example is disappointing results with grapes, blueberries, and cherry tomatoes. The problem is that these are high moisture foods with thick skins, which makes it difficult to completely pull out all the moisture. The solution is to halve such foods before freeze drying. That will produce better results and also speed up your processing time.
About the only foods that do not work well are those with extremely high fat content. Cheese, yogurt and most dairy products work fine, but not butter. One user described his attempt at freeze drying butter as a spectacular failure, but the good news is it taught him that the interior of this machine is very easy to clean.
Two other foods that don't work are hot dogs and bologna, but who cares? Read the ingredient labels and you'll never want to eat them again anyway. (Go ahead, look up "meat trimmings" and "mechanically separated chicken".)
(Back to Top)
What's Included
In addition to the main unit and its stainless steel trays, all three models (small, medium, and large) come with the following:
Vacuum Pump
Vacuum Pump Oil
Oil Filter
Guide to Freeze Drying
50 Mylar Bags
50 Oxygen Absorbers
Impulse Sealer
Optional Accessories
The machine itself has no accessories, but you will need to consider how you plan to store your dried foods. Options include:
Vacuum Sealed Plastic Bags – These work only for short term storage.

Canning Jars – These will work long term if you use oxygen absorbers and keep in a cool, very dark location.

#10 Cans – This can be an excellent choice for long-term storage, but you'll need a can sealer which is terribly expensive. Also be aware that #10 cans can sometimes be hard to find.

Mylar Bags – This is most often considered the best option for numerous reasons, including a shelf life of up to 25 years.

Bags and oxygen absorbers are available from the manufacturer, but it's a good idea to also check the selection and prices on Amazon. Sometimes you can get a better deal on mylar bags and oxygen absorbers that are packaged in bundles.
Silicone Mats: These reusable mats are dishwasher safe (top rack) and save you clean-up time on your freeze dryer. At this time they are only available from the manufacturer: Harvest Right Silicone Mats
Consumer Feedback
There is no way to provide the usual star rating for this product because you won't find hundreds and hundreds of reviews about it on retail sites.
What you will find are posts from owners who have experience with the product. There are some on YouTube, but most are on blogs written by survivalists and others who are heavily invested in off-the-grid living or emergency prepping. That makes it more difficult to research because these reviews are scattered all over the web, and most of them are quite lengthy.
The good news is that these folks provide lots of quality information. Most of the legitimate complaints were written when the model was first released and applied to the original version. For instance, one user felt that the drain hose was too short for convenience. That is no longer a problem because after hearing this feedback, Harvest Right agreed it was a valid concern and started making a longer hose.
The pump sold with the original models also had some issues with leakage. Consumers complained, and Harvest Right solved the problem by developing its own pump that is designed specifically for its freeze dryers. (This solved the problems mentioned in the 2017 comments below where users complain of oil drips and sprays.)
Also worth mentioning is a 2014 buyer who received the wrong pump with his initial purchase (a cheaper versoin of the commercial grade model that is supposed to be included). This fellow emailed the company and got no response, but it turns out this was due to an internet outage. When management realized what had happened, by seeing this unhappy customer's post in a forum, the owner of Harvest Right called the customer and immediately rectified the problem. The company sent this customer a new commercial grade pump and also told him he could keep the other pump in case he ever needed a backup.
Harvest Right has an B+ rating with the Better Business Bureau. The company is very responsive to every complaint, but all have not been satisfactorily resolved. Some customers expected a refund or replacement beyond the warranty period, and others were dissatisfied with tech support instructions for solving unit issues. Overall, customer reviews on at the Better Business Bureau give this freeze dryer a 4.76 (out of 5) stars rating.
One concern shared by a whole lot of people was that in the beginning, this machine had only a 1 year warranty. The company has now increased that to a full 3 Year limited warranty. That's much better, but still, for an appliance in this price range you may also want to consider purchasing a separate appliance protection plan elsewhere.
(Back to Top)
Pros & Cons
Pros
Easy to operate.
Produces high quality results with an extremely wide range of foods.
Preserves original taste and texture of foods and retains most of the nutritional value.
Offers longest possible shelf life, up to 25 years if stored properly.
Package your food your way – enables you to meet your individual dietary needs, health requirements, and personal preferences.
Cons
High end appliance may be cost prohibitive for some.
Size may make it unsuitable for some kitchens.
Not easily moved due to weight.
Some maintenance required – minimal, but not optional.
Harvest Right Home Freeze Dryer Review: Summary
There is no question that freeze drying is one of the best methods of food preservation. It enables you to retain the original flavor and texture of foods and also maintain the highest nutrient level. For comparison, dehydration can destroy up to 50% of nutrients in some foods, whereas with freeze drying any loss of nutritional value is extremely small (zero in some cases).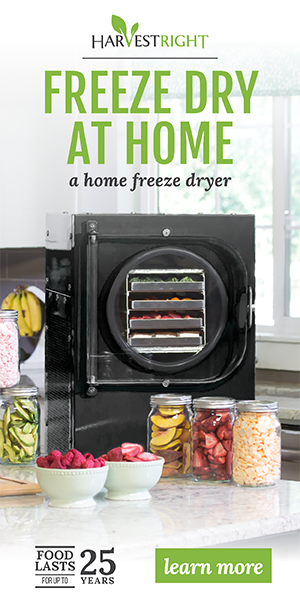 This machine is certainly perfect for anyone seriously involved in preparing for long term, off-grid living. Even if that isn't your intended purpose, it offers plenty of benefits. Stock your pantry with food that's convenient, always fresh, free of unhealthy additives, and diet friendly for you. That includes delicious casseroles and even full meals that can be reconstituted and ready to eat in a snap, whether you're dining in or traveling.
For those who have the budget and the available space, the Harvest Right Freeze Dryer offers the ultimate in food preservation. This well built machine comes with stainless steel trays and a commercial grade pump, and its user friendly design makes it very simple to operate. It now carries a 3 year limited warranty, and the company has established a reputation for listening to consumer feedback, providing service after the sale to solve any problems, and continually working to improve its product.
If your interest is piqued but you still have questions, be sure to visit the Harvest Right website for answers and even more details.
How To Find The Best Price
To the best of my knowledge, you will always find the lowest price on these freeze dryers when you buy direct from Harvest Right. The company seems to run sales fairly often, and especially near the holiday season.
Two things to remember:
The large model is available only from Harvest Right.
The optional oil-free pump is available only from Harvest Right.
This freeze dryer may also be available at Amazon. However, the price is higher, selection is very limited, and details are unclear as to which size model is being sold there. (In the past, Amazon never sold the large size.)
(Back to Top)
You may also want to read our "Freeze Dryer for Home Use" article for general information about this machine and an overview of the freeze drying process.