As an Amazon Associate I earn from qualifying purchases.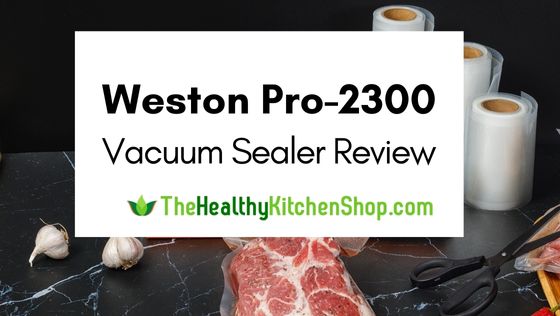 See the lowest price listing I've found on Amazon:
Rating: 4.5 Reviewed by Susan
One of the bestselling counter top models for home users is the higher end Weston Pro-2300 Vacuum Sealer. Since it isn't brand new you'll find plenty of feedback from hundreds of owners, and the vast majority of them strongly recommend this unit.
This model is a channel type vacuum sealer with a 15″ seal bar, which is the widest available in this class. It's a heavy duty unit that offers great features such as the option for automatic or manual operation and a see-through lid to help you avoid wrinkled bags and bad seals.
It also has some drawbacks, which you may or may not care about. Don't be disappointed in your purchase! This review covers both the pros and cons so you can be sure you know what you're getting before you buy.
Read our complete Weston 65-0201 Pro-2300 Vacuum Sealer Review below.
Features
Stainless Steel Housing
Automatic and Manual Seal Modes
15″ Seal Bar, Extra Wide
See-through Lid For Easier Bag Alignment
Internal Cooling Fan
Detachable Cord (and built-in storage drawer)
Replaceable Chamber Seals
2 Year Limited Warranty
Drawbacks of this Vacuum Sealer
To avoid wasting your time, let's cover the drawbacks first. The Weston Pro-2300 does not have a built-in bag cutter, nor does it have a space for internal bag roll storage.
This model also does not have an accessory port and is not designed for use with hose attachments. You'll find reports from customers who have successfully used hoses for external sealing, but the manufacturer does not recommend that as it can put too much stress on the pump and ruin the unit. If you want to vacuum seal canisters, jars or any other containers that require a hose, the Weston Pro-2300 is not a good choice for you. (Instead, you may want to take a look at the FoodSaver 4840 – lower priced but very versatile.)
Then again if you're fine with all that, read on for the good news about this model!
Pluses of the Weston Pro-2300
This unit works with either bags or bag rolls for sealing all types of meat, game, fish, poultry, fruits, vegetables and other foods, not to mention various household items and supplies for outdoor living. Compared to its competitors this unit will take up more counter space, but it does have a built-in drawer for storing the detachable cord inside. The plus side of having this larger model is that it gives you a longer seal bar that can accommodate bag widths up to 15 inches.
The Automatic mode makes operation quick and easy when you're sealing batches of the same or similar food items. Manual mode gives you more control so that you can seal breads or delicate vegetables such as lettuce without crushing.
This channel vacuum sealer holds up fairly well for prolonged processing if you give it about a 20 second rest between bags. When processing for hours at a time you may have to stop periodically to let it cool down. To protect your investment, the Pro-2300 is built with an internal cooling fan and has a thermal overload protector that will automatically shut down the unit if it overheats.
Getting a good seal with a channel vacuum sealer can be tricky at times, especially for new users, but this Weston model gives you two helpful features. The acrylic lid lets you see what you're doing as you work to be sure your bag is aligned correctly. The seal bar is also much wider than competing models. It's designed that way to produce stronger seals, but that also makes it easier to spot any wrinkles in the wider strip so you can reseal right away if needed – instead of discovering much later that your meat is freezer burned because you messed up and the bag leaked.
Another advantage of the Weston Pro-2300 is that it has replaceable parts. With some other brands in this class, if the seals wear out then your machine is toast. However, you can extend the life of your Weston model by replacing the seals and seal tape. (See Optional Accessories below.)
What About Liquids?

You should know up front that channel vacuum sealers are not the model of choice for sealing liquids, for the simple reason that they work by sucking air from the bag. That means that if you aren't careful and don't do it correctly, a channel sealer like the Weston Pro-2300 can also suck your soup right out of the bag and into the unit, which causes damage. (The same applies to dry, powdery items such as flour.)

If liquids are your number one priority, consider a chamber vacuum sealer. They're very big and heavy, and you'll pay a lot more, but a good one can handle soups, sauces and other watery foods. The excessive cost may well be justified for those who anticipate packaging lots of liquids on a regular basis.
(Back to Top)
Size and Capacity
Exterior Dimensions: 15.3″ x 23″ x 9 "
Weight: 14.4 pounds
Maximum Bag Size: This unit will seal bags up to 15 inches wide.
The Weston Pro-2300 is heavier than its competitors and also takes up more space for counter top use and storage. Your benefits in that are the heavy duty stainless steel construction and the much longer seal bar (compared to other vacuum sealers).
What's Included with the Weston Pro-2300
This model does not include any bags or other extras. It comes with an instruction manual which is available online at: Weston Pro-Series Vacuum Sealers Instruction Book
(Back to Top)
Bags & Bag Rolls
Like other suction type sealers, this model requires channeled vacuum bags. The manufacturer recommends that you use its own brand, but other brands will work as long as they are made of the kind of textured material that allows air to be sucked out.
Amazon offers a huge variety of brands and sizes of bags and rolls, and you'll probably want to compare prices. As an example the Weston brand quart size bags (8″ x 12″) are made of 2-ply, 3-mil nylon with a layer of polyethylene mesh, and they're safe for freezing, boiling, and microwaving.
By comparison, the quart size bags from FoodSaver (8″ x 11″) are made of multi-ply material and are also safe for freezing, microwaving, and simmering, but the cost is almost double that of the Weston brand.
For bag rolls, FoodSaver tends to be popular because it's such a well known brand name, but again you'll pay less for Weston. For reference see the Weston 15″ x 50′ Roll Vacuum Sealer Bags.
To save even more you may want to try the VacFresh brand bags and rolls, highly rated by users and much cheaper than either Weston or FoodSaver. Click here to see Amazon's price on a 2-pack of 11″ x 50′ rolls of Vac-Fresh 3.5mil Vacuum Sealer Rollss.
There are no other optional food containers available for the Weston Pro-2300. This model is not designed for external sealing of canisters or jars, and the manufacturer does not recommend that you try it as you can overload the pump and damage the unit.
Optional Vacuum Sealer Accessories
There aren't any additional accessories for this model, but what the manufacturer does offer is its Weston Vacuum Sealer Pro Series Maintenance Kit. How often you need to change out the seals and tape will depend on your level of use. This is a favorite feature among many owners because so many older models (and even some recent ones) do not have replaceable parts.
(Back to Top)
Customer Reviews
This model does have some complaints, but the vast majority of them are from folks who either didn't understand what they were getting, or didn't read the instructions.
First, as mentioned above it doesn't have a bag cutter or an accessory port for external sealing. Second, if your primary purpose will be for sealing liquid foods, a channel vacuum sealer probably isn't the best choice for you. Third, lots of "problems" can be solved by using the machine correctly – for instance, if you plug the unit into an extension cord or surge protector it may not get as much power and may not produce as much suction.
Some other reviewers took off a star for various reasons that have nothing to do with the quality of the machine. (They didn't like the fact that it's made in Taiwan instead of the U.S.A., or they didn't like the price tag, etc.)
Otherwise, out of over 450 reviews you've got more than 87% of consumers rating this model with 4 or 5 stars, and mostly 5. Many are former FoodSaver brand users who feel that this model is a much sturdier machine that will have better longevity. It will process for longer periods without overheating, and it consistently produces good seals that remain tight during storage.
Experienced users especially appreciate the extra wide seal bar. Not only does it work better, but when you do mess up, it's easier to see if you have a wrinkle that could allow air leaks.
Also worth noting is that several years ago Cook's Illustrated tested 8 models of vacuum sealers and chose the Weston Pro-2300 as the winner. Then in 2014 they reported that same unit had sealed hundreds of pounds of food weekly and was still running strong.
(Back to Top)
Pros
Sturdy construction
Powerful suction
Extra wide sealing strip makes good seals (and mistakes are more easily visible)
See-through lid helps you achieve proper bag alignment before sealing
Internal fan helps prevent overheating and reduces need for frequent cool down periods
Manual control option allows for processing delicate items
Replaceable parts for longer machine life
Cons
No built-in bag cutter
No internal bag roll storage
No accessory port, not designed for sealing jars & canisters
Priced much higher than other channel vacuum sealers
Weston Pro-2300 Vacuum Sealer Review: Summary
The Weston Pro-2300 Vacuum Sealer is a higher end channel style vacuum sealer for home users. It's sturdily built with stainless steel housing and has a reputation for holding up well over the long term. It lacks the convenience of a built-in bag cutter, and it does not have an accessory port. However, it does offer both automatic and manual control options, produces good seals that remain intact, and has a seal bar long enough to accommodate 15″ wide bags. All that, plus your ability to replace worn out seals as needed, make this a great choice for anyone who wants to do lots of vacuum packaging without investing in an expensive chamber model.
(Back to Top)

Still undecided? See lots more choices in our Vacuum Sealer Comparison Charts